I have been into watches as far back as high school. What I look for in a watch is looks, value and toughness. I am really tough on my watches and value goes out the window when they stop working. I admit, I wear my watches doing activities where I probably should just take them off. But that defeats the purpose of owning a watch.
REACTOR is that crazy tough watch brand created by ex-professional surfer Jimmy Olmes. Jimmy was the spearhead of SHARK watches, the man who took over the industry, left and came back on a nuclear level. In a conversation, Jimmy sold me into trying his watch brand nine years ago and I haven't worn another brand since.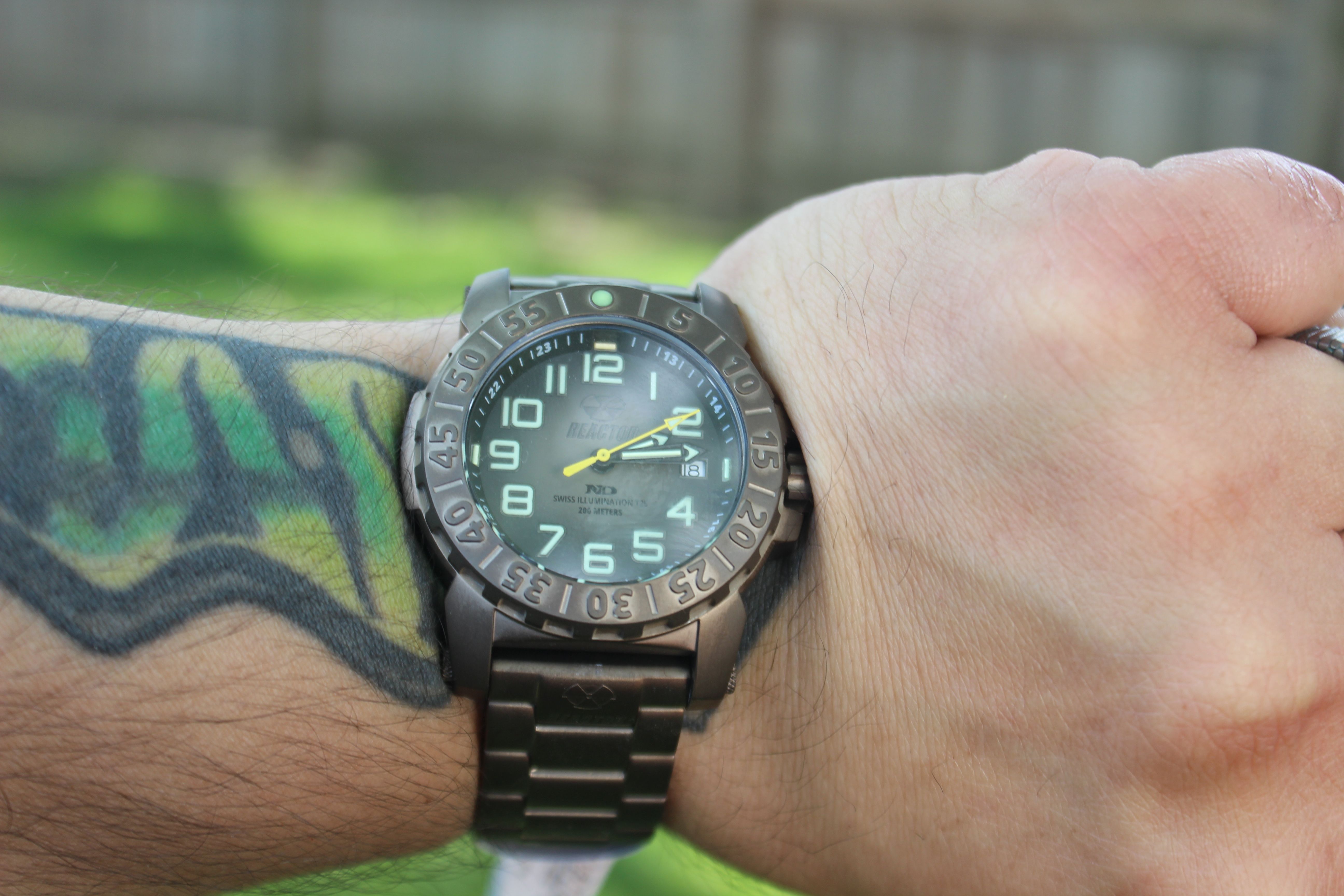 Not to EVER be confused with the Kenneth Cole fashion watch line REACTION, Jimmy's REACTOR brand is an entirely different animal when it comes outright toughness in a timepiece. In fact, REACTOR offers some of the toughest tactical watches that I have ever worn, and I have worn and broken pretty much every major brand available. I have also learned to never trust a brand that uses teams such as the Navy SEALS as a marketing ploy.
Let me take back what I said earlier…my wife gave me a G-Shock for Christmas about five years ago. It seemed like a really tough watch, but it was just a digital plastic watch and in a completely different category. I'm not exactly sure how I broke my G-Shock. Let's just say that it stopped working within a couple of months. I still have my G-Shock, but it now sits in a drawer with a bunch of other stuff that I don't use. Who knows, maybe it can be fixed.
As I mentioned, REACTOR is in a different category and their watches range between $150-$1500, If you are looking for a a cheap thow-away watch, stop reading here. This is not the watch line for you. The Trident 2 in this article has a $450 price tag, so keep that in mind as you read on.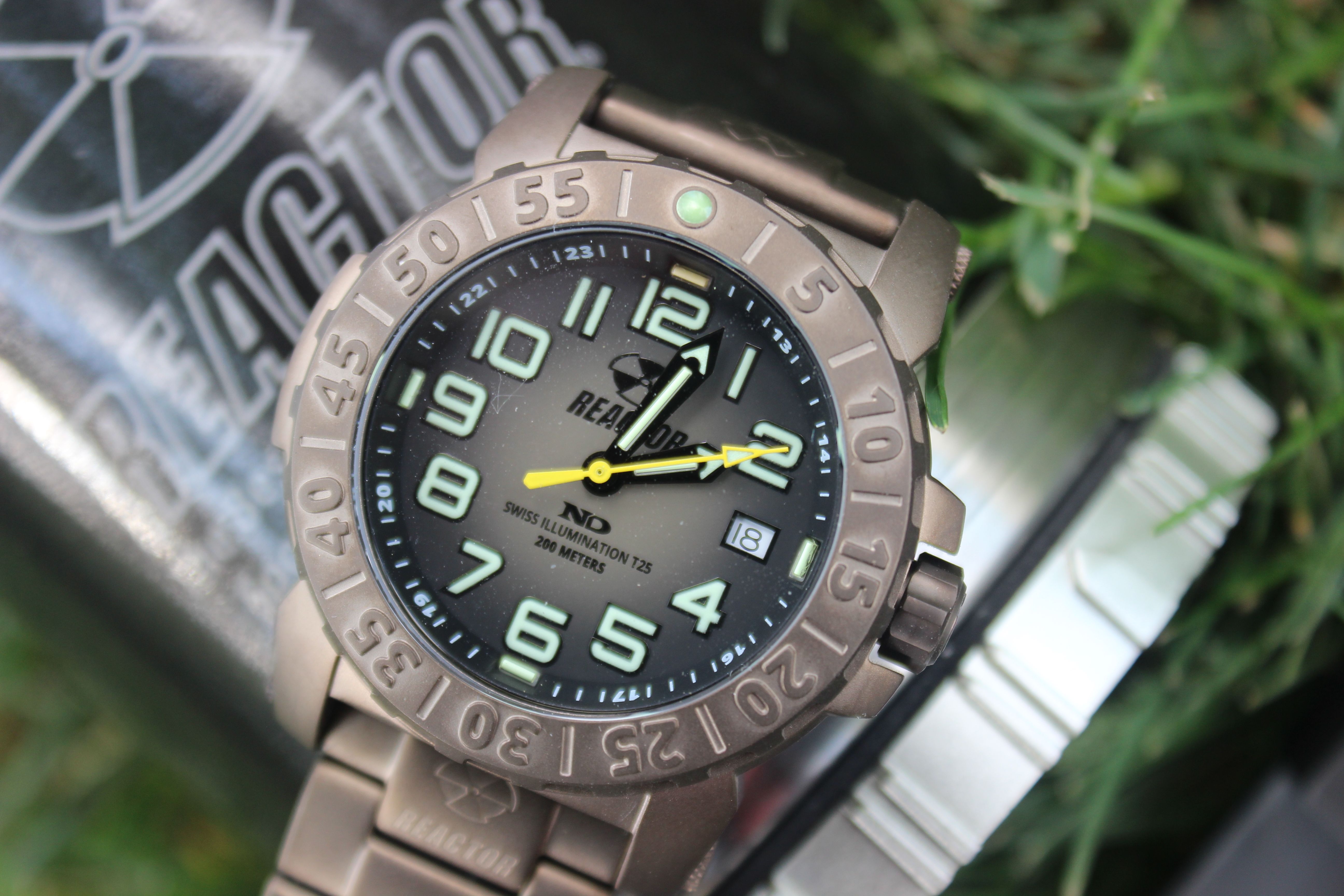 If you want a quality watch that looks and performs as well in a board meeting or a dinner suit as it does on the range or in the battlefield, then REACTOR may be the brand that you've been looking for. In my experience, these watches are as tough as they get…and that is not a bunch of marketing hype.
REACTOR WATCH DNA:

Reactor was conceived from day one to design out any weakness and improve any feature possible. They call this "genetic engineering" the REACTOR DNA, a set of features that is shared by every Reactor Watch. This DNA forms the core of their products and has proven to outlast every other watch that I have ever owned. My oldest REACTOR is 9 years old, and while it looks beat up. It's still ticking and kicking ass. Let's take a look at this DNA:

SOLID "FORGED" CASES AND CASE BACKS:

Forging produces a stronger part, and REACTOR forges all of their cases from either titanium or type 316L marine-grade stainless steel for the ultimate in corrosion resistance and longevity. I am not sure what they mean by "forged" as forged has a different meaning in the knife world. But I have tested and beat a REACTOR watch with escrima sticks and couldn't get it to stop working or break the case.

SCREW BAND PINS…GIVE US SOLID SCREW BARS

Spring bars are the weak point of most watches, so we eliminated them entirely. All our bands attach via a solid, threaded screw bar, providing at least a 500% increase in strength. I cannot count how many times I have had spring-bars fail and pop off during a class or for no reason at all. I hate having only my nice watch hitting the concrete or end up looking for it after running around a field because I didn't realize it fell off.

SUPER WATER RESITANT SCREW-DOWN CROWNS

Every REACTOR uses a unique screw down crown system that maintains water resistance when unscrewed, and every crown is protected by crown guards which are integral to the case, eliminating the most common causes of water intrusion. Being an ex-surfer, this was super important to Jimmy as he spent a lot of time in salt water. It should be said that the case back is made out of the same material as the case. This creates a watertight seal, even after battery changes.

NEVER DARK AND SUPERLUMINOVA MARKINGS

Let's face it, if you still wear watch, you want to be able to read it in the dark. REACTOR'S Never Dark technology is the most prominent feature of their watches. The numerals and tips of the hands are filled with 12 layers of Super-LumiNova C3 – the brightest of the SuperLuminova offerings. Some of their watches also offer Tritium tubes, I have yet to find a brighter combination on any other watch.

THE TRIDENT 2:
If Flat Dark Earth, isn't you flavor, don't worry from what I can tell, the Trident 2 comes in seven different colors and two different face colors. I for one like the Flat Dark color and matted finish. The face of the watch also has this gradual fading on the face which is dark on the outside and lighter in the center, the company tags this as "degraded". It is also available with a plain black face.

The watch does tout the companies' NEVER DARK technology, that means it has both the Super Luminova paint and Tritium tubes. So, when the paint's charge wears down, the Tritium kicks in. When fully charged, the combined glow of Super Luminova paint and the Tritium are pretty unbeatable at night. I wouldn't wear one of these if you are a uniformed professional that doesn't want to be seen as you move through the shadows of night. But if you aren't that guy, the glow of this watch is pretty impressive.

I guess I am the average size guy because the watch seemed to fit just right straight out of the box. I believe it should of came with extra links, I may be wrong, but it didn't so I am not sure. So, if you are a bigger guy, that is something to check into before you buy it. The good news is, unlike a lot of other companies, REACTOR customer service is easy to reach. I am pretty sure extra links are available though, so let's move on.

The flat dark color can be best described as a combination between green/brown and bronze, and I like it. Being matted, I am not sure how scratch resistant the finish is, but I am positive that I am the right guy to find out. Ninety percent of my watches have rubber/plastic/silicone bands with the exception of a limited-edition REACTOR Polaris that has a stainless-steel band, so I can't really speak on the quality of their colored finished as of this point.

I would call this a medium sized watch, it's not huge but not a small lightweight watch by any means. I have notice that watch trend tends to be either plastic smart watches or huge ass watches like Invicta. Maybe my taste is based off of it my age bracket, but I find a mid-size watch to be just right for me. That being said, this is a sharp looking watch. I think that my 21-year-old son would wear it and he is pretty much into urban wear and current wears a REACTOR. I feel that the Trident 2 is stylish enough that is can transcend through the age barrier from grumpy middle-aged guy to the younger generation even though it's not a lightweight, plastic smart watch. Let's take a look at some of the Trident's features and specifications.

FEATURES:
• Individually depth tested to 200 M / 660 ft.
• Unidirectional rotating timing bezel
• Triple O-ring screw down crown for superior water resistance
• Secure screw bar case-to-band interface for superior strength
• Free-floating lug system for a comfortable fit on any size wrist