I've been writing or making videos about Benchmade knives or the past 12 years or so. One thing that I have learned about Benchmade is that they like to reintroduce, update, or reinvent their classics or sometimes even their recently released models. The successful Shane Sibert designed Adamas family of knives has been revisited more than once, and this year Benchmade is doing it again.
I was contacted earlier in the year by the Benchmade team and asked if I would like to review a couple of new knives from their 2021 line-up. I whole heartedly agreed. They sent me a couple of samples and like with most knives; I like to take my time to get to know them. I like to carry a knife for a month or two before giving my impressions on it. The first one I decided to EDC is the new Auto Adamas (2750FE-2), and man, this is one hell of a knife.
HOW IT FEELS IN THE HAND
The Adamas family of knives is typically known to be larger, full handled designs. The overall length of the 2750-FE is a big 8.90" and comes with a 3.80" Cru-Wear "tool steel" blade. The scales are G-10 with the weight reducing circular cut-outs that Adamas knives are known for.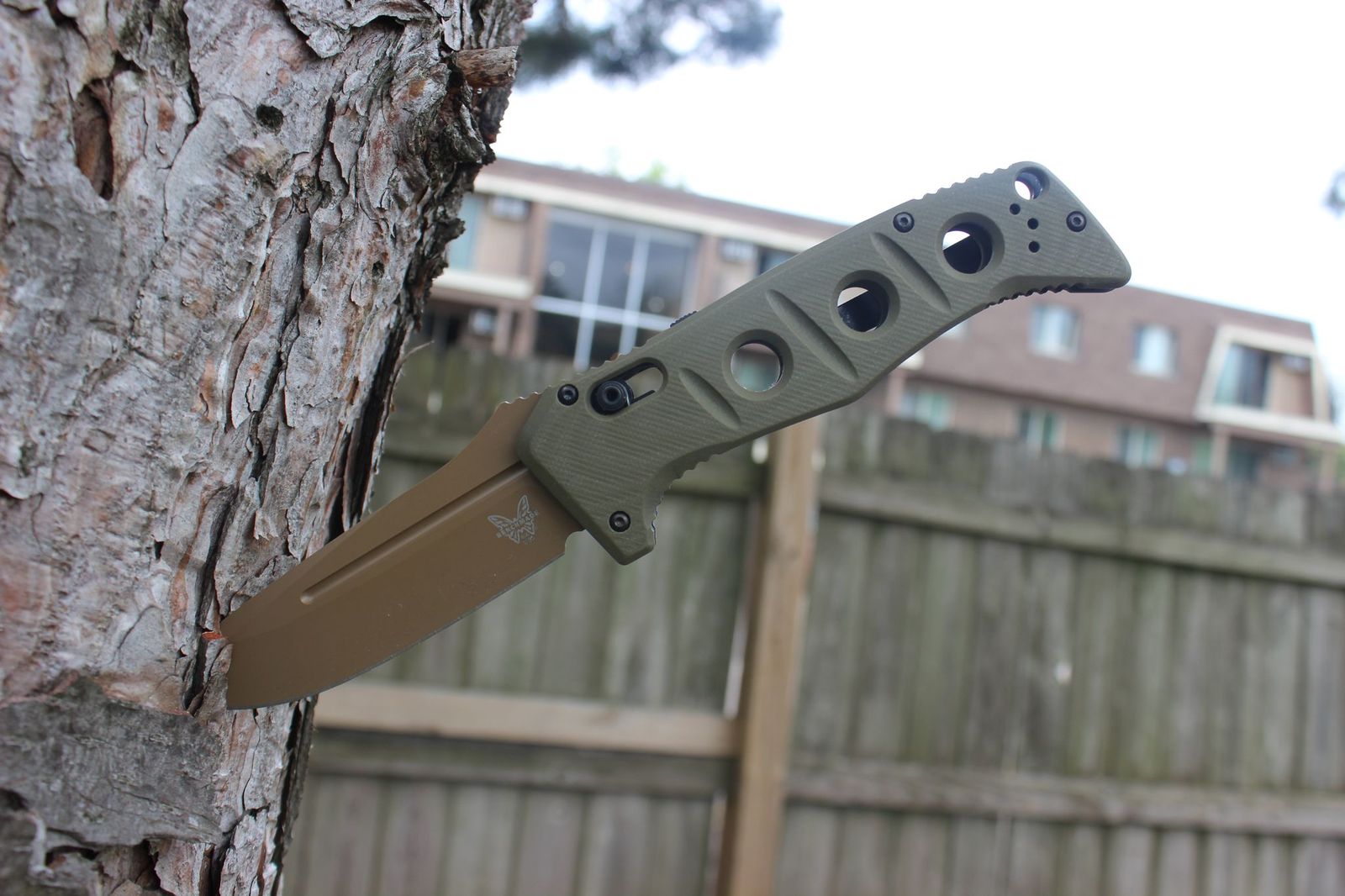 I wear size large gloves and have wide palms and short fingers. I found that I'm easily able to comfortably grip the blade in both a standard forward grip and in a reverse icepick grip. I am a fan of G-10 scales because of their durability and grip when they have a good texture.
The texture of these scales is pretty smooth, and not quite as sticky-when-wet as I prefer. Luckily, the circular cut-outs and cross hatches in the scales provide more than enough purchase on the handle to keep from dropping the knife with cold or wet hands. Overall, I like the way it feels in my mitts.
Again, the Adamas was designed by Shane Sibert. This automatic knife has a flat earth, Cerakote-finished CPM-Cruwear tool steel blade with a plain edge and an olive drab, machined G-10 handle with lanyard hole and full stainless-steel liners.
CARRY SYSTEM
There are two ways to carry the Auto Adamas with a tip up reversible pocket clip or in the included coyote tan ballistic nylon sheath. I like options. I like the ability to connect the sheath to my pack and when I want/need to, transfer it to and from my pocket to my pack and back.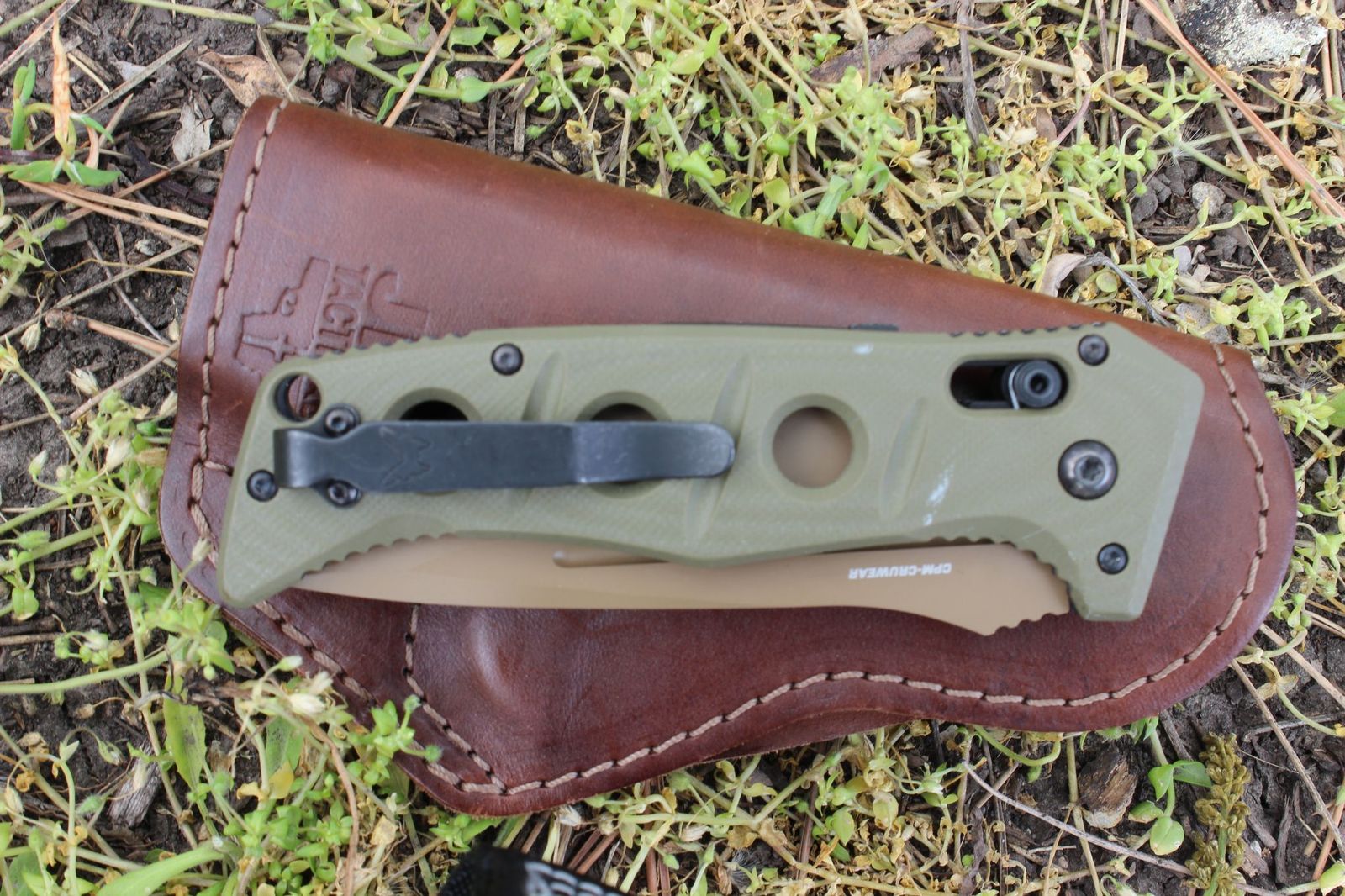 For a knife of this size, it's very comfortable to carry. I was carrying it IWB and literally forgot that it was there. I tore my office up looking for it, only to realize that, duh, it was on my hip.
The included sheath is MOLLE compatible, so for a guy like me that misplaces everything, it's best to keep the knife in its sheath on my pack when I am not carrying it. Like I said, options are a good thing.
SPECIFICATIONS AND FEATURES:
Overall Length: 8.90″
Blade Length: 3.80″
Blade Thickness: 0.14″
Blade Material: Cru-Wear
Hardness: 63-65 RC
Blade Style: Drop Point
Blade Grind: Flat
Finish: Tan (they call it brown)
Edge Type: Plain
Handle Length: 5.11″
Handle Thickness: 0.65″
Handle Material: G-10
Color: Green
Frame/Liner: Stainless Steel
Weight: 6.17 oz.
User: Right Hand, Left Hand
Pocket Clip: Tip-Up
Sheath: MOLLE® Pouch
Knife Type: Automatic
Opener: Thumb Slide
Lock Type: AXIS
Brand: Benchmade
Model: Auto Adamas
Model Number:2750FE-2
Designer: Shane Sibert
Country of Origin: USA
Best Use: Tactical
MSRP $360
FINAL THOUGHTS
I Iike this knife a lot. Every pocket knife that I EDC is either a flipper or an automatic, mainly for easy one-handed operation. I have always liked the Benchmade AXIS locking mechanism, so that's also a win.
I like larger, but not cumbersome knives, and the Auto Adamas delivers in that department. As I mentioned earlier, I actually forgot that I was carrying the knife, that is a good sign of comfort.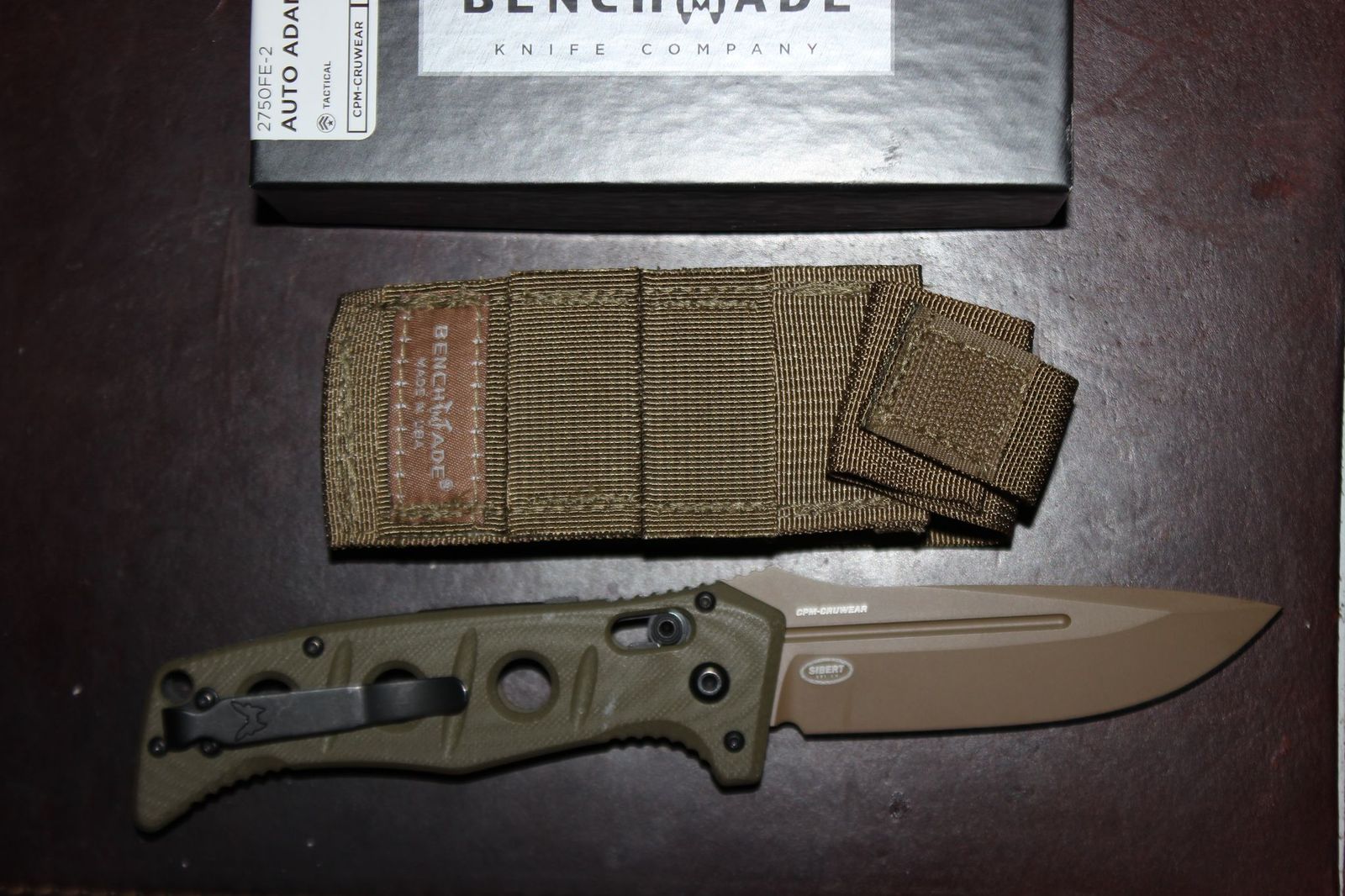 While the scales are a bit smoother than I would like, I can't say the knife does not deliver on grip. In fact between the superb ergonomics and the characteristic cut-outs, I doubt I would ever drop it even in freezing weather with or without gloves.
This knife is also American-made. While that is something to be proud of, it also comes with a price tag. The MSRP on this knife is $360, I was able to find it online for as low as $300 retail. That price may put the knife out of reach for some, but it's worth every dollar. If you are the type to never spend more than a $100 on a knife, the Adamas isn't for you. But if you are someone who knows and understands the value of a good American-made knife, great design and production values that will last you for years of hard use to come, you'll be very pleased.
The Auto Adamas is reliability done right. This is a tough tactical folding knife brings in-hand comfort to the forefront with a tank-like construction you can trust your life with. Carefully redesigned to lighten your load, while continuing to deliver unrivaled performance throughout hard-use applications, the toughest just got tougher.
I highly recommend the Benchmade Auto Adamas. If you need to start saving your pennies for this bad boy, then get to saving. You won't regret it.
A Chicago native, Sijo Waysun Johnny Tsai is an internationally recognized Combatives and Survival instructor. He is a published book and DVD personality with over 35 years of experience in teaching practical street defense and combatives to the military, law enforcement agencies and civilians alike. Sijo is also the founder of the C.U.M.A. Survival School. When not teaching classes, writing, or doing crazy thing with knives, he likes to enjoy his downtime with his wife and three children.He also likes drinking beer.