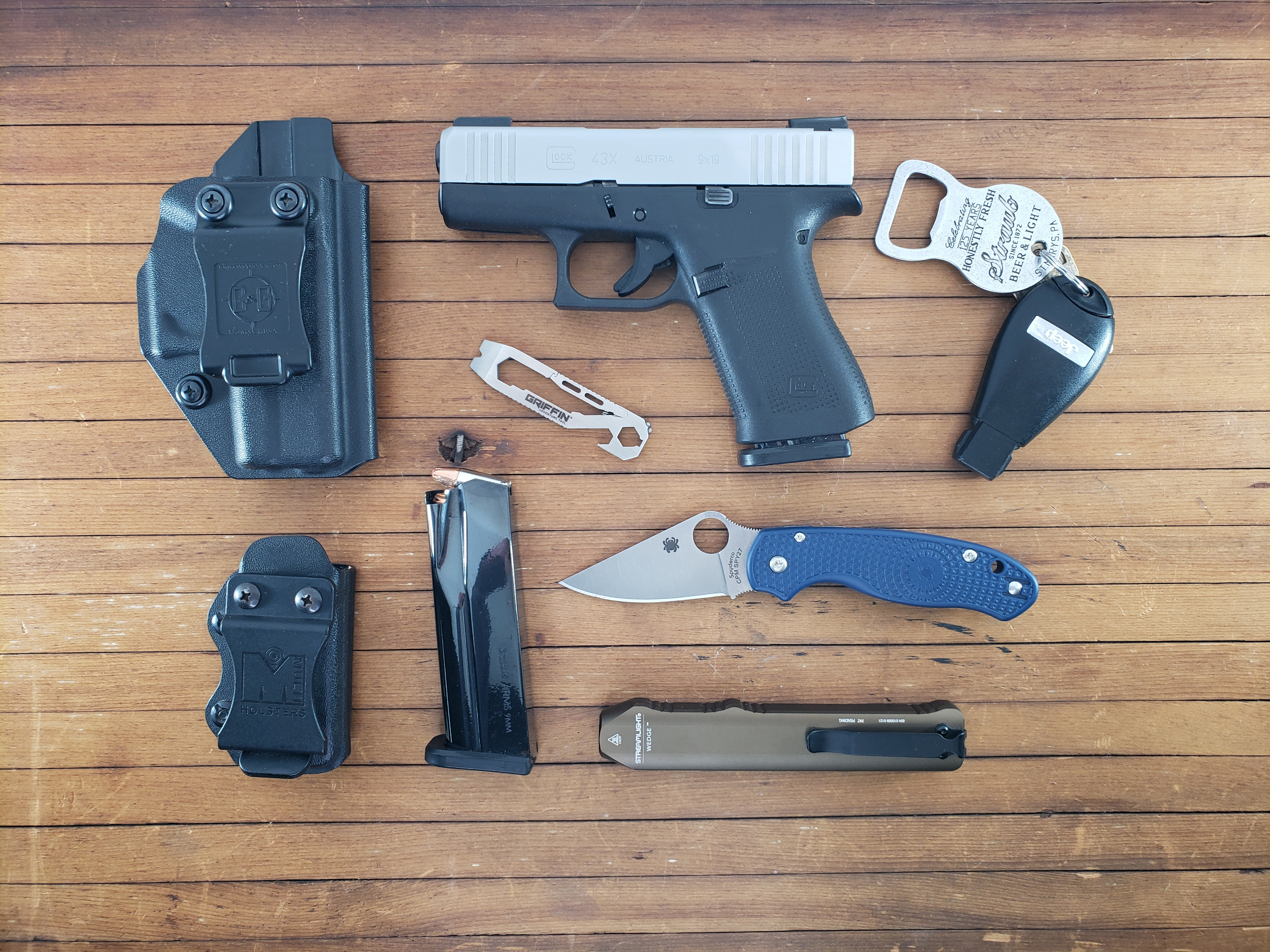 This is my current go to loadout for off duty carry, and it's been pretty standard for a while now. I used to carry a 6+1 Glock 43 but switched to the 15-round 43X when those came out. With the introduction of the Shield 15-round aftermarket magazines (the Glock standard mag is 10 rounds) I can now carry 31 rounds with 15+1 in the gun and a spare, with pretty much the same convenience as the 13 rounds I was carrying with the G43 and a spare. That's G19 firepower in a smaller, lighter platform. Not too shabby.
I was carrying a Spyderco Endura for a long time until I swapped it out with the Para 3 Lightweight in CPM-SPY27 stainless steel a few months ago. The Para 3 Lightweight may be my ultimate EDC blade so far. It's light, compact, but still rugged, especially with the compression lock, and SPY27 blade. It also has the wire pocket clip which is my favorite of any style clip due to its low profile and perfectly balanced retention strength. It's easy on clothing too.
I have mixed up the flashlights I've carried over the years but I find myself turning more and more to the Streamlight Wedge that I got a few months ago. Its flatter profile and pocket clip make it as easy to carry as a mid-sized folder. Add in a handle side mounted toggle switch with a 300 Lumen standard mode and 1000 Lumen momentary THRO Mode, and an internal rechargeable battery that uses a convenient USB C to charge and it's a winner.
The church key on my Jeep keyring is an antique now, I've carried it for almost 30 years. It's from the Straub Brewing Company in St. Mary's PA, which is over 146 years old now. It's a classic and probably one of my most used pocket tools!
While I do tend to open a lot of beer, sometimes I do need other tools. I don't like using my knife as a pry bar or screwdriver, so the Griffin Adventure Tool comes in handy for those times. It's got a bottle opener also so I have back up. Remember, one is none, and two is one!
Want to see your EDC gear here? Send a photo and gear list to EDC@mytacticaledc.com.