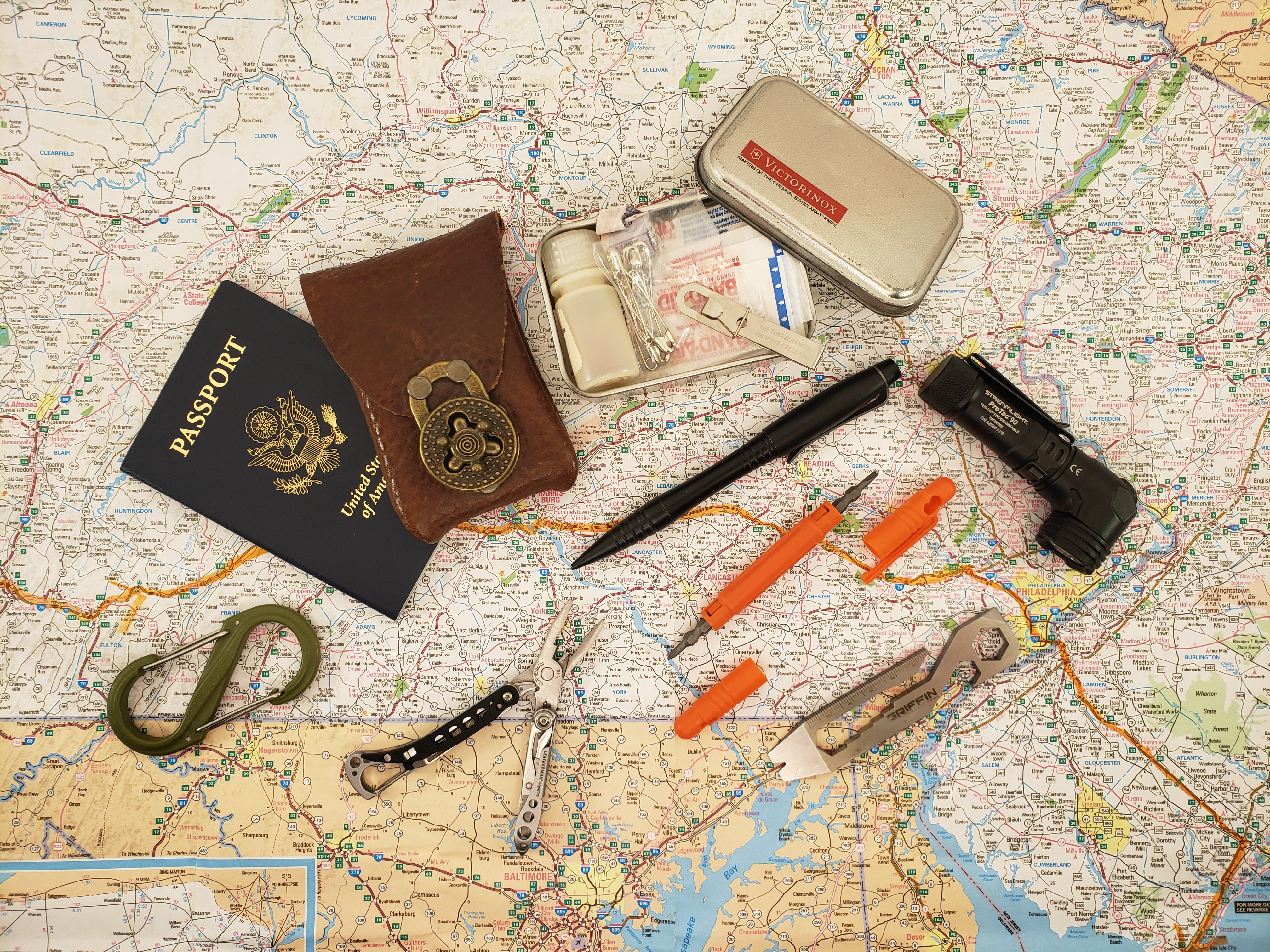 My loadout when I fly is a lot different than when I travel by car. I typically leave my guns and knives at home, or at least have them in my checked baggage. I still like to keep some gear on me though, especially in case I get separated from my bag, which has happened more than once.
This is the stuff that I typically keep either on my person or in my Mountainsmith pack that I use as my usual carry-on bag.
A lot of my loadout consists of tools since I don't have access to a real tool kit. I like being able to do field repairs or maintenance if needed. My primary tool is a TSA approved Leatherman Style PS multitool. It doesn't have a knife blade, but I can use the wire cutters to at least cut the zip ties off of my checked bags when I get to my destination. It has a bottle opener, too.
While I carry the Griffin Adventure tool day to day, I take the big XL model with me when I travel in case I need to do any serious prying or wrenching (it also has a bottle opener).
The other tool I take is the excellent 1×4 Technician's Pocket Screw Driver from CountyComm. Its pen-sized and has two slotted screwdriver tips and two Phillips tips sized for things like glasses screws and small electronics.
For defense purposes I carry a CRKT Williams tactical pen. It's very sturdy and stylish and isn't so aggressive that it rips up your pockets or is obviously a tactical pen. You can even write with it too!
The Griffin XL is big enough that you can grasp it and use it as an impact weapon or improvised kubaton too.
I always like having a light handy and my travel one is the Streamlight Protac 90. It's compact, bright, and will use either a CR123A battery or a AA so I can use whatever I can find, if needed. Nothing like raiding the hotel TV remote for a battery for your flashlight (I've done it). I like that the 90 degree head lets you use the light hands free to by setting it on a flat surface or clipping it to your pack strap.
A carry a big #4 Nite Ize S-Biner clipped to my bag too. It's handy to clip my hat to when I'm not wearing it, or clip another small bag or item bag to my pack so I can keep my hands free.
My business card holder has travelled a lot of miles with me. It's a custom leather one from JRE Industries with a cool Steam Punk stile latch. It gets lots of favorable comments when I use it. Chicks dig it.
My last item I always have is a small first aid kit. I made this one myself out of an old Victorinox knife tin (an Altoids tin works, too). It's a snivel kit with various band aids, a small bottle of Ibuprofen, antacids and some antidiarrheal meds, as well as tic tweezers and safety pins that can be used for getting splinters out or lancing blisters.
I sometimes carry other stuff with me as well, but these are the essentials that stay in my travel pack and get transferred to me when I'm flying.
Want to see your EDC gear here? Send a photo and gear list to EDC@mytacticaledc.com.