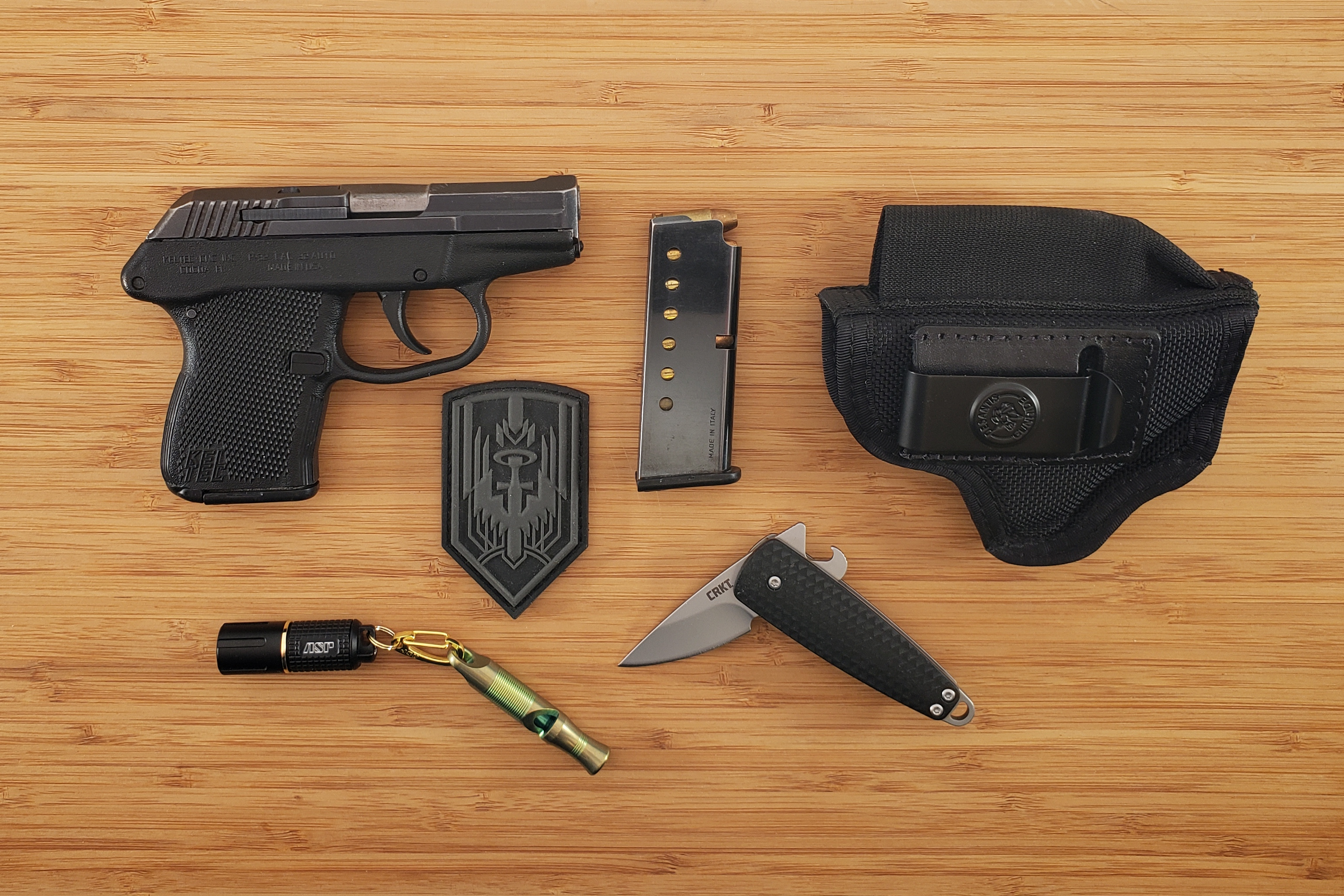 Although I realize carrying enough gun is always prudent, there are some days when I'm going out that I don't really need a gun. So I carry a small one anyway. While I typically carry my 9mm Glock 43X, or something bigger, some days it just makes sense to travel light. Especially in the summer when it's just shorts and t-shirt.
On those days my go-to is usually my old KelTec P32. Yeah, I know it's only a .32 ACP, but I've had it since they very first came out, back when the only other things available in that size were .25 ACP's and the Seecamp .32. While there are better options available now, I'm used to it and comfortable with it.
While I have a great leather Alessi pocket holster that's no longer made, I like the DeSantis Pro Stealth for summer. It's a sturdy nylon IWB holster with a better-than-average clip that actually stays put, even on something like basketball shorts or sweatpants. I like the slot for an extra mag. With 7+1 in the gun and a spare mag I'm walking out the door with 15 rounds in a lightweight, compact package. Total weight of the gun and both mags in the holster is only 14.8 ounces.
I'll admit I vary my knives a fair bit but one that's been seeing a lot of pocket time lately is the CRKT Dually. This little blade punches well above its weight class. It's not a defensive knife but it's a great utility blade. It's a slip joint design with a sub 2 inch blade so it should be legal just about anywhere you go. When closed, a bottle opener is exposed which I'm always a fan of. A deep carry pocket clip is provided as is a lanyard ring should you want to attach it to your keys. At under $30 it's a knife you aren't going to be afraid to use either.
For my flashlight I go with the ASP Dot. This little keychain light is pretty amazing. It's USB rechargeable and puts out a whopping 130 lumens despite its tiny size and 0.5 ounce weight. I have a We Knife Company titanium whistle attached to it as well, mostly because it's neat and weighs next to nothing.
I tossed in a Bawidamann Archangel Michael morale patch as I often have one Velcro'd to my packs or bags. St. Michael is the patron saint of soldiers and cops and I'm not going to turn down a little bit of extra coverage. And it's pretty badass.
Want to see your EDC gear here? Send a photo and gear list to EDC@mytacticaledc.com.