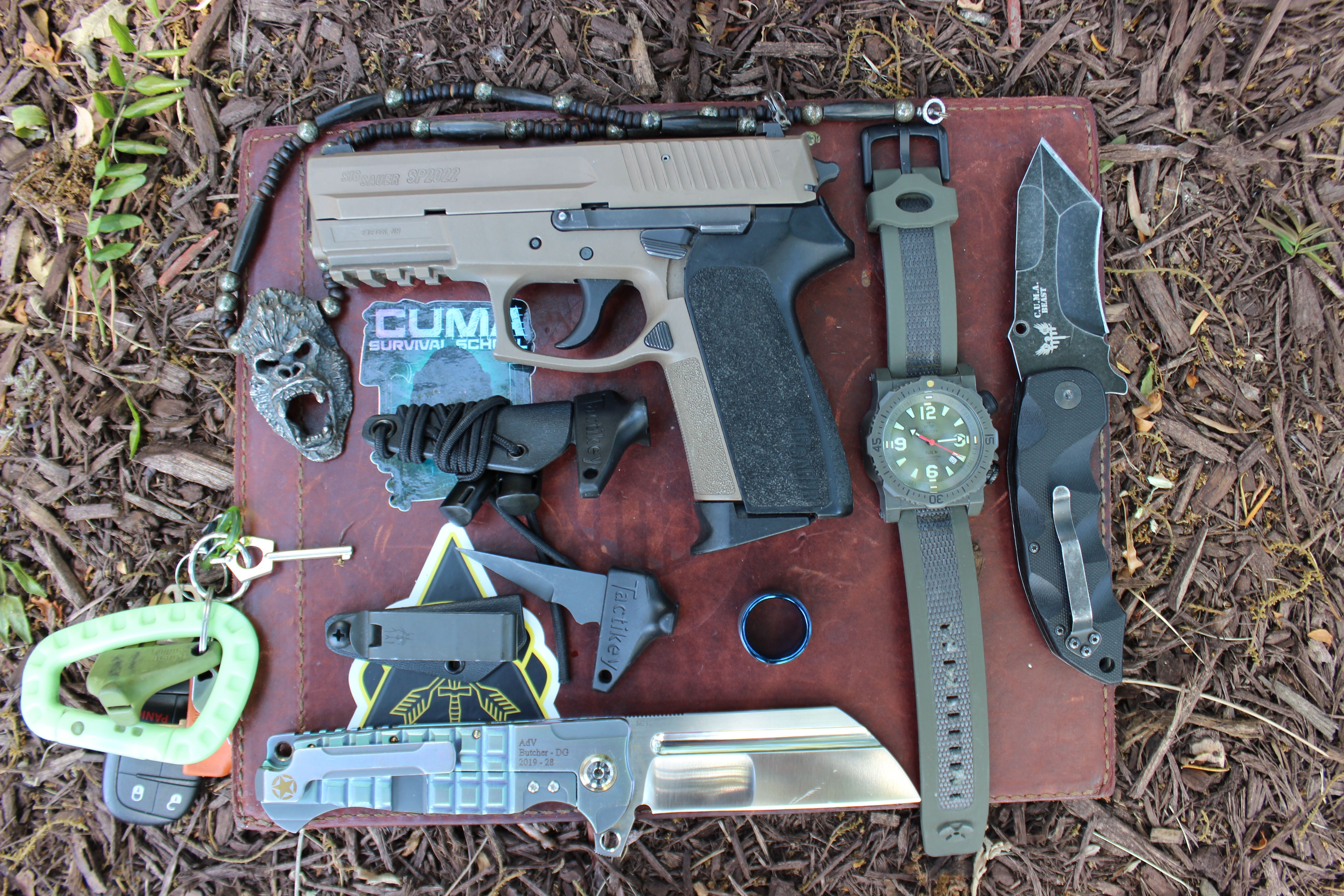 I have been writing about knives and EDC gear for about twelve years and have never once written an official pocket dump piece until today. So this post takes my pocket dump virginity. I stopped on my way out this morning and unloaded everything that I had on me that wasn't in my man purse. It turns out that I like to carry a lot of shit.
The gun pictured is my trusty SIG Sauer P2022. Yes, it's a .40. I got this gun while working my table at a local gun show. I like SIG and got a good deal on it and have been pretty happy with it ever since.
The watch is a REACTOR TITAN. As far as I am concerned REACTOR makes the toughest sport watches on Earth. I have beat the crap out of this one for a couple of years now and it runs as good as new.
The larger knife is the custom Andre de Villiers Tactical Butcher. I love this knife and have been carrying it since 2019. The other knife is my C.U.M.A. BEAST Prototype. This is one of my knife designs that has been on the market for some years now. I like to carry the prototype. It reminds me that I need to be creative every day.
My brother Paul Alexander "The Hardcore Artist" cast the silver C.U.M.A. Gorilla pendant out of a couple of ounces of silver for me about 10 years ago. I still wear it because I don't get to see him every day now that he has moved to Kansas.
I wear my Tungsten steel wedding band because my wife would use every weapon in this article (and probably more) against me if I didn't.
The two TACTICKEY knives were gifted to me by the owner of TACTIKEY and I carry one IWB and one under my shirt as a neck knife. They are beyond sharp, pointy, and super lightweight.
I use a glow in the dark key carabiner because I lose everything that isn't either clipped on my person, glows in the dark, or is in my fancy schmancy man purse. Notice the handcuff key? I always have a handcuff key on me for a multitude of reasons.
I'd like to read about what everyone else carries in the comments as I work on my next one.
Want to see your EDC gear here? Send a photo and gear list to EDC@mytacticaledc.com.