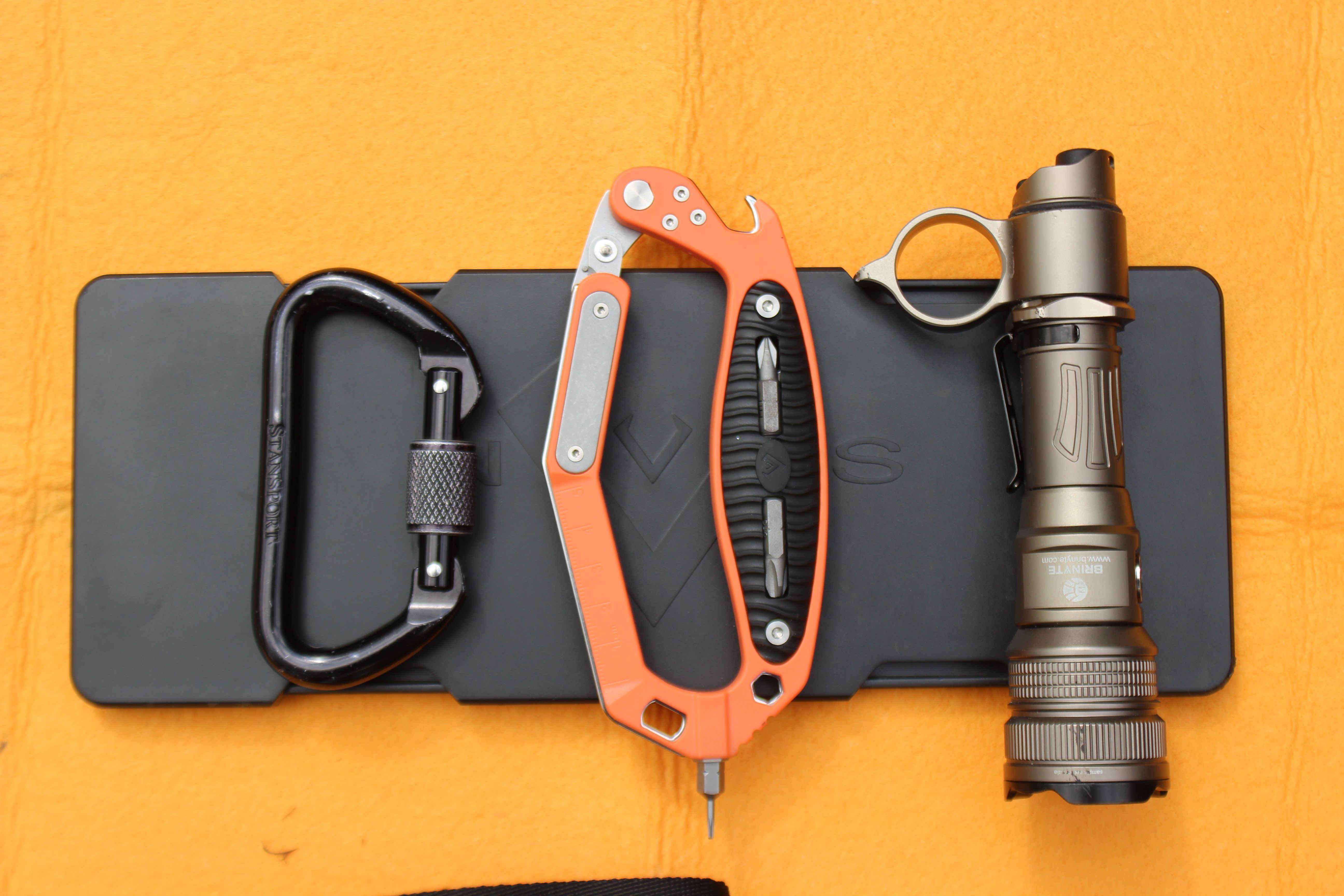 The V Nives CRAB is a multi-tool with a twist. It won the 2018 Most Innovative Imported Design award at BLADE Show 2018.
CRAB stands for Cut Rescue Assist and Break and it more aptly applies to how this multi-tool looks compared to how it functions. Usually when a tool's name is an acronym, the words going into that name are decided beforehand and are integral to the functionality of the tool. That's not the case with the CRAB.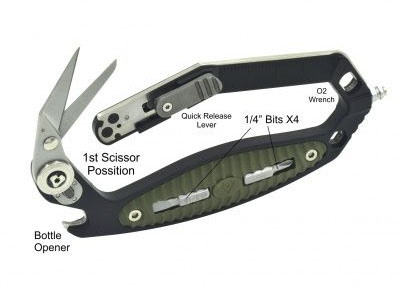 This bad boy got its name from its looks then was decided it would be more fittingly names for its functional prowess over its aesthetic nature. So, the CRAB Cut Rescue Assist and Break was born, and some additional features added to live up to the name. These include a pivoting pair of spring-loaded and lockable scissors, bottle opener, scraper, glass breaker, O2 wrench, and two different bit drivers in addition to four included bits in the handles. The molded plastic sheath is perfectly designed for easy access and allows you to use the bottle opener when sheathed, an excellent feature.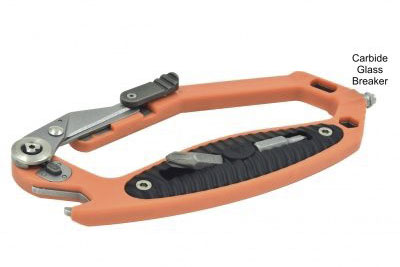 Some people may feel like the C.R.A.B tool is a bit gimmicky; they wouldn't be wrong. What I really like about the tool is it's hidden self defense applications, meaning that it can be brought into places where guns and knives are not allowed. When drawn and held, the C.R.A.B acts as a set of plastic defense knuckles with a variety of striking points from tool bits to a little pair of scissors.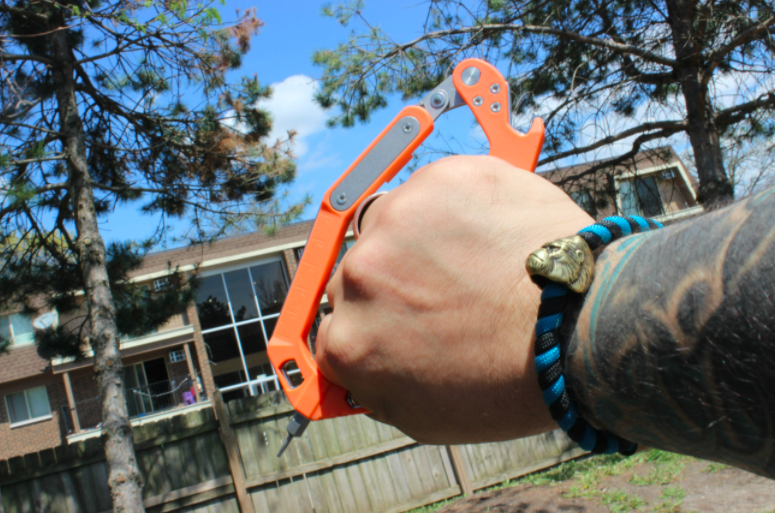 It comes with a plastic sheath that can be carried on a belt, or you have the option of clipping the C.R.A.B. tool to a belt loop or pack like a carabiner. There are videos on YouTube that show all the cool little features and carry option of this unique tool.
V Nives Plastic Storage Box and Extras
Another cool thing about pretty much everything that comes from V Nives is the reusable water-resistant case that their tools come packaged in.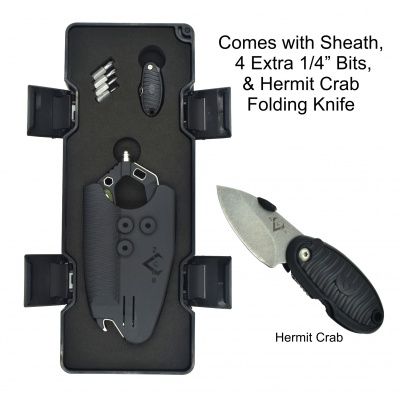 The C.R.A.B. is no different, and inside its case you will find extra tool bits and a little HERMIT CRAB bonus knife. Think of the mini–HERMIT CRAB as a tiny little key chained sized folding knife. I like this little knife; I can see how it would serve its purpose in a pinch.
Final Thoughts
The V Nives C.R.A.B. tool is cool and fun. No, I would not replace my Gerber multi-tool with it, but I can see it's uses. I have carried it and it's large, but not cumbersome, I prefer to clip it on my back pack like a carabiner rather than carrying it on the limited real estate of my belt. That's if I am even wearing a belt, which I don't always do.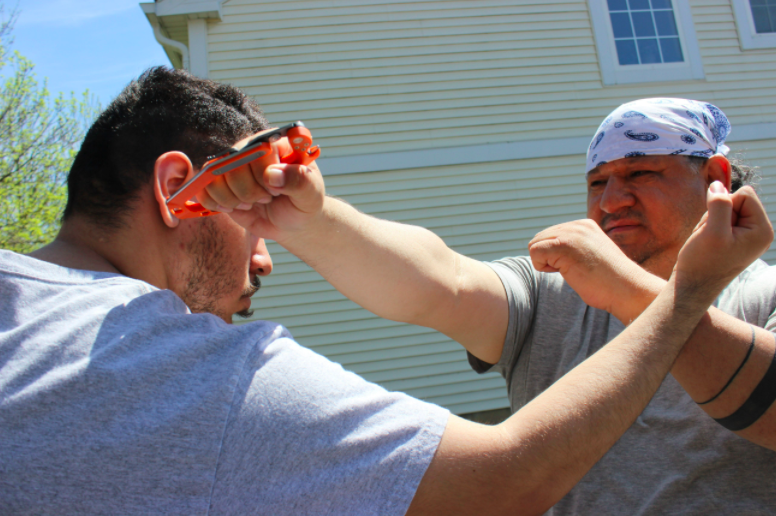 At a $99 price point there are a lot of options for multi-tools. I would say that unless you are sold on trying something different, check it out in person before you buy it. If your budget allows for more than one multi-tool you will be golden ordering one. All of the tool options are listed in one of this article's pictures.
The V Nives C.R.A.B. multi-tool is a unique, one-of-a-kind EDC item. I haven't seen anything else like it anywhere. If you like carrying conversation pieces that are also useful tools, grab yourself a V Nives C.R.A.B.
SPECIFICATIONS:
CRAB Multi Tool
6.5 inch overall
Black or Orange aluminum handles
Cut Rescue Assist Break
Scissors with spring opening mechanism and safety lock
Bottle opener that can also be accessed when in holster
Removable glass breaker
2-inch ruler that doubles as a scraper
Oxygen wrench
Four bits that will fit into center and side drivers
Can be carried like a carabiner
Rubber handle inlay
Also includes 2-inch closed Hermit Crab liner lock with 1.25-inch stainless blade and black synthetic handle
Comes with watertight storage box that floats with up to one pound of material inside
Black Kydex belt sheath
Boxed.
Made in China
MSRP $99.00