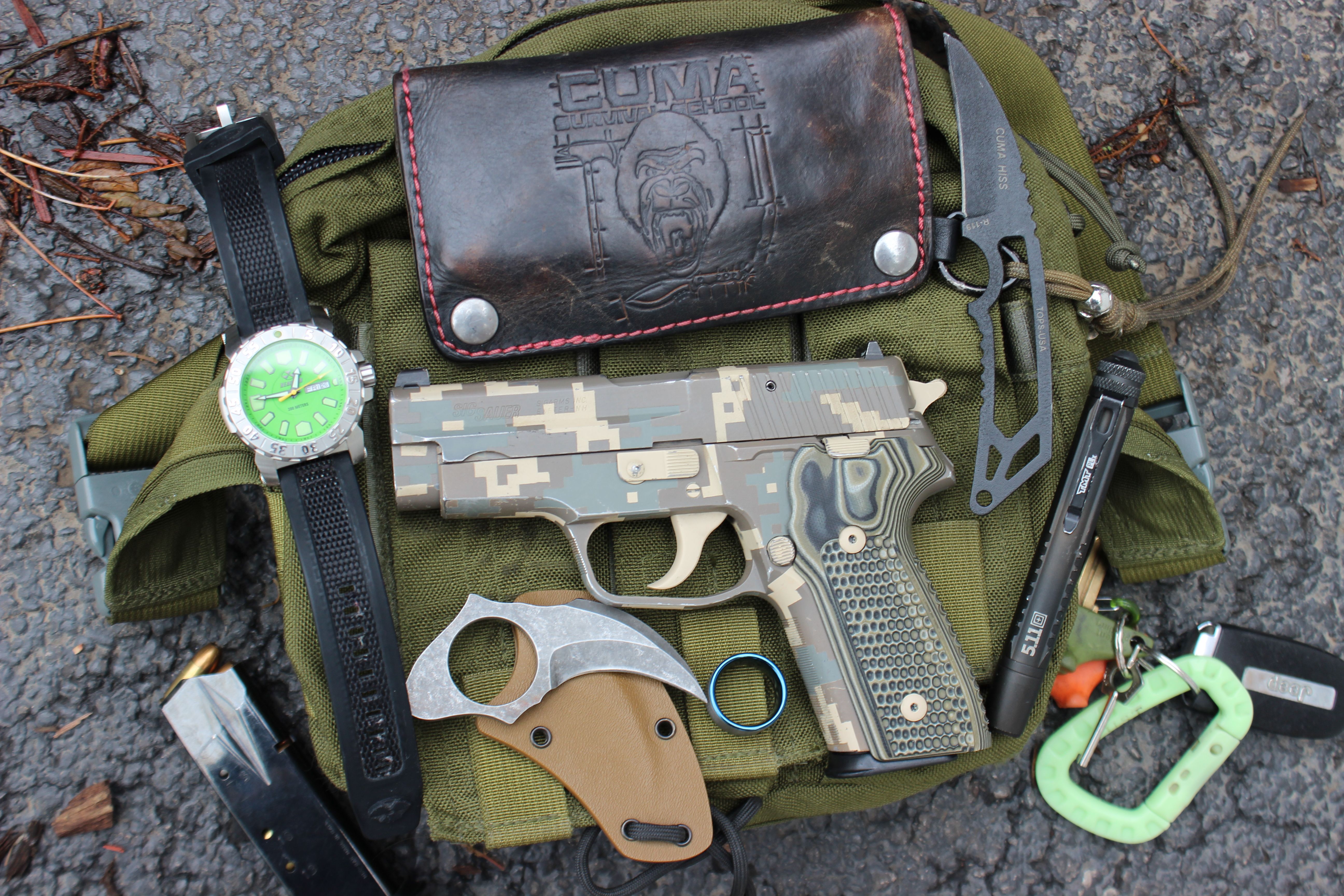 Heading out for my Friday afternoon hike I decided to do a quick pocket dump before it rains.
I'm packing my Original SOE Active Shooter Response bag with my custom leather C.U.M.A. Biker wallet, keys, a couple of light weight knives including a TOPS C.U.M.A. HISS designed by yours truly and a custom Wani Claw Karambit neck knife by my buddy the Chicago-based karambit maker, Greg Wegrzycki. Greg makes the Wani out of Nitro V, it's really lightweight, yet has a 2" cutting edge. He sells them for $90 and up. I plan on doing a review on it in the near future.
My flashlight is a little penlight deal called the TMT PLX by 5.11.
My carry firearm today is my SIG Sauer P228 with a spare mag. This is one of my favorite guns that I have nicknamed "Old Reliable." She's now about 20 years old.
Seeing that I got the P228 in a really good deal, I had it Cerakoted in a digital camo pattern. I also had some HOUGUE G10 grips put on her along with a set of XS Sights DXT2 Big Dot night sights on her.
And as always, my daily watch is a REACTOR. This is the Meltdown 2 model in bright green with a black Gryphon strap.
Want to see your EDC gear here? Send a photo and gear list to EDC@mytacticaledc.com.
WAYSUN JOHNNY TSAI BIO:
A Chicago native, Sijo Waysun Johnny Tsai is an internationally recognized Combatives and Survival instructor. He is a published book and DVD personality with over 35 years' experience in teaching Practical Street Defense and Combatives to the Military, Law Enforcement Agencies and Civilians alike. SIJO is also the founder of the C.U.M.A. Survival School.
When not teaching classes, writing, or doing crazy thing with knives, SIJO likes to enjoy his downtime with his wife and 3 children. He also likes drinking beer.