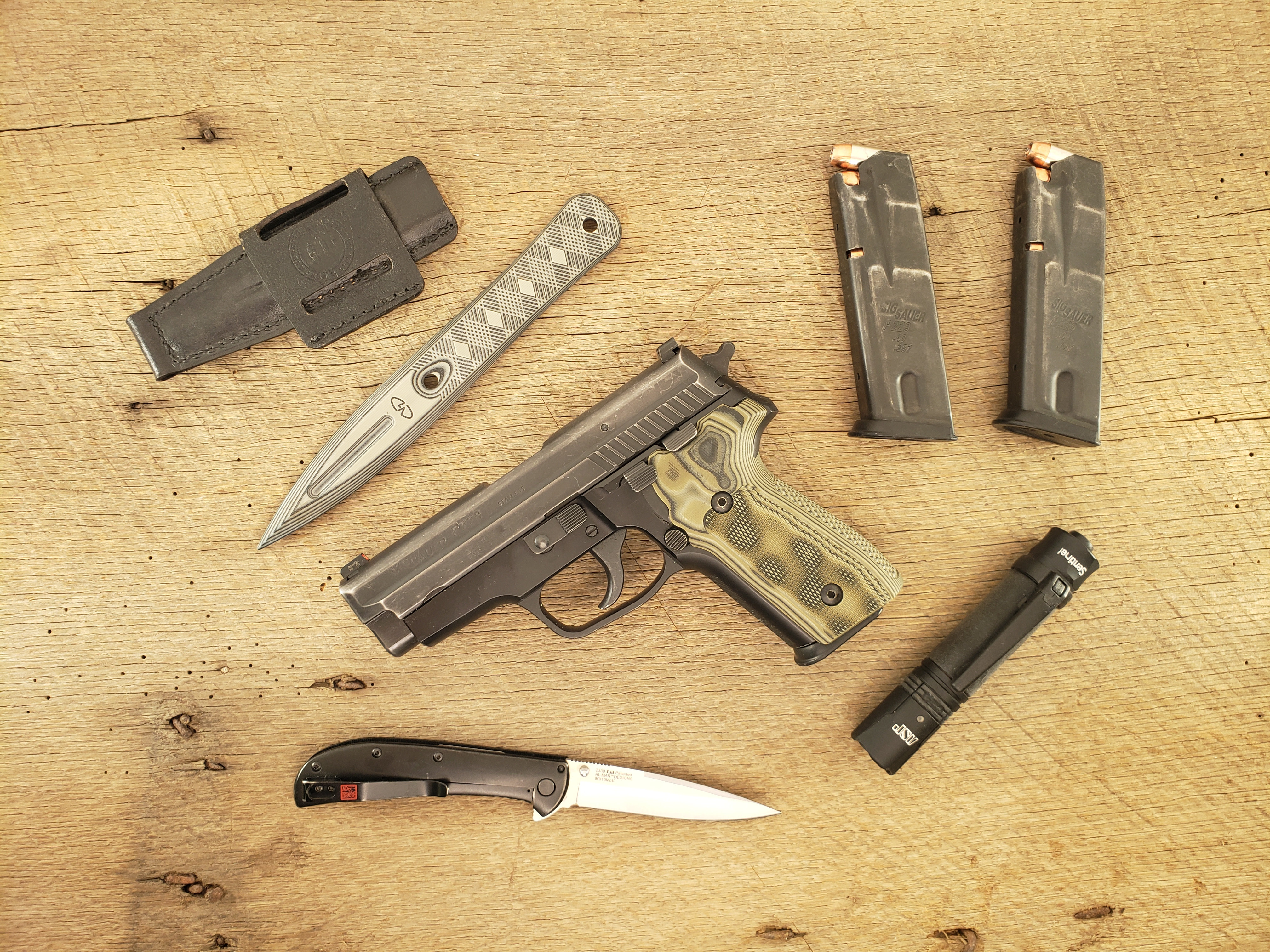 I normally carry a Glock 9mm on and off duty, although sometimes I mix it up depending what I'm doing. Recently I sent my duty gun, a Glock Model 45, out to have the slide cut for a red dot sight. While I was waiting for that to be done I pressed my old duty gun back into service.
That gun is a West German-made SIG P229 in .40 S&W and it has a property stamp of my police department. This gun is almost 30 years old and had been previously issued before I got it. It's got some wear, but is mechanically sound. A couple of years ago I had a chance to purchase the pistol so I did, but it's remained in the case ever since…until a month or so ago.
Before I sent my Glock out to get worked on I replaced the springs in the SIG, along with the beat up old Hogue rubber grips. I installed a nice set of checkered G-10 G-Mascus grips. I also replaced the long-dead night sights with a new set of AmeriGlo Hackathorn sights that have a big tritium front sight bead and a black serrated rear. They're a big improvement over the old factory tritium sights.
I re-qualified on the SIG so I could carry it at work again and realized that the new sights and grips made a big difference in the pistol's handling. I was honestly never I huge SIG fan — or .40 cal for that matter — but a few minor upgrades made a really big difference.
In addition to the SIG, my EDC carry load consisted of a VZ Grips Executive G-10 dagger which is made from a G-10/Carbon Fiber matrix that makes it lighter and stronger than straight G-10. It's also non-electrically conductive so it doesn't set off a Garret wand or other metal detector. Not that it matters when I'm carrying that brick of a SIG, but I love how light and compact it is, especially in its well-designed leather sheath.
For actual utility cutting I paired the SIG with a Kershaw Al-Mar AM-4, an Al Mar Knives-designed folder with Kershaw's SpeedSafe assisted opening mechanism and a flipper. It's a sleek, elegant folder that carries light and discrete and can be put into service quickly.
My light with this set up is the excellent ASP Sentinel. This is a 400 Lumen light that will run on either AA or CR123 batteries. The newer E3 version comes with a rechargeable battery, but can still take AA's and CR123's as well. It's a solid light with some nice features and I've been using mine for a couple years now without issue.
This setup is heavier and bulkier than my Glock 43X set up, but I'm packing a .40 with 180 grain Speer Gold Dots in it. I prefer the 9mm for a number of reasons, but there's something to be said for a round that starts with a 4 and a bullet with that much mass to it.