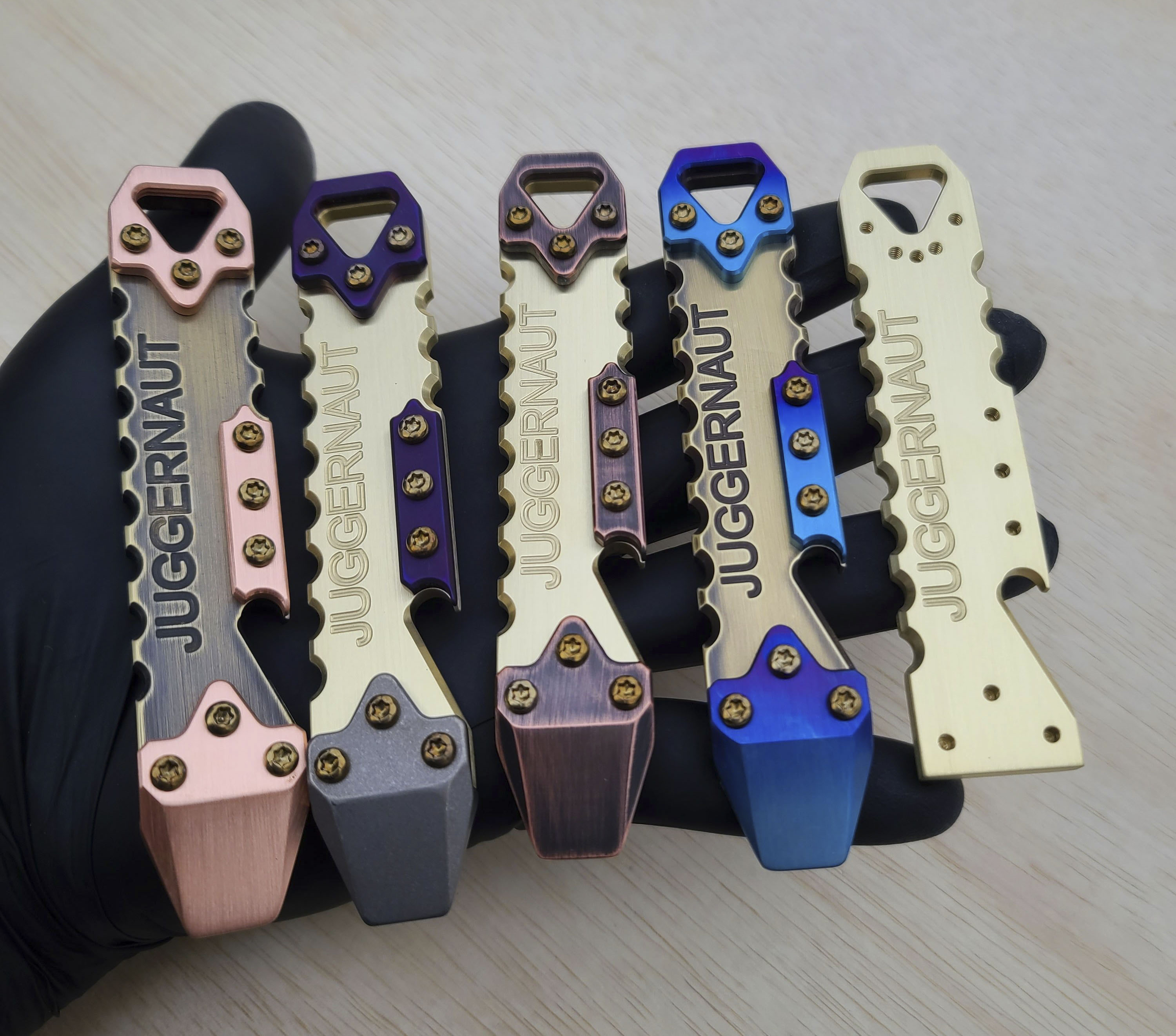 The knife industry is filled with a lot of companies turning out the same old knife designs, just "reimagined." It's difficult to come up with original ideas that don't seem to reflect someone else's work. But every so often I run into a maker that has a creative style and flavor that's uniquely his own.
Ryan Forbes of Copper Shed Knifeworks is one of those standout makers.
Aside from using copper as his trademark material, Ryan has created a style that I can only describe as "functional art." Let's take his new Juggernaut pry bottle opener as an example. It's modular. It can be customized in literally dozens of ways and finished in any color a customer would desire. On top of that, it can be turned in to a slingshot. Yes, a slingshot.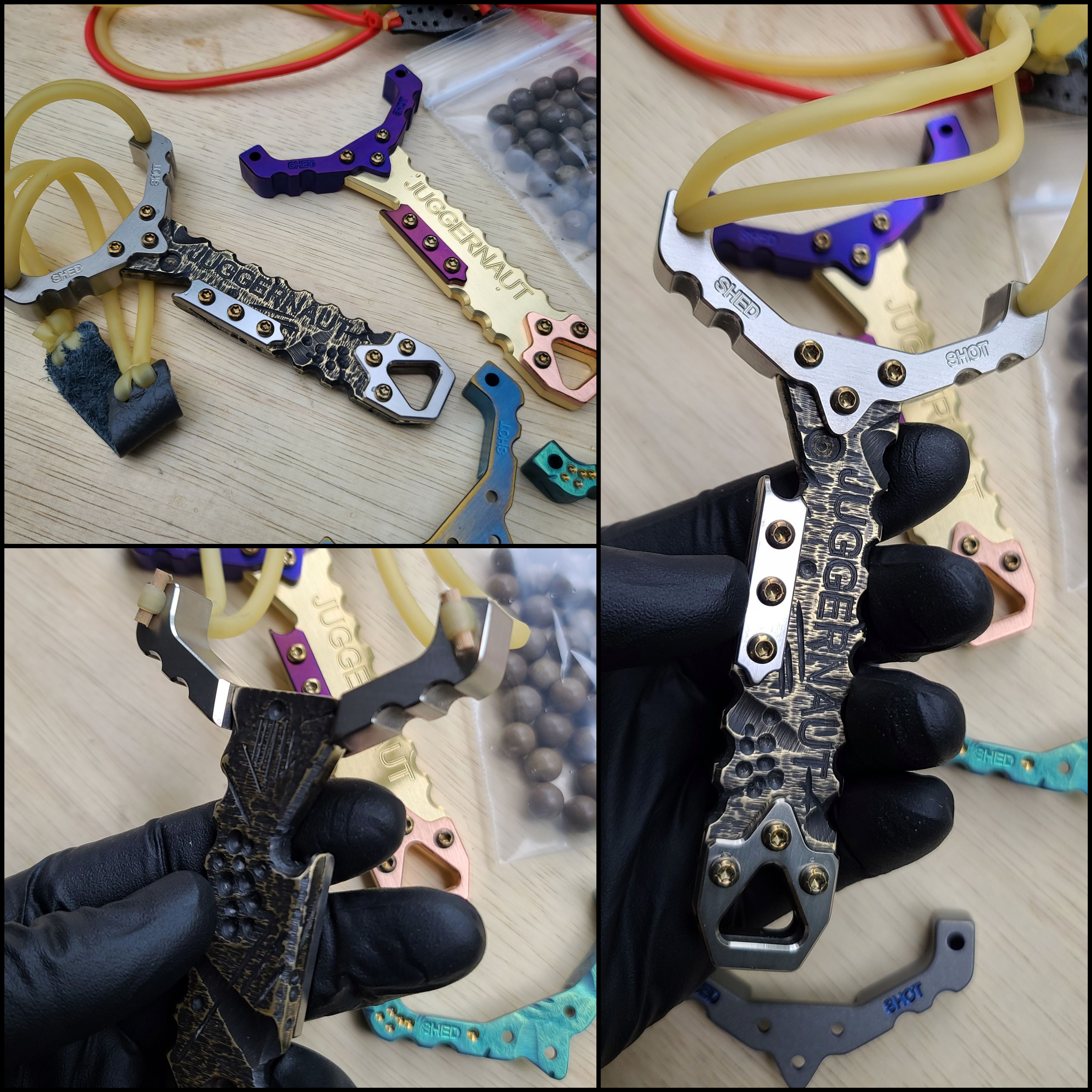 As I was talking to Ryan on the phone, I learned that I'm not alone, a lot of his customers consider his work art. But Ryan says he designs for function first. His Juggernaut is a pry bar, a bottle opener, and an impact weapon self-defense tool. It just happens to also look insanely badass.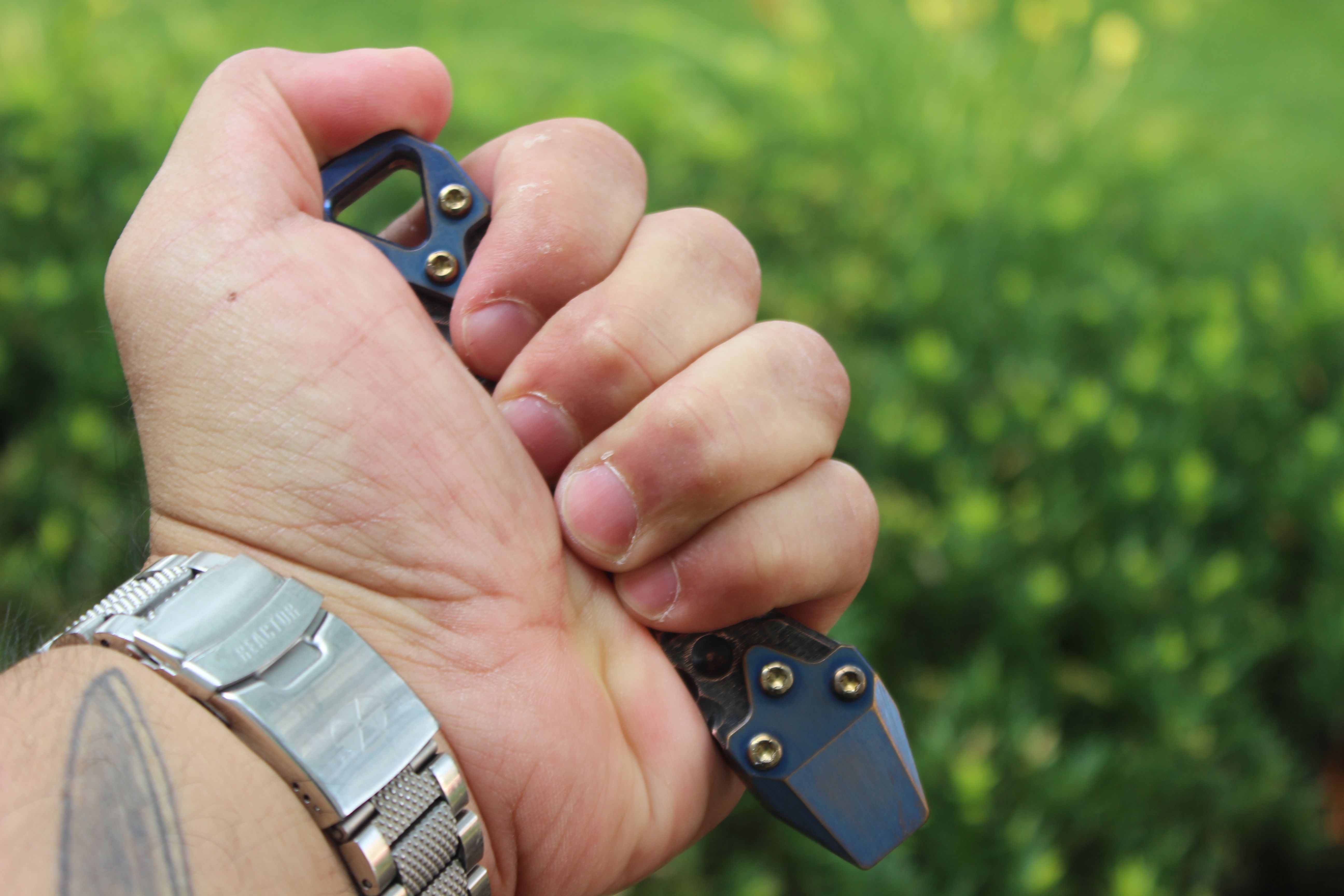 I admitted to Ryan that I would never have though of writing about a pocket pry bar, that was before I saw the Juggernaut.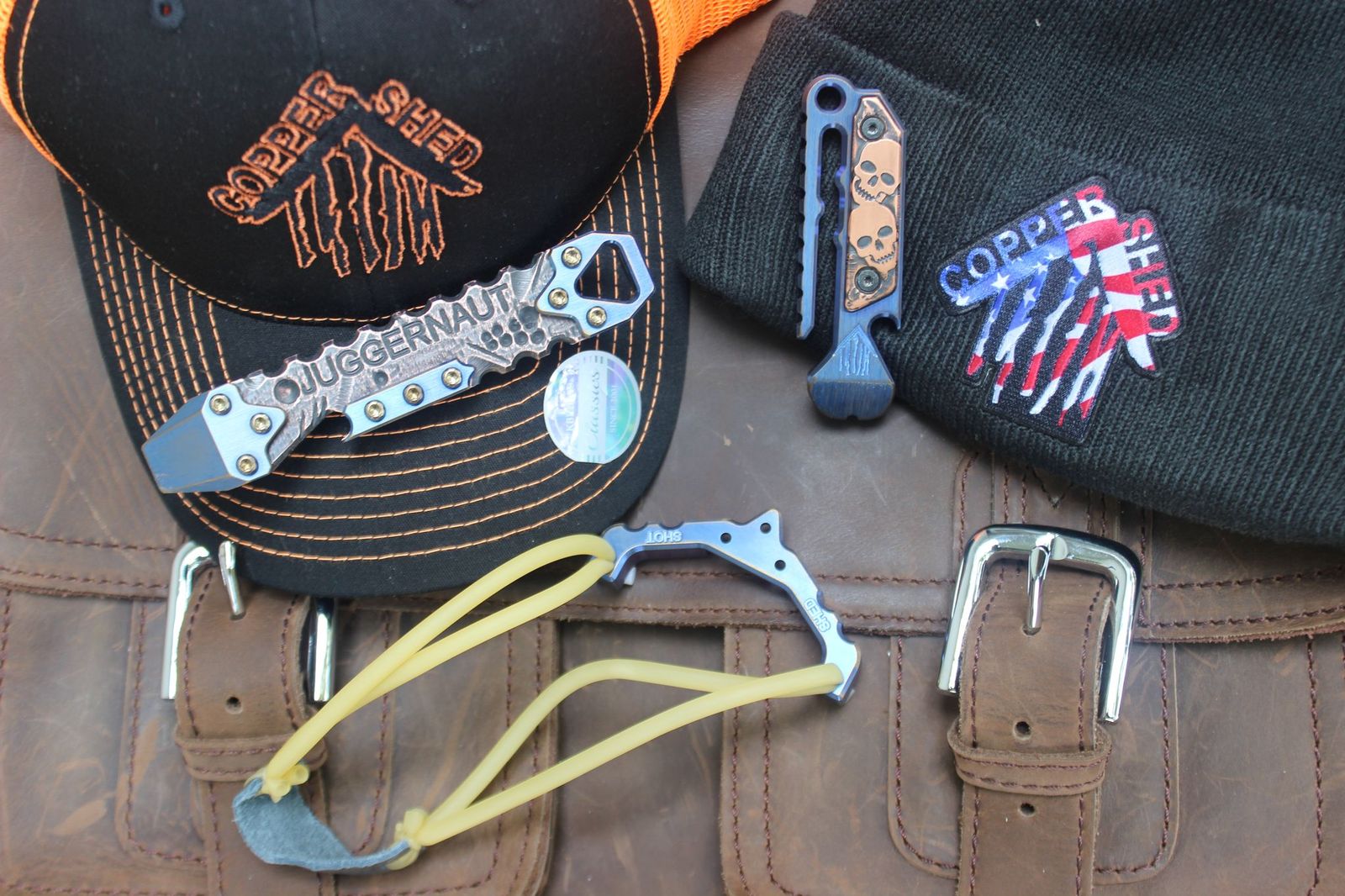 This is one cool EDC piece by a really cool and down-to-Earth maker. So cool in fact, that he agreed to spend a little time with us to introduce what he does.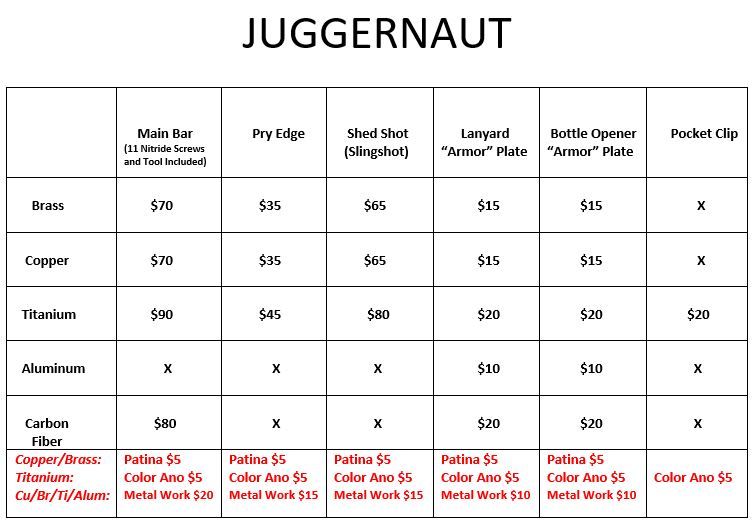 MEET THE MAKER:
MTEDC: Hi Ryan, please introduce yourself and your company.
RF: My Name is Ryan Forbes. I'm a family man from Ohio with three young boys. I grew up in Southern California, though. And if I am not working, I'm spending quality time with my family. Those two things consume my life and I love it.
MTEDC: Copper is a very cool material. How long have you been making copper EDC products?
RF: I used to be a big collector of EDC and custom-made knives and was very active in the EDC community before I ever made anything.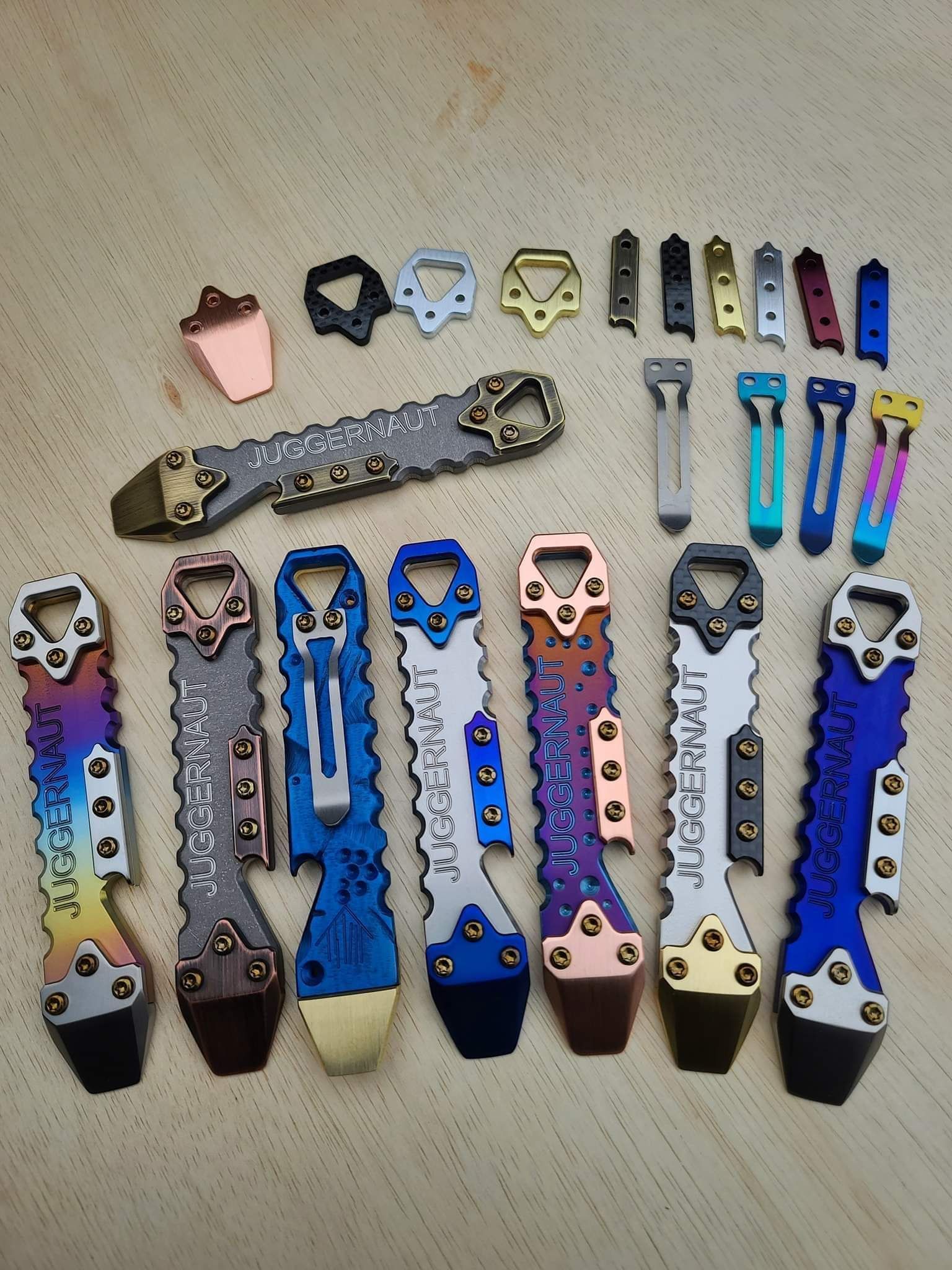 I was a low-voltage electronics specialist my whole life beforehand. Then in mid-2015 I decided to get some Copper and make some Keychains for family that year. I had no idea what I was doing, no previous metal work experience or shop time or anything. Barely knew how to work a drill-press or anything at the time. All I used was a vise to hold the Copper and a metal hacksaw and a file. I had no machinery at my house at the time. I had just finished building a shed in the back of my property that year and after I made the Copper Keychains for family, I decided to buy some equipment and start a Facebook group.
I thought it would be fun to work out in the shop maybe 2 nights a week. I bought a $150 drill press and a $120 belt sander and got to work. After about a month it seemed my Facebook group had blown up and I was out in the shop 5 nights a week. After a couple years we made the very tough and scary decision to leave my good day job of 15 years and try this fulltime. I have now been fulltime for about 3 1/2 years.
MTEDC: Copper Shed pieces are definitely original and functional works of art. How did you come up with crazy modular designs like the Juggernaut?
RF: As far as my designs I really have no idea how I manage it. I mean, I love my designs but not sure how they pop in my head. Ha-ha. Of course, my family has always told me I was artistic as a child, I used to draw and enter some contests in grade school. But never felt I was an artist or anything in any way. I usually get an idea when I'm half asleep in the middle of the night or something, wake up and start making it.
MTEDC: I noticed you built a part of your house out of copper? Did you want a real Copper Shed, or what is that about?
RF: Three years ago, we remodeled the exterior of our house, adding a large, attached garage out front and new siding and roof. We used a copper tone Metal for our roofing and gutters but not real Copper. And actually, my wife and I had always wanted a copper metal roof way before I ever made anything out of copper. When we first bought this house nine years ago, we had seen an outdoor pavilion in the center of a town about thirty minutes from us and said then that we loved that. So actually, it had nothing to do with my Copper work.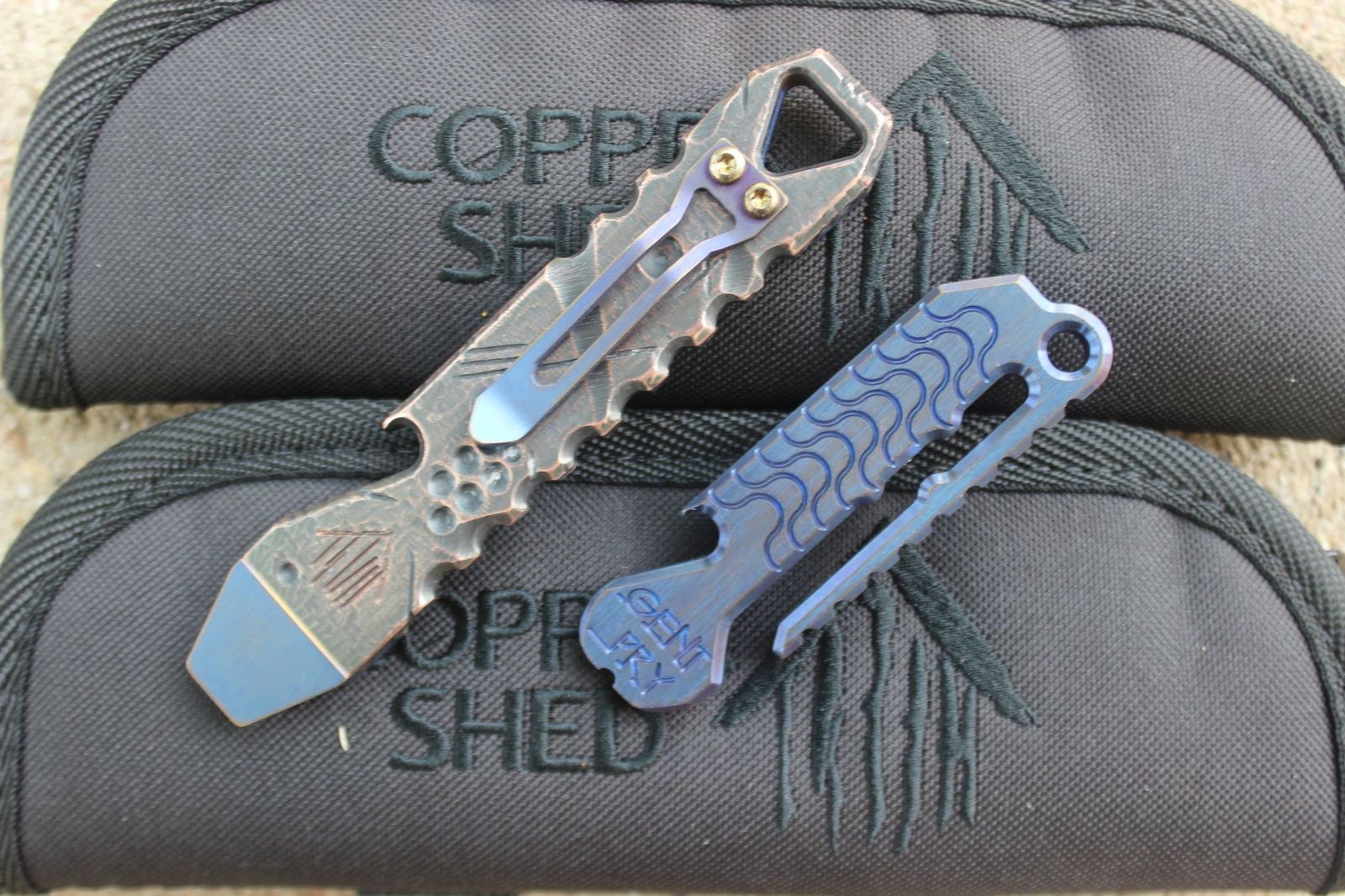 MTEDC: Ok, tell us about your new modular Juggernaut bottle opener / pry.
RF: My "Juggernaut" design is a relatively new design for me. I think I made the first one like November of 2020. Just another random thought I had. A piece that I thought would be cool for people to accessorize with different materials on the attachments, something they could get that matched their own style by offering all the different options with it.
As of today, I offer the main bars in I offer in titanium, copper, brass, and carbon fiber. I will eventually make them in other materials as well as some exotic metals. Right now, you can choose a bolt-on "Pry-Edge" or a Slingshot attachment.
I've also made a "Marlin Spike" attachment for one of them before. I do have more plans for different options on them as I go. There is so many different options as far as materials and custom finishes I offer on them that I sell them as "A La Carte" style pricing. With all the attachments I would say they range anywhere from $130-250.
The one that is feature in this article would sell for $185 as shown.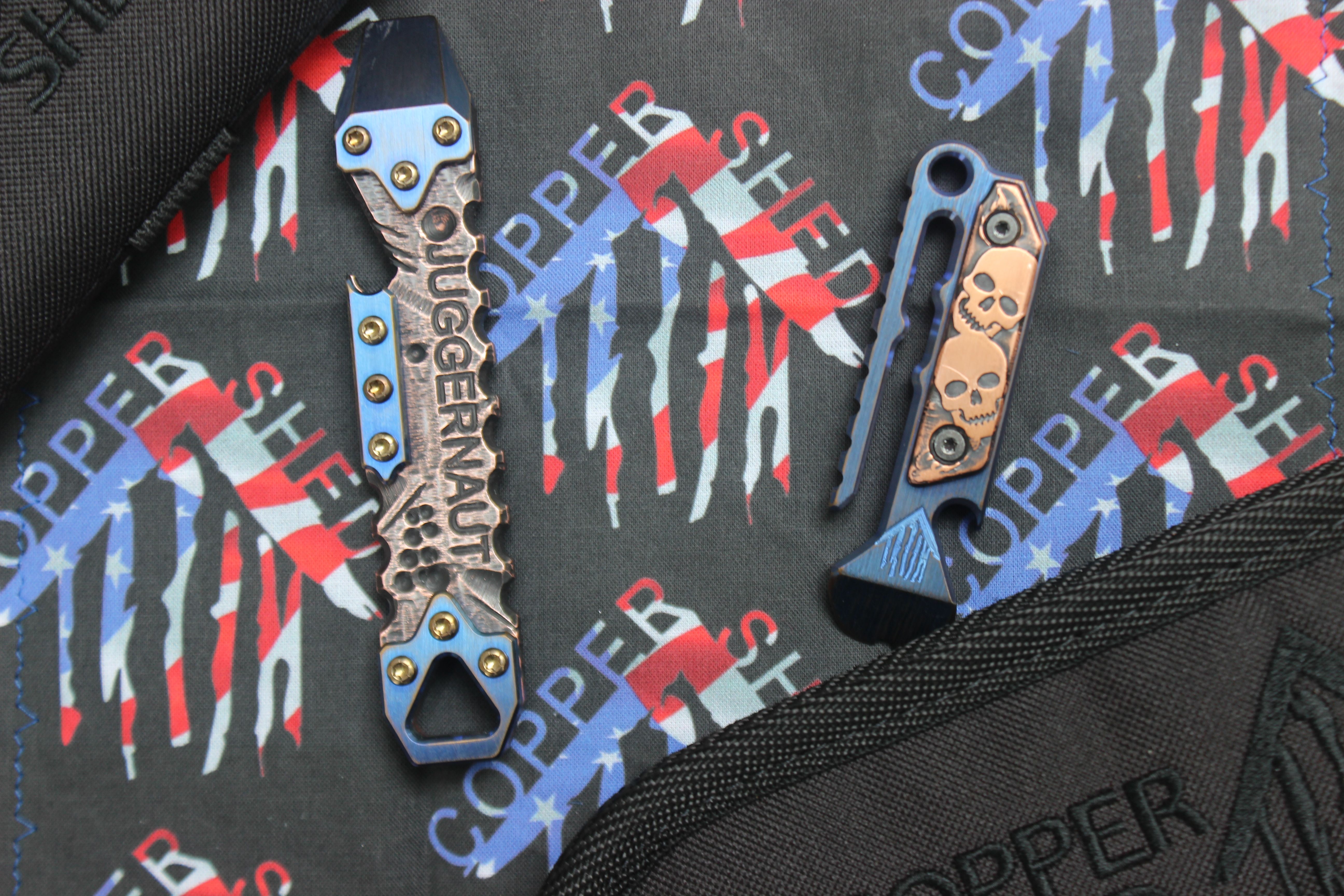 MTEDC: Any new designs in the works?
RF: I constantly have new designs in my head, but I can't keep up with them.
I always try to make my older popular designs and mix in new designs as well. Not many designs have a retired completely, I still like to do the older ones here and there. I'm working on a new neck knife right now that uses panels from my "Gent Pry" bottle opener design as scales on the knife. So, people can match their knife to their current "Gent Pry".
MTEDC: How was Blade Show for you this year?
RF: Blade Show Atlanta 2021 was awesome for me!
I only do two shows per year, so I don't count on shows for my income at all. I do good sales yes, but I would still go anyway just for the friendship and business contacts that are made every year.
I was very surprised with Blade Show this year though, as I sold out and wasn't expecting that many people. It was a great time and I highly recommend going for anyone, you don't even have to be that big into EDC to have a good time there!
MTEDC: How can people find you and buy your stuff?
RF: I don't have a Copper Shed website, I do all my sales in my Facebook group.
MTEDC: Any words of advice about the industry?
RF: As far as any words of advice for this industry, remember there is a reason people are paying good money for your work. And it's not because they NEED your design. It because of you and your accessibility for them. It is because of your character.
No matter what, be available for questions about product. And even more than that, as a friend. Always stay humble and work hard.
A Chicago native, Sijo Waysun Johnny Tsai is an internationally recognized combatives and survival instructor. He is a published book and DVD personality with over 35 years experience in teaching practical street defense and combatives to the military, Law Enforcement Agencies and Civilians alike. SIJO is also the founder of the C.U.M.A. Survival School.
When not teaching classes, writing, or doing crazy thing with knives, Sijo likes to enjoy his downtime with his wife and 3 children. He also likes drinking beer.