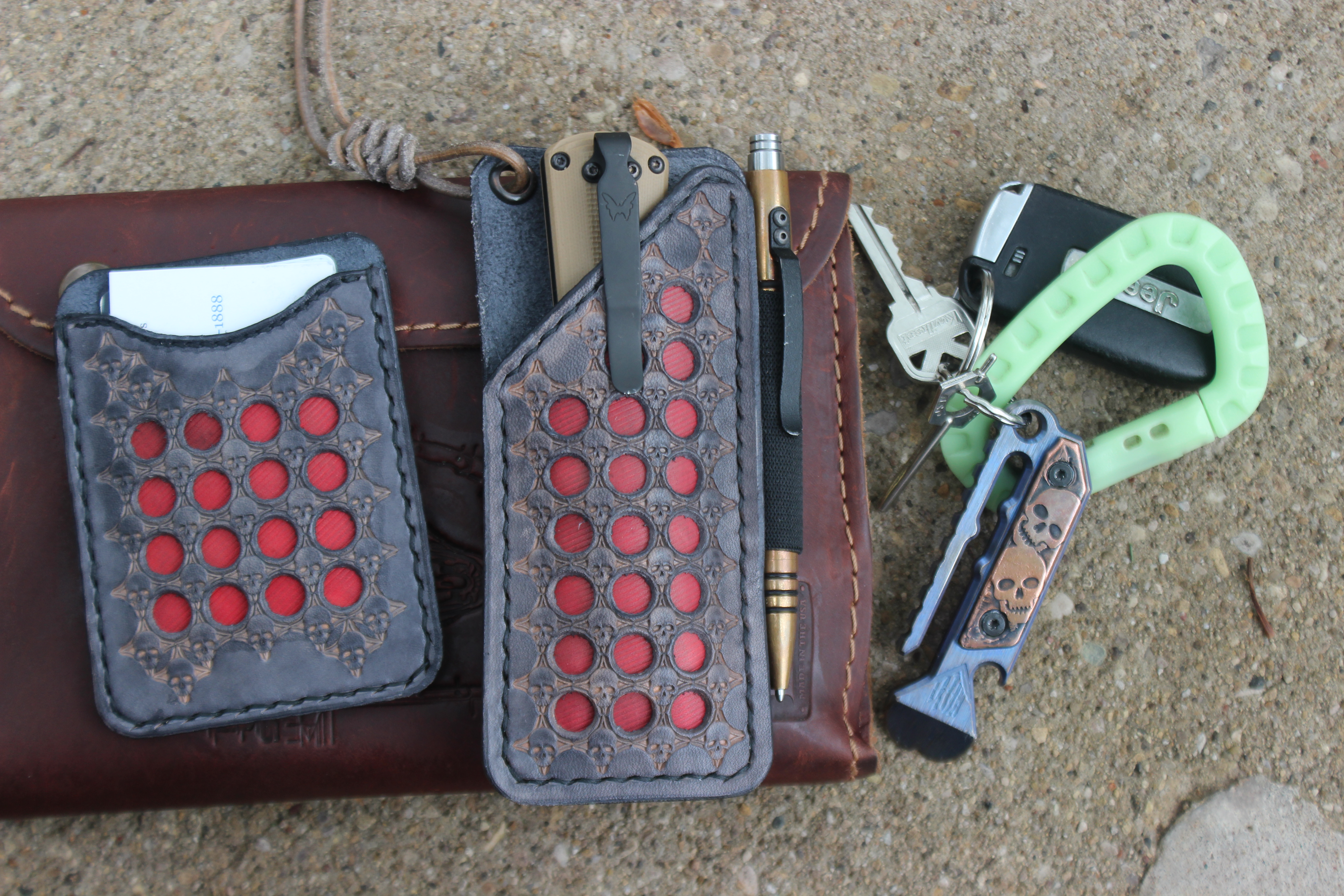 While most of us prefer made in the USA stamped on what we carry, not all cool EDC gear has to be American-made. A coupe of years back I had a really nice automatic knife sent to me from…Russia. Yes, Russia.
Recently I was contacted on Facebook by a leather maker from Slovakia. That maker's name is Tomas Sabin. He asked if I would be interested in taking a look at his leather work and I agreed.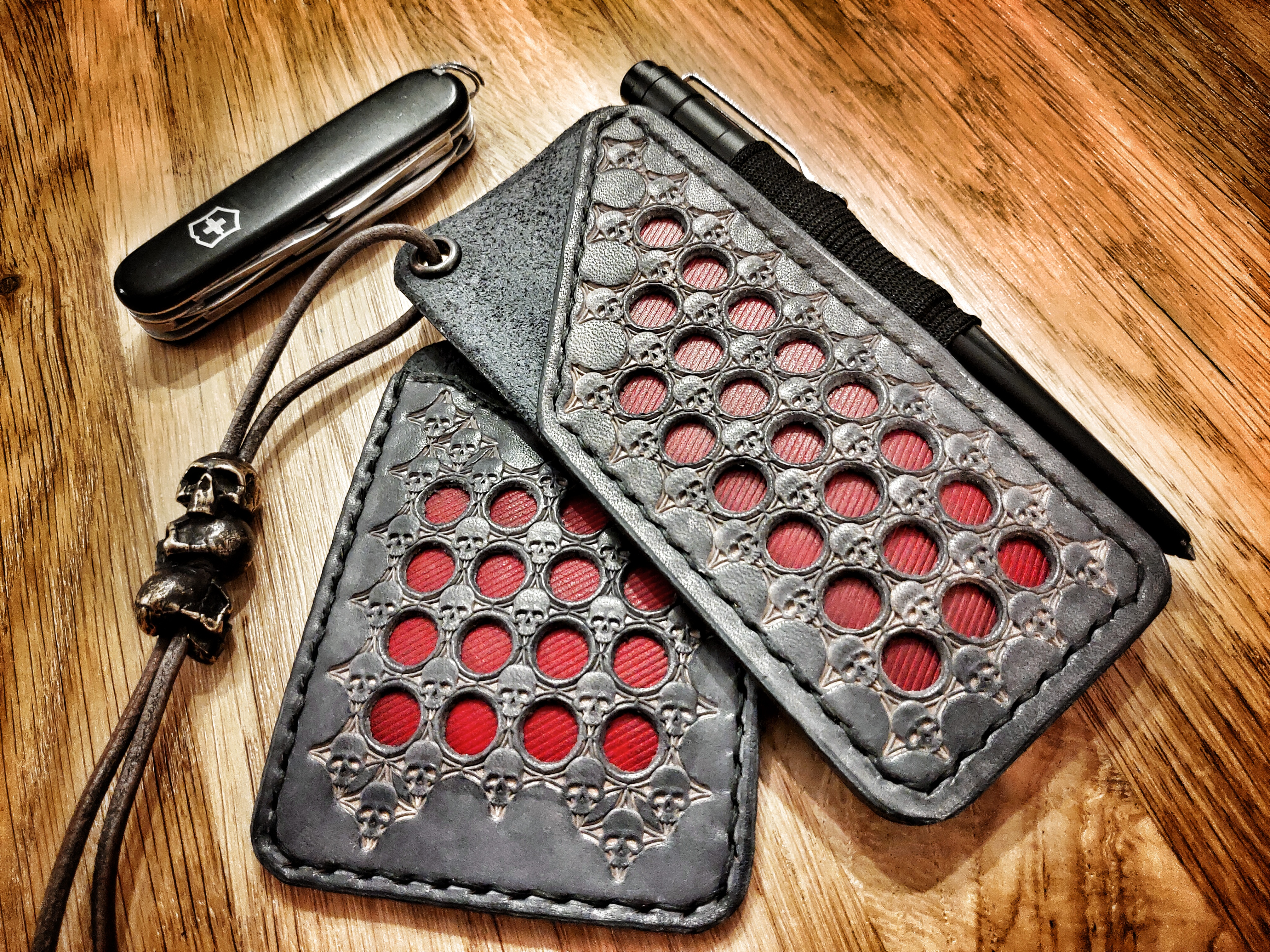 I was pleasantly surprised by the designs of his leather work. He mainly makes EDC pocket organizers, wallets, cardholders, and sheaths as Skull and Bones Leather Works.
Tomas has been making leather goods for about three years, but he's an architect by trade.
All of his products are custom made to fit the needs of the future owner. All products are genuine leather and his items are 100% handmade. His Skull stamp patterns are his signature trademark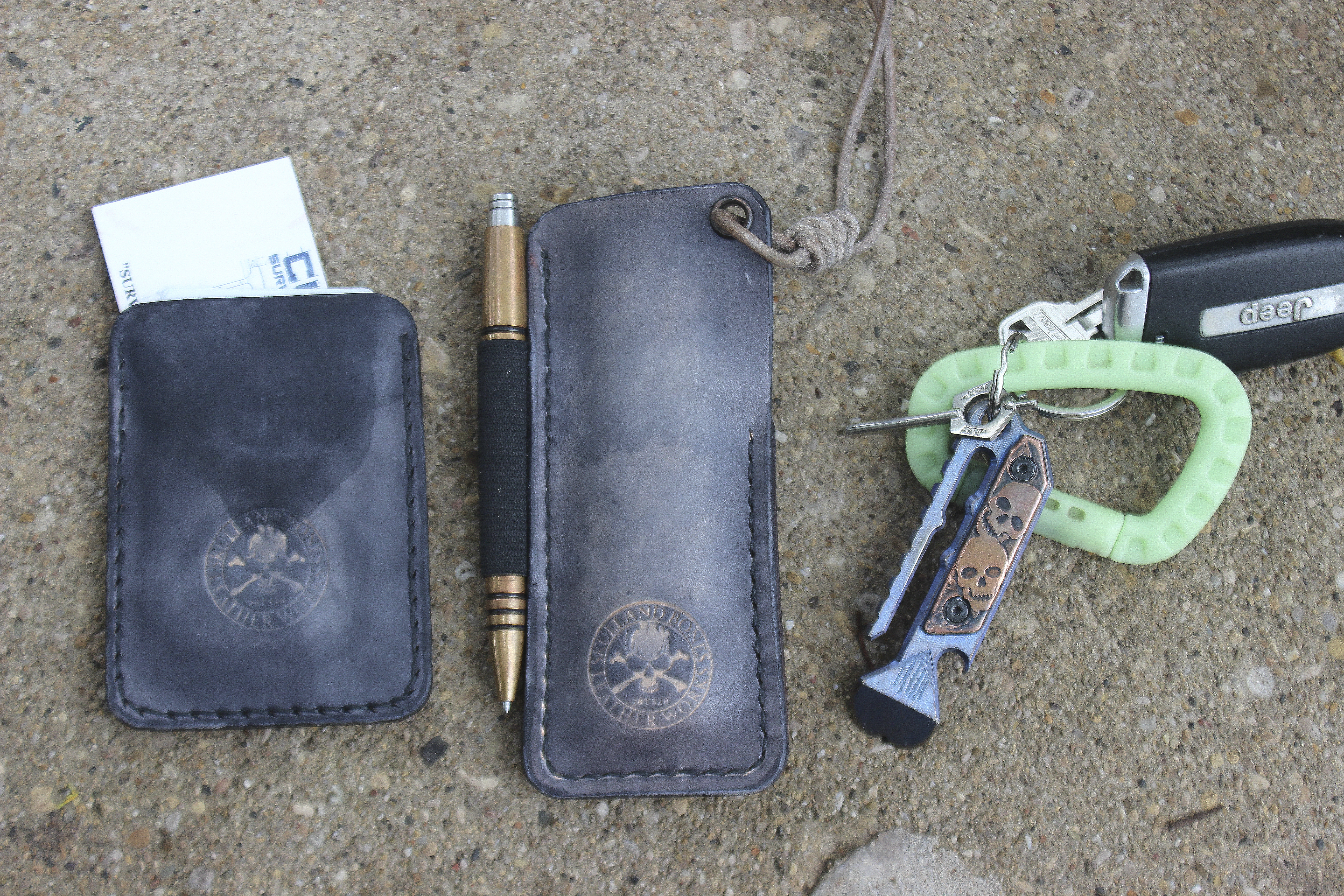 Tomas use genuine cow leather in every thickness, 1mm, 2mm, 3mm, and 4mm. Every product is unique because everybody has different needs and preferences. Prices depends on the order specs, but for example, the pen and knife holder that he sent for this article sent me is 100 Euro ($118.64 USD) plus shipping. And honestly, that's not a bad price for the set. Turnaround time can vary, but right now he is completing most orders within a month.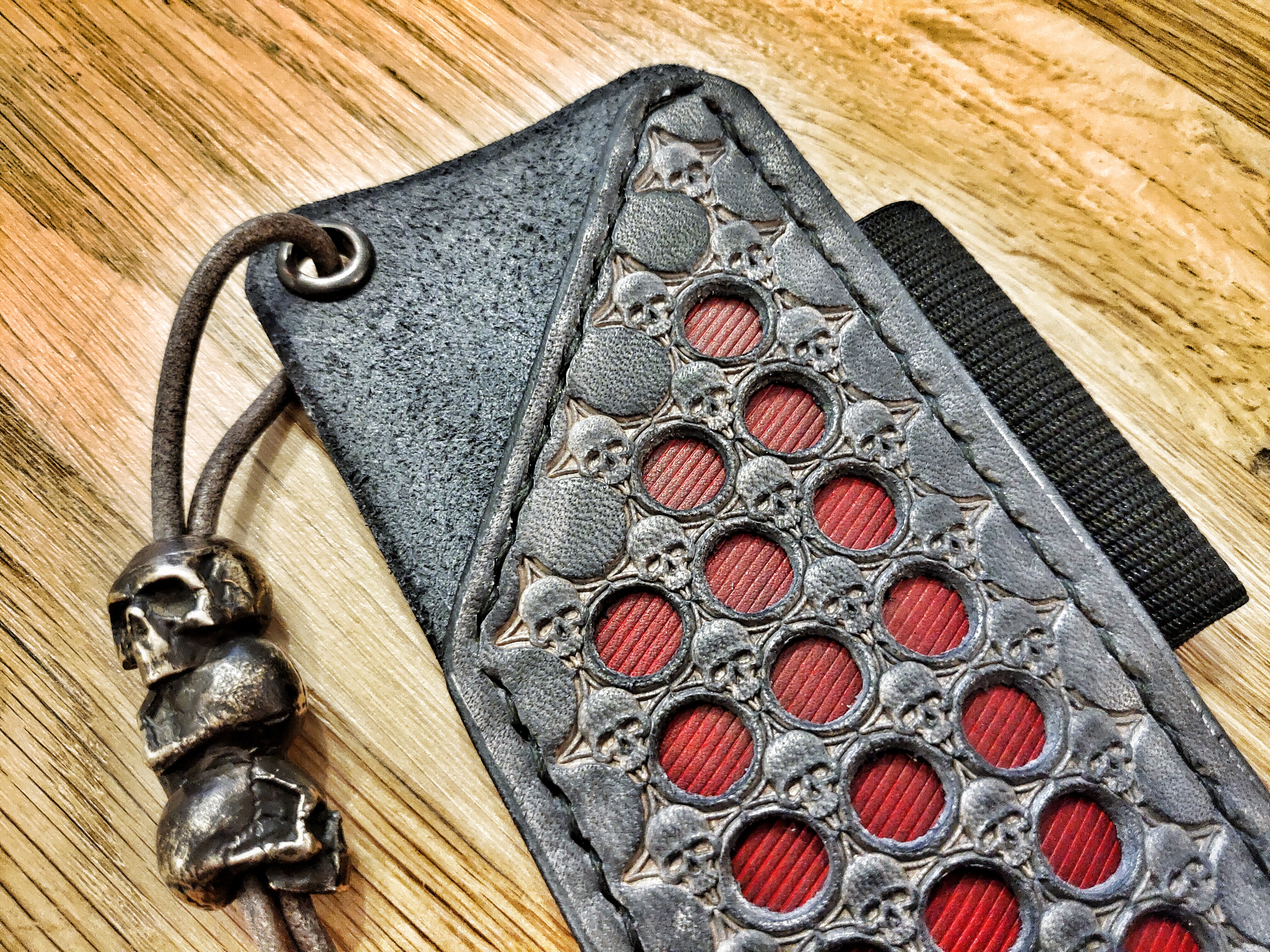 I really like the red and black set that Tomas sent. The leather isn't too thick, but thin enough to hold your items in your pocket without feeling overly bulky. I found that several of my pens fit in the elastic pen loop, but my smaller pens seem to fit best. The knife pocket is also a little tight. I am able to fit knives like my Benchmade Autocrat in it fairly easily but larger knives like my ADV Tactical Butcher just doesn't fit.
The holder fits nicely in my front jean pocket with both items. I also like the fact that it has a matching card holder It can be used as both a minimalist wallet and a business card holder, either way, this is one sharp looking set.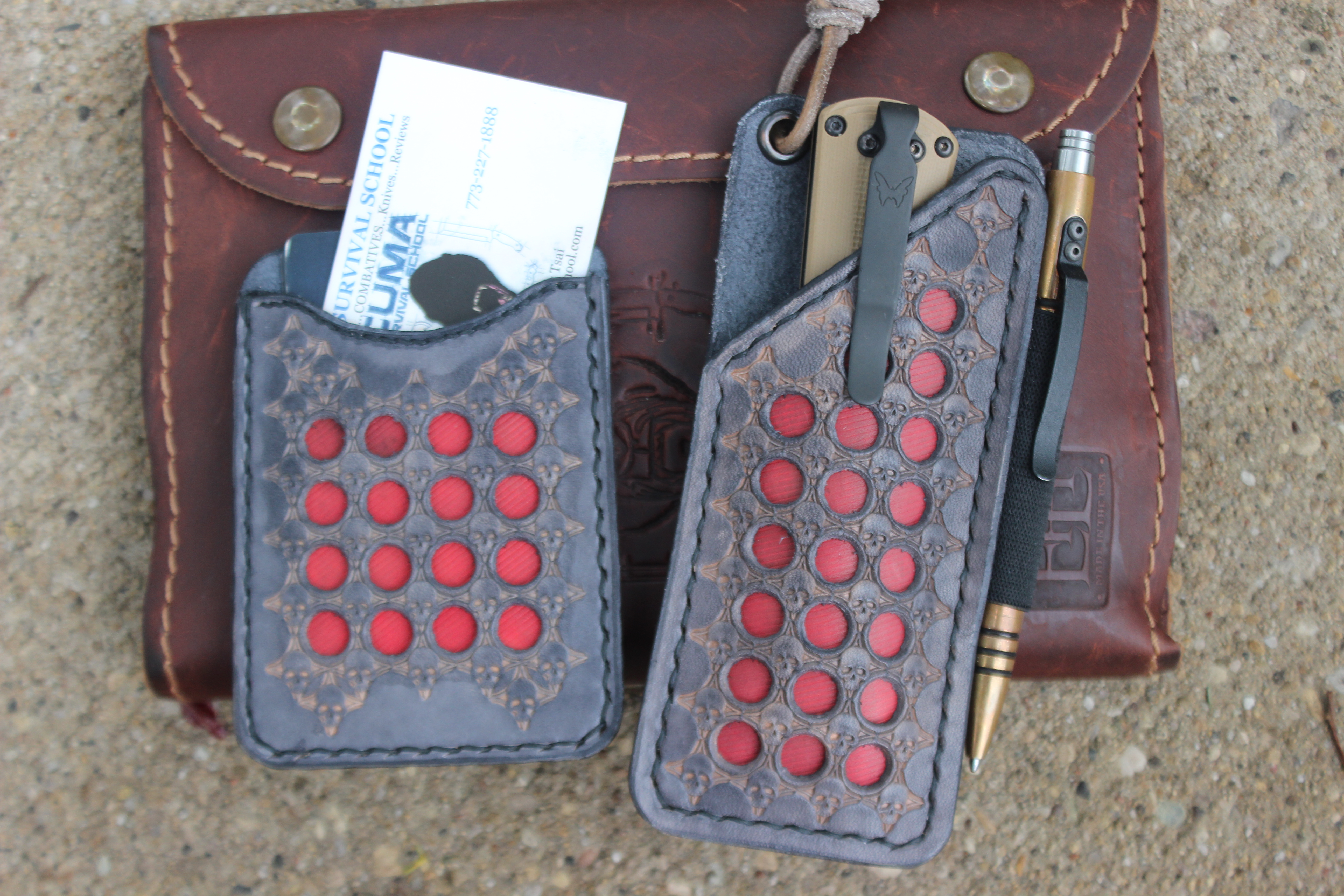 The combination of skulls and holes that that offer a color contrast are a very nice design. If anyone is interested in contacting Tomas for a set, keep in mind that he will stain the leather to pretty much any custom color that you want.
I am really glad that my new friend from across the pond decided to reach out to me, this set will get a lot of use. I highly recommend checking out Skull and Bones Leatherworks, you wont regret it.
Tomas doesn't have a website, but people can find him to order his products through his Facebook group.