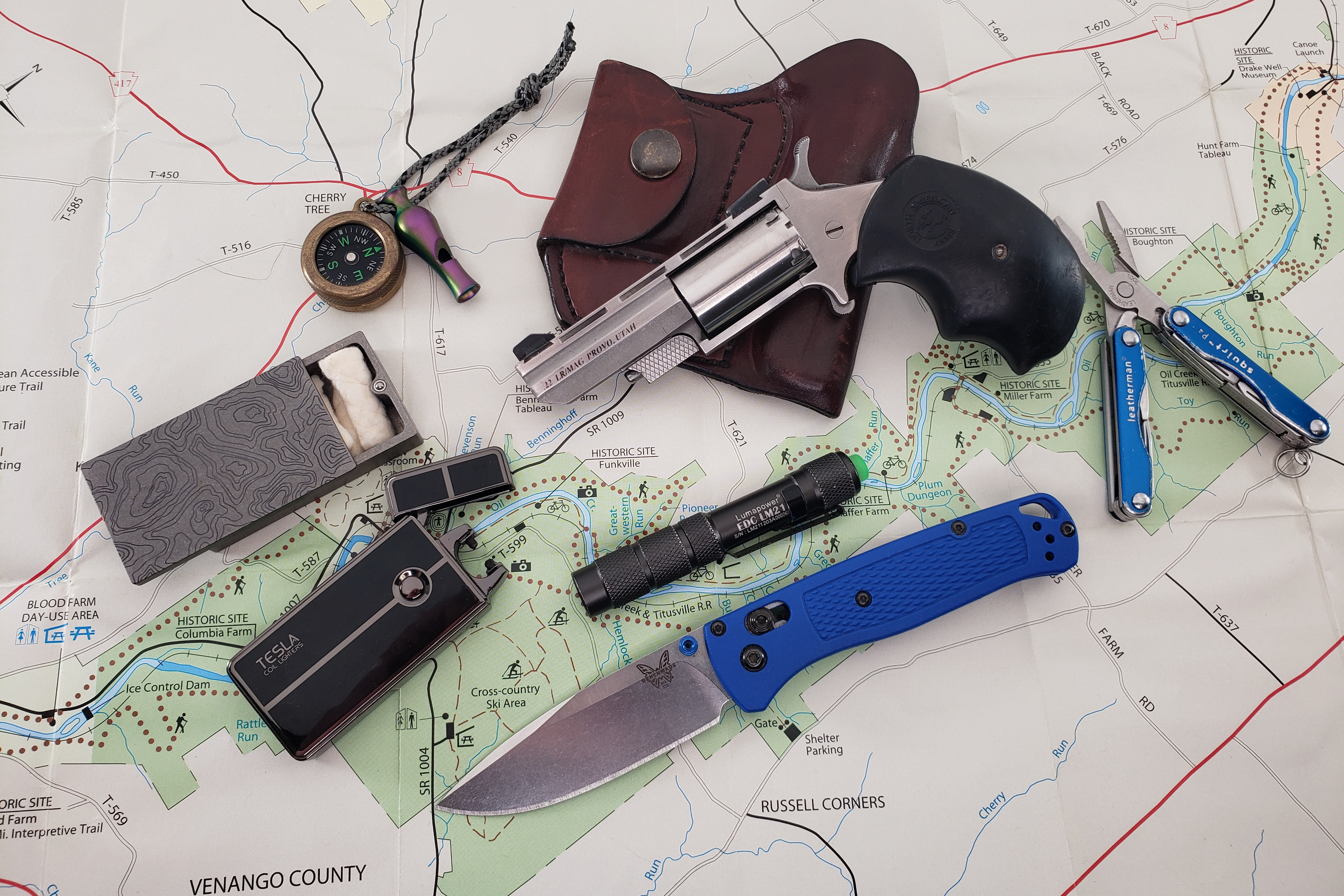 EDC in the woods is different than urban EDC. For a local day hike I don't bring a ton of stuff with me, but I still like to be prepared, just in case.
Usually I'll dump my old tried and true North American Arms Black Widow in my pocket. It's an early model and I swapped out the original squarish, chunky grip for NAA's Mini Master grip that's a great balance of control for the little .22 Magnum and concealability.
I use an old R.L. Graham leather pocket holster that holds six extra rounds of ammo, and I keep the gun and spare pouch loaded with Speer Gold Dots. Depending where I'm going I may swap some of my load out for .22 Magnum snake shot instead. I don't think Graham is in business any more, which is a shame because that's a great holster, but current makers do similar and DeSantis even has a nylon one in the same style.
My knife may vary occasionally, but my Benchmade Bugout makes it to my pocket more often than not. It's light, thin, but plenty sturdy with its Axis lock for most anything I'll do on a day hike. I usually pair that up with my beat-up old Leather PS4 Squirt in case I need some tools to fix gear or something..
I don't plan on getting lost, but I like to take precautions just in case. I always carry a small compass like the Marbles brass Pocket Compass and I threw a titanium pea-less whistle on the lanyard.
For fire starting I usually default to a ferro rod of some sort but I get lazy if I'm only planning to be out for the day. I've been taking a Tesla coil lighter with me and my CountyComm titanium strong box loaded with Tinder-Quik tabs. Fire starting is fast and easy with that combo. I wouldn't use a rechargeable lighter for a long woods trip but it's been fine for a day, or even car camping where I know I can recharge it if needed.
Last thing I take is a light. Even though it's daytime you never know if you're going to get stuck after dark for some reason. Or you want stumble on something cool to explore. Like a cave or abandoned building. I use an old Lumapower EDCLM21 with a tailcap switch. It isn't made any more but newer models like some of the AAA ones from Olight, or the rechargeable ones from Streamlight are even brighter.
Want to see your EDC gear here? Send a photo and gear list to EDC@mytacticaledc.com.