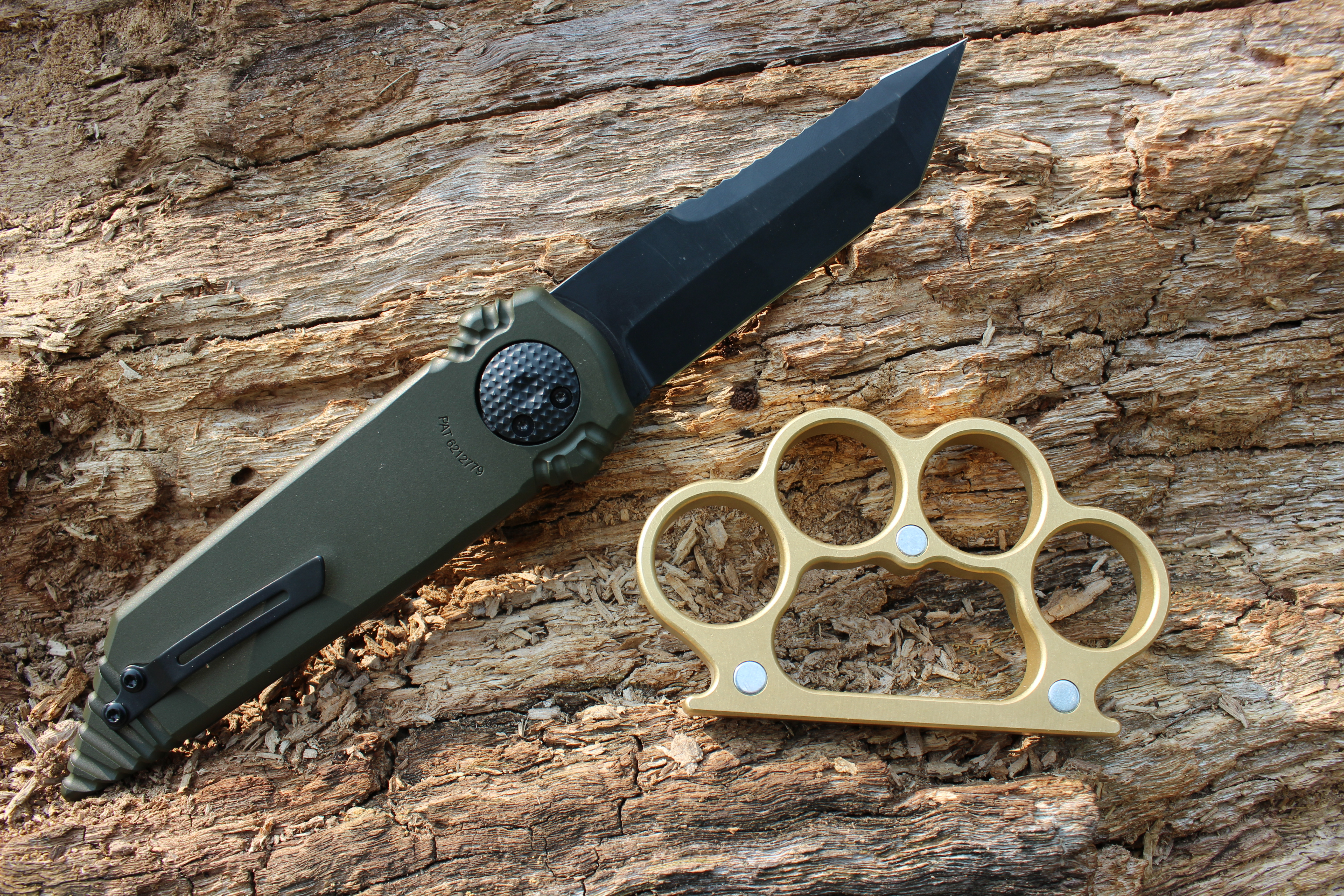 I tend to write about companies and their products when I like the people behind the products. Robert Anderson of Asheville Steel is one of those guys who is hard not to like.
I met Rob a decade or so ago when I was more of a "YouTuber" than I was an actual writer. I even drove down to Asheville, North Carolina once to meet up with Rob and review and film some of his products. Rob is one of those easy to talk to and get along with type of guys that happens to be dead serious about the knife industry. When Rob first introduced me to his company, he seemed to be primarily focused on making automatic knives like his Para-X OTF, his company's catalog of knives has grown tenfold since then.
Rob acquired the rights to a certain gravity knife lock mechanism a few years back, he held onto it for a while, waiting for the right moment to launch his successful Warlock series of knives. The difference in his gravity knife design is a unique center button that when pressed, the hidden blade swings out and when snapped back closed becomes a virtual fixed blade with zero chance of lock failure. It takes a minute to get used to the action, but it is smooth.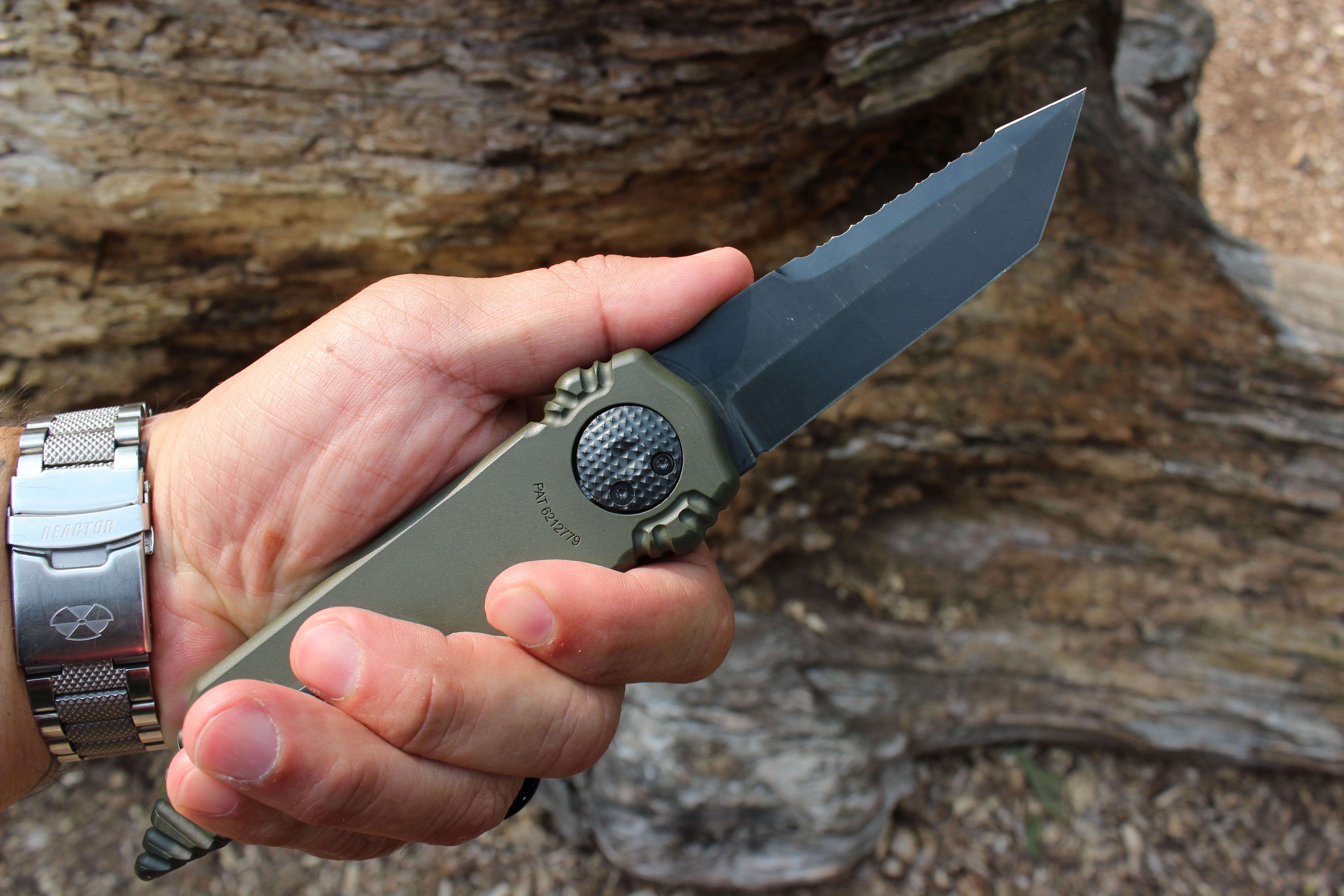 If you visit his website wwww.ashevillesteeel.com you will see that he has made a series of these gravity knives in a variety of finishes. The variant that we will cover today is called the Dredd Lock, an impressive looking Tanto gravity knife.
The Dredd Lock sent for this article is OD green and comes with a partially serrated tanto blade with a flat grind. The overall length of the knife is 9.50". The aluminum handle is nice and beefy at 1.5" wide. The knife weighs in at 5.37 ounces and it pocket carries tip up. MSRP on the Dredd Lock is $299.99.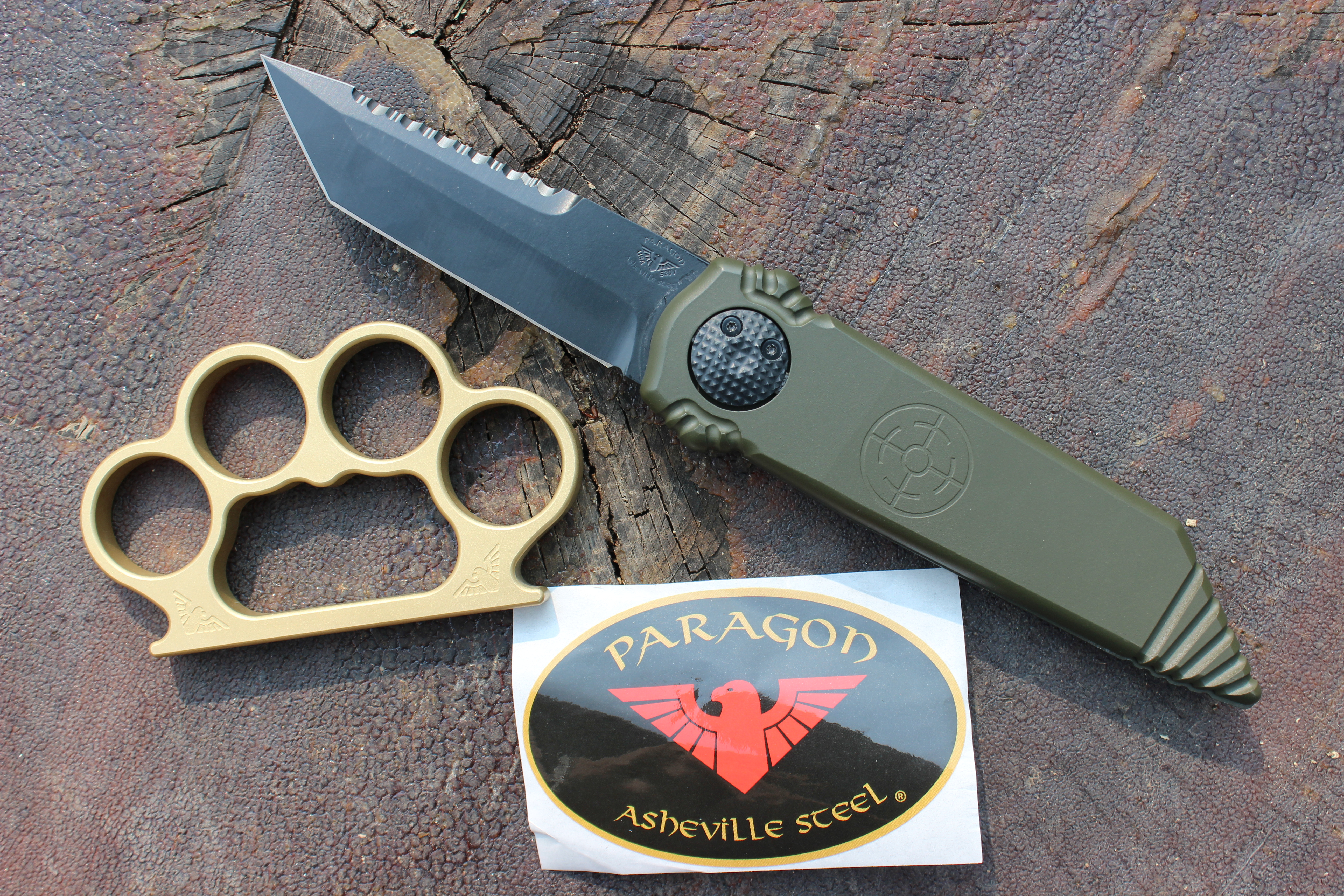 The other item from Asheville that we are taking a look at is the Hang-N-Bang. It's basically a full set of CNC machined 3/8th thick solid brass knuckles with magnets on it. Each set of knuckles have three strong neodymium rare Earth magnets pressed into the brass. Rob said it's perfect to stick to a anything from a motorcycle tank to a fridge. I found the magnets fully capable to hold solid against my car door. However, I keep mine on my fridge door ready for action in case someone interrupts pizza time. MSRP on the Hang-N-Bang magnetic knuckles is $99.99.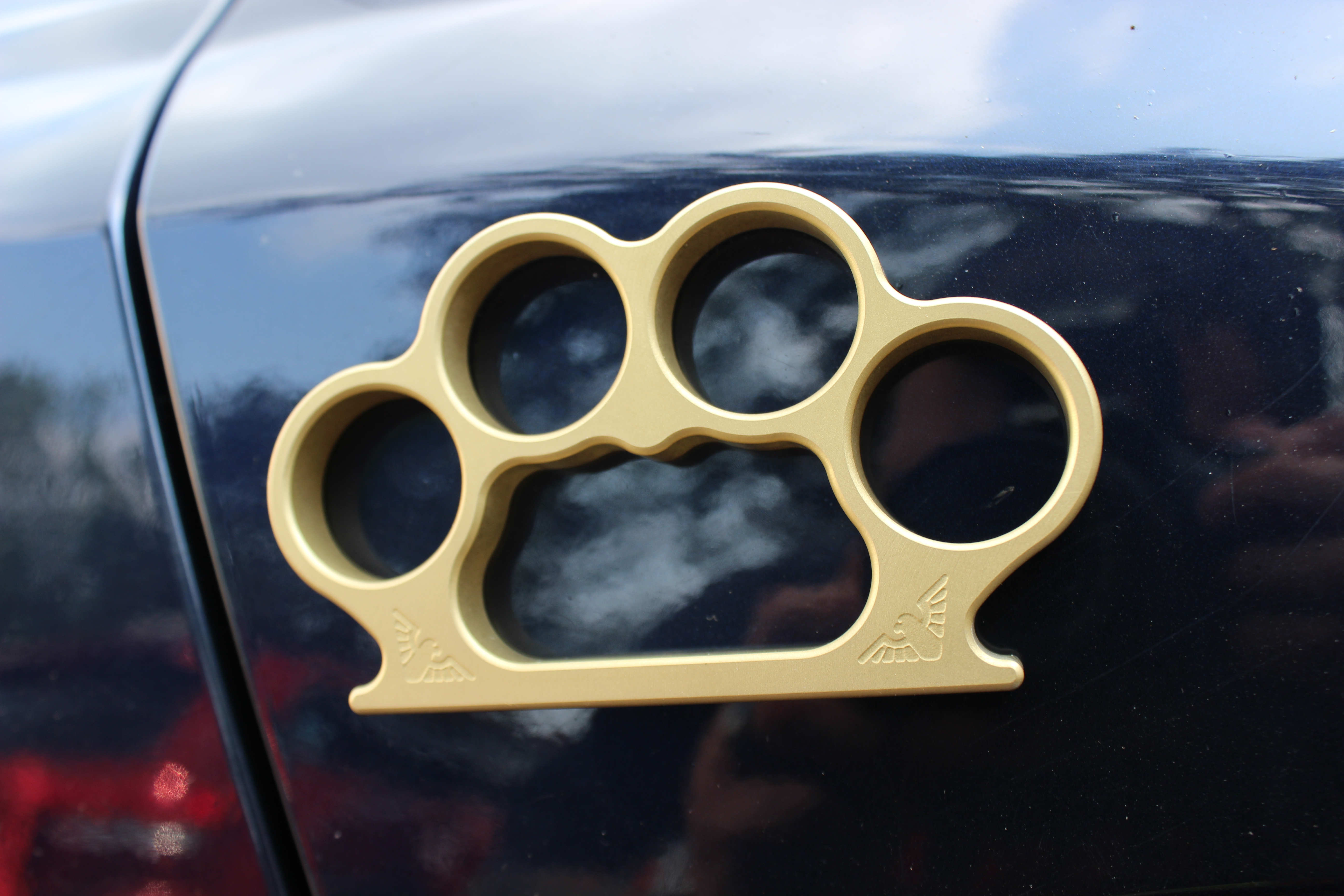 Both items are 100% made in the USA and are fully covered by Ashville Steel's lifetime warranty. Ashville Steel products are available to purchase anywhere that sells fine knives or on their website www.ashevillesteel.com.
As I mentioned, Rob is a pretty laid back and easy guy to talk to. He agreed to answer a couple of questions for our readers about his company, his knives and the Hang and Bang. Without further delay, please allow me to introduce Rob Anderson of Asheville Steel.
Here are the DREDD LOCK's specifications:
Overall Length: 50″
Blade Length: 875″
Blade Thickness:13″
Blade Material: CPM-S30V
Blade Style: Tanto
Blade Grind: Flat
MSRP $299.99
MEET THE MAKER:
MTEDC: Please introduce yourself and your company our readers.
RA: My name is Robert Anderson, I am the owner of Asheville Steel, and maker of Paragon brand of Knives.
MTEDC: How long has Asheville Steel been around.
RA: Asheville Steel has been established as a company since 2006.
MTEDC: I know you guys specialize in automatic knives. Is Asheville the town known for automatic knives or knives in general?
RA: Asheville North Carolina is in the western part of the state which has a very rich history of knife production. Microtech knives is in the next county over.  Masters of defense was manufactured actually in the city of Asheville. Randall King knives was developed in Western North Carolina.
The original old Paragon Cutlery was also manufactured here. When Spyderco wanted to make their first automatic knife they came here so did Al-Mar knives.
MTEDC: Tell me about the Dredd Lock? Specs, price, materials etc.
RA: The Dredd Lock Is the 3rd knife in our gravity series. It features a tanto blade with S30V and 6061 aluminum handles. This knife we will either double-edge or do a double-edge into a serration. This gives the user a number of edges to go to for whatever he needs.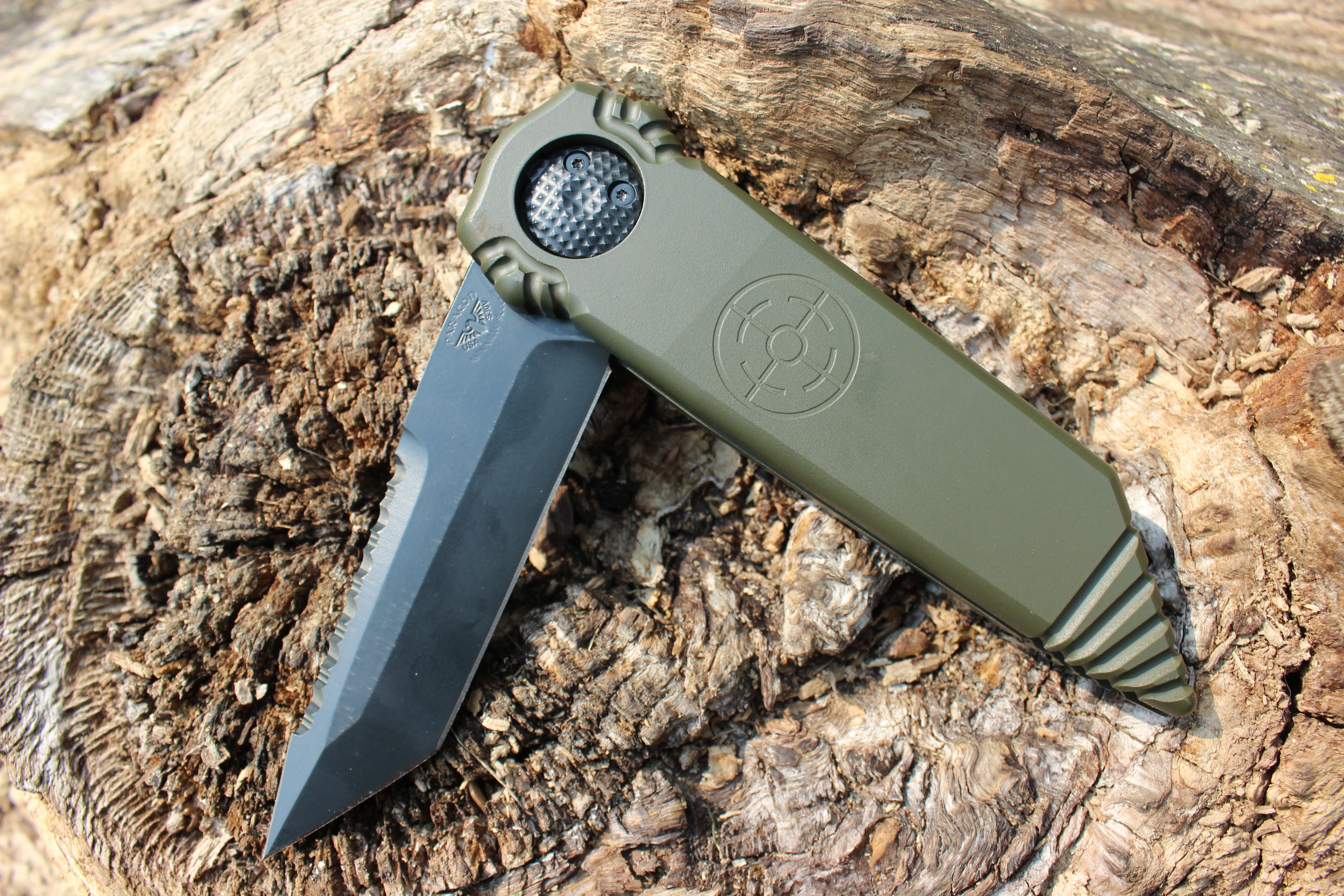 MTEDC: It's the same mechanism as the Warlock series, right?
RA: Yes, it's uses the same mechanism that the Warlock and Phoenix do.
MTEDC: Who invented that locking mechanism?
RA: Jeffrey Mitchell in Sanford Florida. His patent number is 6212779.
MTEDC: How would you describe the mechanism to someone that has never seen it?
RA: I would describe it as an expanding clamshell gravity knife.
MTEDC: I like the Dredd Lock, once opened it virtually becomes a fixed blade, right?
RA: Yes, once the knife is in the open position the clam shell provides almost a fixed blade feeling.
MTEDC: Tell us a little bit about the Hang and Bang. How did that come about?
RA: The Hang and Bang brass knuckles were the brainchild of Dylan Davis of Hypercut manufacturing.  He developed that over a year ago during the pandemic and approached us about putting it on our web store and selling it to our dealers which we did.
MTEDC: I have mine hanging on my kitchen fridge ready for action. Where do you keep yours?
RA: We have ours on display in our showroom.
MTEDC: How was the Atlanta Blade Show for you this year?
RA: The 2021 Blade Show for us was actually the first time that we ever turned a profit instead of breaking even.
MTEDC: Anything new from Asheville Steel coming out that you can share with our readers?
RA: We do have a new gravity design using a sheep's foot.  We are also developing a high in titanium unit for collectors and enthusiasts. We are going to do all of our models in 6AL 4 V titanium.
MTEDC: What advice would you give about someone about the knife industry?
RA: My advice to anybody coming into this industry is to do it the way you see it and feel it. There is a design out there for everybody make it the best you can.