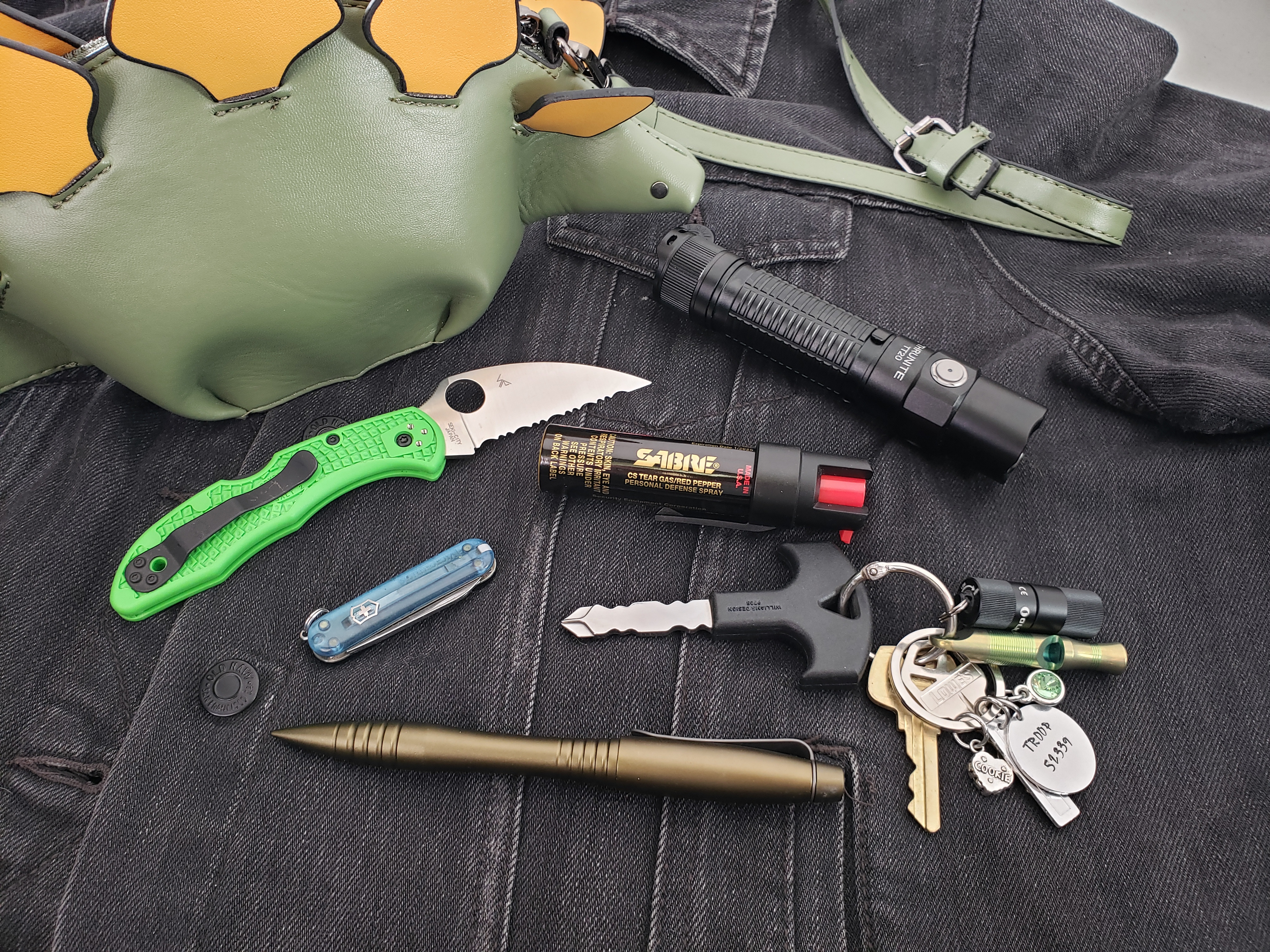 Yeah, I know our EDC gear here normally consists of a carry gun and an array of dangerous tools, but not everyone is able to pack a pistol either due to non-permissive environments, or simply age. My daughter is headed off to college in a couple weeks and being the overprotective dad (and gear geek) that I am, I wanted to make sure she had some options available to her for both on campus and off campus use. Her EDC is a mix of things she's carried for a few years now and some new stuff I outfitted her with for college.
Most of this is carried in the ultra-tactical dinosaur purse seen in the pic, or her backpack. I'm trying to encourage her to carry some of the things on body though, at least at night.
She isn't old enough to buy a handgun or get a concealed carry permit, but honestly she isn't likely to do that even when she is. Despite my best effort she's not really a gun girl, which is a shame because she's a pretty good shot. She was enthusiastic about pepper spray though so I picked up a canister of SABRE Advanced Compact Pepper Spray. This is a pocket sized can with a clip and it uses a 3-in-1 formula of mixed pepper spray, CS tear gas and UV marking dye. We use a SABRE police strength spray as our issued OC at work and after reading up on civilian ones, this looked like a decent bet. A bunch of her friends are carrying the same thing now too.
I'm always a fan of flashlights. They're handy tools and, if you get a good one, nothing says "what are you looking at creep?" like over 2500 lumens of pocket sunshine to the eyes. I wanted a light that came on high with a tailcap switch, had a crenelated strike bezel, and was rechargeable. A buddy suggested the ThruNite TT20 Tactical Flashlight. When I tracked down reviews of it they were overwhelmingly very good. It puts out a whopping 2526 lumens on turbo mode with the tap of the tailcap switch. It also has a strobe mode and a variety of light levels to choose from. It recharges using a standard USB C cable too.
Now, I know she may not able to carry a knife with her everywhere on campus, but I couldn't not give her one either. I ended up going with a Spyderco Salt 2 with a serrated wharncliffe blade of LC200N steel. I liked ten bright green FRN handles too. My daughter likes bold colors and it doesn't scream tactical like a blacked out folder might. I think the LC200N steel is basically Mithral from the Lord of the Rings. It's a carbonless, nitrogen infused steel that doesn't rust and requires very little maintenance. Perfect for her to cut pizza with or slash muggers.
For less obvious defense that she should be able to take to class I picked up two tools from CRKT. The first is the Williams Defense Key, which looks like a large car key with a phillips head screwdriver tip and a T shaped handle so you can grasp it in your fist. She's been carrying that all summer on her key ring. The other item is another Williams design, the CRKT Williams Defense Pen. This is a solid tactical pen that can be used for jabs, pressure points, or kubaton techniques. She'd probably just be jabbing with it, but it's an extremely solid tool. I like that it doesn't look nearly as obvious of a tactical pen as some on the market and the olive anodized color is a nice diversion from the basic black version I carry when traveling.
She's had a whistle and a small keychain flashlight on her keyring for years now. I upgraded her to an Olight i1R EOS LED light that puts out a surprising 130 Lumens and is USB rechargeable. I hope she carries the light saber like ThruNite during evening classes but if nothing else she's got a nice utility light in the Olight. Aside from losing my Olight to her I also swapped out her old whistle for my Titanium one from WE Knife. I didn't think that through when I offered it to her. Now I need to get another for myself again.
The last item of her EDC (well aside from whatever it is that girls carry in their purses otherwise) is a well-loved Victorinox Classic. She's had that for years too and with its small blade and scissors it's a handy piece of kit for general use.
So, if you've got a family member heading off to school, or a job with limits on what they can carry, hopefully you get some ideas from the selection I came up with for my daughter. I hope she never has to use any of the defensive items, but I'll feel better knowing she has them available, just in case.