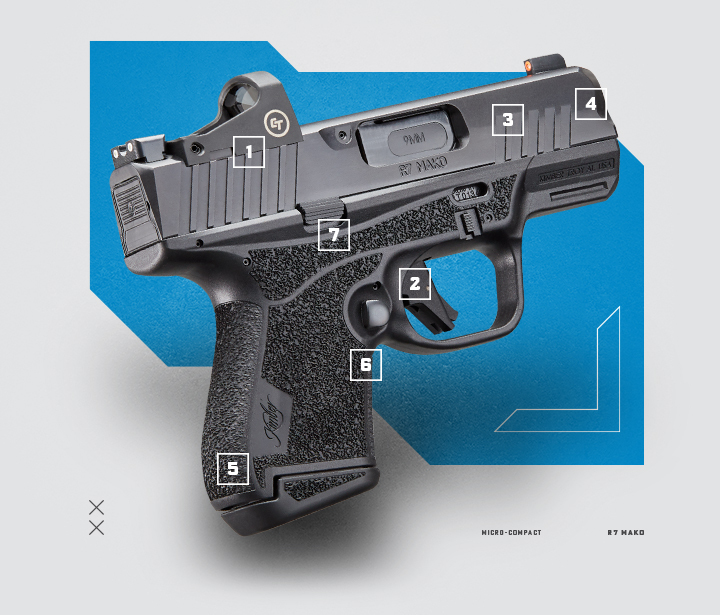 Micro 9mm's are all the rage with concealed carry folks these days, and Kimber has jumped into the game. Joining the ever growing ranks of the Sig P365, the Glock 43 series, Smith & Wesson's Shield Plus, Ruger's Max 9, Springfield Armory's Hellcat and the Taurus GX4 is the new R7 Mako.
Smaller carry guns are nothing new for Kimber with their compact and micro 1911's, the DCR revolver, and the Evo SP auto, but a high capacity, optics ready, polymer frame pistol certainly is. The R7 Mako is obviously designed to take on all the challengers in the micro compact market head on. With a height of 4.3 inches and length of 6.2 inches with its 3.37 inch barrel, it compares favorably with the competition, as does its 19.5 ounce unloaded weight.
The difference is in the details though. Kimber added a Performance carry Trigger to the R7 that breaks at a crisp 5 to 6.75 pounds from the factory. They liken it to shooting a single action trigger, even though this is a striker fired gun. There's a rear locking lug to keep the bore axis, and thus felt recoil down, along with an undercut trigger guard, and an ergonomic grip with wrap around texturing. All of the controls are ambidextrous.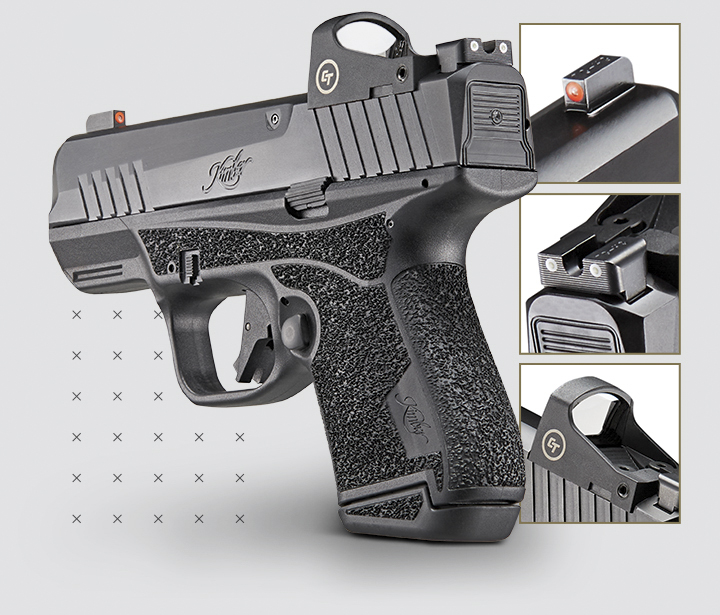 Sights are above average, right out of the box. The R& is optics ready and comes with Truglo Tritium Pro steel front and rear sights, or you can get it with a factory installed Crimson Trace CT-1500 red dot, which seems to be the sight of choice for a number of manufacturers.
The capacity is also above average. It comes with a flush fit mag that gives you an 11+1 capacity, but also a slightly extended mag that give you a 13+1 capacity and a pinky rest. That beats the P365, Glock 43X with factory mags, the Ruger Max 9, and matches the Hellcat, GX4 and Shield Plus.
If you're looking for a more refined micro 9mm with custom features right out of the box the R7Mako is worth a look. With its $599 MSRP ($799 with installed CT-1500) it's very competitively priced compared to most of its peers while arguably offering superior features and handling.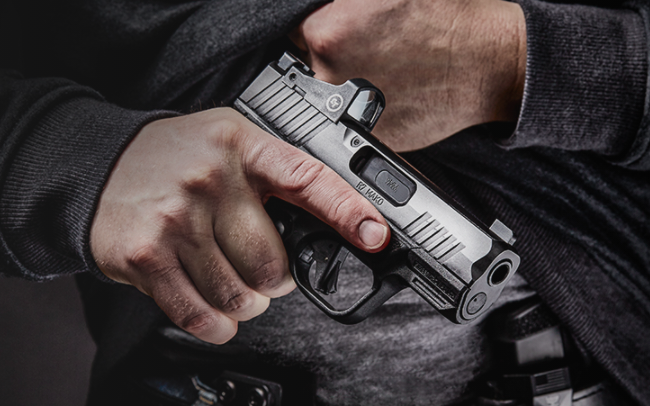 R7 Mako Overview:
High-capacity, 12-round micro-compact, 14 rounds with included extended magazine
Crimson Trace® CTS-1500 Reflex Sight (on optics-installed model)
Mount any sight that fits the Shield pattern RMSc footprint on either the optics-ready or optics-installed model
Co-witnessed tritium night sights with Glock-cut dovetail
Performance Carry Trigger™
Specifications:
Caliber: 9x19mm
Capacity: 11+1 rounds flush fit, 13+1 extended
Barrel: 3.37″ Stainless with a 1:10 LH twist
Overall Length: 6.2 inches
Width: 1 inch
Height: 4.3 inches
Weight: 19.5 ounces without magazine
Sights: Truglo Tritium Pro steel sights front and rear. Optics Ready or Optics Installed (Crimson Trace CT-1500)
Frame Material: Glass-filled nylon grip frame and stainless steel central block
Slide: Stainless with FNC finish
Trigger: 5.0 – 6.75 lb Factory setting
MSRP: $599 Optics Ready, $799 Optics Installed