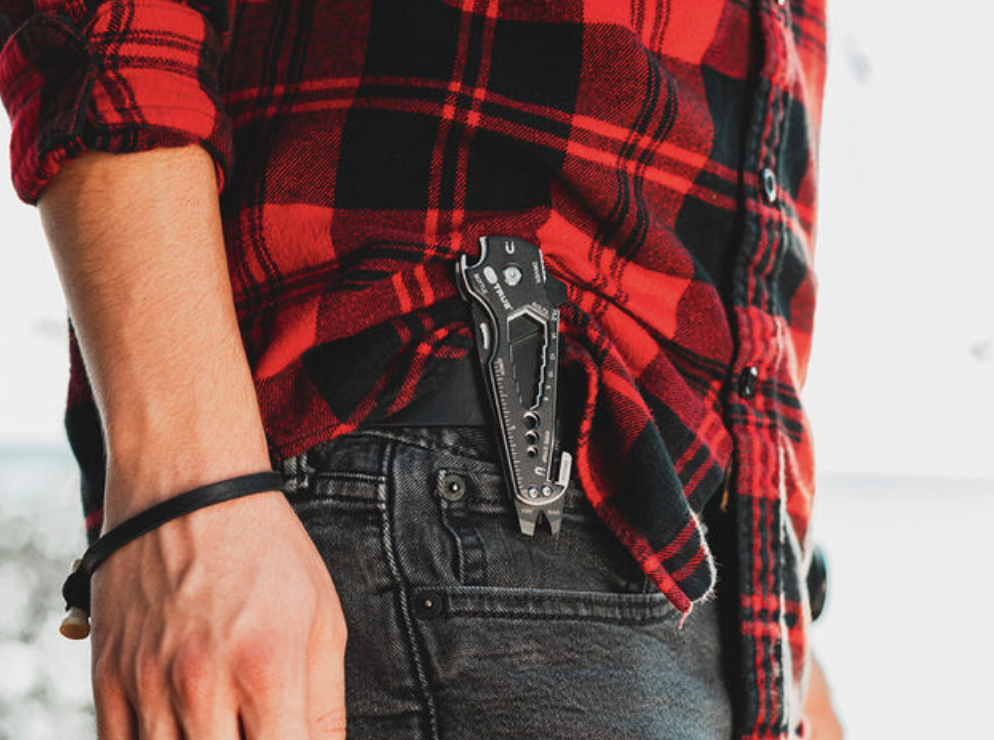 A stand-alone knife is always better than a multi-tool. What about a stand-alone knife that has had some additions? When the primary purpose of a tool is for cutting, and it retains that foundation, adding some extras can carry a user far beyond standard capabilities. It may not entirely be a multi-tool, but it definitely comes in handy.
TRUE Knives has released their SmartKnife+. It's a small pocket knife that has been augmented to add some additional uses. Whether or not a user actually uses these additions, it doesn't take away from the SmartKnife+'s original function of being a good knife.
The SmartKnife+ knife houses a bottle opener, a .25" bit driver with a Phillips bit included in the magnetic bit storage, three flat head screwdrivers, 6mm-14mm wrenches, wire strippers, a pry bar, a 2" inch ruler, and a 5cm ruler. All of this is housed in the high-grade stainless-steel frame with true multi-tool capability.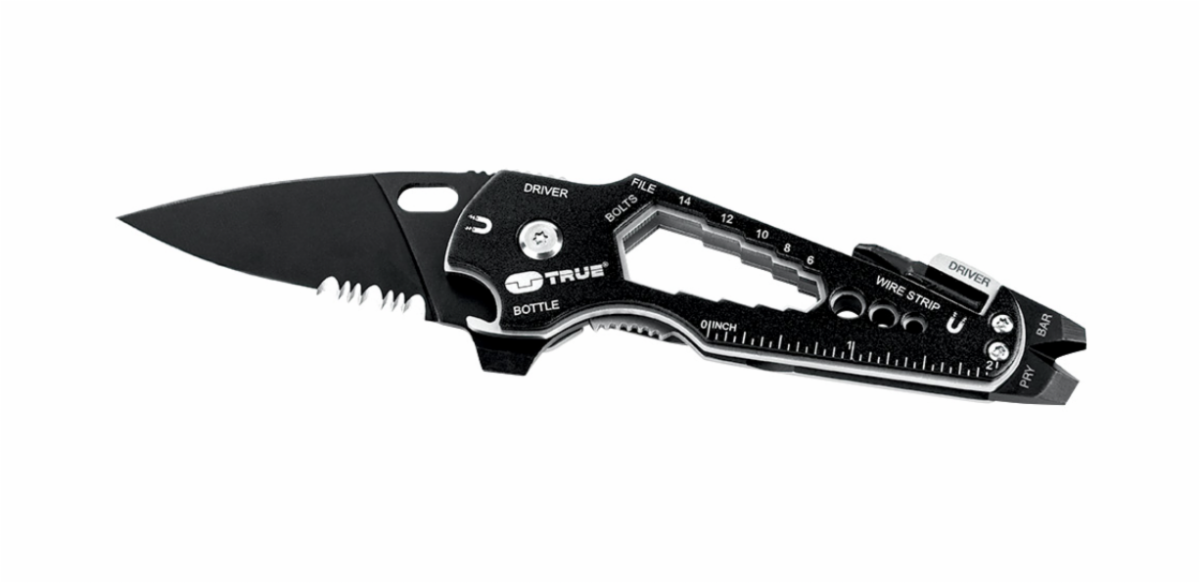 The 2.375" partially-serrated blade is 420 stainless steel with a black oxide coating, more than enough for daily tasks. This steel material is easy to sharpen and will offer some serious rust prevention.
When folded, the flipper acts as a flathead screwdriver or small prying tool, while the opposite is a bottle opener. On the butt of the knife is a small pry bar and two additional flat head screwdrivers. Just above the pry bar is the .25" bit storage. The .25" bit driver is accessible at the top of the handle when the knife is closed. In the middle of the handle are a series of metric wrenches that can cover most tasks, and, on the sides, a 2" ruler, a 5cm ruler, and a file are featured.
The SmartKnife+ is, at its core, a knife with extra features. TRUE Knives has devoted itself to keeping the main use unadulterated, effectively retaining the full usability of the knife…with some extra features. This multi-use knife measures 4.375" long, 0.5" wide, and 1.625" tall.
Throw it in your pocket and use the tip down pocket clip for easy access. Anyone can near guarantee that is one right tool for the job.
Explore the TRUE SmartKnife+ and other exciting TRUE tools at:
TRUE SmartKnife+ FEATURES:
Blade Shape: Drop Point
Blade Length: 2.375"
Blade Edge: Partially-Serrated
Blade Steel: 420 stainless
Blade Finish: Black Oxide
Locking: Frame Lock
Handle: Stainless Steel & Anodized Aluminum
Knife
Pocket clip
Pry bar
Bottle opener
Screwdrivers
¼" magnetic bit storage
Wire strippers
Inch and centimeter rulers
5 wrenches (6mm – 14mm bolts)
SPECS:
Dimensions: (L) 4.375" x (W) 1.75" x (D) 0.5"
PRICE AND SKU:
MSRP $34.99