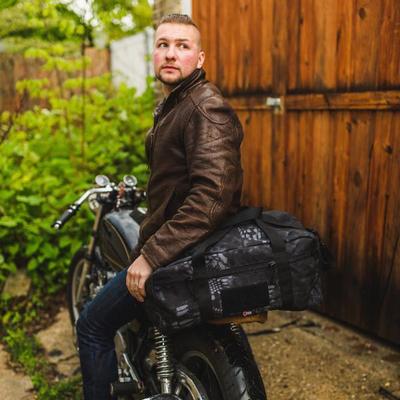 I've always been able to get behind a company that is owned by first responders. These guys put everything on the line to save the lives of strangers, why not support their businesses?
One thing I've noticed about all of my buddies who are fire fighters is that they generally have a really good side hustle going on because of their schedule. One retired firefighter named Jake Starr created a gear company called Recycled Firefighter where he makes gear out of, well, recycled firefighter gear.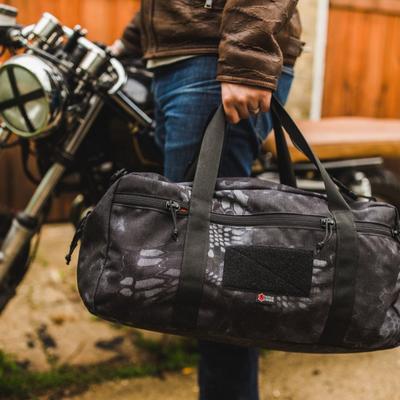 In 2014 he designed his Sergeant Wallet. By 2015 he had sold over 20,000 of them.
Flash forward to today and Jake has an entire lineup of recycled fire fighter products, including his new Batallion 42L Duffle Bag. I am about to order one for myself. Continue reading to find out why you should too.
"The Battalion Series" of bags are made from 100% Military Spec 1000D Cordura and USA made hardware. This 42L Duffle Bag is designed to be that larger bag you'll carry for a weeklong trip, or possibly to the gym.
Featuring a full-length zipper, which makes it easy to reach items on the bottom or side of your bag.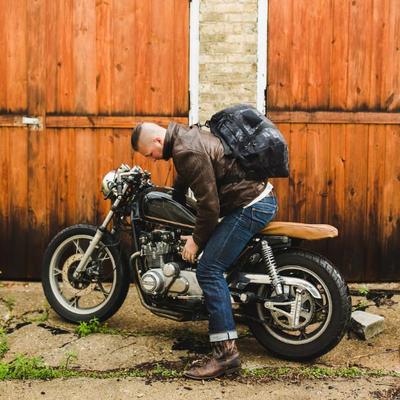 Featuring reverse #10 YKK Mil-Spec zippers on the entire bag, it opens and closes smoothly under any circumstance. With 1 main compartment, 3 small side pockets, and 1 large side pocket, this bag has ample storage and organization without getting overly complicated.
The bag's interior is composed of "Hi Visibility Blaze Orange" high density 400D pack cloth. This makes finding your gear super easy, even at night when visibility is low.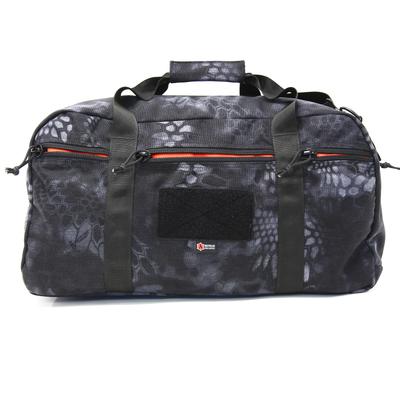 All stress points are either box stitched, or bar tacked for ultimate durability. Boxed stitched shoulder strap attachment points and USA Made plastic hardware. Shoulder strap included.
SIZE 11″ TALL, 11″ WIDE, 21″ LONG (42 LITERS)
42 Liters of volume
Weight – 1lbs 8oz
1/4″ Padded bottom with double layer fabric
High Visibility Interior Pack Cloth
3 Exterior front zippered pocket and 1 Large external pocket
1000D Mil Spec Cordura 
Huge #10 Mil-Spec YKK Reverse Zippers 
1″ Mil-Spec binding on interior (no raw edges)
5″ Mil-Spec webbing on shoulder straps
All USA made plastic hardware
550 Cord Zipper Pulls
11″ tall, 11″ wide, 21″ long (42 Liters)
Full length zipper for easy access to gear
3″ x 5″ USA made Velcro loop field
Patches sold separately 
.25″ thick foam bottom and back for rigidness 
All stress points are Double, or Triple sewn
Proudly Sewn in the U.S.A. in small batches
Will fit a 15″ MacBook Pro in large side pocket
 MSRP $149
Get yours at www.recycledfirefighter.com. 
A Chicago native, Sijo Waysun Johnny Tsai is an internationally recognized Combatives and Survival instructor. He is a published book and DVD personality with over 35 years' experience in teaching Practical Street Defense and Combatives to the Military, Law Enforcement Agencies and Civilians alike. SIJO is also the founder of the C.U.M.A. Survival School. He is also a renowned knife designer for companies like TOPS KNIVES, SMOKY MOUNTAIN KNIFE WORKS and WORK TUFF GEAR.
When not teaching classes, writing, or doing crazy thing with knives, SIJO likes to enjoy his downtime with his wife and 3 children. He also likes drinking beer.