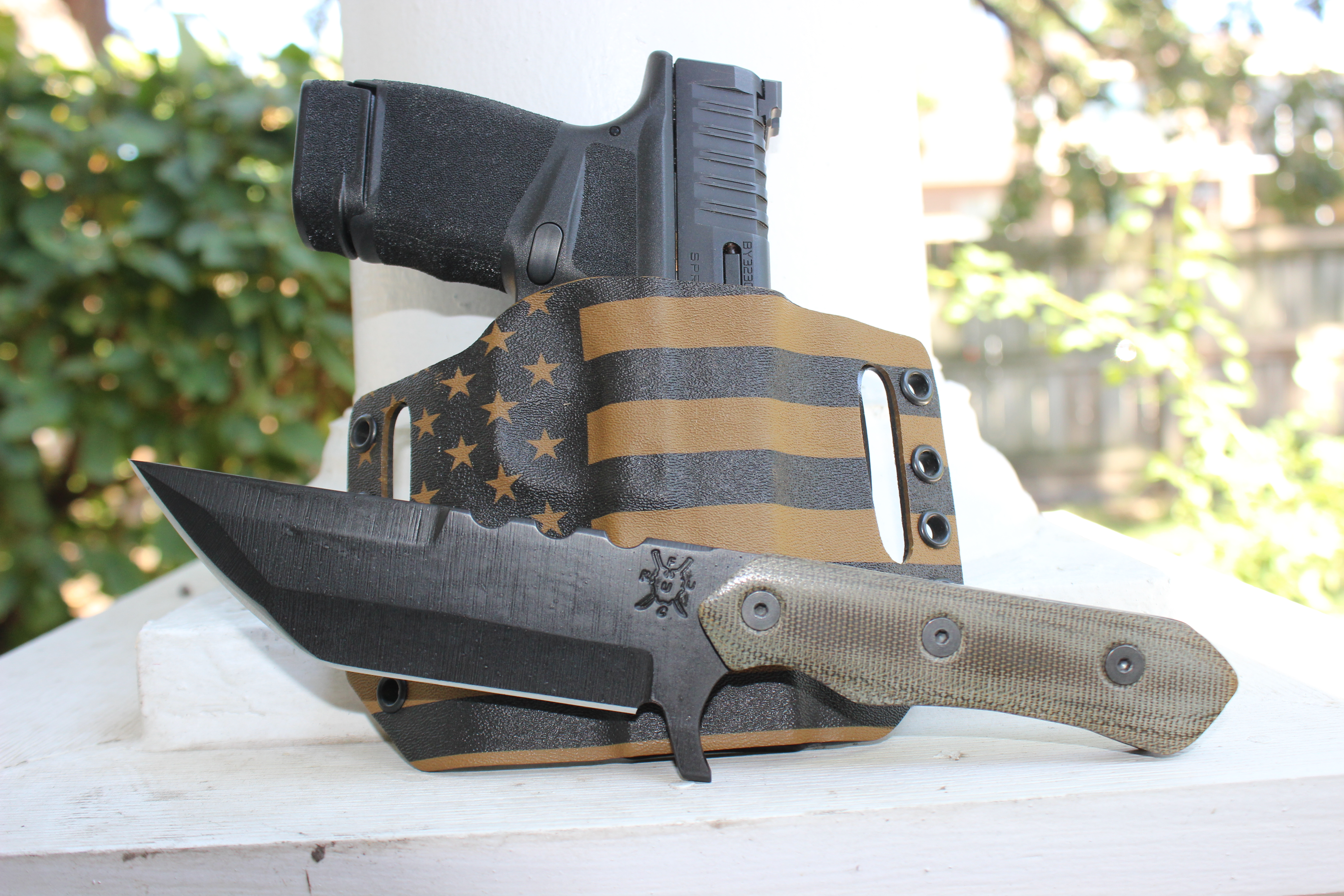 Every so often I get to meet a knife maker that I share a lot in common with. Denny Furey of Furey's Urban Combat Knives-Unlimited (F.U.C.K-U) is one of those makers.
Like many of the makers that I know, I first met Denny on social media, then at the Blade Show in Atlanta some years back while he was working his booth. One thing I admire about Denny is that he puts a lot of real-world experience into making his knife designs functional. Yes, several of his designs have a lot of fanciness and flair to them, but if you give him a chance to describe the design applications, you will probably be ending up owning one.
Denny isn't just a flashy custom knife maker, though. He makes some serious down to earth battle blades for our troops, blades like his JTAC design.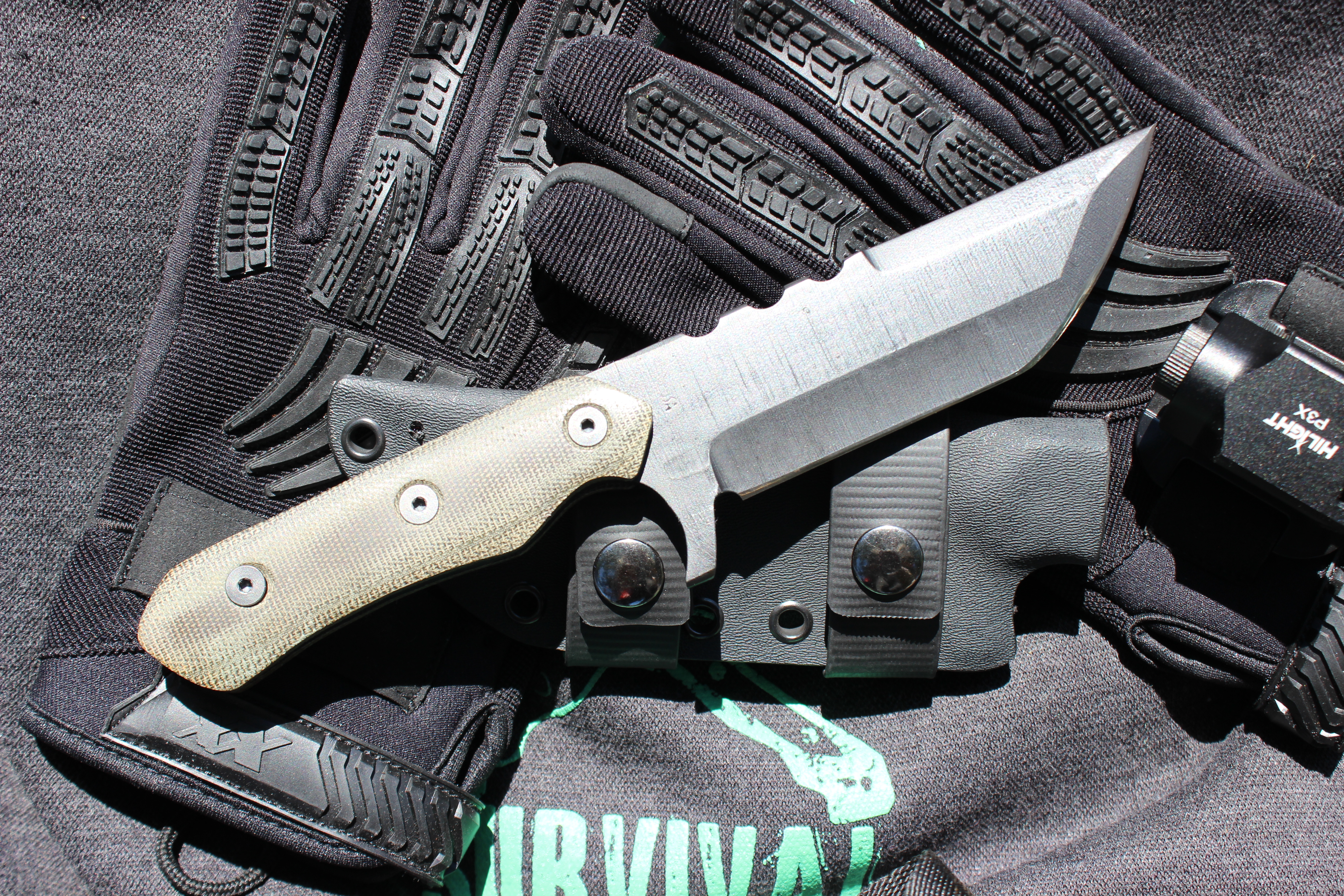 Denny sent me a JTAC for this article and it's a rock-solid knife. It's a modified American tanto with a 4.5" razor sharp 80CrV2 steel blade. The blade has a nice matte black H-Series Cerakote finish. One thing I like in particular is the oversized finger guard, I can't see anyway to accidentally slide your hand over the edge with it while trusting, it really does its job.
The G10 scales are polished and comfortable and the belt loops on the Kydex sheath allow for comfortable scout carry behind the back. The retention in the sheath is stellar, the knife locks into place and isn't going anywhere until it's deployed by its owner.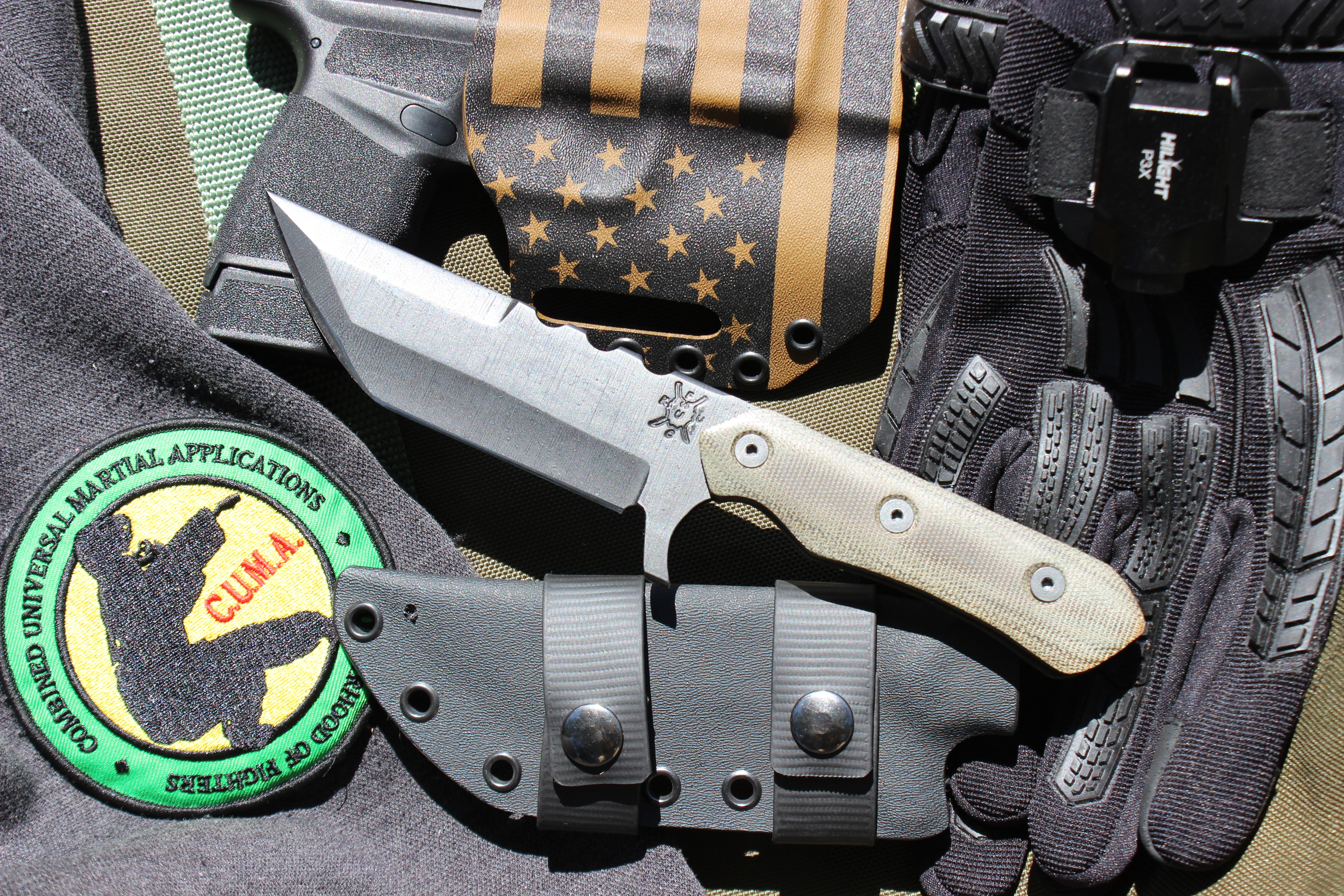 I really like this knife; I can honestly see why a Special Forces Team would want to carry it. But I think I will let its designer/maker (Denny) give more details on that, as he agreed to spend a little time with us and answer a couple of questions.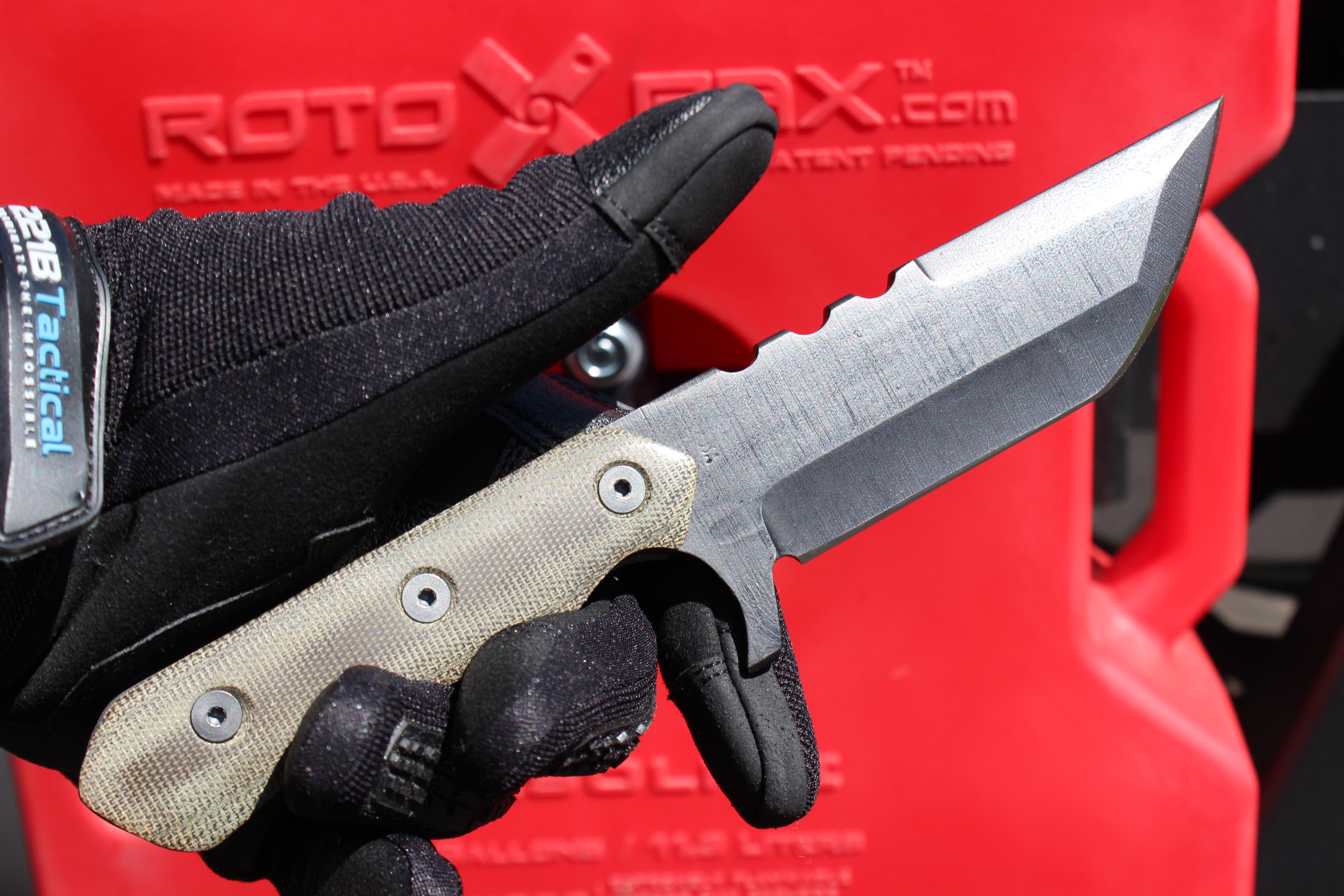 Without further delay, please allow me to introduce the man of the hour, Mr. Denny Furey. 
MEET THE MAKER:
MTEDC: Hi Denny, thanks for joining us today. Please introduce yourself and your company.
DF: My name is Denny Furey, and I am a full time bladesmith, knife maker, and designer located in Spring, Texas. My company is Furey's Urban Combat Knives-Unlimited or F.U.C.K-U.
MTEDC: Please share a little bit about your background with our readers.
DF: I am a retired law enforcement officer out of Oklahoma, having served 20 years in every aspect of the job from patrolman, detective, SWAT/Commander, and Chief.
I am also a Desert Shield/Storm/Provide Comfort veteran, having served 10 years in the United States Air Force as an active-duty Security Policeman (89-93) and Security Forces NCOIC (Non-commissioned Officer in Charge) and Fire Team Leader in the Reserves from 2004-2010.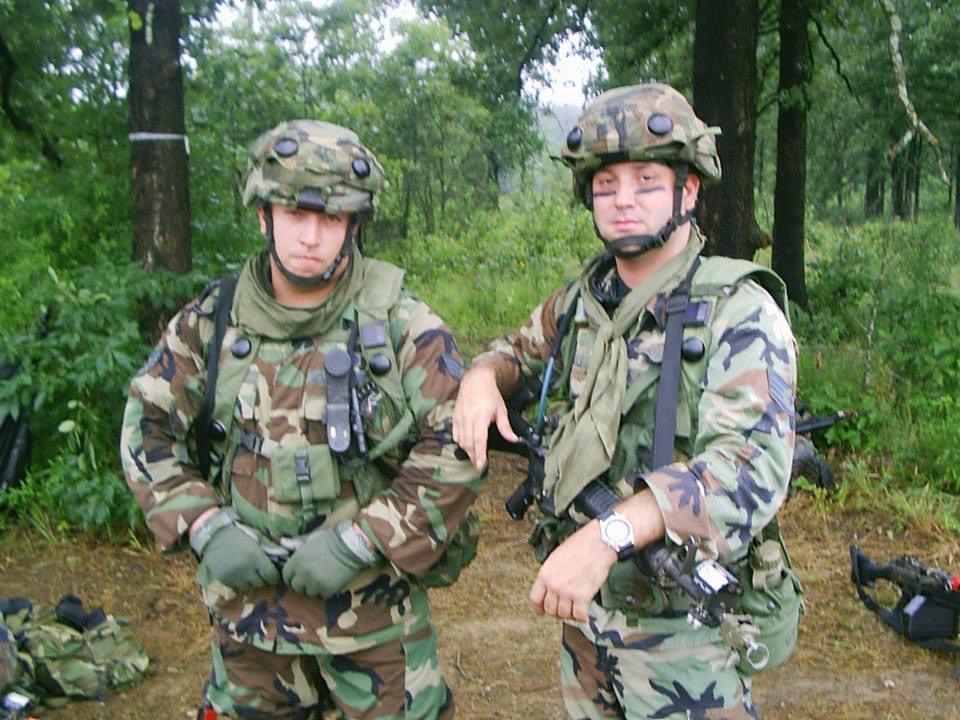 I am a life-long martial artist, holding Sandans (3rd degree black) in Kempo and Japanese Aiki-jujitsu, a Shodan (1st degree black) in Kodokan Judo, a blue belt in Brazilian jiu-jitsu, and extensive training in Kali, edged and impact weapons, with a smattering of other arts.
MTEDC: A "smattering" …LOL. How did your background translate into you knife designs?
DF: I teach edges weapons combatives for military, LE and civilians.  So, when I retired from LE, it helped me transition into making effective, ergonomic, purpose driven blade designs.
MTEDC: I know you designed some knives that our friend Cung Le used in one of his movies, which one was that?
DF: I designed and created the "Arashi" ringed fighter for Cung, specifically for his movie, The Target, which is currently on a production hiatus due to COVID.
MTEDC: Can you tell us a little about Tell me about the knife that you sent for this article, the JTAC?
DF: The JATC/TACP Combat Mod is a smaller version of one of my large western tanto style fighters called the "Bossuru".  This was designed to be a multi-purpose combat knife that could be utilized down-range by the USAF Special Forces.
MTEDC: How did you get it into the hands of Air Force Special Forces?
DF: I was contacted by a large military firm by the name MetaVR, which works closely with the TACP combatants.  The CEO saw my profile on LinkedIn and that I had ties to the Air Force and wanted to know if I could design blades that would be given to the TACP operators going down range on missions.  It turned into an annual contract.
MTEDC: Your knives have a very unique flair and recognizable design, who are your influences?
DF: One of my original mentors was, Scott Horn, of Airborne Knives (RIP), who helped me get my style to present itself.  I just try to make a blade that can be identified as mine, so I try to use specific angles, jimping, and blade design.
MTEDC: Anything new or big releases coming up that you can share with our readers?
DF: I am currently in the process of making some high-end custom folding karambits that will be sold exclusively on Karambit.com.
MTEDC: Will You be set up at Blade Show-West this year?
DF: Sadly, I won't be at Blade Show-West.  I'm currently looking at doing large local shows here in Texas and Oklahoma for 2022, with the major one being Blade's ICCE in Fort Worth.
MTEDC: Any advice for someone trying to get into the knife industry?
DF: I mentor a few new guys that are wanting to get into blade smithing. Most were turned on to it by Forged in Fire.  The big things I tell these gentlemen are to take your time, learn as much as possible, and be able to adapt.  This industry is super saturated, and it takes a unique flair to become recognizable.
MTEDC: How Can people reach you to order knives?
DF: Through my website or Facebook or my business page https://fureysurbancombatknivesunlimited.com
Specifications:
Steel: 80CrV2
Blade Length: 4.25"
Overall Length: 9"
Finish: Matte black H-Series Cerakote
Handle Material: Removable OD Canvas Micarta
Sheath: Black Kydex / MOLLE Compatible
Origin: Made in USA
MSRP: $400
A Chicago native, Sijo Waysun Johnny Tsai is an internationally recognized Combatives and Survival instructor. He is a published book and DVD personality with over 35 years' experience in teaching Practical Street Defense and Combatives to the Military, Law Enforcement Agencies and Civilians alike. SIJO is also the founder of the C.U.M.A. Survival School. He is also a renowned knife designer for companies like TOPS KNIVES, SMOKY MOUNTAIN KNIFE WORKS and WORK TUFF GEAR.
When not teaching classes, writing, or doing crazy thing with knives, SIJO likes to enjoy his downtime with his wife and 3 children. He also likes drinking beer.