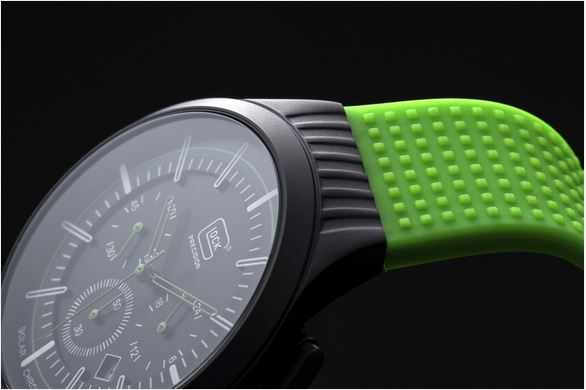 Have you ever wanted a Glock you could wear even in non-permissive environments where guns are prohibited? Okay, maybe this Glock won't save your bacon if things go sideways, but it will make sure you aren't late for your next meeting. Or lunch, which is probably more important.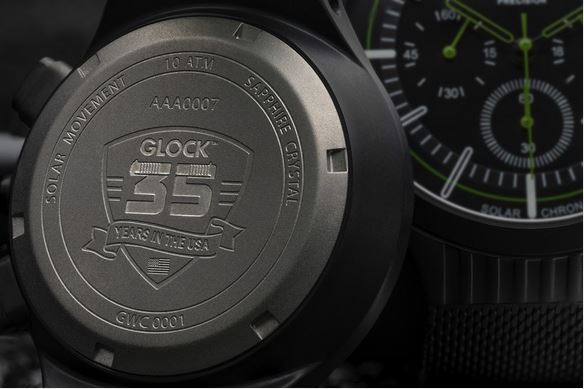 Glock is releasing a limited run of 3500 35th anniversary wristwatches. I'm not a watch nerd like some of my buddies, but even I have to admit this thing is pretty slick, especially if you're a Glock fan. First off it comes in neon green version of a Glock pistol case with custom foam cutouts for the watch and accessories. The watches themselves are individually serialized and it comes with a 35th anniversary coin as well.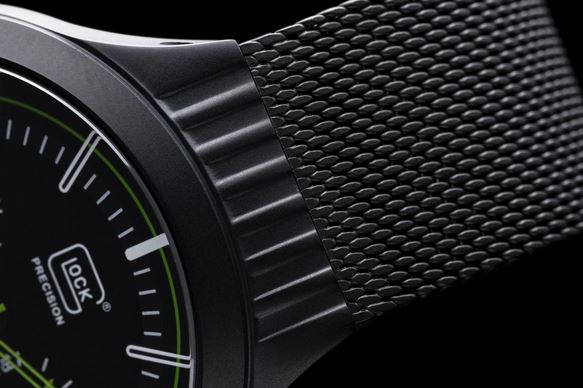 The watch itself is a solar powered chronograph housed in a titanium case and fitted with a Sapphire crystal lens. The clock hands are luminescent too. The case has serrations like the slide serrations on a Glock pistol and a crown that mimics a Glock front sight. It comes with two bands, a black stainless steel mesh one and a green silicone model that features the same RTF texture of Glock's rough texture pistol frame.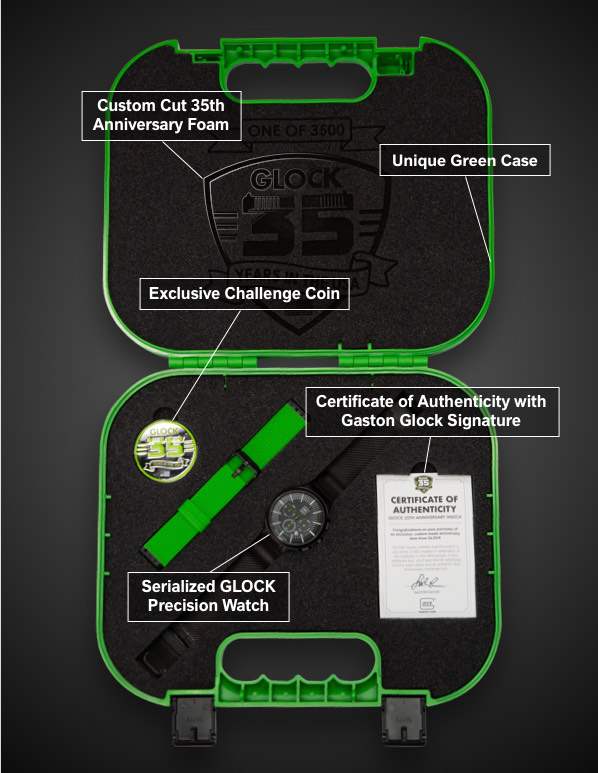 If you're both a Glock fan and a watch nerd, this is going to be a must have item. Even if you're just a watch nerd, this one is pretty neat. The 35th Anniversary Watch is going for $399, which isn't inexpensive, but if you're into quality watches it's also not outlandishly priced either. Until you need a new Glock to go with your watch, and then prices go up from there…
Unique Limited Edition watch:
Individually serialized as 1 of 3500
Boxed in a green version of our iconic pistol case with custom cut foam
Exclusive 35th Anniversary collectors' coin
Certificate with Mr. Glock's signature
Quality watch features:
Elegant solar-powered Chronograph
Titanium case
Sapphire crystal glass
Water resistant to 10 ATM
Black mesh band plus an additional interchangeable green silicone band
Luminous green clock hands
Design elements inspired by GLOCK pistols:
nDLC coating on both the watch and the mesh band
Serrations on the case emulates the pistol slide
Rough texture on the silicone band is similar to the pistol frame
Price: $399