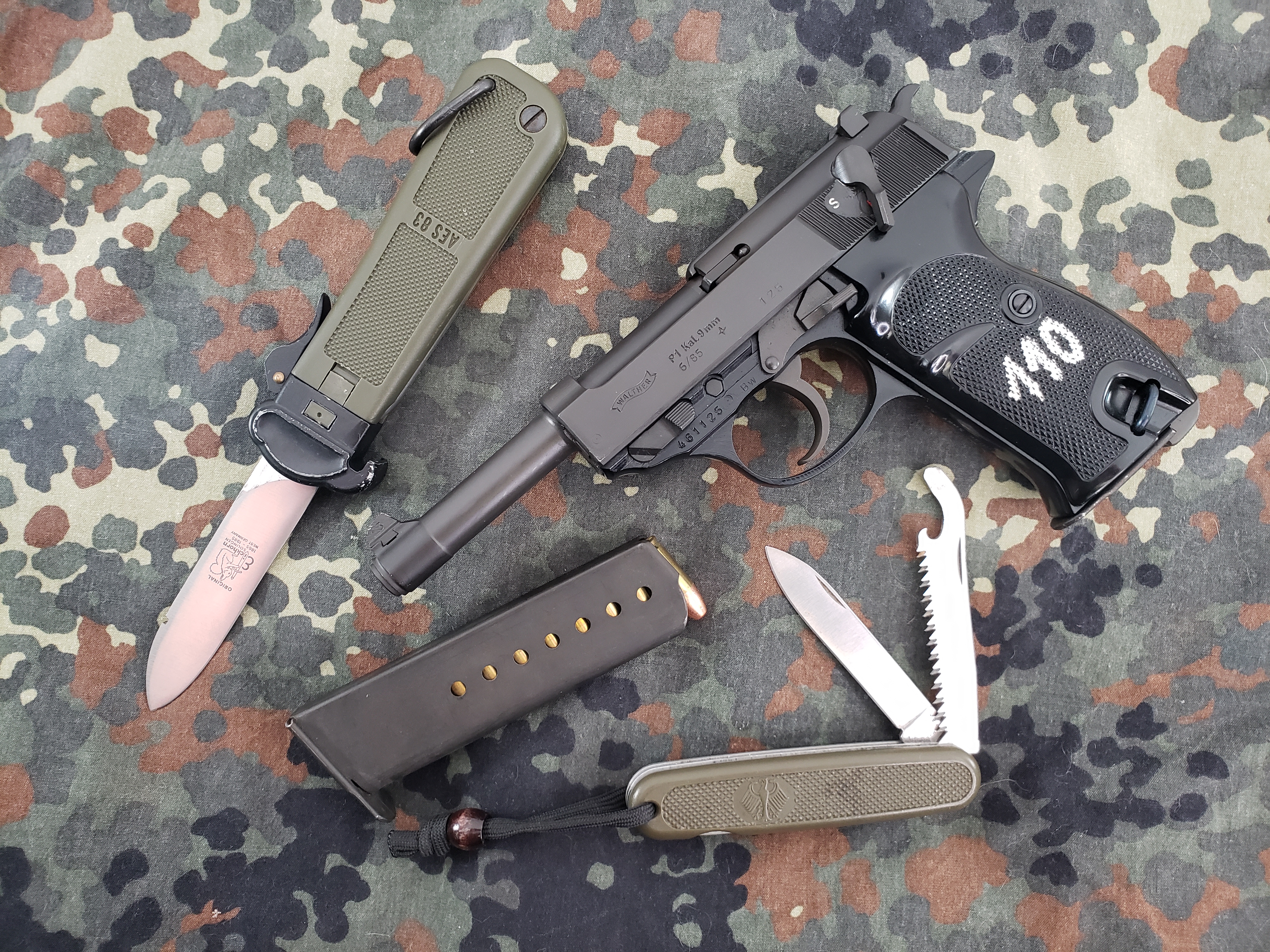 Your EDC gear should probably be based on practical considerations and likely need. But when you're a gear junkie and a gun nut, sometimes you just can't resist carrying stuff just because you want to.
I was a kid of the Cold War generation and when I went through basic training in 1988 we were still shooting at pop-up Ivan targets. I have a soft spot for gear from that era and I happen to like the German stuff in particular.
This loadout centers on a 1985 vintage Walther P1 in 9×19 NATO, the post WWII version of the P38. There were a number of changes made over the years with the most obvious being the use of an aluminum alloy frame and different grips. This one also has the heavier, reinforced slide to handle hotter NATO loads.
Like its WW II predecessor it has an 8-round magazine and a heel-mounted mag release. It's a double/single action and has a pretty darn nice trigger. I shoot it better than I do my work Glock.
Mine was surplus, but looked either unfired other than factory testing or extremely lightly used. It has a cool rack number, though, so it was in an armory somewhere.
I mated the P1 up with two other German Cold War vets, an AES 83 Gravity Knife by Eickhorn, Solingen and a German Army Knife (GAK) made by Victorinox for the Bundeswehr. The Eickhorn is pretty rugged and while it's easy to deploy with one hand, it's not as fast as some lawmakers seem to think. It's also pretty bulky. Still, it's unique and fun to mess with.
The GAK (about $20) is actually a really practical EDC knife. They were the standard issue utility knife for the West German army for decades until eventually being replaced by a newer Swiss Army Knife based on the One Hand Trekker design in 2003.
The GAK wasn't exclusively a Victorinox product and they were made by a number of military contractors. It's based upon a 108mm frame and has a large spearpoint blade along with a saw that also includes a can opener and screwdriver. A corkscrew is mounted on the underside of the knife, along with an awl. The scales have a nice crosscheck pattern on them and the Bundeswehr eagle embossed on the side.
The GAK is one of my all-time favorite utility knives and I have a bunch of them, both military issue and Victorinox's civilian versions with red scales. Back when they were being surplused off, you could get them cheap, but like anything with limited availability originals are rising in price. Mil-Tec was one of the original military contractors and they still make a version for civilian sale that's available on Amazon for $20. Be careful of imitations, though, as the Chinese copied these like they copy everything else and those versions tend to be subpar.
I'd like to add a fixed blade Bundeswehr combat knife to this mix as well, and Mil-Tec does a current version of those too. I'm kind of holding for another Cold War veteran piece though to go with the rest of my nostalgic EDC package.
Want to see your EDC gear here? Send a photo and gear list to EDC@mytacticaledc.com.