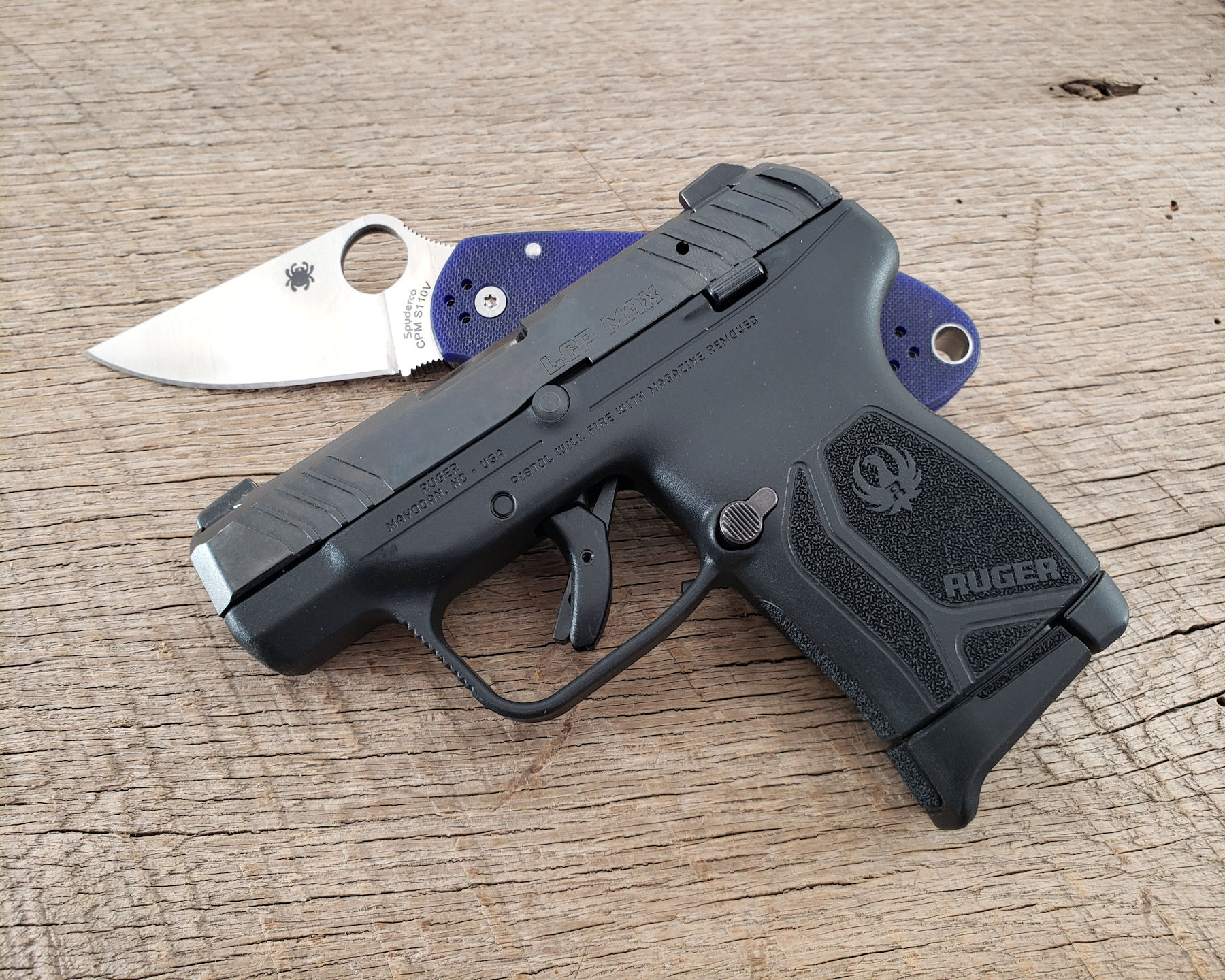 A lot of you reading this probably don't remember the Mouse Gun era in olden days (a decade or so ago) when a pocket pistol meant something like a .22 caliber North American Arms Mini Revolver, a .25 ACP of some sort, or maybe a .32. I carried a NAA .22 Magnum (which I still use today) and a Beretta 950BS .25 auto, probably the best of the small autos at the time.
About the only other choice then was the expensive and hard to get Seacamp .32 ACP…that is until KelTec came along with their P32 and eventually the P3AT which was the beginning of the end for .25 autos. Finally we had something bigger than a .25 that was a true pocket pistol and was affordable enough for the masses.
I jumped on one as soon as they came out and have one with a 3-digit serial number. I've carried that gun for years as either a backup, or when weather or circumstances weren't conducive to a bigger gun. Even though I've had a bunch of subcompact 9mm's none were really pocket guns for me so I kept on using my .32 for stuff like runs to the neighborhood store, or carry in places I preferred to be ultra-discrete.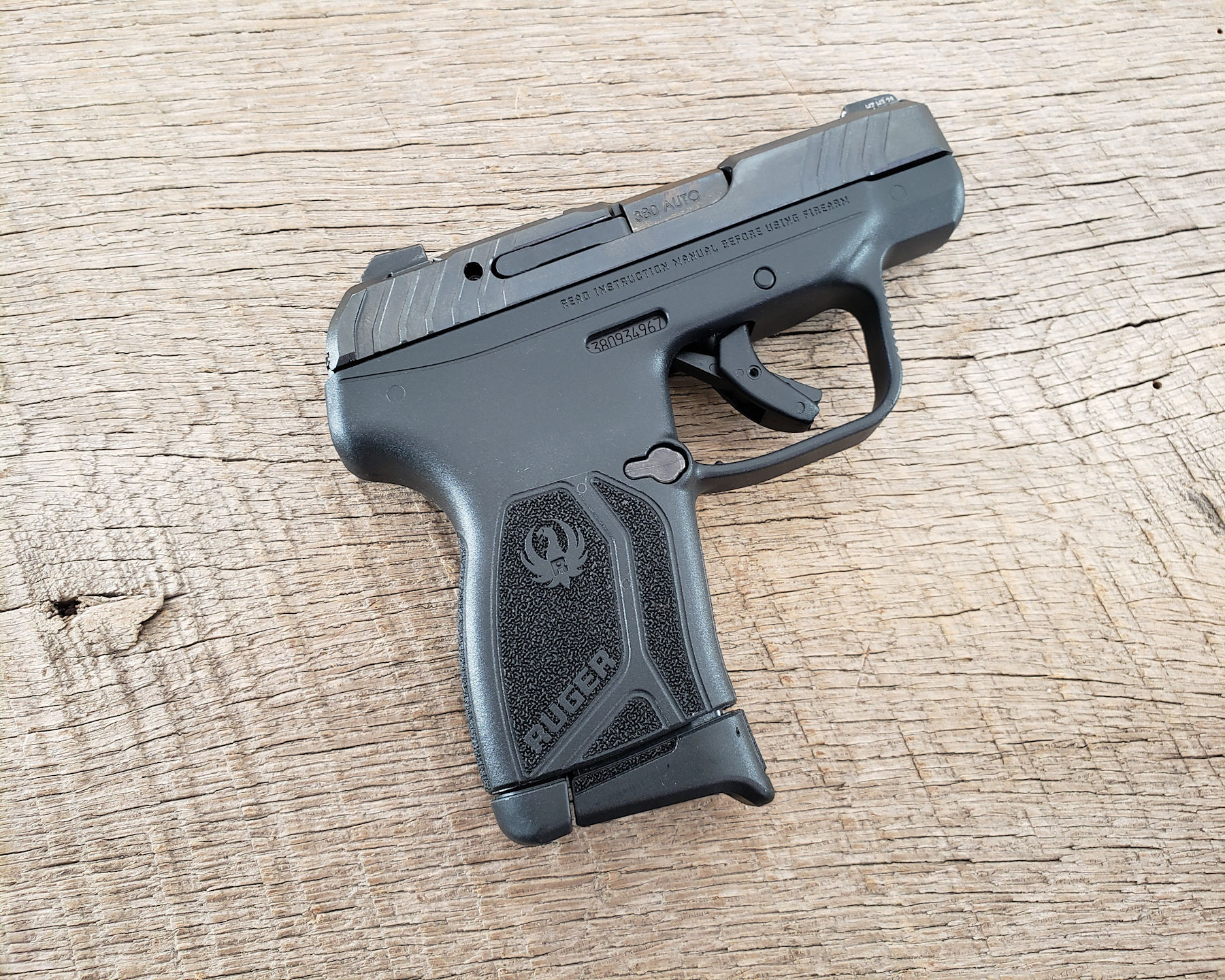 I could have jumped to a .380 ACP along the way, but it never seemed worth the tradeoff of going to a slightly bigger round, but losing a round of capacity. I occasionally thought that I'd love to have something pocket sized, but with a double column mag. Well, apparently Ruger had bugged my house and heard my ramblings, or they've got an engineer or two who thinks like me.
Enter the LCP MAX, a 12+1 round .380 auto that's just a little fatter than the old single stack LCP, or my ancient KelTec. Could this be the gun to finally bump the .32 out of my pocket? Let's find out.
The LCP MAX
Ruger came out with the original LCP in 2008 and followed up with the LCP II in 2016. The LCP II had a number of improvements, most notably a better trigger with a shorter reset and an integrated safety. It also upgraded the sights, added a last round hold open feature and slide stop lever, and an extended pinky rest on the magazine.
The 2021 release of the LCP MAX takes things a step further by adding dovetailed front and rear sights with a factory provided Tritium front post, an improved reversible magazine release, improved magazine feed lips, feed ramp, and extractor and of course the biggest change, a double stack magazine that holds 10 rounds with an optional 12 round magazine available from Ruger. Another nice touch is that the MAX will accept Body Guard pattern sights so there are already a bunch of options on the market.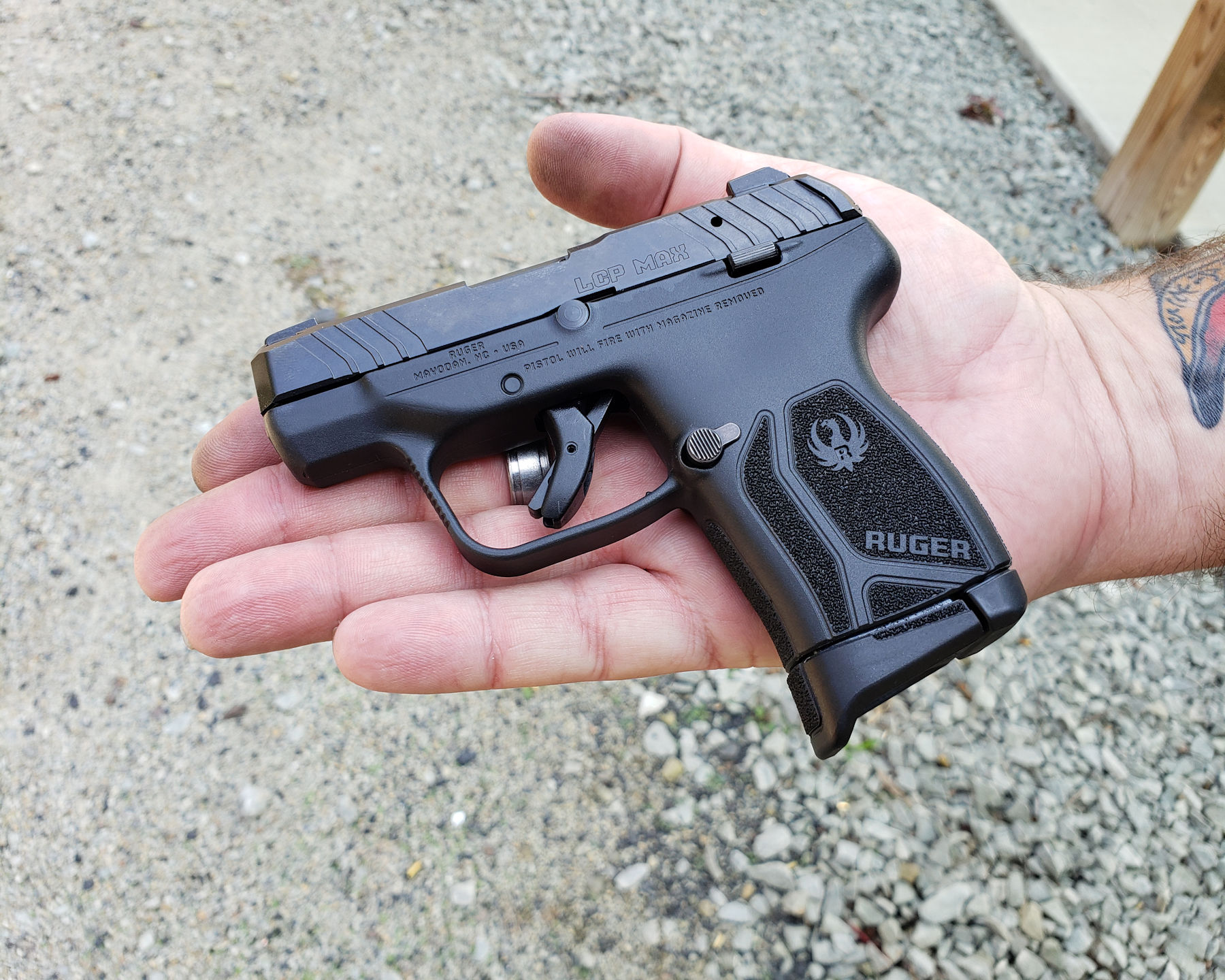 The magicians at Ruger managed to do this without changing the 10.6 ounce weight, or 5.17 inch overall length that the LCP II had. The MAX is slightly taller at 4.12 inches as compared to the LCP II's 3.17 inches, and just barely thicker at 0.97 inches compared to 0.91 inches. Same weight, same length, negligible width difference, slight gain in height, and a major increase in capacity? I'll take it. Those are good tradeoffs to me.
The LCP MAX ships in the typical Ruger cardboard box and comes with the pistol, one 10 round magazine with a flat baseplate installed, and a spare baseplate with a finger extension. Also included is a Ruger branded nylon pocket holster, a magazine loading tool, a gun lock, and a manual.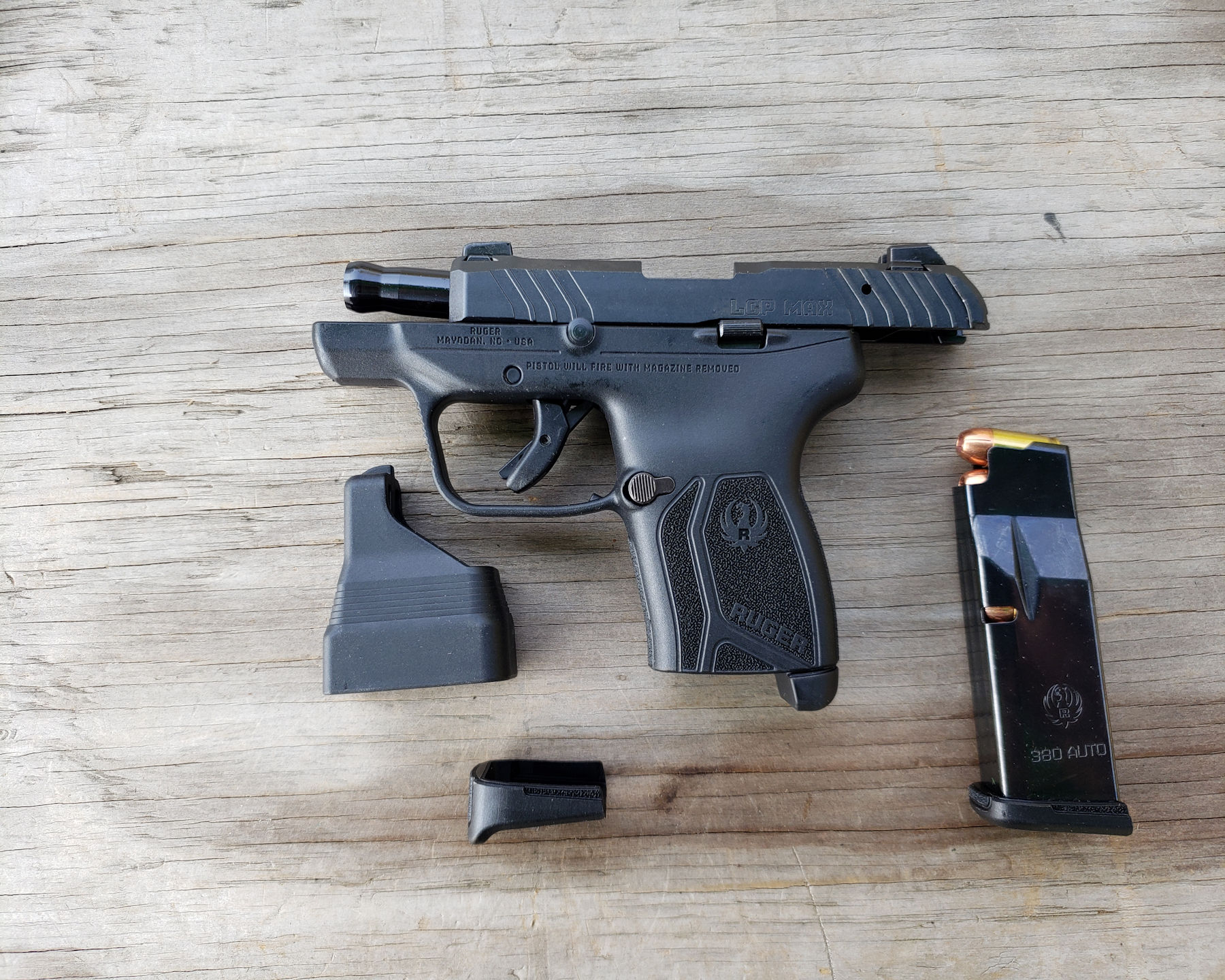 I like that Ruger included both baseplates for the magazine, and the included pocket holster is great as it lets you start carrying your gun without having to purchase anything else. I do wish they included two magazines, although that would increase the cost of the pistol, and I'm sure there are a lot of folks that aren't going to carry a spare magazine with a pocket gun like this anyway.
Hands on and Range Time
I hit the range with a buddy of mine to try out the MAX. Ammo was a little hard to source when I did my testing but I had some Armscor 95gr FMJ and Remington 95gr FMJ on hand. I reached out to Steinel Ammunition and they were able to provide me with their 80gr Solid Copper Hollow Point, which runs at 1100fps and expands to .94 inches out of a 3.5 inch barrel. The MAX's barrel is a little shorter than that at 2.8 inches but it's still a load designed for shorter barrels so it ought to do well, especially based upon my past positive experience with Steinel's loads in other calibers.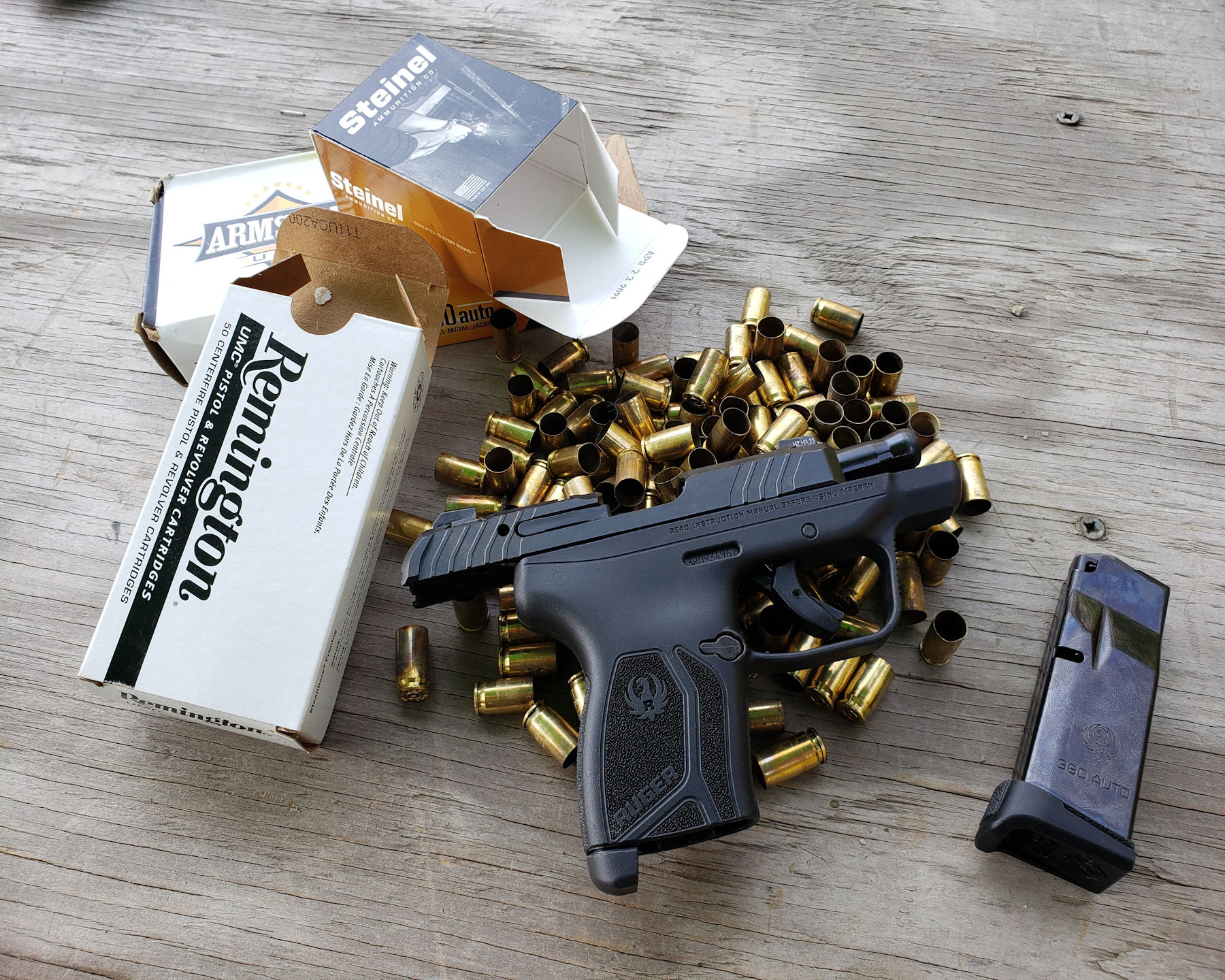 For a small pistol the LCP MAX is fairly comfortable. Ruger did a nice job of rounding off the sharp corners, and the pebble grain texture on the grips and front and back straps gives a positive grip without being overly aggressive.
With the flat base magazine I can get about 1 and a half fingers on the grip with my medium sized hands. With the finger extension baseplate installed I get a solid two fingers and can curl my pinky under the magazine. Magazines were fairly easy to load. We did it without needing the mag loading tool, but it's there if you want it.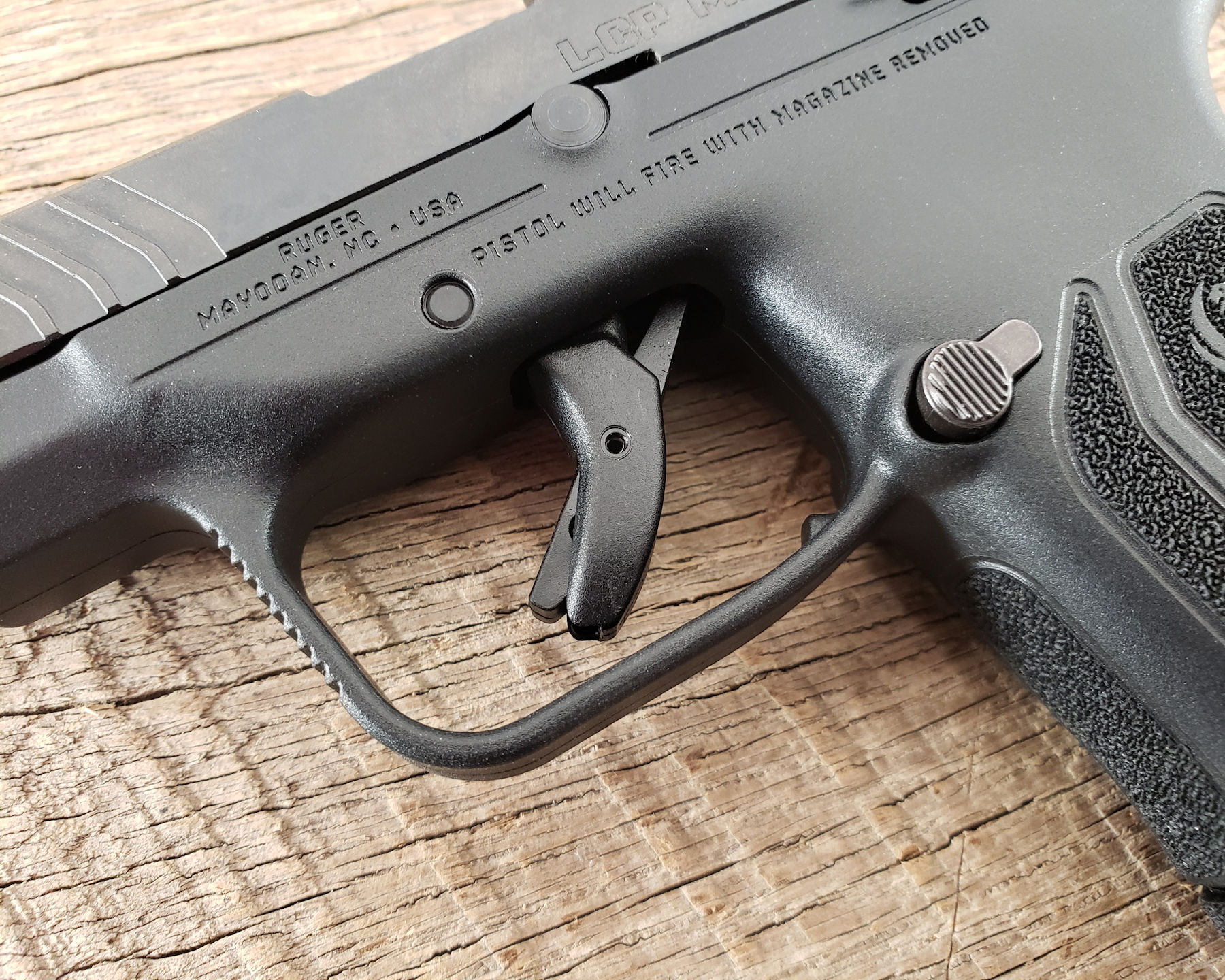 The LCP MAX's trigger is a big improvement over my old .32, or the first generation LCP. It has about a half inch of take up, but then breaks at right around 7 pounds. Reset is a relatively short quarter inch and has an audible click. For a pocket pistol I can deal with a 7 pound trigger with crisp let off. I'm not planning on shooting bullseye matches with it.
Ruger has a lot of small touches that make for a good user experience. One of those is the front and rear serrations provided on the pistol, as well as what Ruger calls raised cocking serrations at the rear of the slide. Basically these are slightly raised ears that, in conjunction with the serrations, give a very positive grip for operating the slide.
While the LCP MAX is a blowback pistol with an internal hammer, charging the pistol wasn't hard and should be easily managed by anyone with reasonable hand strength. I had my 18 year old daughter try it and she had no issues repeatedly operating the slide. Ruger states that the MAX has barrel cam geometry that delays unlocking and slows down the slide. This should reduce the recoil compared to other .380 pistols.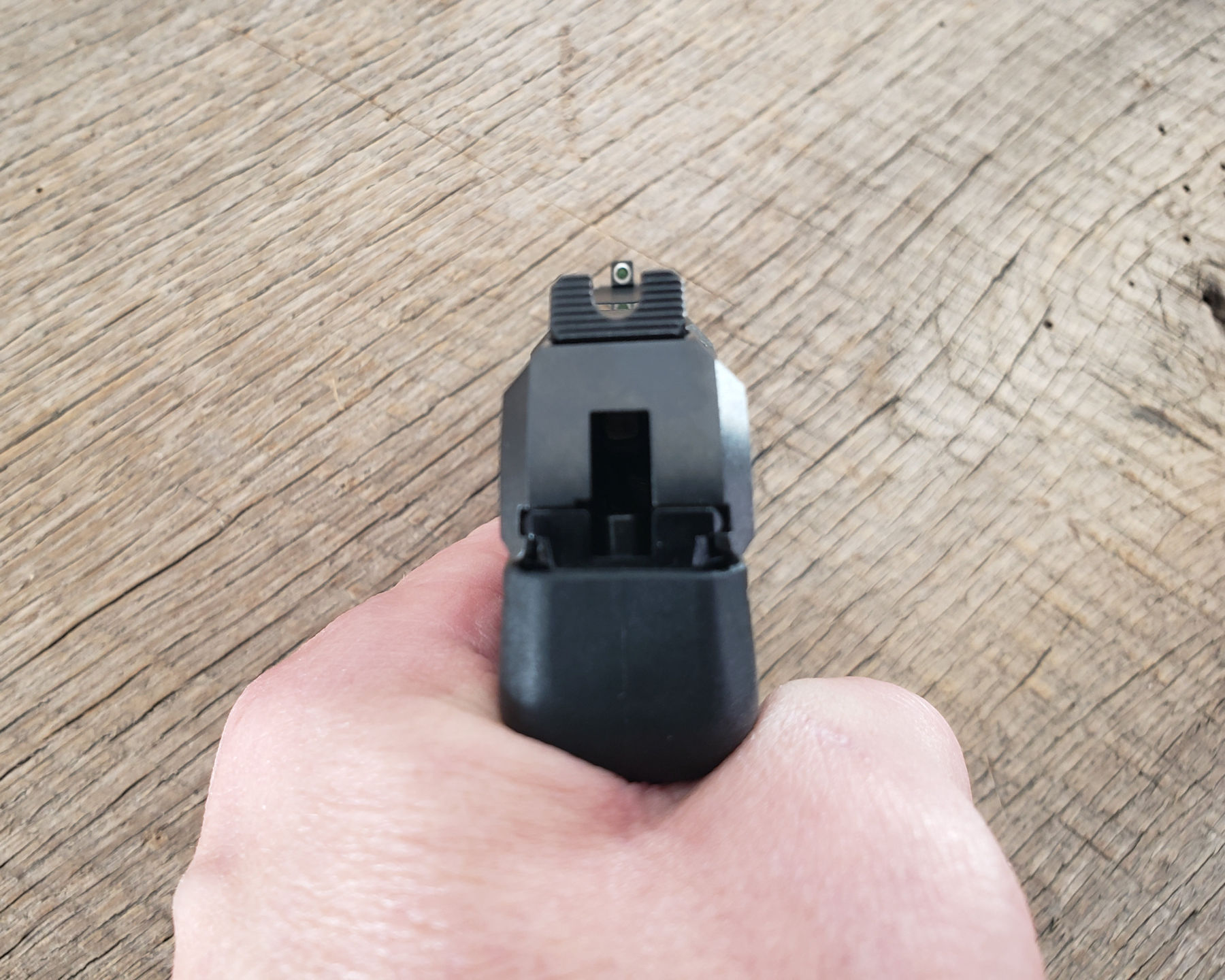 The sights are nice. Even though Ruger has them dovetailed so you can replace them, I wouldn't. The U rear notch coupled with the big white outlined Tritium do up front provide for a clean sight picture, even for my somewhat aging eyes.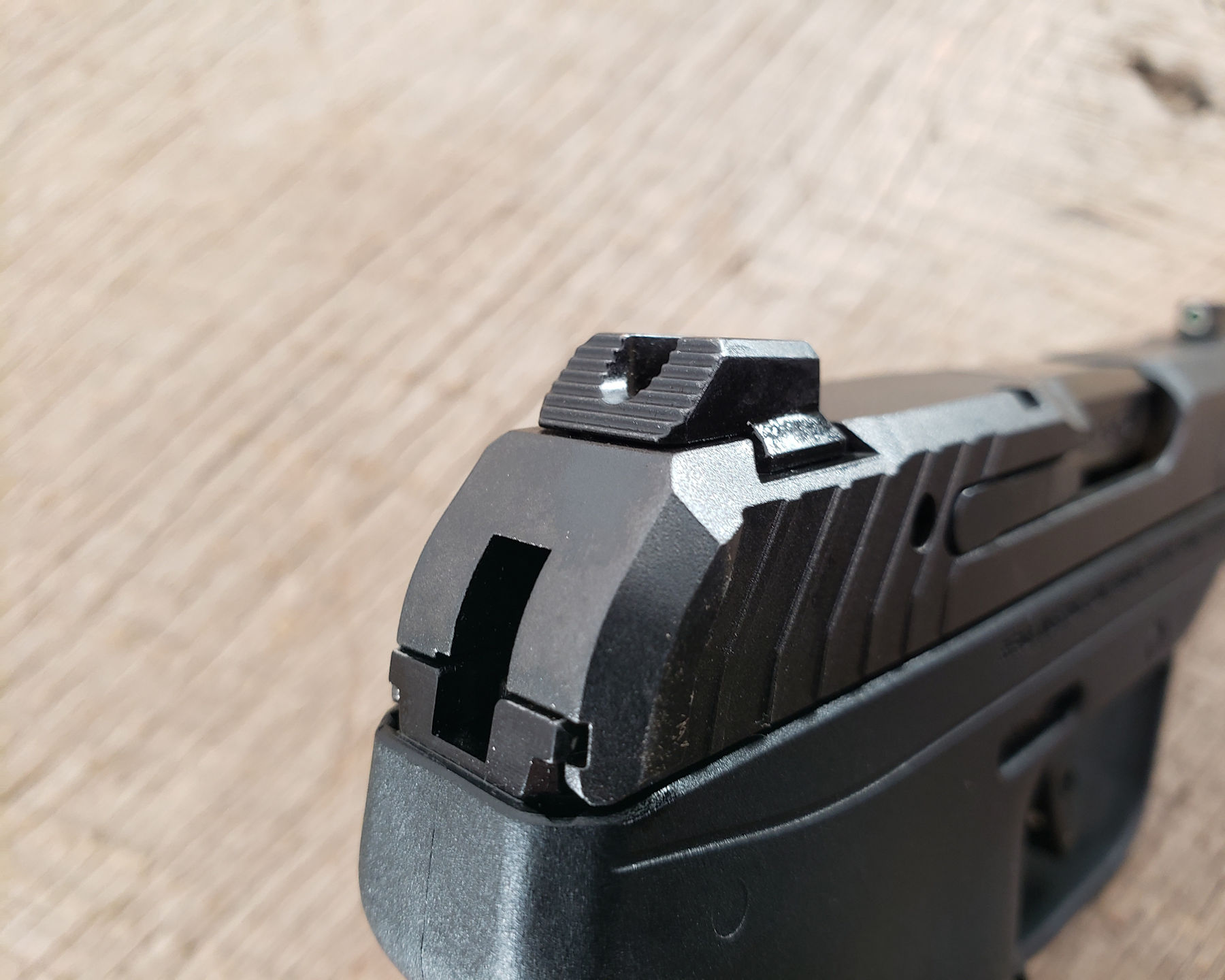 Being that this is a pocket pistol designed for up close and personal use, we didn't do any bench shooting. We shot offhand at 5 and 7 yards. Close but realistic. If you need to engage and much further distances with a .380 you probably should be looking for an exit route. I'll work back to 15 yards with more trigger time, but I'm not going to bother at 25 unless it's shooting at pop cans for fun or something.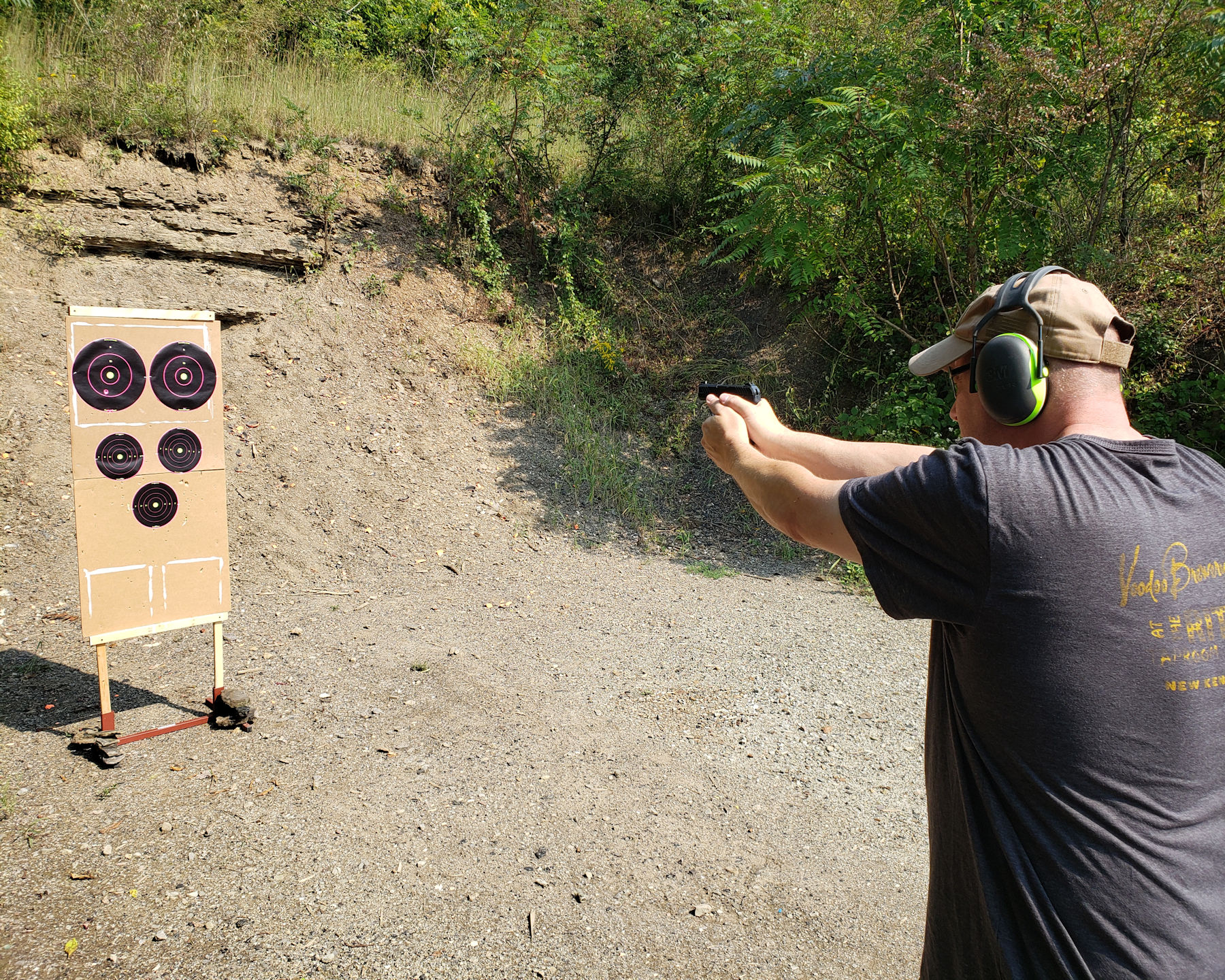 Recoil in the MAX was noticeable with its light weight but by no means unpleasant. The wider grip necessitated by the double column mag actually makes the MAX more comfortable to shoot than the narrower LCP. Being a regular Glock shooter I had to get used to the trigger and its reset point but it wasn't bad. My groups tightened up after a couple mags.
For a little gun reloads were pretty smooth. I didn't have any issues hitting the mag release and mags ejected vigorously. Initially I was sling shotting the slide to chamber a round but I found that I could I could depress the slid stop easily as well.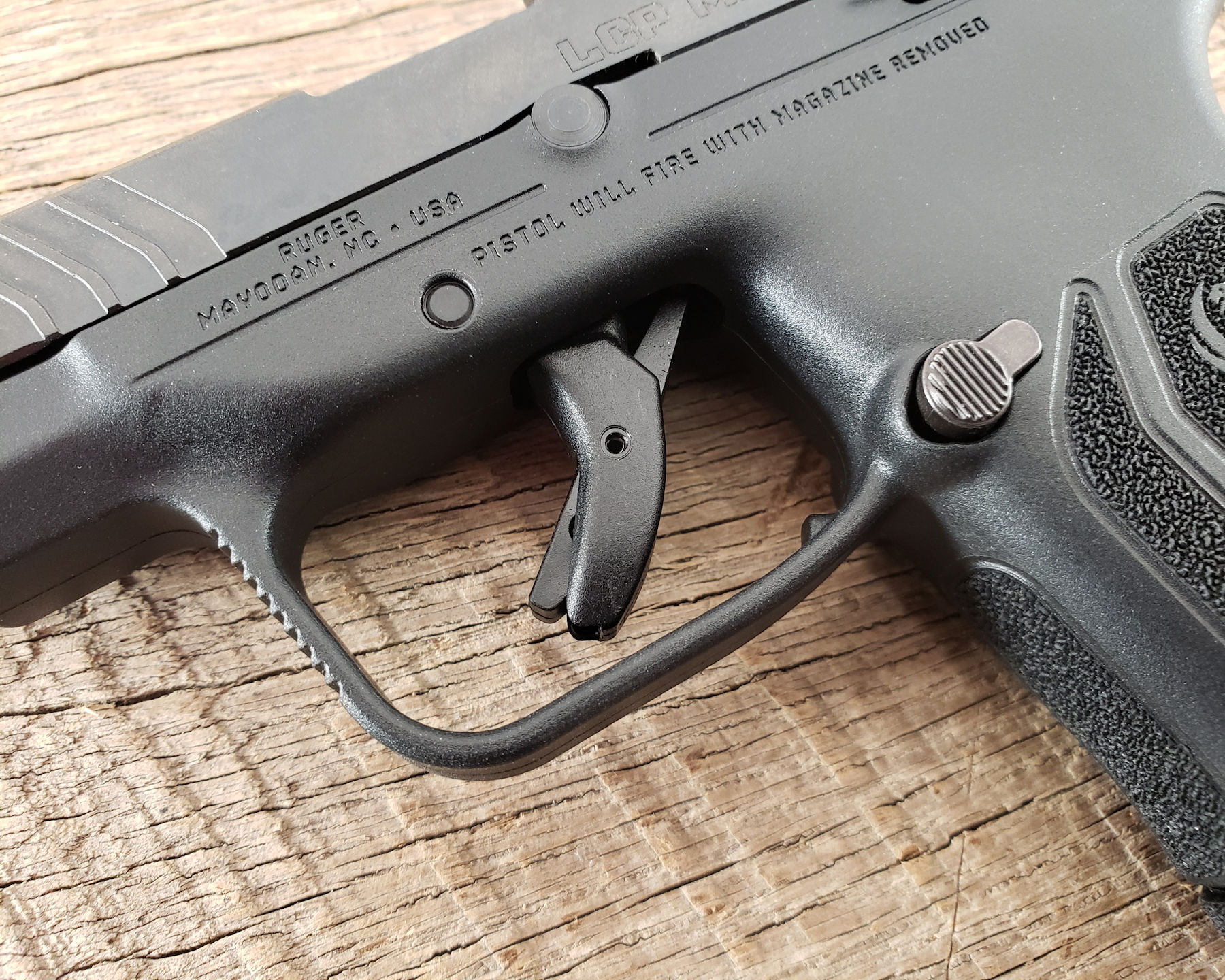 Shooting 5-shot groups I would typically end up with three rounds touching and then 2 fliers about an inch or so away, typically to the left. The Armscor and Remington loads shot fairly similarly with a slight no in groups to the Remington. The Steinel hollow points performed the best of the bunch with a tighter overall group, although I still managed to have a flier or two opening the group up an inch or so. That's likely user error, but still all of the groups could be covered by the palm of my hand.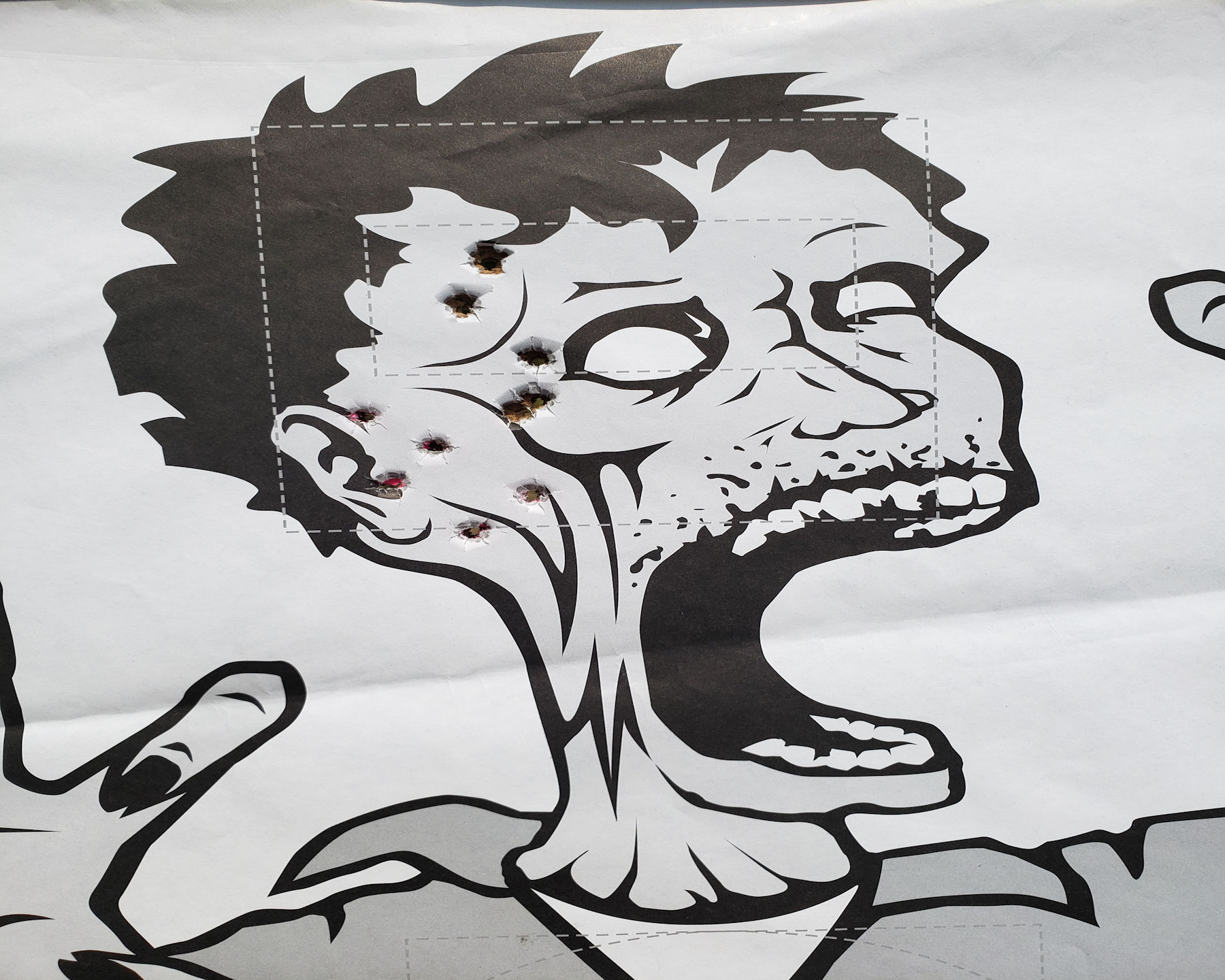 For a pocket defense gun I can live with that. I suspect I'll tighten it up further with more use. Shooting zombie targets (because everybody hates those guys) I had no problem keeping all ten shots in the head, albeit a little to the left as I tend to do.
We ran about 150 rounds of ball and hollow point during our range session and had no failures of any kind. The LCP MAX was a capable pocket blaster and wasn't unpleasant to shoot. If ammo availability and prices were better it's a gun you won't mind practicing with.
Holsters
Ruger advertises that the LCP MAX will fit in holsters designed for the LCP II. That's a great thing since there are a lot of options already out there if you want something other than the provided pocket holster. I tested out the included holster, a nylon DeSantis Pro Stealth IWB, and three leather holsters that Galco provided; the Ankle Glove, the Tuck-N-Go 2.0, and the Paddle Lite.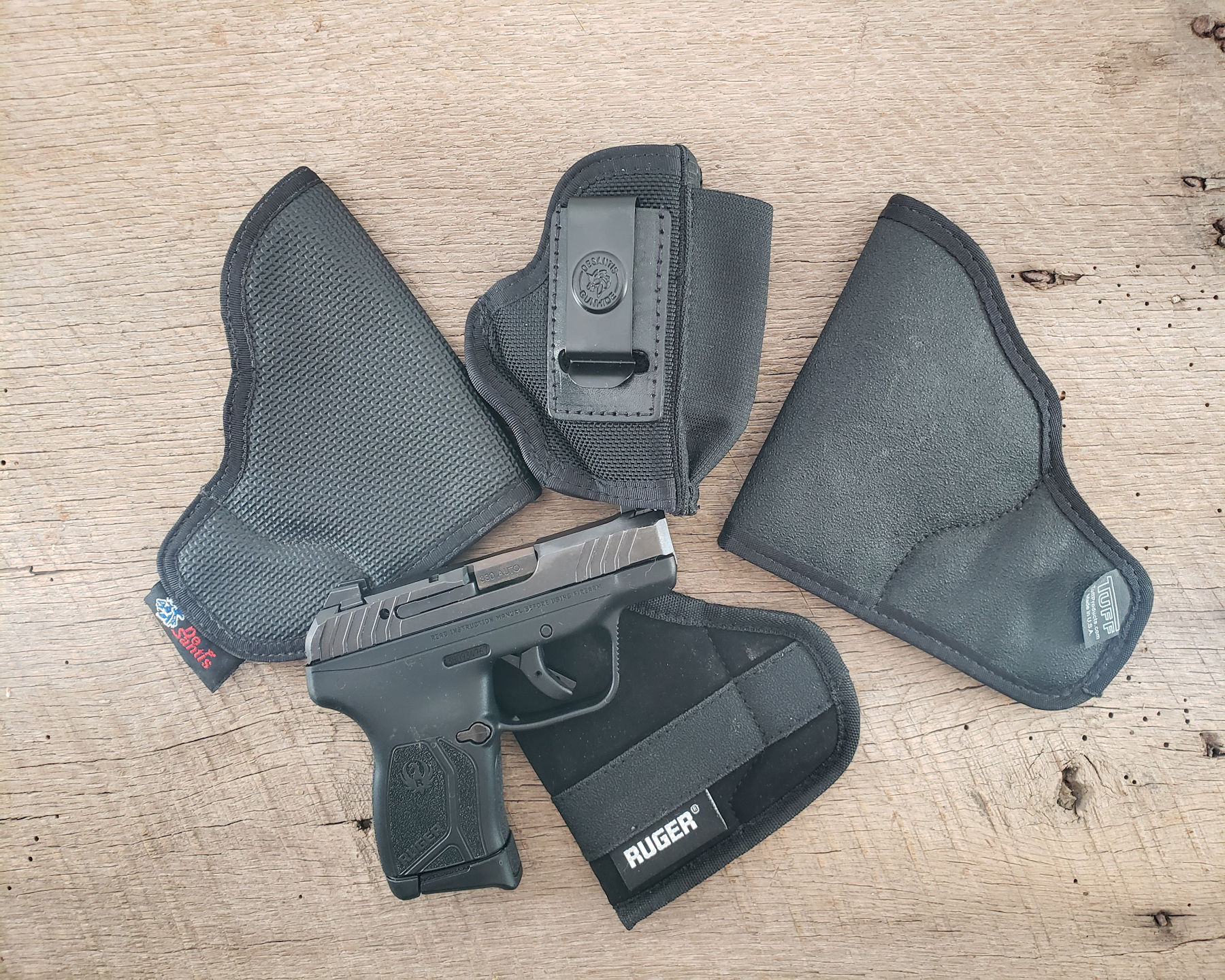 The provided pocket holster works just fine, and probably will work for a lot of folks. I also tried a Tuff Products Pocket Roo holster and a Desantis Nemesis pocket holster that I had in my holster drawer. Both of those also worked well. They're slightly bulkier than the Ruger holster, but also a little stiffer and with a bigger "wing" to help break up the outline and secure the holster in your pocket. The Tuff Products one has a slot that holds a spare mag also, which is a nice touch. The Tuff products holster is only about $20 and the Nemesis around $23.
Speaking of spare mag holders, the DeSantis Pro Stealth IWB also has a built in mag pouch. I've used the Pro Stealth a lot with various handguns and like the fact that you can grab it on the way out the door and have your gun and a reload ready to go. It's a comfortable holster and quite affordable at only around $30.
If you prefer leather then the Galco holsters are the way to go. The Tuck-N-Go 2.0 Is an IWB holster of premium cut steerhide that has a rigid steel reinforced lip for one handed re-holstering, and a clip that allows you to tuck your shirt in over top of the gun and only have a portion of the clip discretely showing. It can be worn strong side, abdomen carry or cross draw. Price is around $49.00.
The Paddle Lite is also made from premium center cut steerhide and has retention strap with reinforced thumb break. It has a butt forward cant and is attached to an injection molded contour paddle. If you aren't a fan of pocket or IWB carry this is a solid option for you. I like paddle holsters personally since they're easy to put on and take off without having to thread them through your belt. The Paddle Lite also is listed at $49.
Ankle carry isn't for everyone but it has its niche for backup guns or discrete carry when you don't have an outer garment on or an untucked shirt. Like the other Galco holsters, the Ankle Glove was a model made for the LCP II. Whereas the Tuck and the Paddle fit perfectly, the retention strap on the Ankle Glove was initially tight. I had to stretch it to get it to snap. After leaving the gun in the holster overnight though it seemed to stretch just enough that I could snap it shut with minimal effort.
You could still easily draw the pistol and release the thumb break without issue, it just might take second or two long to get it snapped into place when you re-holster. The Ankle Glove is made from premium steerhide and has a retention strap with reinforced thumb break and its fitted to a Neoprene ankle band with hook-and-loop fastener. The inside of the band is lined with genuine sheepskin padding for comfort. It goes for $135.00, a lot more than the Tuck and Paddle but it's made with higher grade leather and there's a lot more involved with the ankle band. The Ankle Glove is one of Galcos top selling holsters for various guns, and for good reason, it's a high quality product that works well.
This was just a quick sampling of what's available for the LCP MAX. The point is there are a lot of good holsters out there that will already work for the gun, which is a great thing, especially for a brand new model.
Final Verdict
While a lot of good, small .380's have come out since I got my Kel Tec .32, none were enough of a jump to make me retire it; until now. Between the combination of the increased caliber, plus increased capacity, and features like the great factory sights on the LCP Max the choice here is obvious. Honestly, this is the pocket pistol to beat these days. Just like we saw the wave of companies rushing to bump their single stack Micro Compacts up to double stacks, I suspect we'll also start seeing a trend in high cap pocket pistols. Ruger beat them to the punch on this one though, and they've set a pretty high bar for the competition.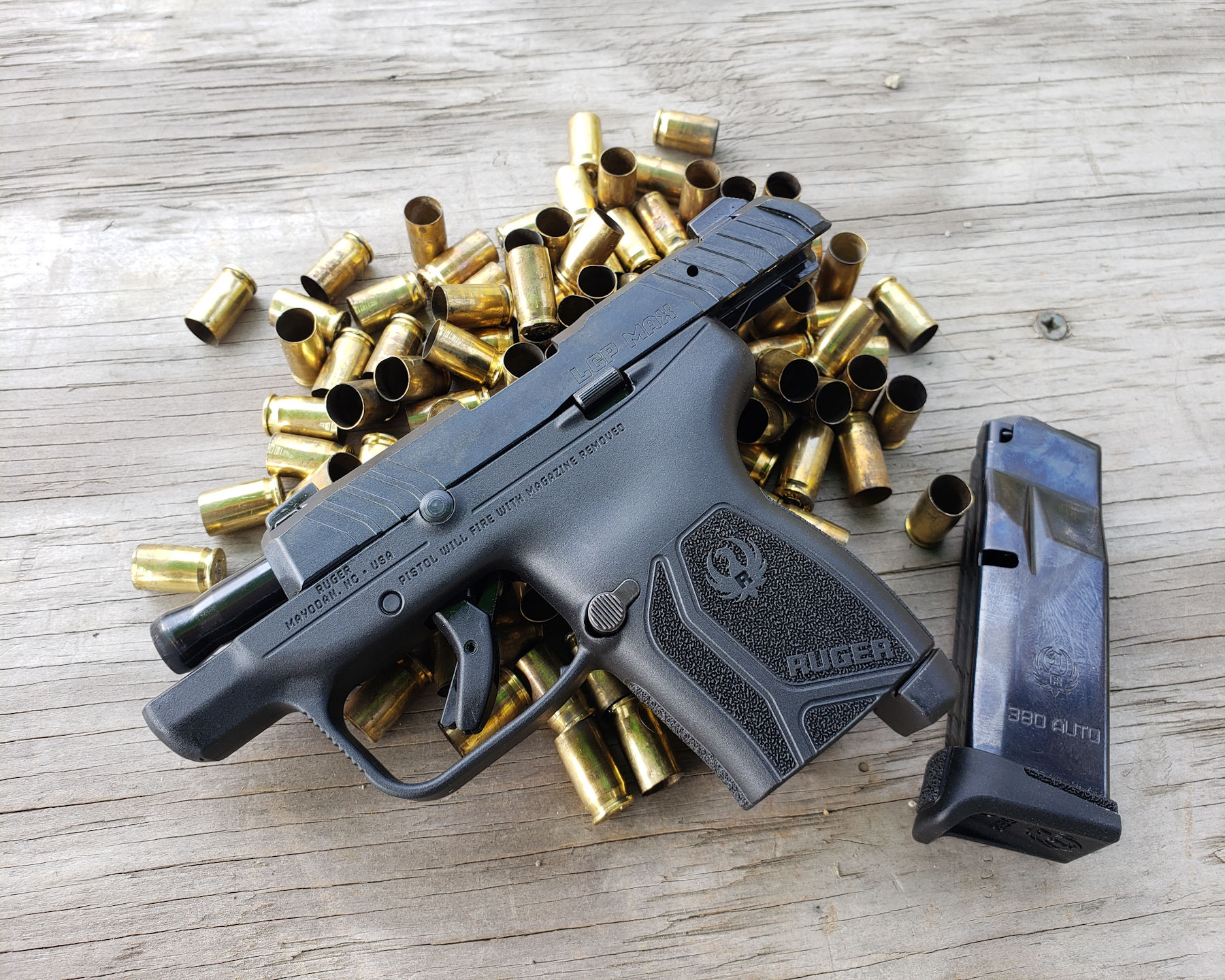 LCP MAX specs:
Capacity: 10+1, optional 12+1 magazine available
Slide Material: Alloy Steel
Slide Finish: Black Oxide
Slide Width: 0.81″
Grip Frame: Black, High-Performance, Glass-Filled Nylon
Barrel Material: Alloy Steel
Barrel Finish: Black Oxide
Barrel Length: 2.80″
Overall Length: 5.17″
Front Sight: Tritium with White Outline
Rear Sight: Drift Adjustable
Weight: 10.6 oz.
Height: 4.12″
Grooves: 6
Twist: 1:16″ RH
MSRP: $449.00 (about $349 retail)