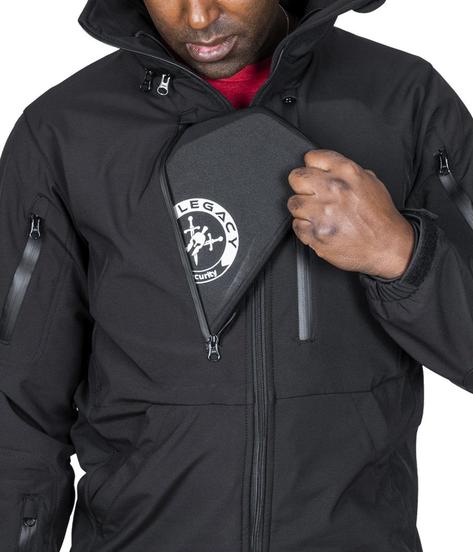 OK, ya'll, it's officially jacket season. I wanted to wait until it got a little cooler outside to do this review, and the time has come. As I write this, it is 40 degrees Fahrenheit this morning in my part of the beautiful US of A. So it's the perfect weather to give the Tradecraft jacket from 221B Tactical a try.
I will say upfront, my review is going to be on the comfort, build and pocket on the jacket. 221B Tactical paid a lot of money to have an independent lab to study, test and rate the body armor to Level IIIA. I don't think any backyard test that I can do will change or affect the certifications that they received on what caliber rounds it will stop.
That being said, I don't want to be hit with ANY caliber round. Body armor is my last option of protection if I am being shot at as movement and cover will always come first. I also happen to be a fan of backpack armor. While neither a backpack plate nor jacket will protect my head, neither will a steel plate.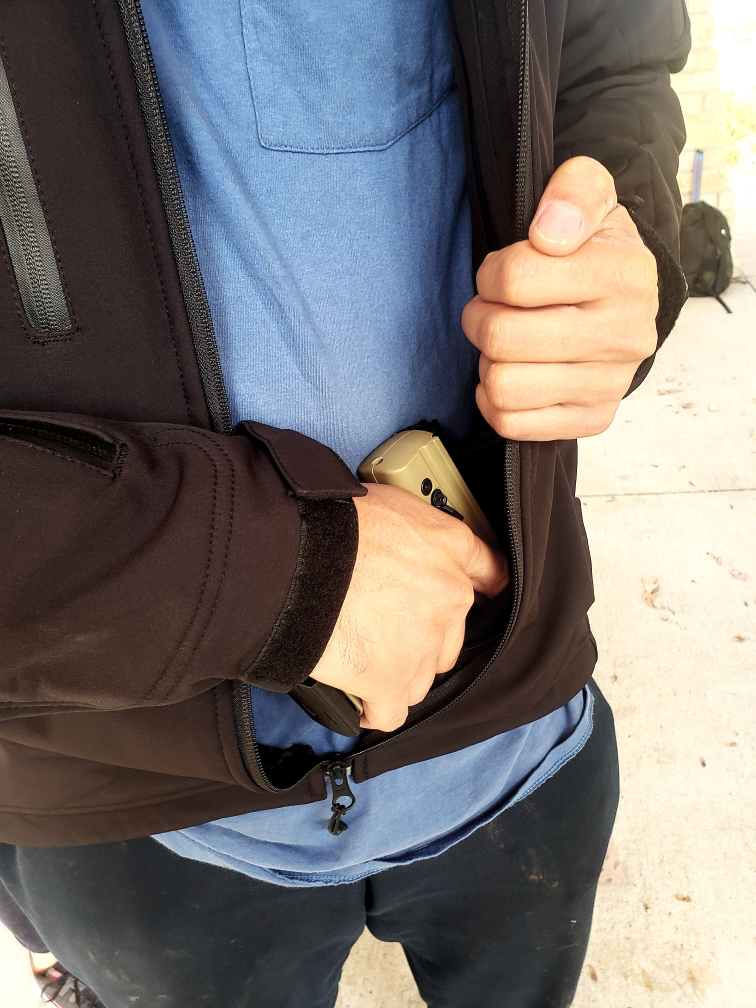 Growing up in and working private security in some of the roughest areas of Chicago, I wholeheartedly agree with the company that the partial protection that these two types of armor offer is 100% more effective than zero protection. In my humble opinion the term "better than nothing" truly applies here.
I mentioned my background simply because I fully expect comments from people who live in areas that have zero gun violence or violent crime will comment on how they prefer superior armor, even though they most likely will never wear or need it.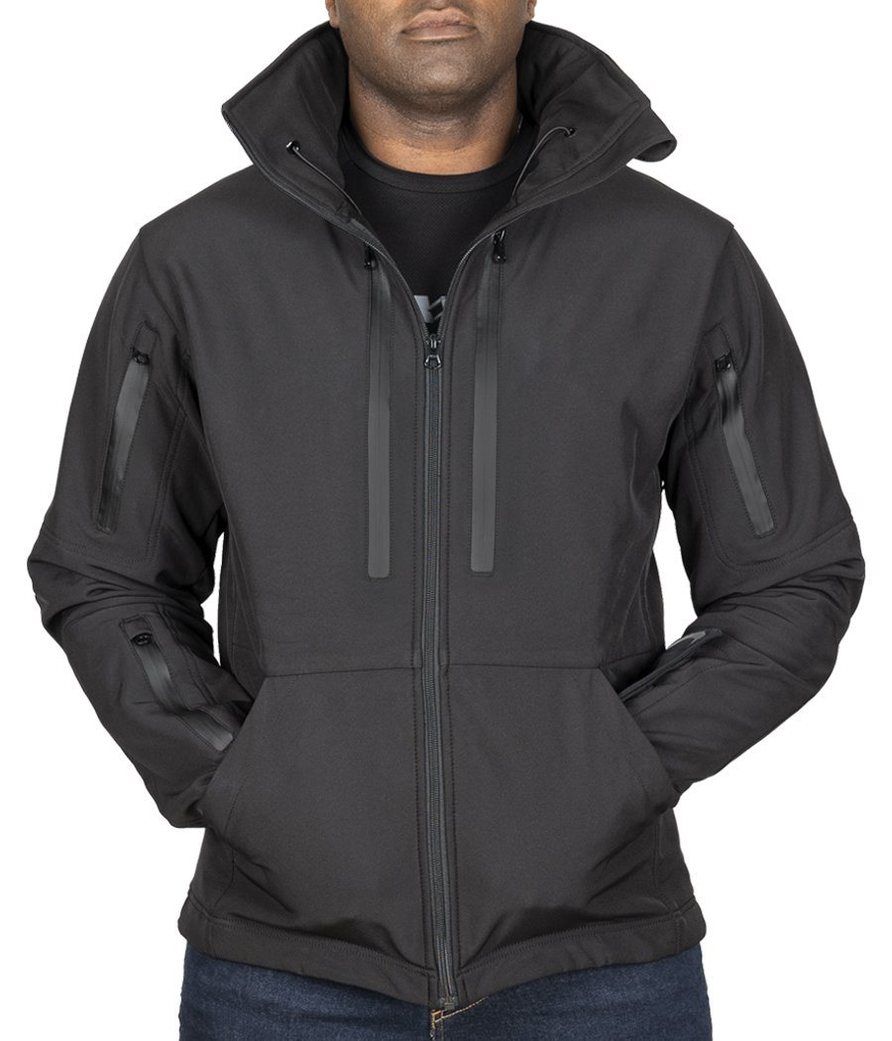 Let's start off with fit, I ordered a size large, and it is pretty true to size. The arms, chest and shoulders are comfortable and roomy enough for a light sweater underneath. While not a winter coat, I could see how layering with the Tradecraft jacket would keep me warm. But it's not winter…yet. Ordering a larger size may be required for layering as this jacket is somewhat of a loose athletic fit.
The build is very solid. The materials, stitching and waterproof YKK zippers are top notch. The aesthetics of the jacket are pretty standard tactical, meaning black and windproof with lots of useful zippered pockets. Speaking of pockets, there are a couple of concealed carry pockets built in for a compact-size pistol and other EDC gear.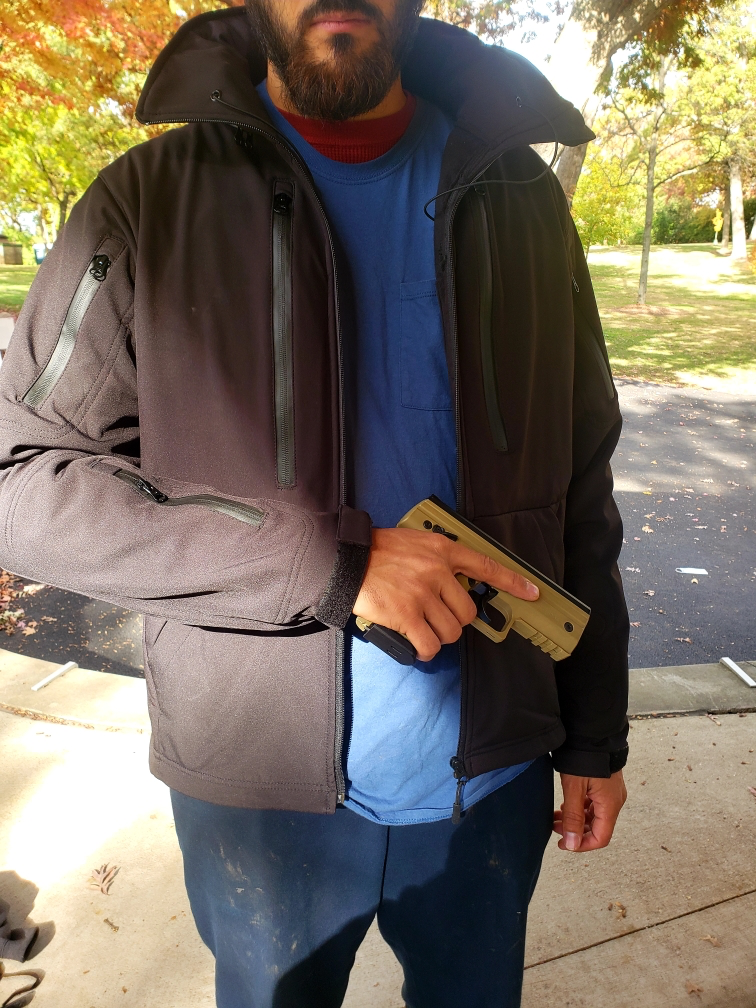 Design wise, we have all seen similar jackets before. One neat and unique feature is that there is a removable magnetic pouch on the left forearm. The bad news is, the pouch was not included in the shipment. I will have to call 221B and see if maybe this was a discontinued item or if it is something to order separately. It also has a nice roll up hood in the collar for windy/rainy days.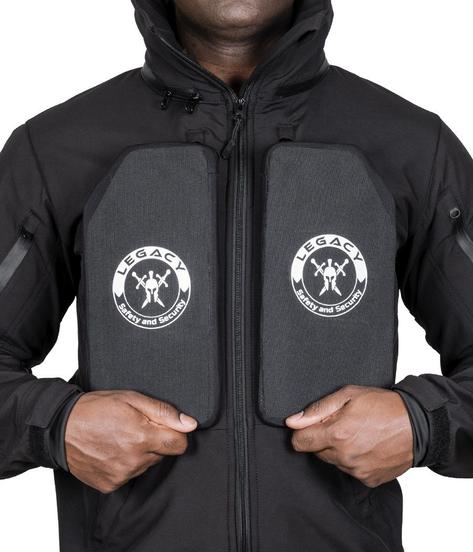 As far as the flexible Level IIIA plates go, they are custom fitted for this jacket. There are two plates in front and one in the back. The front pockets will not accept standard size plates, but the rear pocket will.
When it comes to printing, you can somewhat see the plates, especially in the front. While blocky, they aren't obvious, especially to the average civilian. The look kind of reminds me of a padded motorcycle/dirt bike jacket.
You have options in terms of pricing. The jacket only is $247. You can then order it with either rear plate only, front plates only, or all three at varying costs. See 221B's page here.
Overall, I like the Tradecraft jacket. I own a couple like this one that don't have the ability to carry body armor, so it blends right into my regular wardrobe. As I mentioned earlier, I am a supporter of products that offer a level of concealed protection, especially as our world gets crazier by the day. My wife also likes the jacket. She can wear it comfortably and has already tried to steal it from me, so I am going to end up buying one for her in a smaller size.
SPECS
Wind Blocking
Water Resistant
10 Pockets (incredible storage)
Waterproof Zippers on All Pockets
Wind Blocking Compression Wrist Cuff Extensions
Covert Pockets for Front and Rear Level IIIA Body Armor Panels
Custom Designed Legacy Body Armor Panels – Custom Size & Shape
Covert CCW and EDC Access
Concealable Hood with Patented Cutouts for Peripheral Vision
Extended Collar Doubles as Face Covering
Magnetic Removable Storage Pouch on Sleeve
MSRP: $587.00 as shown with front and rear Level III Armor.
NOTE
The body armor panels for the front of The Tradecraft Jacket are a custom size and shape specifically made for the front of this jacket. Traditional size body armor panels will not fit into the front of this jacket. The custom pocket on the rear of the jacket can and does accept a traditional 10×12 Level IIIA body armor ballistic panel.
One of the greatest features of this jacket is the one you can't see; its ability to house Level IIIA body armor panels in both the front and rear of the jacket. The rear of the jacket accepts a traditional 10×12 shooters cut body armor panel. The front of the jacket utilizes two (2) custom shaped and sized Level IIIA body armor panels made exclusively for The Tradecraft Jacket by Legacy Safety and Security. These soft, flexible panels are rated to stop everything from 9mm to .44 magnum. The panels are dual threat rated and thus offer a degree of stab protection as well. The Tradecraft Jacket gives you the protection you want and need when you need it most.
With features like ventilation ports under the sleeves, wind-blocking compression cuffs that extend into your gloves, an extended collar that doubles as a face covering and a hood that deploys with our patented "Sniper Cutouts" for peripheral vision, The Tradecraft Jacket isn't just something you wear; it is a piece of gear and an asset for your personal safety.
For more information on or to purchase the 221B Tradecraft Jacket with Level IIIA armor, please visit our friends at www.221btactical.com.