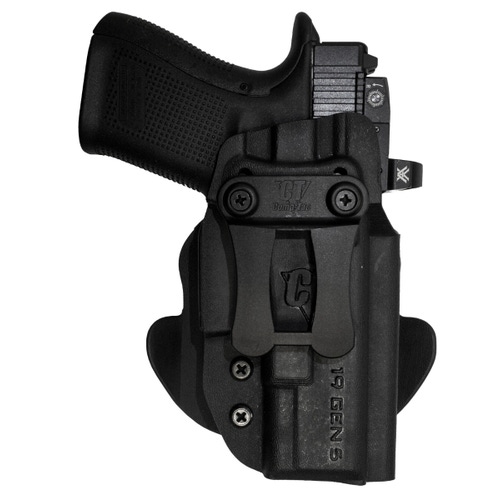 Comp-Tac is proud to announce the release of the Dual Concealment Holster, a holster that can be worn both inside the waistband (IWB) or outside the waistband (OWB).
The Dual Concealment Holster – DCH is the best solution on the market for users who need versatility in their carry methods. Offering both IWB or OWB carry options, the DCH is fast to put on or take off and adapts to each user's needs.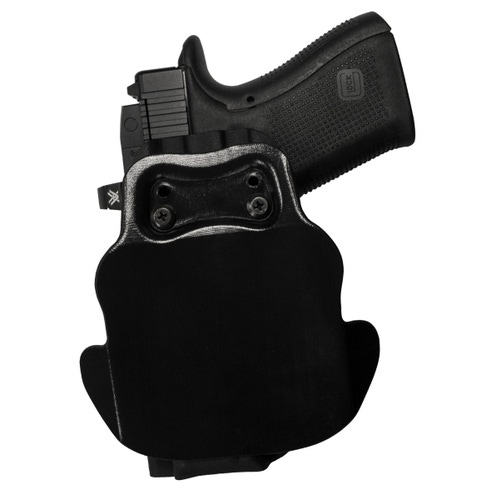 For users who carry inside the waistband (IWB) the DCH offers a small footprint, slim profile, optics compatible option that can be slipped into the pants at a moment's notice. With adjustment, the clip can be configured to carry at appendix, 3:00 side carry or behind the hip.
For users looking for an outside the waistband (OWB) option, the paddle attachment offers the closest, fastest, most versatile attachment. The paddle attachment rides above the belt line making this the thinnest OWB carry option in Comp-Tac's line up. The paddle is worn inside the waistband, allowing the holster to fit at any position on the belt line and can be put on or taken off in a matter of seconds, but stays securely during the draw with the molded wings.
"Many individuals that carry concealed have a variety of holsters for different weather, clothing options, guns and carry methods. While no one holster can be the answer to every situation, the Dual Concealment Holster was designed to help those users who want to switch between inside the waistband carry and outside the waistband carry simply and easily," explained Randi Rogers, director of brand management at Comp-Tac.
Price = $53