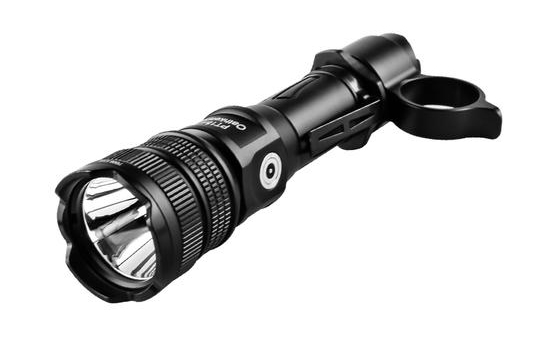 So, this flashlight company that I never heard of contacted me through LinkedIn about a year and a half ago. The company contact was a lady named Kitty, who sent me a PM asking me if I would like to check out their new light the PT18pro Oathkeeper and sent me some images.
Keep in mind, they are based out of China, and I get 7-8 of these requests per week, so I just figured that she was trying to sell me something. But being the good sport that I am, I said sure I'll check it out. I agreed to pay for shipping and figured that I would just receive a typical eBay quality junk light that would live out its years in the drawer of mystery in my kitchen.
About a week goes by and a package arrives, I open it up and to my surprise I see what appears to be a really well-built flashlight, with a badass built-on knuckleduster. I decided to immediately plug in the magnetic charging cable and juice the PT18pro up. After about an hour I decided to test my new mail order bride of a flashlight.
I don't really have any equipment to test brightness, but the company says that the output is 2000+ lumens, and I tend to believe it. But at the same time, I still wanted to use this light for a while before I gave it any type of review. I also like the placement of the mode toggle switch. It's pretty easy to operate. It's also waterproof, that's a big deal to a guy like me.
Ok so here I am 18 months and five road trips later, and the light still operates as new. I have taken this light on many hikes, spent times in the pitch-black mountains with it and carried it in my hand at night during late night walks with my family. The light has been dropped at least a half a dozen times, gotten wet and has been used countless times as an impact weapon during my classes.
This formerly unknown company Brinyte has made a fan out of me with their PT18pro Oathkeeper light, I look forward to checking out some more of their products down the line. In the meantime, the PT18pro has become a part of my daily carry and I don't see myself getting rid of it anytime soon.
Here's how the company describes the light:
BRINYTE PT18pro Oathkeeper is a tactical light for military, law enforcement officers and outdoor sportsmen. Its maximum output can reach 2000+ lumens with its cutting-edge CREE XHP35 LED. The light includes tail dual switches and supports touch-to-turbo and touch-to-strobe functions. Thanks to the magnetic charging port, the light's charging time is greatly reduced. Featuring a patented tactical ring design, intelligent power indicator and anti-false trigger, the PT18pro is the lighting device of choice for outdoor sports enthusiasts and law enforcement officers.
Featuring
Brinyte patented tactical ring design, easy to grab.
Compatible with one 18650 battery or two CR123A batteries
Fast charging function
Intelligent power indicator
Color temperature 6500K
Regulated power supply maintains constant brightness
Overcharge, over-discharge and overheat protection
Reverse polarity protection prevents damage from improper battery installation
Alloy aluminum reflector with professional optical analysis
Aircraft-grade high strength aluminum AL-6061-T6 with premium Type III military hard-anodized anti-abrasive finish
Price = $98.50

A Chicago native, Sijo Waysun Johnny Tsai is an internationally recognized Combatives and Survival instructor. He is a published book and DVD personality with over 35 years' experience in teaching Practical Street Defense and Combatives to the Military, Law Enforcement Agencies and Civilians alike. SIJO is also the founder of the C.U.M.A. Survival School. He is also a renowned knife designer for companies like TOPS KNIVES, SMOKY MOUNTAIN KNIFE WORKS and WORK TUFF GEAR.
When not teaching classes, writing, or doing crazy thing with knives, SIJO likes to enjoy his downtime with his wife and 3 children. He also likes drinking beer.