Grandmaster Bram Frank needs no to introduction to the martial arts training world. GM Frank has spent decades traveling and training civilians, law enforcement and troops for the majority of his adult life.
Common-Sense Self-Defense / Street Combat (CSSD/SC) is an international organization which Grandmaster Bram Frank founded in order to teach his systems of Combat Arnis, Modular Knife, CRMIPT, and Bolo. He also uses it to sell and promote the knives he designs.
The knife and trainer that we are covering today is called the Desangut.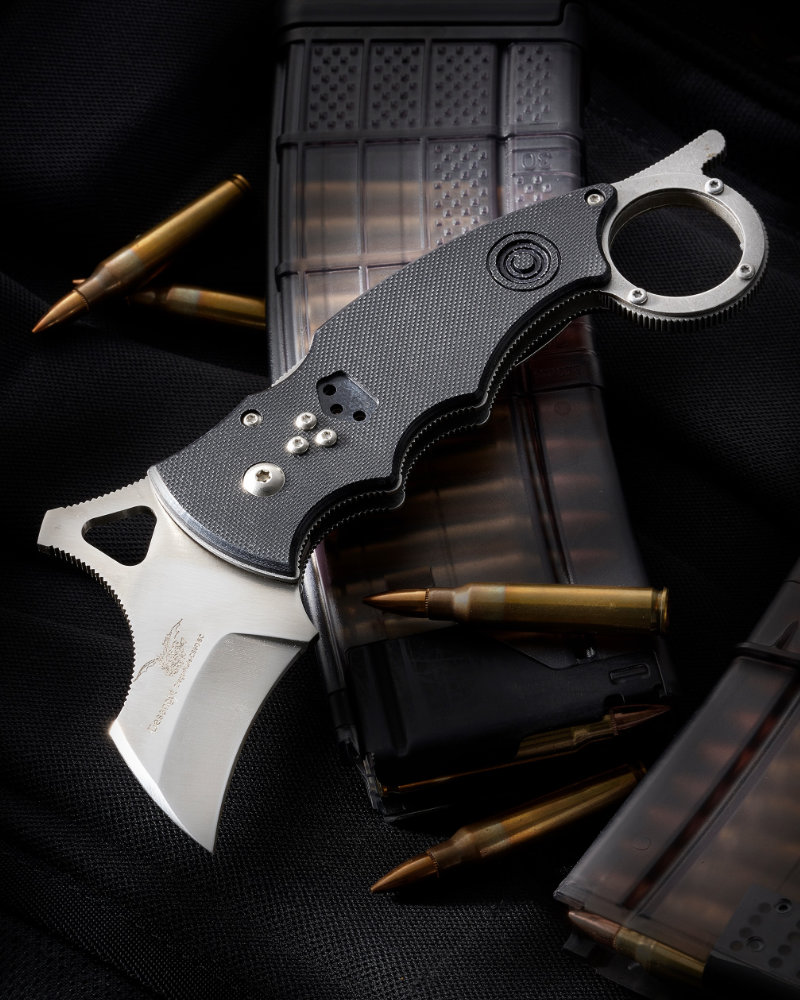 A take on the traditional Filipino Sangut. Designed as a tactical folder by Bram Frank for Master Edessa Ramos, one of the only living Sangut masters, hence the name Desangut.  This model is the first in the family of 3 original knives to be produced.
Desanguts only come in one size. Measuring 5.25 inches closed and 7.75 inches open, the Traditional Desangut has a 2.5-inch blade. It also features a 1-inch diameter Thumb Hole, and a .5-inch extender for a thumb rest / breaker made of solid steel.  The MSRP is $125.00.
And, of course, there is a matching red handled trainer drone.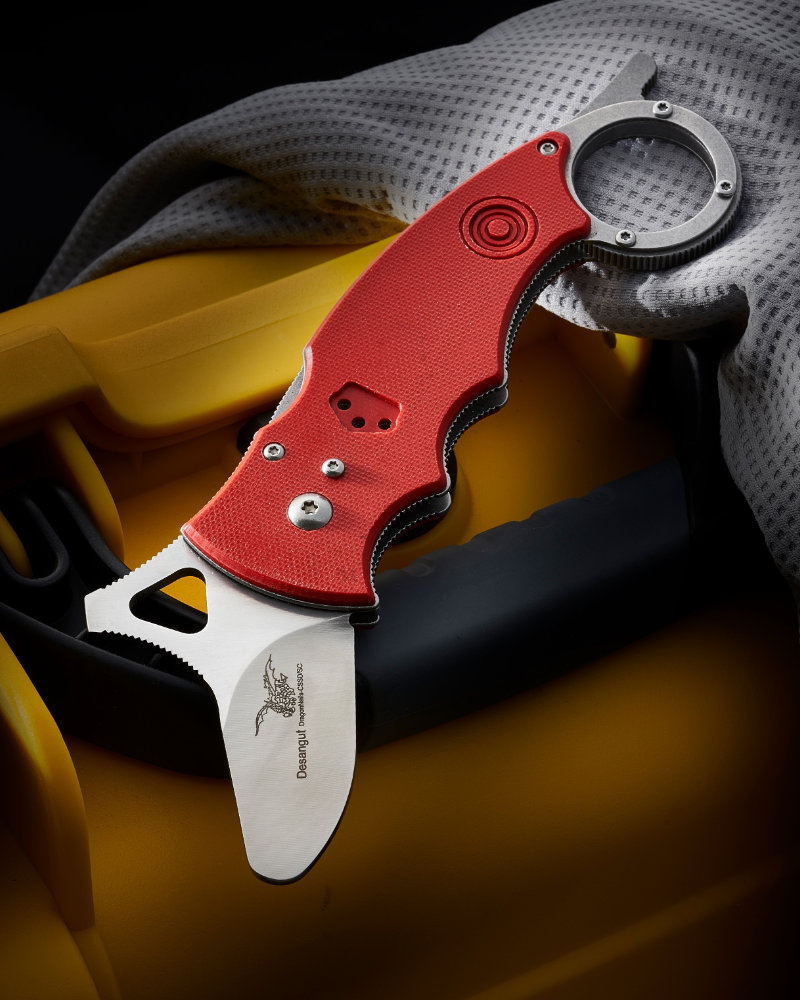 I wanted to spend a little time in our combatives class with both the Desangut and the drone before writing about it. I have to say that it is an interesting design that seems a bit off odd at first until you play with it a bit. After a couple of weeks and a learning curve, the design seems to make more and more sense every time pick it up. It is definitely as much of an impact and control tool as it is an edged weapon. Once I got used to the ramp on the knife, I found that I could open it fairly easily on an arm during self-defense drills.
The red trainer is a must have for anyone that wants to become proficient with the Desangut. Continue reading for specs. 
DESANGUT SPECS:
8cr13Mov steel (Chinese AUS-8) @ 56-58 RK
Proprietary G10 Handles: Black, Desert Tan, Red/White Checkered, Digi Cami
Liners: Full hard steel
Dual access super polished pivot pin
Compound puzzle lock: dove tail joint into blade
Pick up your own Bran Frank Knives Desangut and trainer www.cssd-sc.com. While you are there, maybe take a look at the training that he has to offer, you won't be disappointed.
A Chicago native, Sijo Waysun Johnny Tsai is an internationally recognized Combatives and Survival instructor. He is a published book and DVD personality with over 35 years' experience in teaching Practical Street Defense and Combatives to the Military, Law Enforcement Agencies and Civilians alike. SIJO is also the founder of the C.U.M.A. Survival School. He is also a renowned knife designer for companies like TOPS KNIVES, SMOKY MOUNTAIN KNIFE WORKS and WORK TUFF GEAR.
When not teaching classes, writing, or doing crazy thing with knives, SIJO likes to enjoy his downtime with his wife and 3 children. He also likes drinking beer.