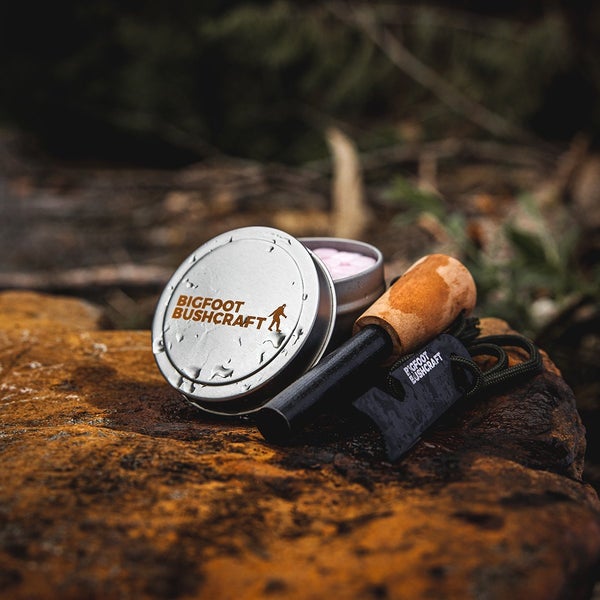 Food, water, fire, and shelter are the four necessities that everyone needs to survive pretty much on a daily basis. Besides survival, I can think of a dozen reason as to why I might need a convenient, reliable way to start a fire.
Like most people who own a lot of EDC gear, I have complete fire kits that I use for campfires, bonfires and random fires that I just start when I need to burn something. Being the backyard arsonist that I am, I'm always looking for more ways to set things a blaze.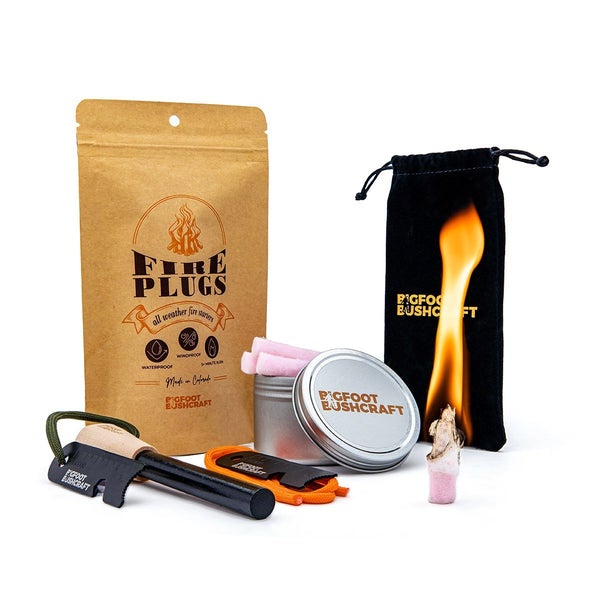 That's why I decided to check out Bigfoot Bushcraft and send them a media request, in return they sent me out a 60 pack of their Fire Plugs and an extra Thick Ferro Rod to check out and have some fun with.
The first thing to notice is the packaging. It reminds me of a brown coffee bag with a resealable top. Interestingly enough, like coffee, Bushcraft fire plugs have a nice fragrance. The smell sort of reminds me of cherry candy. It is definitely sweet. And no I didn't taste one
In addition to the bag, the company sent me a nice metal tin to use to carry around 25 or so fire plugs. The plugs themselves are basically an inch of fibrous cotton material which have been soaked in their Jet Fuel formula and then sealed in a type of wax. You basically have to crack the wax open and fluff up the material inside to ignite it with an easy spark from a ferro rod.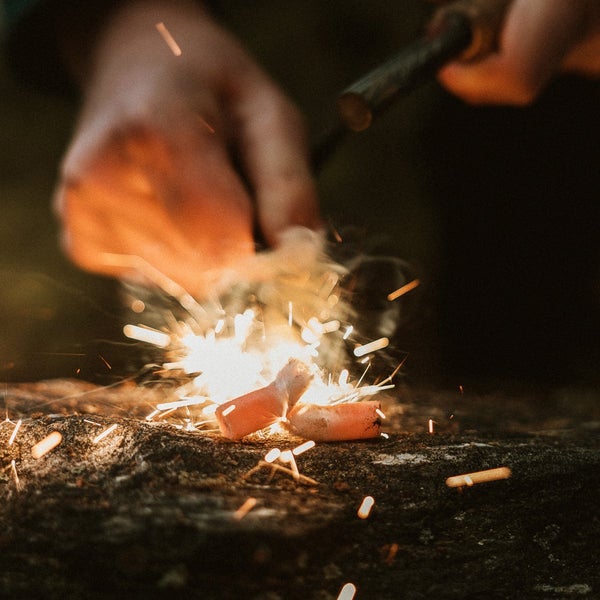 The company claims that they're waterproof and have a five-minute burn time. I can tell you that after holding one under water in the lake behind my house, these things still worked. It took just one scrape worth of sparks to get a fire plug burning. It lasted roughly four and a half minutes floating on swampy water before it went out.
Keep in mind, the plugs are pretty lightweight and with a tin of twenty-five, you'll be able to get a lot of campfires going, even in wet conditions. I'm looking forward to using them in this winter.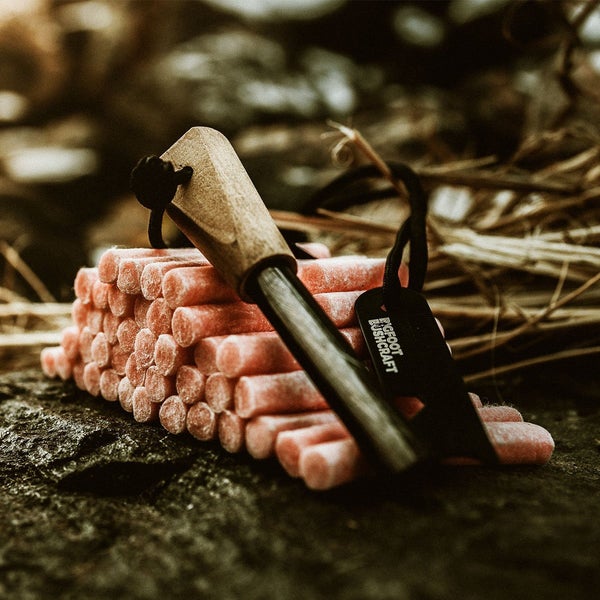 The ferro rod is definitely of good quality. After the traditional scraping off of the coating, it reliably throws a shower of sparks. It's definitely a keeper. I like the wooden handle on it, it's definitely a good size to provide a solid grip. Bigfoot says it's good for up to 12,000 strikes, so yeah, that's a lot of fire-making.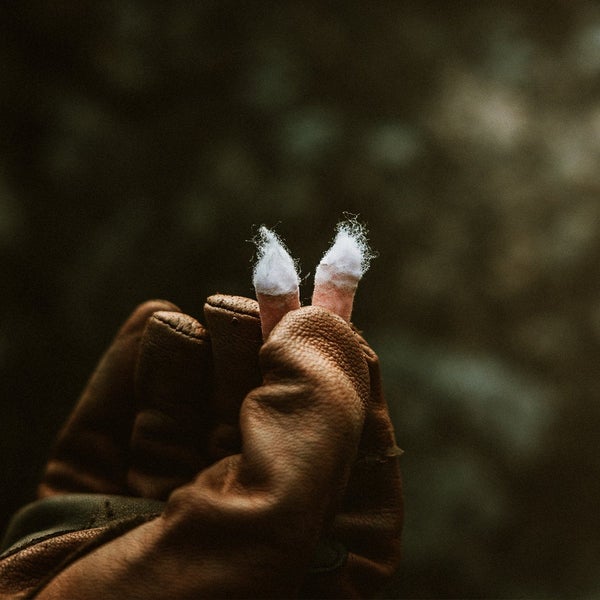 These fire plugs and the ferro rod work exactly as advertised and are going straight into my bugout bag. I highly recommend them. Who knows, maybe they even taste as good as they smell.
Continue reading to learn what the company has to say about these handy products.
FIRE PLUGS:
Rain or shine, wet or windy, start your fire with just a single spark and 100% waterproof Bigfoot Bushcraft Fire Plugs.
With more than 5 minutes of burn time, you won't feel rushed to get your fire started. Made with their high-performance Jet Fuel Wax Blend™ for hotter and stronger flames.
5+ Minute Burn Time
10+ Year Shelf Life
Waterproof & Windproof
Non-Greasy Formula
Made in the USA
Extra Thick Ferro Rod:
Start your fire with a ferro rod that smokes the competition. You won't have any trouble getting molten flakes from their extra thick half inch diameter rod. And with enhanced rugged construction, it will last you a lifetime of abuse outdoors.
When adverse conditions strike, it's the only tool for quick, easy fires every time.
12,000+ Strikes
1/2″ Extra Thick Ferrocerium
5,400 °F Sparks
Waterproof & Windproof
Hardwood Handle
Solid Steel Striker with Multitool 
Emergency Nylon Paracord
WHERE TO GET THEM:
Pick up your Fire Plugs in packs of 20, 60 and 200 and Extra Thick Ferro Rod at www.bigfoot-bushcraft.com today for around $9.95-$39.95.
A Chicago native, Sijo Waysun Johnny Tsai is an internationally recognized Combatives and Survival instructor. He is a published book and DVD personality with over 35 years' experience in teaching Practical Street Defense and Combatives to the Military, Law Enforcement Agencies and Civilians alike. SIJO is also the founder of the C.U.M.A. Survival School. He is also a renowned knife designer for companies like TOPS KNIVES, SMOKY MOUNTAIN KNIFE WORKS and WORK TUFF GEAR.
When not teaching classes, writing, or doing crazy thing with knives, SIJO likes to enjoy his downtime with his wife and 3 children. He also likes drinking beer.