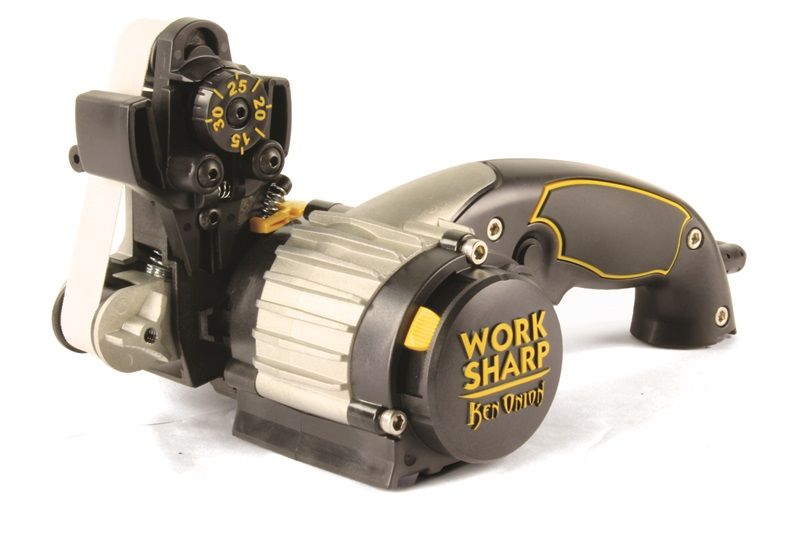 I get asked every other day about the best method to sharpen knives. My first answer is almost always a whet stone. My second answer: the Worksharp Ken Onion Knife and Tool Sharpener.
Time-tested and proven across the globe, the Ken Onion Worksharp is on the top of the list of almost everyone who has a serious EDC knife collection. It can sharpen everything from a small neck knife a shovel, and you don't have to be an expert to use it.
I recommend the Worksharp Ken Onion Knife and Tool Sharpener for maintaining the edges on your EDC knives, which SHOULD be user knives. You can get a razor-sharp edge without worrying about fine metal dust scratching up expensive collectibles.
If you are concerned about scratching that $1500+ custom blade that you're carrying in your pocket, get and learn how to use a whet stone. There are plenty of free tutorial videos on YouTube to show you how.
The basic Worksharp Ken Onion Knife and Tool Sharpener sharpens all types of knives, angles from 15 to 30 degrees, includes five belts, and has a new variable speed motor.
It runs about $130 which can be less than the cost of just one good EDC knife, so in my opinion, it's well worth it.
A Chicago native, Sijo Waysun Johnny Tsai is an internationally recognized Combatives and Survival instructor. He is a published book and DVD personality with over 35 years' experience in teaching Practical Street Defense and Combatives to the Military, Law Enforcement Agencies and Civilians alike. SIJO is also the founder of the C.U.M.A. Survival School. He is also a renowned knife designer for companies like TOPS KNIVES, SMOKY MOUNTAIN KNIFE WORKS and WORK TUFF GEAR.
When not teaching classes, writing, or doing crazy thing with knives, SIJO likes to enjoy his downtime with his wife and 3 children. He also likes drinking beer.