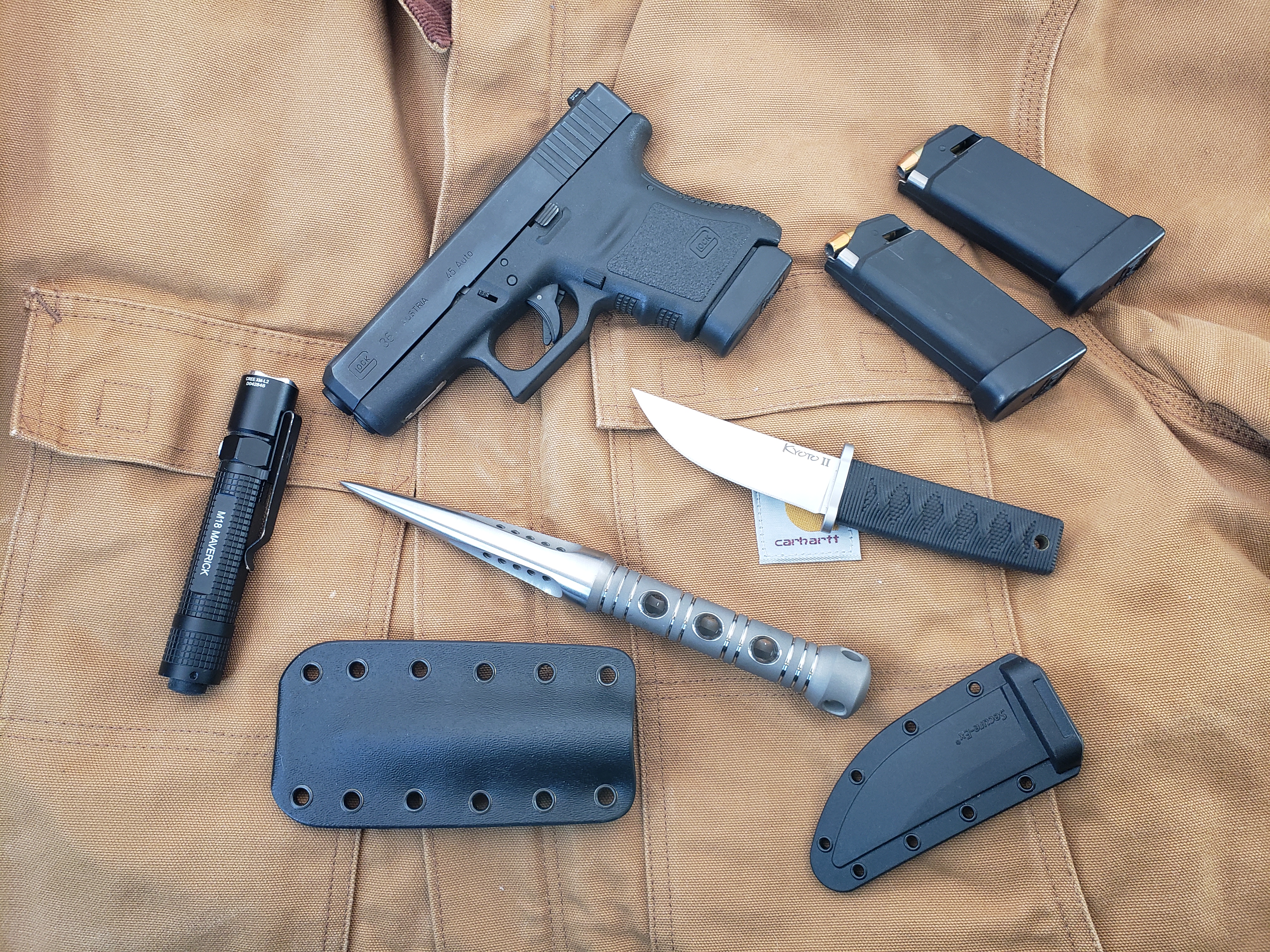 When the cold weather hits and the big winter coats come out, I rethink my normal carry. It's hard to get to holsters under your coat when you're all bundled up, so sometimes it's easier just to drop stuff in your pockets.
Luckily the big Carhartt jacket I wear has huge pockets and is very sturdy. I've had it for a few years and I'm still waiting for it to really break in; maybe in another decade or so.
I had gotten a Glock 36 not long after they came out, and that was one of my carry guns before taking my first police job where I ended up being limited in what I could carry off duty. I gave the gun to my father-in-law so that someone would get some use out of it, and he recently returned it to me. It's honestly kind of clunky for a six-shot single stack pistol, being nearly the size of a G19 or a G23.
Still, it's .45 ACP and a fun gun to shoot. I figure with 6+1 in the pistol and two spare mags I'm pretty well covered for most stuff I'm likely to run into. I stuff it in my DeSantis IWB holster to cover the trigger guard and drop it in my outer pocket.
The opposite pocket gets the two spare mags and the 9-inch titanium spike from Spikes by Mike. I figure with heavy gloves on, my fine motor skills are going to be limited so something easy to grab and use like the big spike should work well. It's a 1-inch diameter spike, so I suspect anything I punch one-inch holes in is going to be very unhappy. Plus I can chip ice if I stumble across a spontaneous party while I'm out.
The Olight M18 Maverick and Cold Steel Mini Japanese Reinforced Point knife go in my upper pockets. I went with a small fixed blade more for utility use than anything else, and felt it was easier to operate than a folder would be in heavy winter gear.
Want to see your EDC gear here? Send a photo and gear list to EDC@mytacticaledc.com.