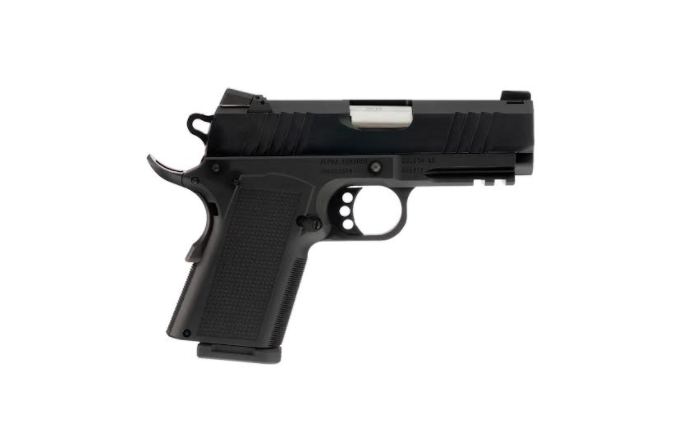 Here's an interesting one for you 1911 fans out there. Alpha Foxtrot has a new subcompact S15 1911 in 9x19mm that holds 15 rounds and is no thicker than a traditional single stack 1911. How is this done you ask? Black magic? Non-Euclidian geometry? A breach in the fabric of spacetime?
As cool as those would be, Alpha Foxtrot relied on engineering and the smart application of an existing product to work this miracle.
Alpha Foxtrot uses a forged aluminum lower that foregoes the standard 1911 grip to make a thinner body to start with. On top of that, rather than working with an existing 1911 magazine, thy built their gun around the excellent Shield Arms S-15 magazine originally made for the Glock 43X. Between the sleeker frame and ability to build a smaller magazine they can offer a high cap 1911 that's thinner and shorter than other sub compact 1911's on the market. MSRP is $1,490 and you can preorder now with an expected delivery of pistol in March.
Let's see what Alpha has to say about the AF1911-S15 and a little background on the company from their website:
We have eliminated the biggest handicap of the 1911 pistol, low magazine capacity!

There have been other double stack 1911 pistols the market, but their large grip diameter is not ideal for concealed carry or for those with smaller hands.

By eliminating the standard grip panels and utilizing our forged 7075-T6 aluminum frame technology, our frame is actually shorter and thinner than a standard 1911 single stack grip. it ships with a flush fitting Shield Arms® patent-pending S15® magazine. 20 round extended magazines are also available.

While increasing capacity, we have maintained many standard 1911 features such as the hammer, safety, grip safety and trigger, allowing for easy customization and tuning. With its match grade barrel and the famously crisp single action trigger, the 1911-S15 boasts superb accuracy and performande in a subcompact carry pistol.

We are in full production and we expect to begin shipping at the end of March. The 1911-S15 is available for preorder now and will be available through distributors and dealers nationwide.
About Alpha Foxtrot:

With 30 years of OEM firearms parts manufacturing experience for some of the world's greatest gun companies, Alpha Foxtrot is a manufacturing juggernaut.

Alpha Foxtrot's parent company Dasan Machineries of South Korea is one of the largest producers of firearms components for the US commercial and global firearms markets. Dasan is a government approved defense contractor for the South Korean armed forces as well as other military and law enforcement units around the world.

In addition to Dasan's state of the art factories in Korea, Dasan has invested heavily in US manufacturing with our 80,000 sq ft manufacturing facility located in Duluth, GA.

Through our vertical manufacturing, we strive to provide the American shooter with innovation and highest quality firearms at the best possible price point.