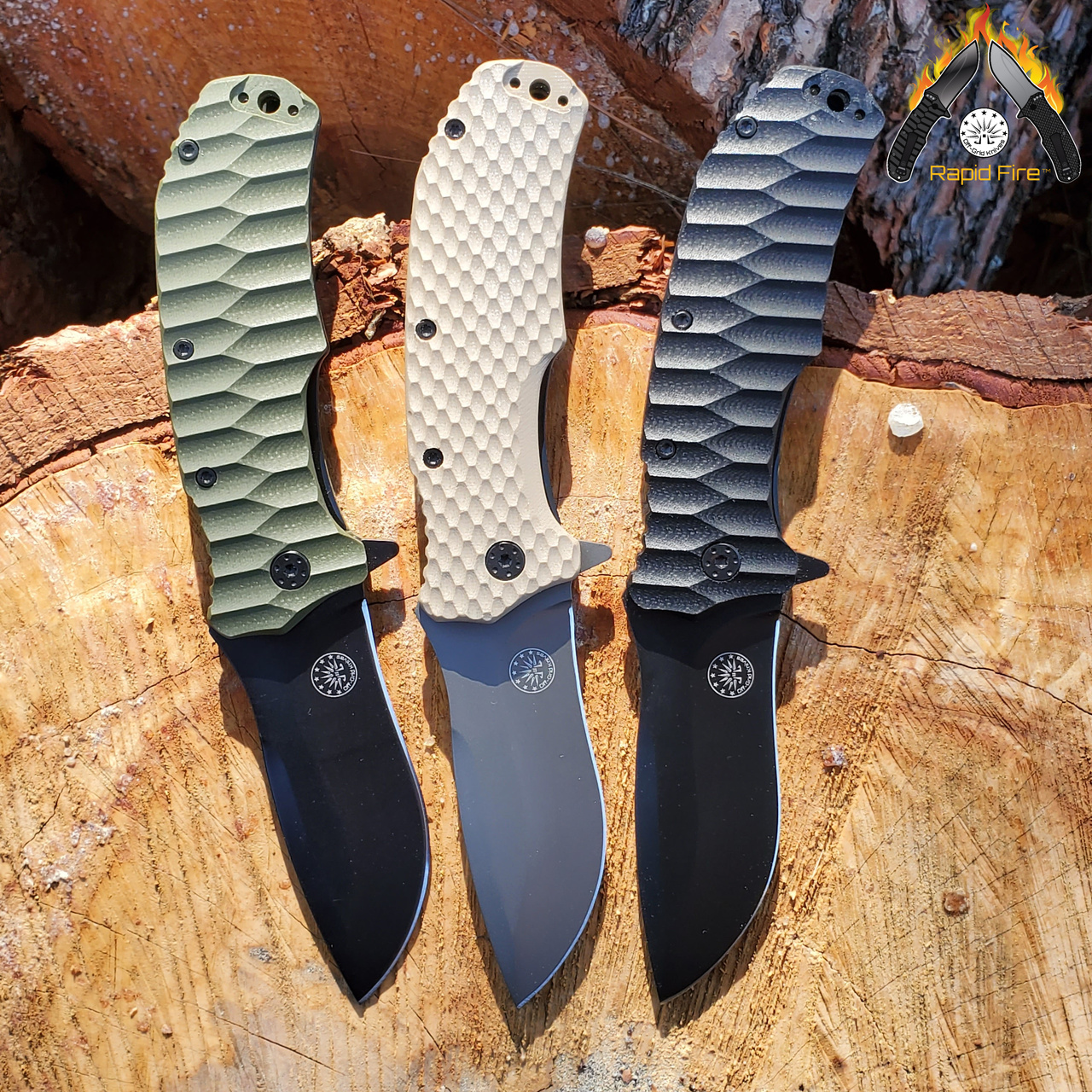 Off-Grid Knives is a company that is making a bit of industry noise with some value priced knives, that quite frankly can hang toe-to-toe with some much more expensive brands.
From design to build, positive reviews are consistently posted about how the team at Off-Grid are making EDC knives the right way, good looking, rugged and affordable.
The knife in today's discussion is no different.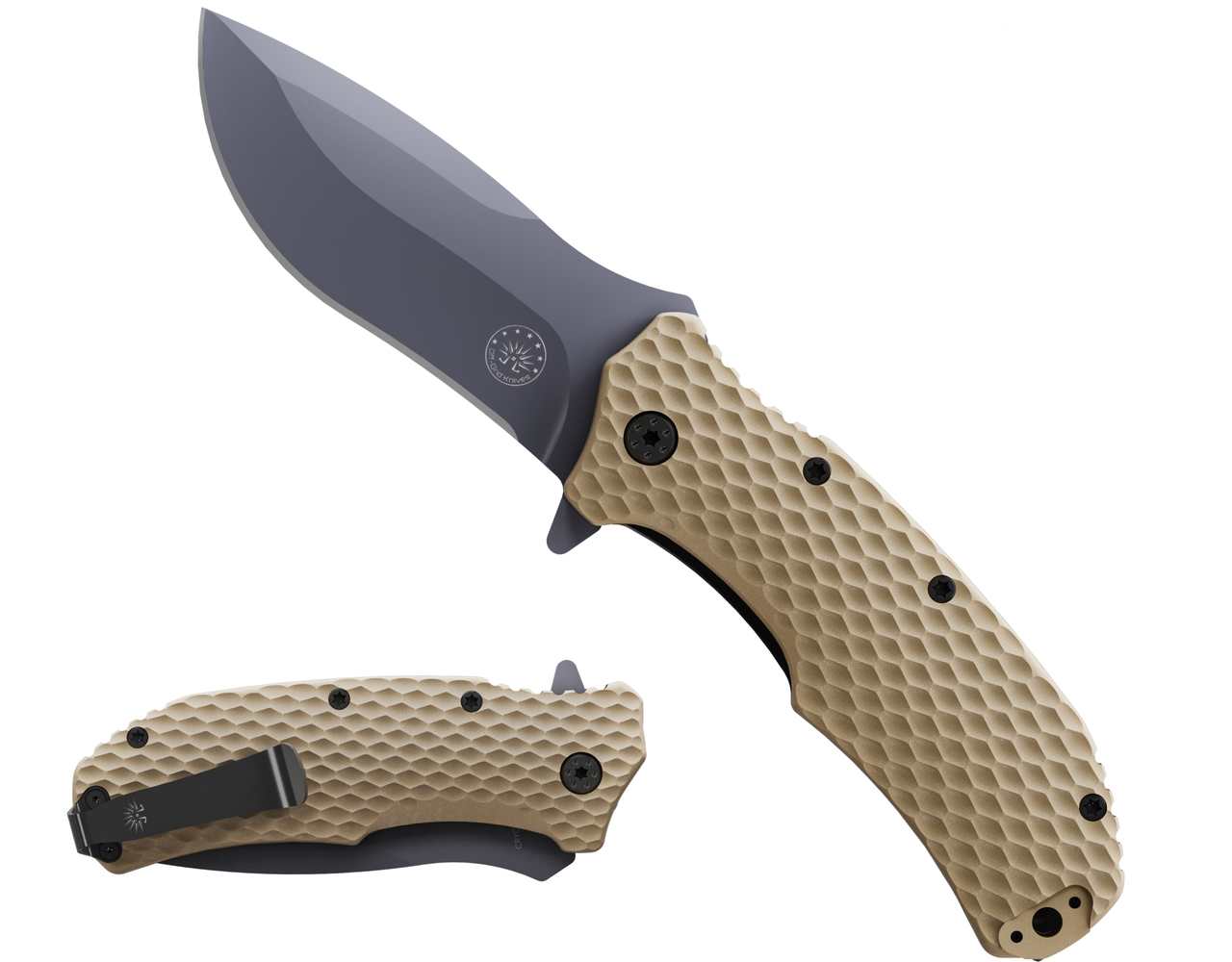 The new Rapid-fire Coyote from Off-Grid Knives has been updated with Cryo D2, G10 scales, a super deep pocket clip, T8 body and clip screws.
Big, tough, durable, and fast describes their assisted Rapid-Fire Series.  Made with quality materials inside and out, excellent fit and finish, plus shaving sharp out of the box, this is a pretty cool knife.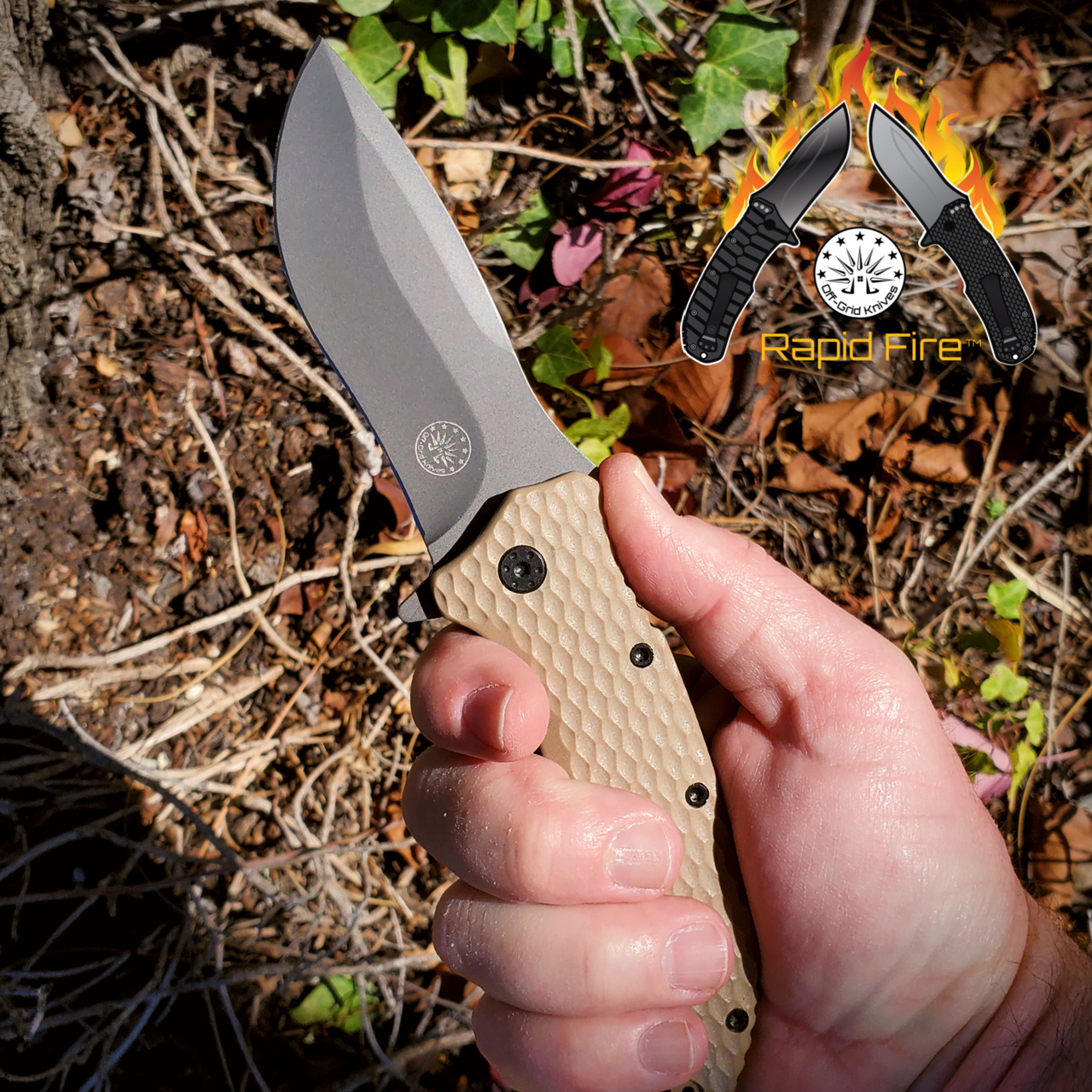 The company claims that their knives are currently used by members of the US military, fireman, law enforcement, first responders, federal agents, coast guard, private security and "Off-Grid adventurers" across the world.  I wouldn't doubt it, it seems really well built.
What is Cryo D2 & Titanium Nitride?
Off-Grid uses something called Cryogenic D2 blade steel.  D2 is an extremely tough steel that is very close to stainless, excellent corrosion resistance, incredible edge retention, holding an edge even after tons of hard use.  To enhance the benefits of D2 even more, they use a Cryo treatment and coated it with a Titanium Nitride (TINI) coating. TINI is applied to their steel through a unique process of plasma deposition performed in a complete air-sealed vacuum.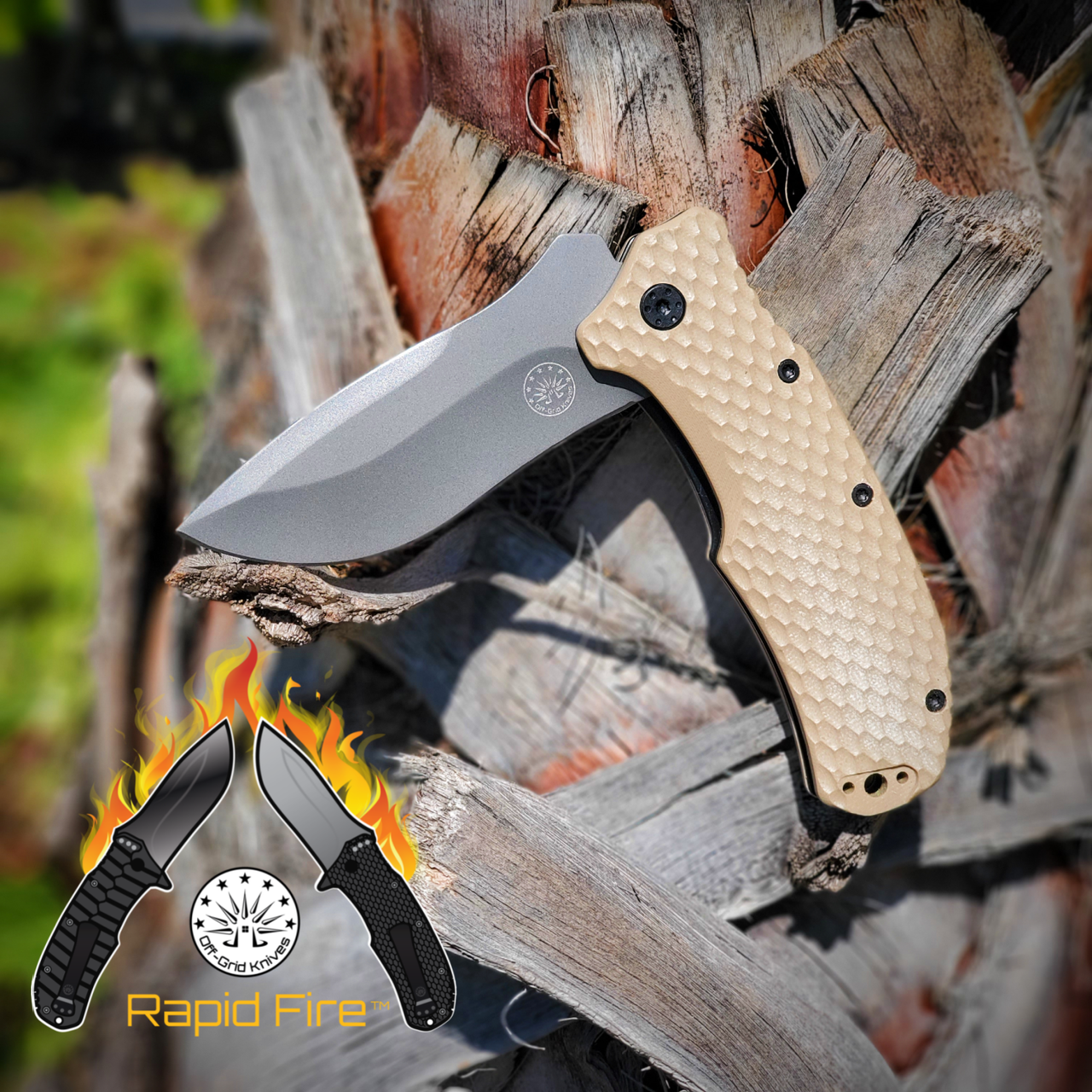 Benefits of TiNi & Cryo: Additional corrosion resistant properties, increased durability, extremely scratch/peel resistant and is non-reflective.
Machined Grip with Coyote Tan Scales
The machined G10 pattern creates a very grippy handle. The Coyote has excellent ergonomics that is designed to stay in your hand in all conditions, ready for work or play.
SPECS:
Weight: 5.9 ounces
Blade Length: 3.50"
Right / Left Hand Carry: Both
Knife Mechanism: Spring assisted flipper
Locking Mechanism: Liner Lock
Blade Length: 3.50"
Blade Width: 1.25"
Blade Thickness: 3 mm
Blade Material: Cryo D2
Blade Style: Drop Point
Blade Finish: Titanium Nitrate
Blade Edge: Palin Edge
Handle Length: 4.75:
Handle Color: Coyote Tan
Handle Material: G10
MSRP: $107
I like what Off-Grid Knives are doing, they are offering a variety of models at different price points for different collectors. I thin k a knife like the Rapid-Fire Coyote is a great bang for the buck.
Grab one for yourself here.

A Chicago native, Sijo Waysun Johnny Tsai is an internationally recognized Combatives and Survival instructor. He is a published book and DVD personality with over 35 years' experience in teaching Practical Street Defense and Combatives to the Military, Law Enforcement Agencies and Civilians alike. SIJO is also the founder of the C.U.M.A. Survival School. He is also a renowned knife designer for companies like TOPS KNIVES, SMOKY MOUNTAIN KNIFE WORKS and WORK TUFF GEAR.
When not teaching classes, writing, or doing crazy thing with knives, SIJO likes to enjoy his downtime with his wife and 3 children. He also likes drinking beer.