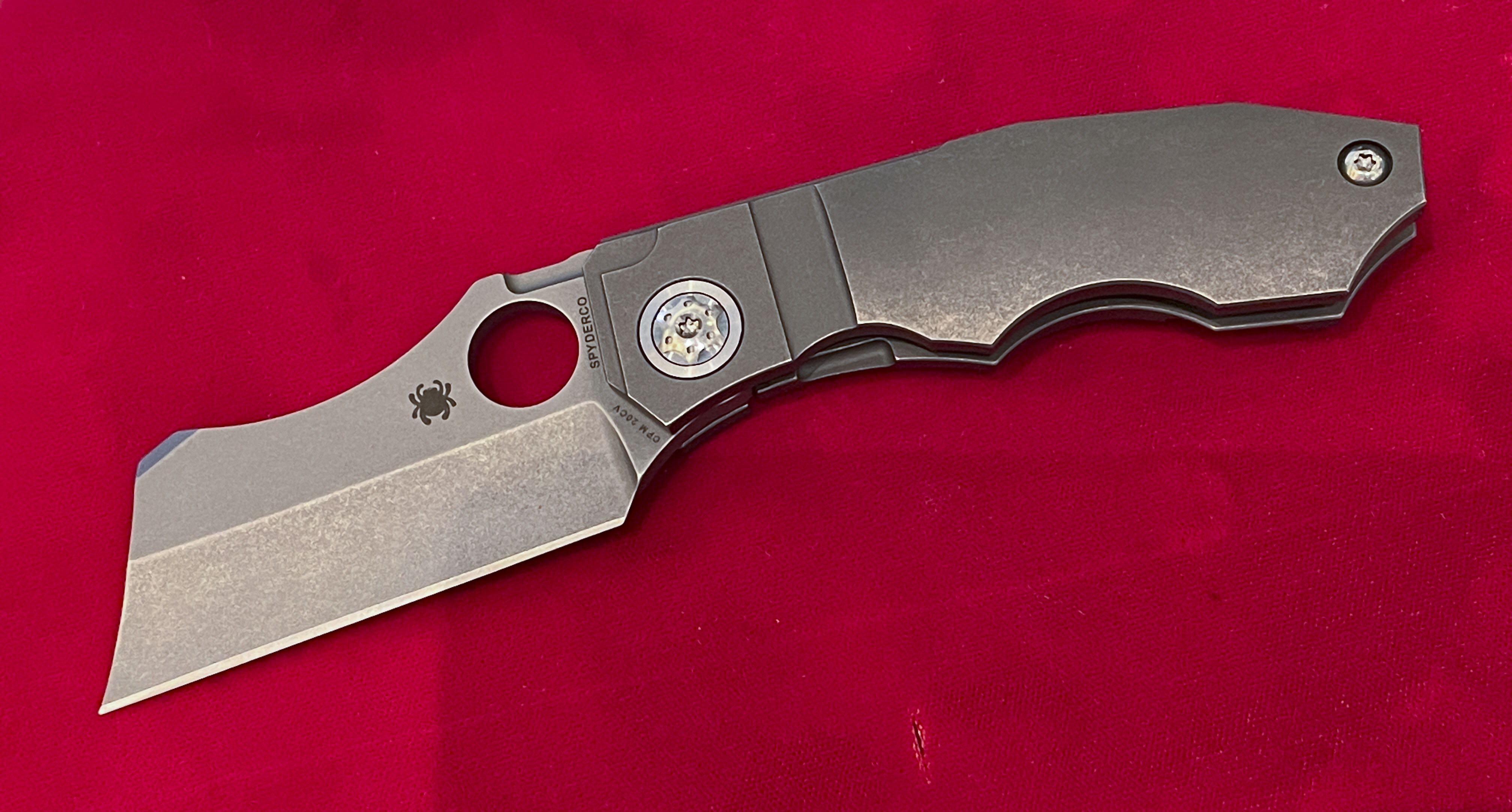 I am a big fan of cleavers; I am an even bigger fan of folding cleavers.
Our friends at Spyderco have decided to tickle my fancy on both levels with their new and limited Stovepipe design. A stout frame lock with a hollow ground CPM 20 CV steel blade, the Stovepipe is one sick-ass design.
This is a true city-legal EDC knife, with a 2.8" blade length and a cutting edge of 2.625". It's designed to go anywhere that you want to take it.
Continue reading to see specs and what the company has to say.
Inspired by custom knifemaker David Rydbom's "Bill the Butcher" design, the Stovepipe blends dramatic style with serious performance. Its stout cleaver-shaped blade is crafted from 4mm (.157-inch) thick CPM® 20CV stainless steel and has a deep hollow grind for superior edge geometry. The handle is constructed from two slabs of solid titanium joined by a titanium backspacer.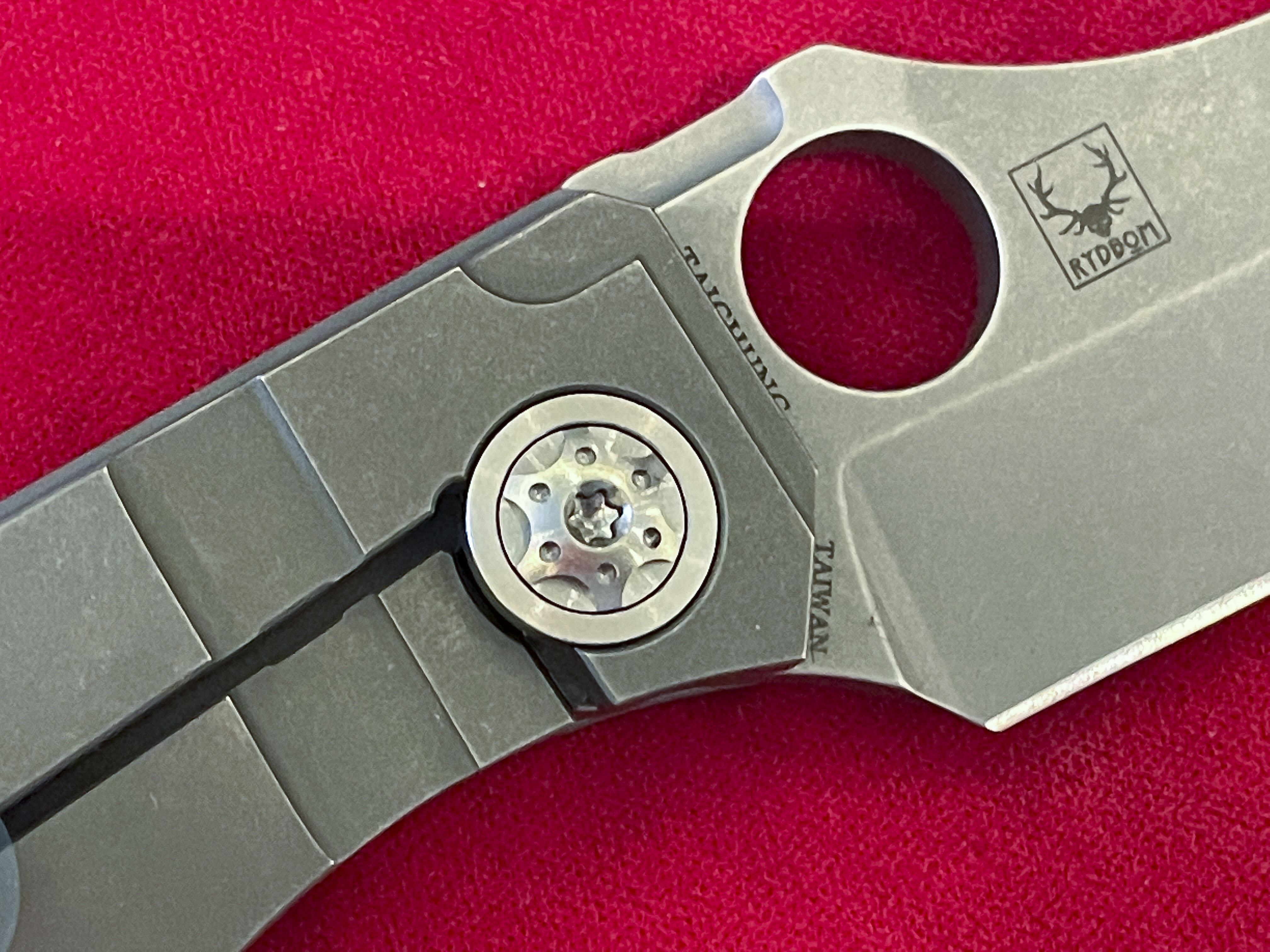 Both scales are painstakingly machined to create beautifully crowned outer surfaces and the reverse-side scale forms the foundation of the knife's Reeve Integral Lock (R.I.L.) mechanism. The oversized pivot pin is machined with artistic accents and serves double duty as an overtravel stop for the lock bar. To allow convenient carry, the Stovepipe includes a machined titanium clip configured for right-side, tip-up carry. The clip, scales, backspacer, and blade all feature a no-nonsense, industrial-style stonewashed finish.
Overall Length 6.75″ (171mm)
Blade Length 2.78″ (71mm)
Steel CPM 20CV
Closed Length 4.00″ (102mm)
Edge Length 2.65″ (67mm)
Weight 4.9oz (139g)
Blade Thickness 0.157″ (4.0mm)
Handle Titanium
Clip Position Right
Tip Carry Position Tip-Up
Lock Type R.I.L.
Grind Hollow
Sheath N/A
Origin
Made in Taiwan
MSRP $600.00
OK, for most people $600 is a pretty steep price to pay for an EDC knife. But for some of us knife knuts, it's not that unusual. The good news is, if the sticker shock doesn't chase you away, you can get one for about $420 at most online retailers, if you can find one in stock.
A Chicago native, Sijo Waysun Johnny Tsai is an internationally recognized Combatives and Survival instructor. He is a published book and DVD personality with over 35 years' experience in teaching Practical Street Defense and Combatives to the Military, Law Enforcement Agencies and Civilians alike. SIJO is also the founder of the C.U.M.A. Survival School. He is also a renowned knife designer for companies like TOPS KNIVES, SMOKY MOUNTAIN KNIFE WORKS and WORK TUFF GEAR.
When not teaching classes, writing, or doing crazy thing with knives, SIJO likes to enjoy his downtime with his wife and 3 children. He also likes drinking beer.