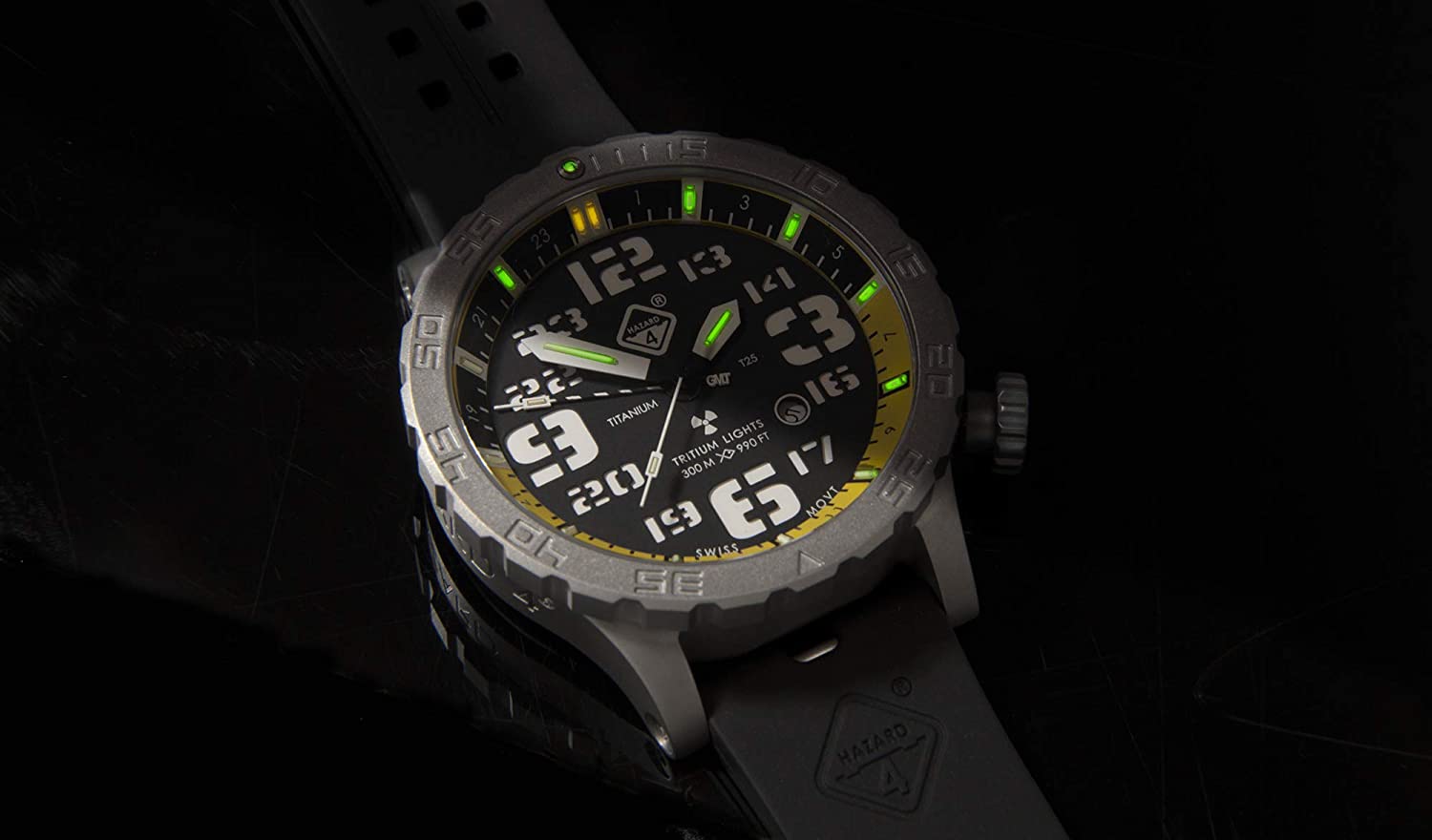 Just when I thought that I didn't need to buy anymore watches, here comes the Hazard 4 Heavy Water Diver 50mm Black Titanium Watch with tritium. Maybe it's the cool tacti-cool black and earth colors. Maybe it's the large numbers on the dial for my aging eyes. Maybe I'm just a sucker for tritium. Whatever it is, I want it.
I am a big fan or rubber / silicone straps because leather tends to dry out and smell after a while. Rubber and silicone last longer and can be washed off with soap and water.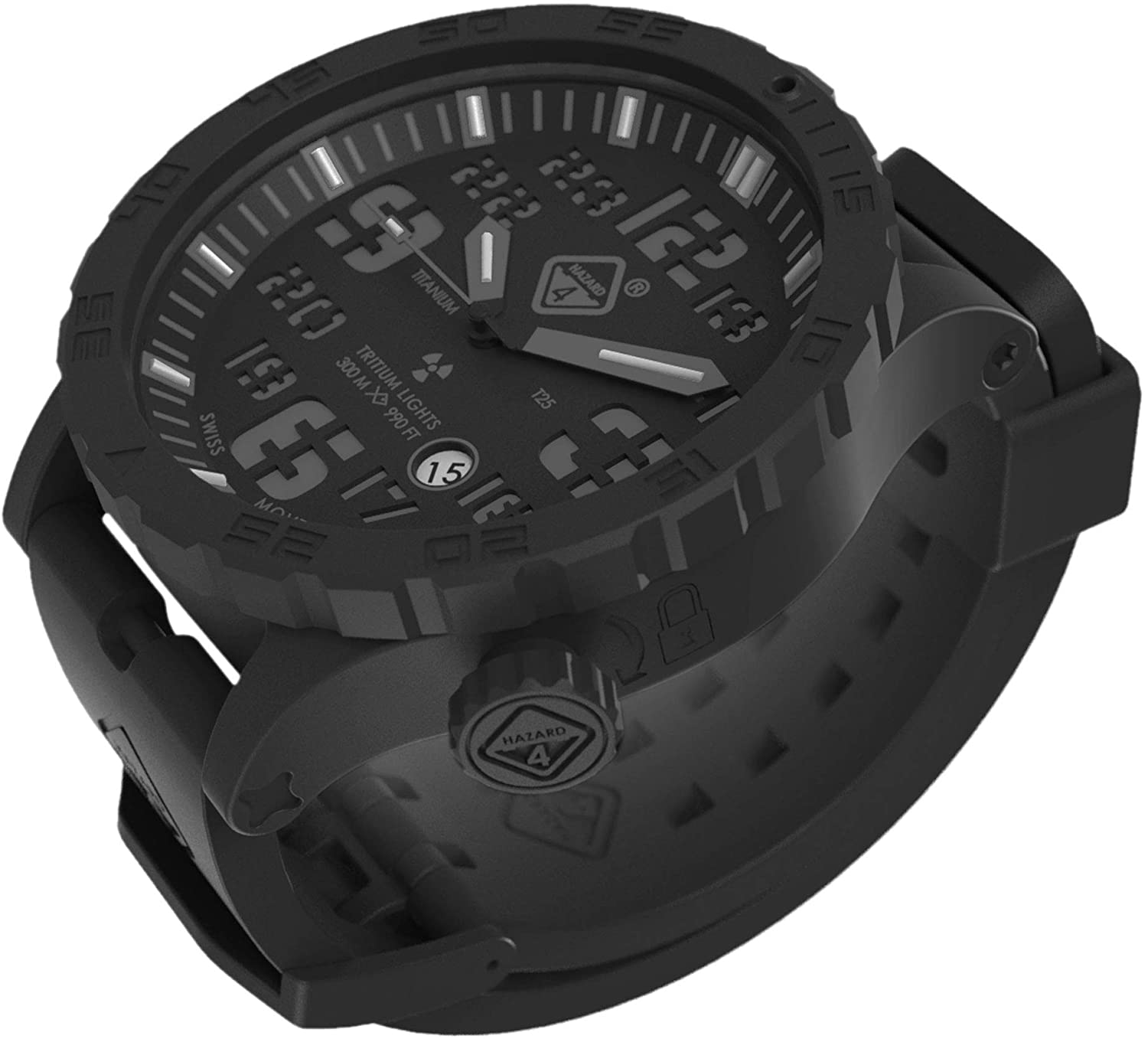 I also like the placement of the crown at four o'clock as larger watches with crowns at three o'clock tend to dig into the back of my hand. So offset crowns are always more comfortable, and that's a win. If you feel like you're the progressive tacti-cool type of guy and want a watch that's a couple of steps up from that Luminox that every cop and his Dad is wearing, H4 products are probably for you.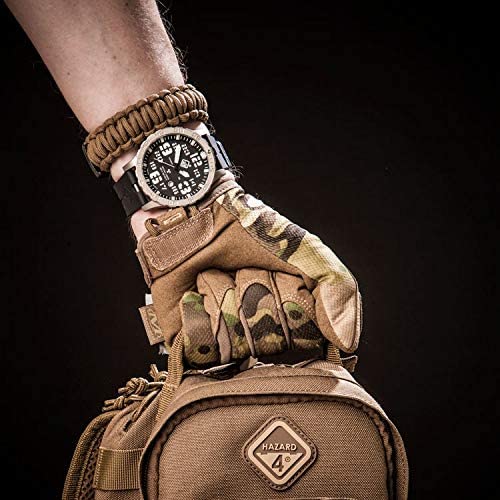 Specifications 
Dial Color: Black
Illumination Color: Yellow, Amber/Gold, Green
Marker/Numeral Color: Earth
Case Material: Titanium
Case Diameter: 50 mm
Illumination Type: Tritium
Weight: 3.8 oz
Features
• High water resistance feature set; depth rating of 300 m/990′
• Ronda 515 Quartz (battery powered
• Battery type: 371, silver oxide (contains 0% mercury)
• Titanium grade: 2
• Self-contained ever glow tritium-vial lamps
• large, substantial, 50 mm high-vis design
• Aggressively knurled unidirectional bezel
• Scratch-resistant Sapphire crystal glass
• screw-down case-back and crown
• Large, high-vis, 3D military stencil-cut numerals
• Easy strap changes w/ screw-in pins; use Torx 6 screwdriver/bit to remove strap (not included)
Price: $818
While I understand that a  watch at that price isn't for everyone, this watch isn't built for everyone. It's built for the person that wants a solid watch that's made to last and will make a fashion statement at the same time.
A Chicago native, Sijo Waysun Johnny Tsai is an internationally recognized Combatives and Survival instructor. He is a published book and DVD personality with over 35 years' experience in teaching Practical Street Defense and Combatives to the Military, Law Enforcement Agencies and Civilians alike. SIJO is also the founder of the C.U.M.A. Survival School. He is also a renowned knife designer for companies like TOPS KNIVES, SMOKY MOUNTAIN KNIFE WORKS and WORK TUFF GEAR.
When not teaching classes, writing, or doing crazy thing with knives, SIJO likes to enjoy his downtime with his wife and 3 children. He also likes drinking beer.