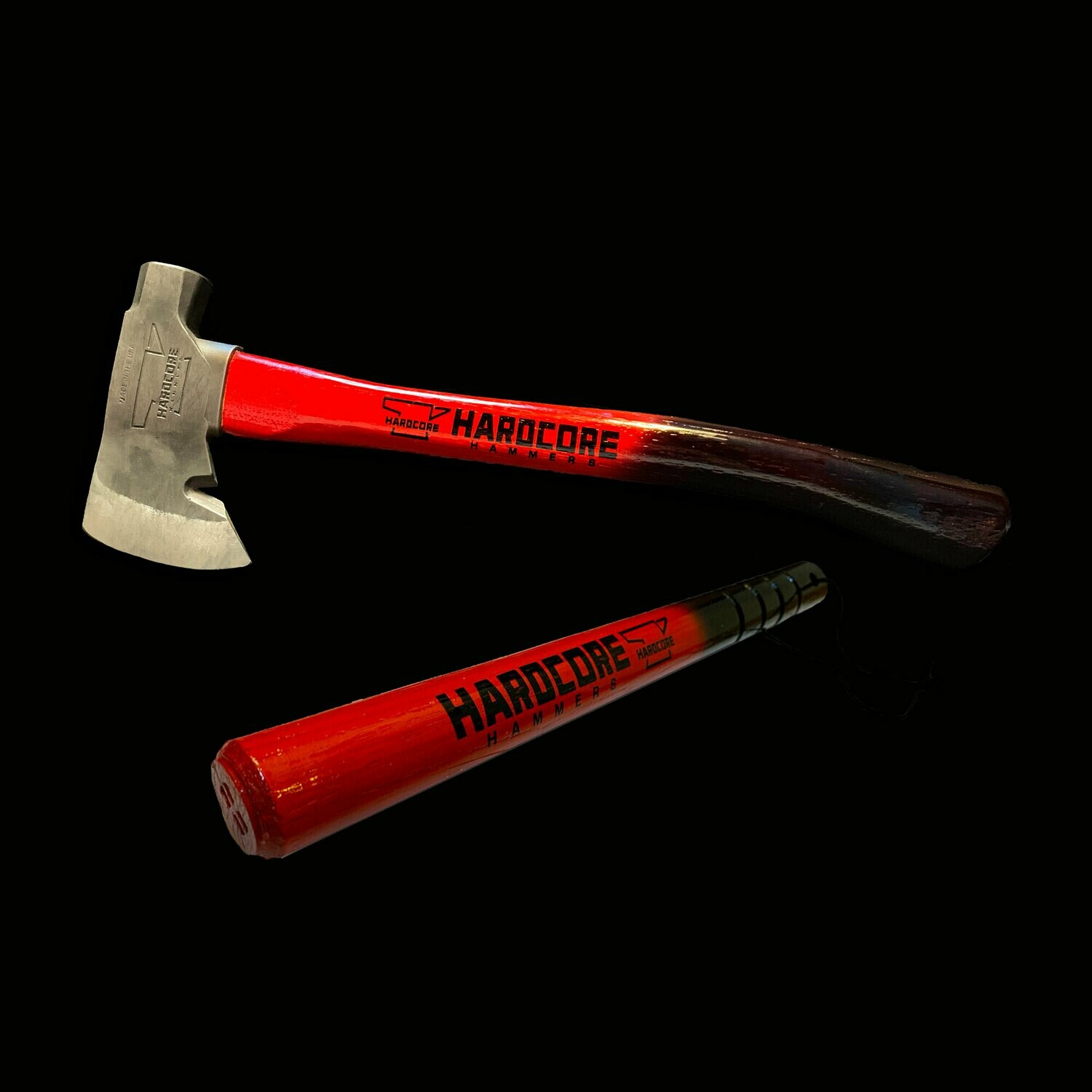 Every so often, I find something that I don't need, but I buy it anyway. (Actually, that happens quite often.) I am the exact opposite of that tire-kicker guy that will walk around a gun show at 7:00 am, pick up a knife to look at it for fifteen minutes and go "I like it, but I don't know what I would use it for," then put it down and walk away.
Well guess what, if you are one of those tire-kickers, this article contains a Zombie tire thumper to help you along your day. See, I always have you guys in mind, this article is for you.
Hardcore Hammers is a badass American company with a store front in Hillsboro, Illinois. That's right, you can walk in and check out their goods with your very own roughneck hands. If you don't know what you'd do with a hammer or an axe, then you probably should have your man card taken away from you. This particular set is their Zombie combo pack. Basically it's just a fun-colored set of their high quality 100% American-made tools.
A lot of our readers are all about "BUY AMERICAN." Well here is your chance. Go buy a set and start thumping some tires, Or some zombies. Or anything else that requires a little thumping. Plus, it's still winter and these axes will split firewood all day long.
In all seriousness, this is one cool set, I think everyone should own one.
Continue reading to see what the company has to say:
Have a great matching set of our super popular Zombie (red/black) finish on our bestselling Survivalist Hatchet and our Hickory Stick/Tire Thumper. Save money by buying these items together in this combo pack!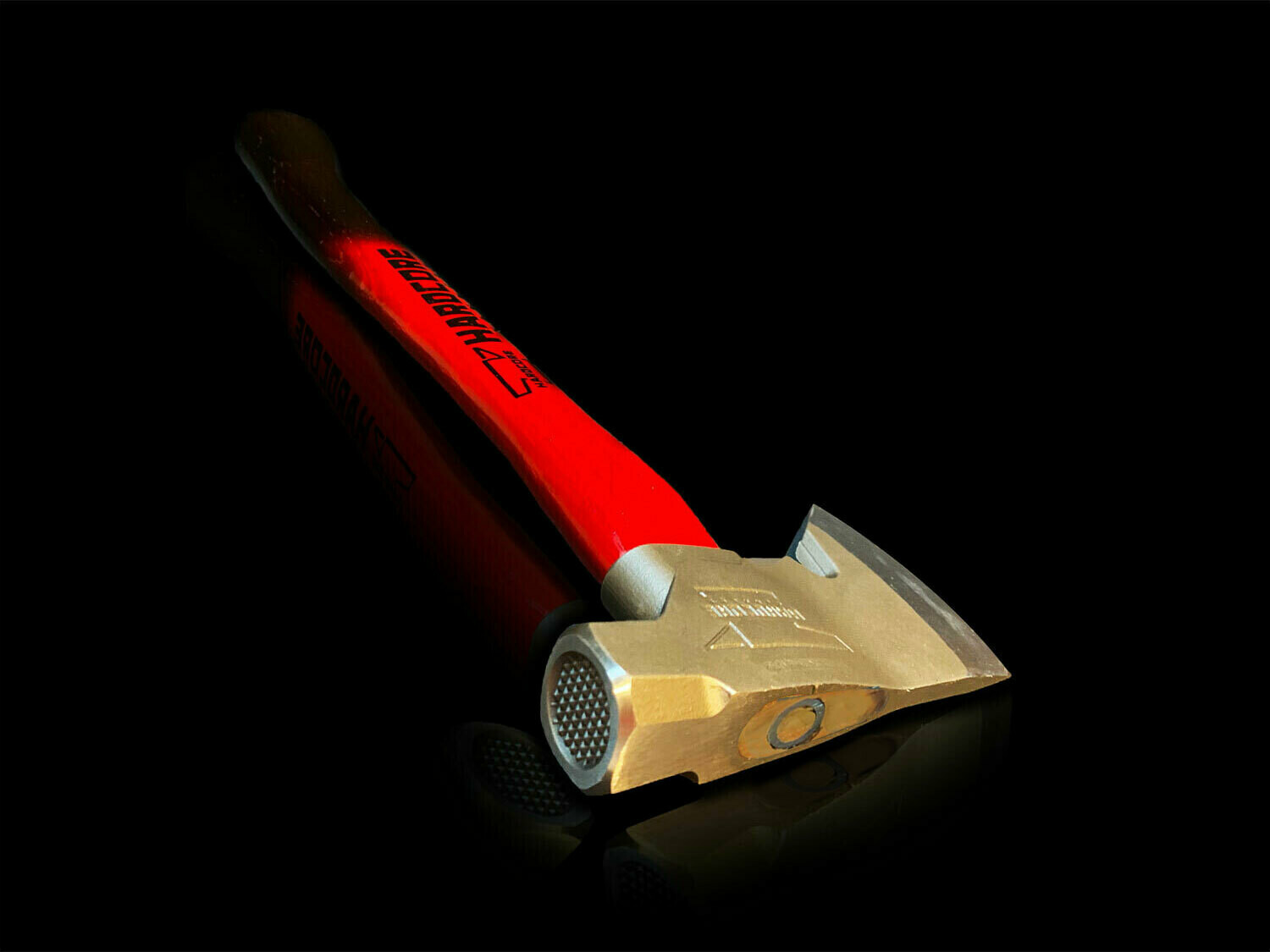 Hardcore Survivalist Hatchet
19 oz head on 18″ American Hickory curved handle, includes custom made leather sheath.
Made from top quality 4140 tool steel (AKA "Ordnance steel" because it's commonly used for making breech and barrel parts for guns and cannons) for both toughness and edge retention, and ground to within a +/-.005″ tolerance, we designed the curved blade for both optimal cutting and splitting wood. We've also incorporated a nail/tent stake puller and the hammer end (of course) has our patented recessed striking face. At 19oz on an 18″ handle, it's perfectly balanced for any job.
SPECS:
Weight: 40 oz. | Dimensions: 17.5 x 6 x 2 in. | Head Weight: 19 oz. | Handle Length: 18 in.
Custom leather sheath included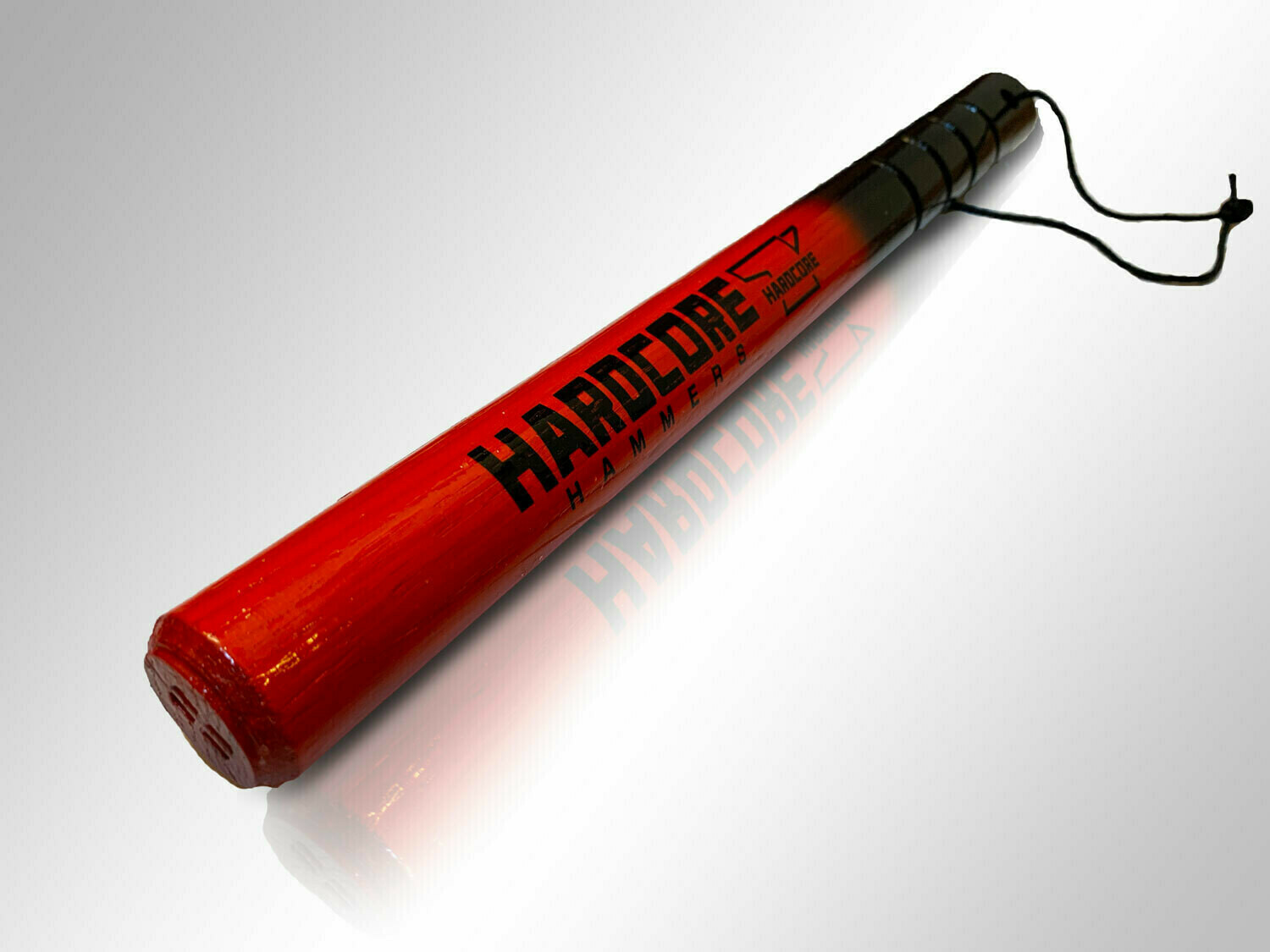 Zombie Hickory Stick/Tire Thumper
Our popular Zombie Style (red & black) version of our original hickory stick/tire thumper.
18″ Hickory Sticks are crafted from grade A American Hickory for durability and quality. Ink printed (vs laser engraved) with Hardcore Hammers Logo. Made in the USA.
Used primarily as a "Tire Whacker" for checking for low pressure in tires on big rigs quickly and efficiently, these guys are 17.75″ of premium grade "A" American Hickory with grooves for awesome Kung Fu grip and a nylon lanyard to prevent accidental slipping during use.
Definitely a must have for every vehicle toolbox (including boats!), whether for thumping tires, taking the flop out of that big fish you just hauled into the boat, or maintaining order during the Zombie Apocalypse, these Hickory Sticks have countless uses. Ink printed with Hardcore Hammers Logo.
*Warning* one of these tire thumpers stored in the cab of a vehicle may in some states be considered a dangerous concealed weapon. Please check the appropriate ordinances for proper use and storage.
*SECOND WARNING* These products contains a chemical known to the State of California to cause cancer. It's also known to crack ZOMBIE SKULLS.
*THIRD WARNING* If a cop takes it, he will probably just keep them because they are badass.
I don't know about you guys, but in my humble opinion, it's never bad to have some kind of wood splitter in my trunk, especially if you spend any amount of time in the outdoors. This set isn't cheap, but it's also not overly priced. Get your own ZOMBIE COMBO PACK today for just $169 USD at www.hardcorehammers.com today.
A Chicago native, Sijo Waysun Johnny Tsai is an internationally recognized Combatives and Survival instructor. He is a published book and DVD personality with over 35 years' experience in teaching Practical Street Defense and Combatives to the Military, Law Enforcement Agencies and Civilians alike. SIJO is also the founder of the C.U.M.A. Survival School. He is also a renowned knife designer for companies like TOPS KNIVES, SMOKY MOUNTAIN KNIFE WORKS and WORK TUFF GEAR.
When not teaching classes, writing, or doing crazy thing with knives, SIJO likes to enjoy his downtime with his wife and 3 children. He also likes drinking beer.