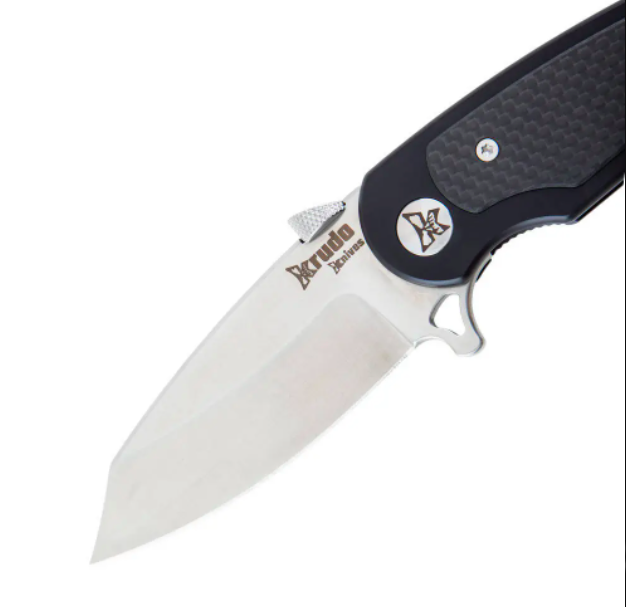 Louis Krudo is an interesting guy, he is a martial artist that loves sci-fi, comic books and cigars.
When you watch Louis demonstrate his knives at trade shows like SHOT and BLADE you will see that he has a trued passion for what he does. According to Louis his fist design, the SNAG made its industry debut back in 2010 at BLADE Show, twelve years later he has released quote a diverse portfolio of products from knives, to pens to men's rings and other jewelry.
What I like about today's knife, the Krudo Vice are the options when it comes to deployment. There is the pocket Sang thumb ramp, the flipper and the friction folder thing that sticks out at the end, please excuse my dumbassedness, but I honestly don't know that part is called, but it will flip the blade open beyond fast with a flick.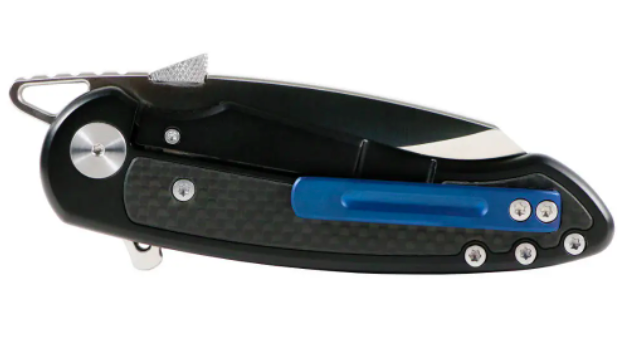 No matter how you deploy the Vice, it will be lighting fast due to the ceramic ball bearing washers. And at a blade length of just 3.5", it's pretty much legal to EDC everywhere.
Continue reading to see what the company has to say about the VICE.
Welcome to the VICE Folder from KRUDO Knives. A high-quality pocketknife with a unique style and confident grip that will quickly become your favorite knife. With a funky reverse tanto point with a side of curve appeal, the VICE Folder will perform every time it's deployed. Don't settle for the everyday create your tomorrow with the VICE Folding Knife from KRUDO Knives.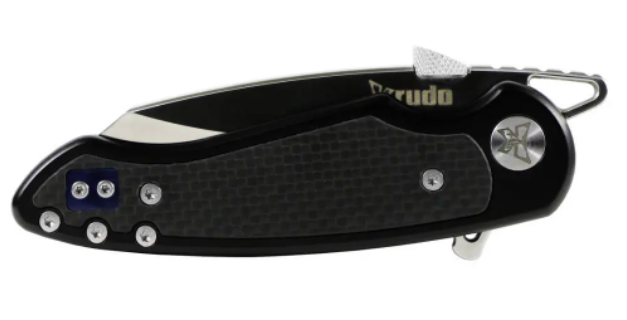 Description
The VICE Folder is one of the latest designs by Louis KRUDO. This knife comes with a stainless-steel blade and steel frame lock with a black carbon fiber inlay handle. An excellent pocketknife for any environment, including concealed carry, tactical, hunting, camping and even daily usage. Boasting a funky reversed curved tanto point design, it has the style and seriousness you expect from a KRUDO Knife. Challenge the status quo and add the VICE Folder from KRUDO Knives to your collection.
VICE Folder Specifications
9Cr18MoV Stainless Steel Satin Finish Blade
Blade Length 3 1/2″
Blade Thickness 0.187"
Overall Length 8 1/4"
Closed Length 5.13″
Weight 7.4 oz.
Black Carbon Fiber Inlay
Ceramic Ball Bearing Washers and Ceramic Ball Detent
Frame Lock
Ambidextrous Pocket Clip
Thumb Wedge for Ergonomic Grip & Pocket Deployment
MSRP: $165
Designed in the U.S.A. by Louis Krudo.
All aspects of production of KRUDO Knives designs are overseen by Louis Krudo — relentlessly, meticulously, verging on OCD, mixed with odd hours and lots of hot coffee.
Built in China and hands on, quality controlled in Cave Creek, AZ, USA.
A Chicago native, Sijo Waysun Johnny Tsai is an internationally recognized Combatives and Survival instructor. He is a published book and DVD personality with over 35 years' experience in teaching Practical Street Defense and Combatives to the Military, Law Enforcement Agencies and Civilians alike. SIJO is also the founder of the C.U.M.A. Survival School. He is also a renowned knife designer for companies like TOPS KNIVES, SMOKY MOUNTAIN KNIFE WORKS and WORK TUFF GEAR.
When not teaching classes, writing, or doing crazy thing with knives, SIJO likes to enjoy his downtime with his wife and 3 children. He also likes drinking beer.