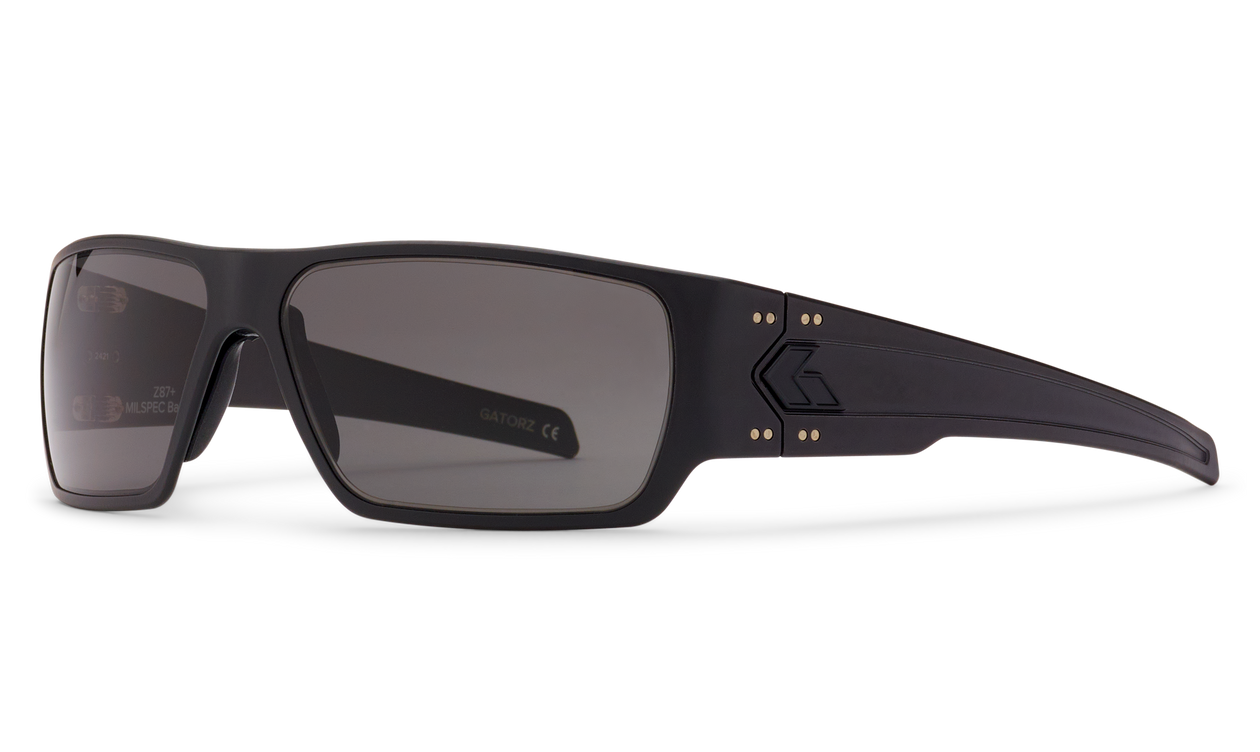 I support American made products every chance that I get. When I first saw the Gatorz Ansi Z87.1 Milspec Ballistic Spector were USA made, I had to learn more about them, and I am glad that I did.
These are some badass ballistic shades made for badass Americans who need ballistic protection. These glasses are built as tough as they look and if you think you look tough, they will make you look tougher.
Built for the range and everyday life, Gatorz hit it out of the park with these.
And Yes, Gatorz sunglasses are APEL approved and widely used in the army and among special operations forces
From Gatorz . . .
The newest style to join the Gatorz collection, the Specter is a high-performance frame featuring all the benefits of a wrap style complete with edgy, hard lines.  An entirely new Gatorz look, this style offers enhanced eye protection.  The high impact resistant lenses will shield your eyes from unexpected fragments.  This style offers a fully adjustable frame and nosepiece ensuring a comfortable and secure fit.  Thin temples fit easily under helmets or ear protection.  This frame features a sleek blackout logo and is available in Smoked or Inferno (photochromic) lens options. Complete with Cerakote finish, the Specter is available in Black, Gunmetal, Green, and Tan.
SPECIFICATIONS
MILSPEC Ballistic, Lenses Meet MIL PRF 32432A, Clause 4.8.4 Ballistic Fragmentation Protection
Compliant with ANSI/ISEA Z87.1 2015 Standard
Impact testing to withstand two hits from a .15 caliber projectile between 700-725 feet per second, without cracking, shattering, or dislodging.
Patent Pending
Lenses feature:

Anti-fog coating
Hydro-oleophobic (Oil/Grease Repellant)
UV 400 Protection
With a price around $300 these Gatorz are on the upper end of a lot of most people's eyewear budgets. But they're USA made in YUMA, Arizona and for that reason alone I will pick up a pair.
A Chicago native, Sijo Wayson Johnny Tsai is an internationally recognized Combatives and Survival instructor. He is a published book and DVD personality with over 35 years' experience in teaching Practical Street Defense and Combatives to the Military, Law Enforcement Agencies and Civilians alike. SIJO is also the founder of the C.U.M.A. Survival School. He is also a renowned knife designer for companies like TOPS KNIVES, SMOKY MOUNTAIN KNIFE WORKS and WORK TUFF GEAR.
When not teaching classes, writing, or doing crazy thing with knives, SIJO likes to enjoy his downtime with his wife and 3 children. He also likes drinking beer.