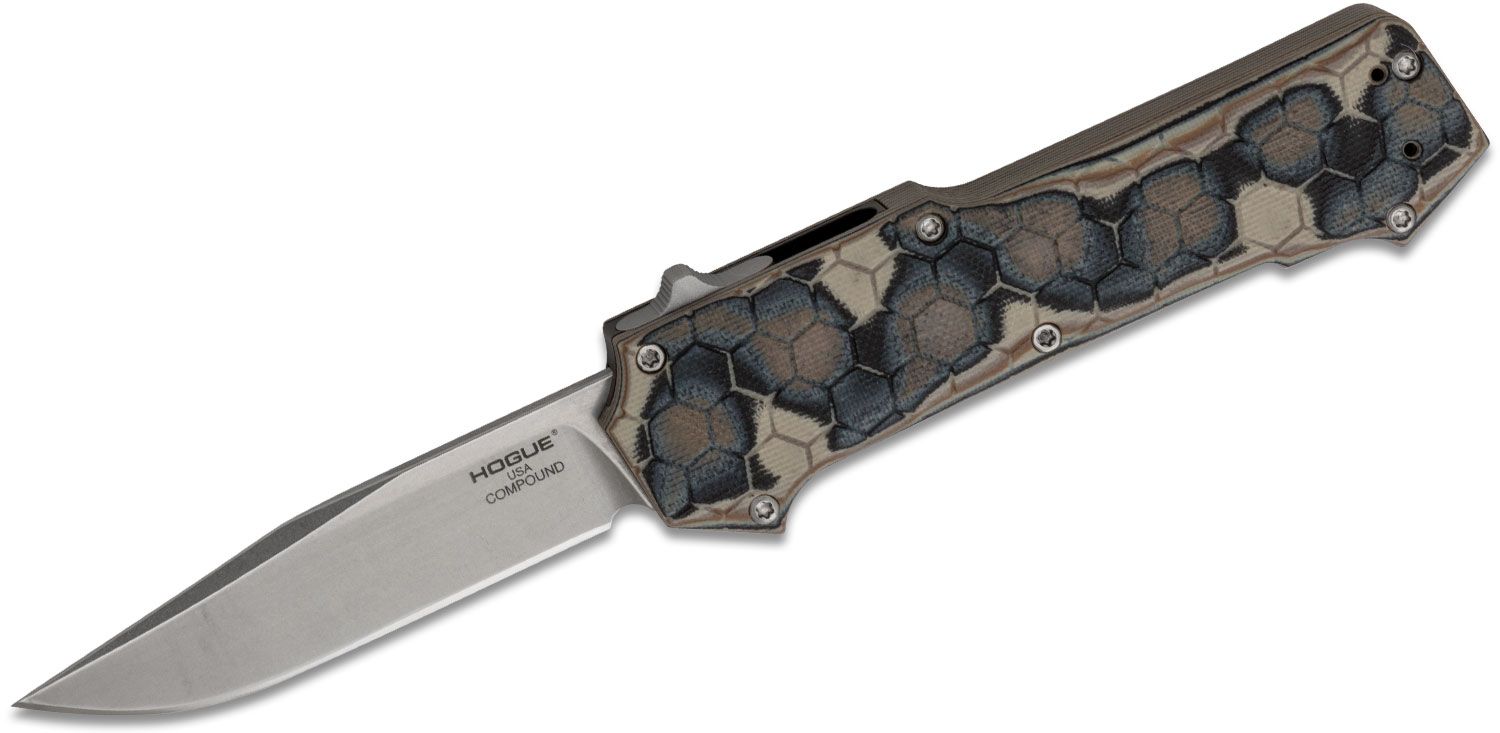 I'm a fan of Hougue knives. I remember some years back when Benchmade were making them, the Benchmade PR person at the time told me that the Hogue line was considered their lower end, entry level OTF knives. My how things have changed.
I for one am glad that Hougue makes their knives in-house now and their current OTF models can stand toe-to-toe with any out-the-front knife that Benchmade has to offer. And, considering that I'm a fan and owner of of Benchmade OTF knives, that says a lot.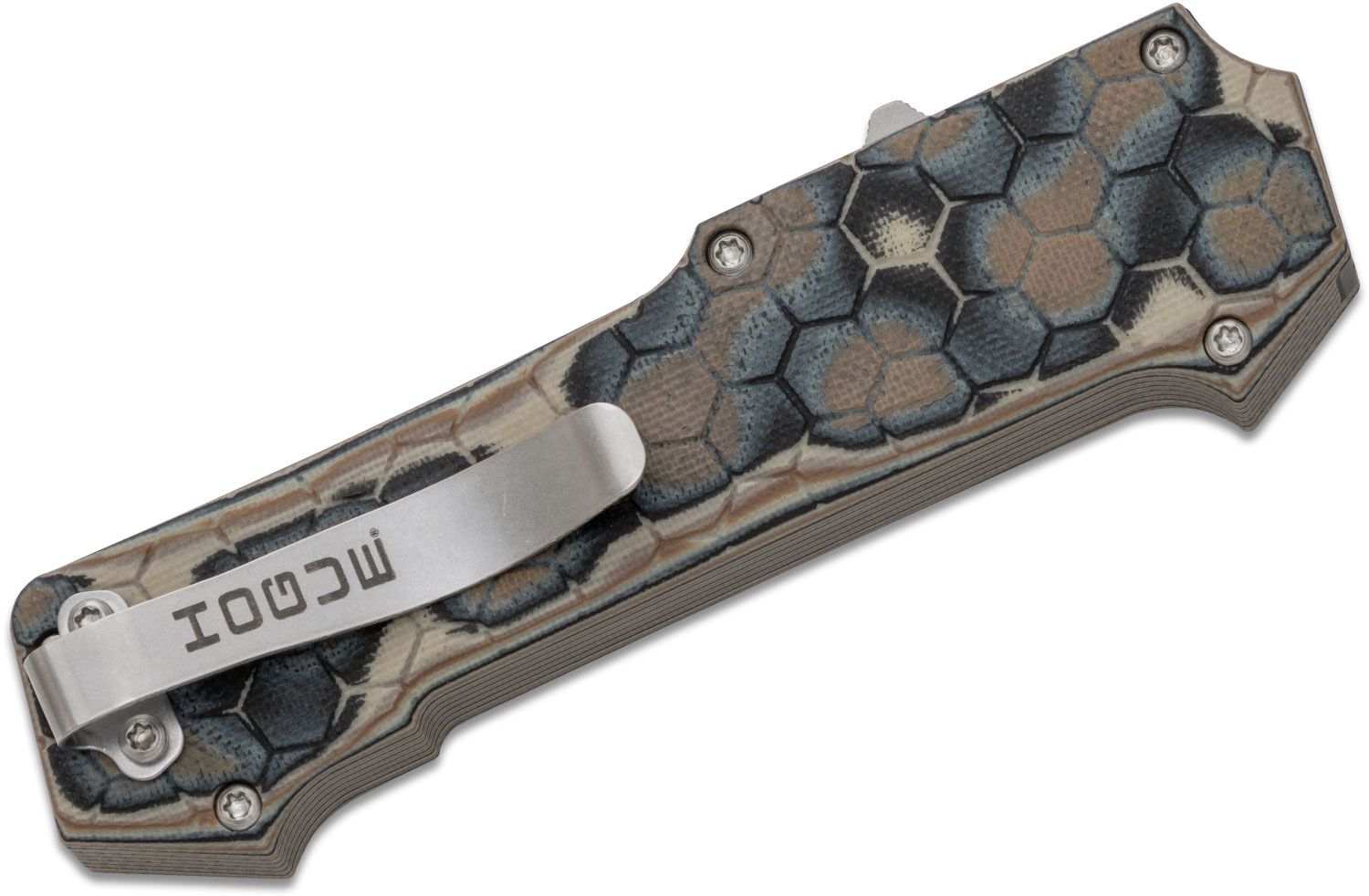 Until recently, most mass produced OTF knives really looked the same. The Hougue Compound is different, I really like the honeycomb G-Mascus G10 scales, they are beyond kick-ass.
Here's what Hogue has to say:
The Hogue Compound Out the Front, or OTF, automatic is a hybrid of G10 and aluminum designed for repeatable one-handed operation in close-quarter situations. A textured G10 frame surrounds a 6061-T6 aluminum chassis for extreme strength without the associated weight. It has the same basic grip as the original Hogue OTF but with a more angular handle shape and more compact thumb slide. This trigger fires the blade with impressive force and retracts is just as fast. Built to last, the Compound will fire consistently time and time again with repeated reliability.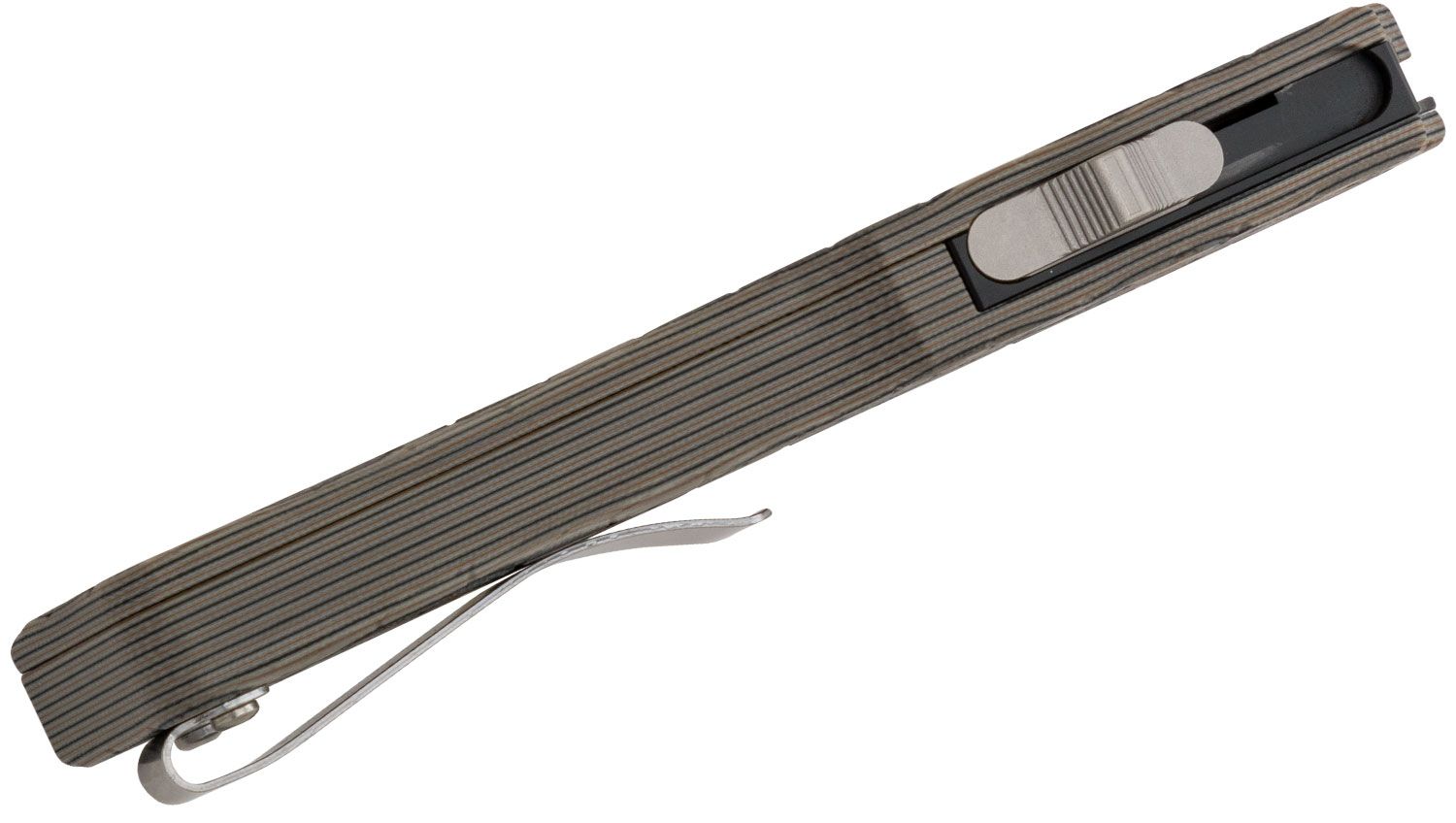 Deployment is based around a strong, custom-designed, oversized coil spring that has been extensively tested and integrated to provide force along the pivot's entire range of motion. The double-action deployment Out the Front models utilizes extension springs to produce an impressive, repeatable deployment and a PVD coating for enhanced wear protection. The result is an automatic that kicks open with authority every time you call on it. Each knife is individually tested and laser-etched with a unique serial number before it bears the Hogue name.
Features
Double Action Out-The-Front Automatic
Ambidextrous Trigger Deployment & Retraction
Solid Black G10 Case with Internal 6061-T6 Hard Anodized Aluminum Chassis
Stainless Steel Ambidextrous Pocket Clip
Specifications
Blade Length: 3.50″
Closed Length: 4.90″
Overall Length: 8.40″
Blade Material: CPM-S30V Stainless Steel
Blade Thickness: 0.125″
Blade Hardness: 58-61HRC
Blade Style: Clip Point
Blade Grind: Flat
Blade Finish: Tumbled Stonewash
Blade Treatment: Cryogenically Treated
Handle Material: Dark Earth G-Mascus G10 with 6061-T6 Aluminum Chassis
Locking Mechanism: Thumb Slide
Pocket Clip: Stainless Steel (Tip-Down, Right/Left Carry)
Designer: Allen Elishewitz
Weight: 3.6 oz.
Made in the USA
MSRP $359.95
I am a click away from ordering one of these this morning as a Father's Day present to myself.
Who knows, maybe I can talk the wife into paying for it as her gift to me. Either way, I think it's a fair price point for what you get with this American made OTF knife.
A Chicago native, Sijo Wayson Johnny Tsai is an internationally recognized Combatives and Survival instructor. He is a published book and DVD personality with over 35 years' experience in teaching Practical Street Defense and Combatives to the Military, Law Enforcement Agencies and Civilians alike. SIJO is also the founder of the C.U.M.A. Survival School. He is also a renowned knife designer for companies like TOPS KNIVES, SMOKY MOUNTAIN KNIFE WORKS and WORK TUFF GEAR.
When not teaching classes, writing, or doing crazy thing with knives, SIJO likes to enjoy his downtime with his wife and 3 children. He also likes drinking beer.