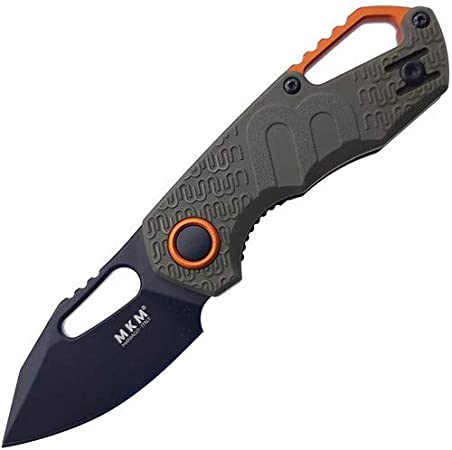 I am not that familiar with MKM Knives, but I would like to be. I'm really liking what I am seeing so far and their Isonzo model has really caught my eye. The Isonzo was designed by Jesper Voxnaes, a custom knifemaker out of Denmark, and produced by FOX Knives out of Maniago, Italy. Fox knives quality goes unquestioned, they are a well proven knife manufacturer. This model is available in a variety of colors and blade styles, but for today, let's look at the clip point in OD green.
The MKM Isonzo presents itself as a practical, compact everyday carry knife that you will not be afraid to use and abuse. Thanks to the aluminum spacer serving as an oversized lanyard hole, this pocketknife can be attached to your gear by means of a carabiner which makes it an ideal tool for mountain climbing or hiking.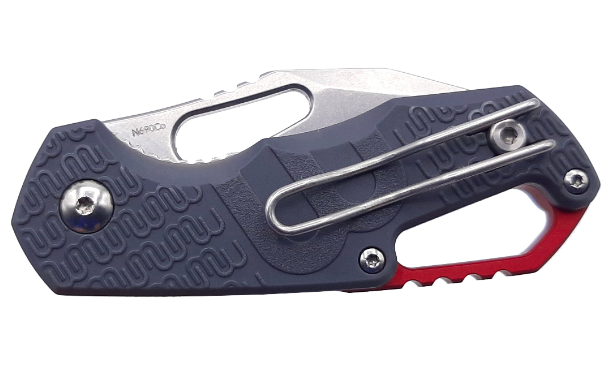 The short blade is made from N690 stainless steel and has a jimped thumb ramp for precise control. It opens with an elongated thumb slot and is secured with a stainless-steel liner lock. The non-slip handle is made from synthetic fiberglass reinforced nylon with a textured surface and an ergonomic shape, offering a secure grip even when wet.
The wire clip is reversible for tip-up left or right-handed carry, and it buries deep in the pocket while remaining easy to extract. The Isonzo comes in a variety of blade shapes and handle colors; be sure to choose the right one for you.
Specifications
Blade Length: 2.25
Cutting Edge: 1.875
Closed Length: 3.375
Overall Length: 5.625
Blade Material: Bohler N690 Stainless Steel
Blade Thickness: 0.139
Blade Style: Clip Point
Blade Grind: Flat
Blade Finish: Stonewash
Handle Material: Blue FRN
Handle Thickness: 0.50
Liner Material: Stainless Steel
Locking Mechanism: Liner Lock
Pivot Assembly: Bearings
Pocket Clip: Stainless Steel Wire (Tip-Up, Right/Left Carry)
Weight: 2.40 oz. (68 g)
Designer: Jesper Voxnaes
Made in Maniago, Italy
MSRP $91
I am a sucker for almost anything in OD Green. However, as I mentioned, the MKM Isonzo is available in a variety of colors if OD Green is not your flavor. If it is, you can find it here:
A Chicago native, Sijo Wayson Johnny Tsai is an internationally recognized Combatives and Survival instructor. He is a published book and DVD personality with over 35 years' experience in teaching Practical Street Defense and Combatives to the Military, Law Enforcement Agencies and Civilians alike. SIJO is also the founder of the C.U.M.A. Survival School. He is also a renowned knife designer for companies like TOPS KNIVES, SMOKY MOUNTAIN KNIFE WORKS and WORK TUFF GEAR.
When not teaching classes, writing, or doing crazy thing with knives, SIJO likes to enjoy his downtime with his wife and 3 children. He also likes drinking beer.