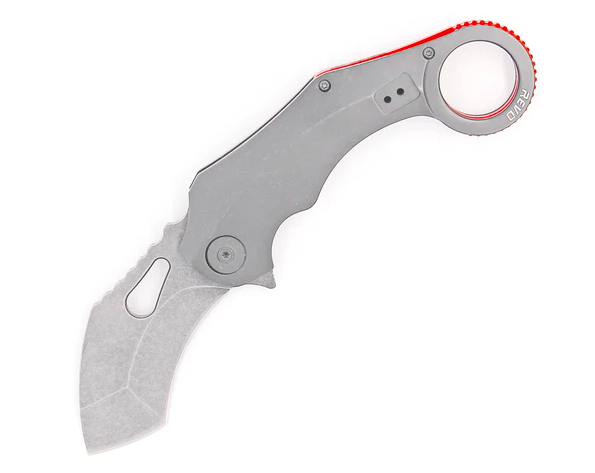 I love me some different looking knives, and the REVO Knives K9 Karambit fits the different looking bill.
I found this company and knife by accident, and I have to say it's an interesting design to say the least. Far from a run of the mill hawkbill Karambit, The REVO Knives uses a Recurved Tanto, being a fan of Recurved Tanto styled blades, I'm loving what I am seeing so far.
The price point isn't bad either, at around $77 retail, I think I will try one out.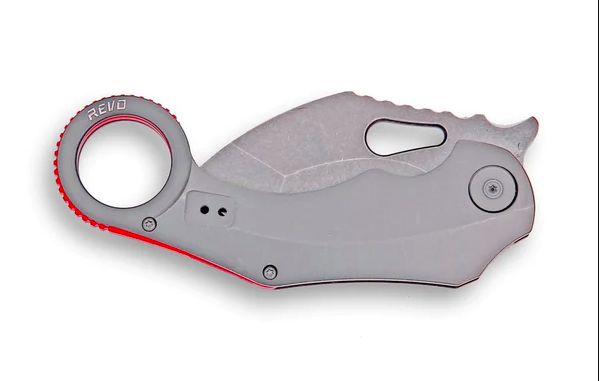 Check out what the company has to say:
Ready for deployment in any situation, the K-9 Karambit combines reliable performance with value. Made to perform: This knife was reviewed by retired Recon Marine Jeff Brown during the development phase to ensure its functionality and quality. The unique parang influenced, hybrid style blade ensures the K9 also serves as a highly functional EDC knife.
This K9 is extremely multi-functional and offers precision and efficiency. The pivot is bearing driven, allowing the knife to open smoothly. The pocket clip allows for multiple carry options. For those seeking a dynamic utility knife, the K-9 Karambit is the perfect fit, your everyday companion.
Specifications
Blade Length: 3.00″
Cutting Edge: 2.875″
Closed Length: 5.125″
Overall Length: 7.875″
Blade Material: 9Cr Stainless Steel
Blade Thickness: 0.133″
Blade Style: Recurve Tanto Karambit
Blade Grind: Compound
Blade Finish: varies
Handle Material: varies
Handle Thickness: 0.47″
Locking Mechanism: Frame Lock
Pivot Assembly: Bearings
Pocket Clip: Deep Carry Stainless Steel (Tip-Up, Right/Left Carry)
Weight: 6.3 oz.
Red Aluminum Backspacer
Made in China
A Chicago native, Waysun Johnny Tsai is an internationally recognized published book and DVD personality, tactical industry magazine writer and founder of the C.U.M.A. Survival School and C.U.M.A Combatives. Mr. Tsai is also a renowned knife designer for several companies such as TOPS KNIVES, SMOKY MOUNTAIN KNIFE WORKS and WORK TUFF GEAR.
Waysun Johnny Tsai completed his first Controlled F.O.R.C.E. Instructor certification in 2012 and joined the company in 2022 as the Special Programs Manager, and as an instructor. Mr. Tsai has over 25 years of experience in the private security sector and has held security management positions at Chicago Public Schools on location at Morgan Park High School and for the CPS Special Events Administration citywide security team "Yellow Jackets". Mr. Tsai is a lifelong martial artist that holds multiple black belts that are eighth degree (Master Level) and above. He brings more than 36 years of self-defense instructor experience to the team.