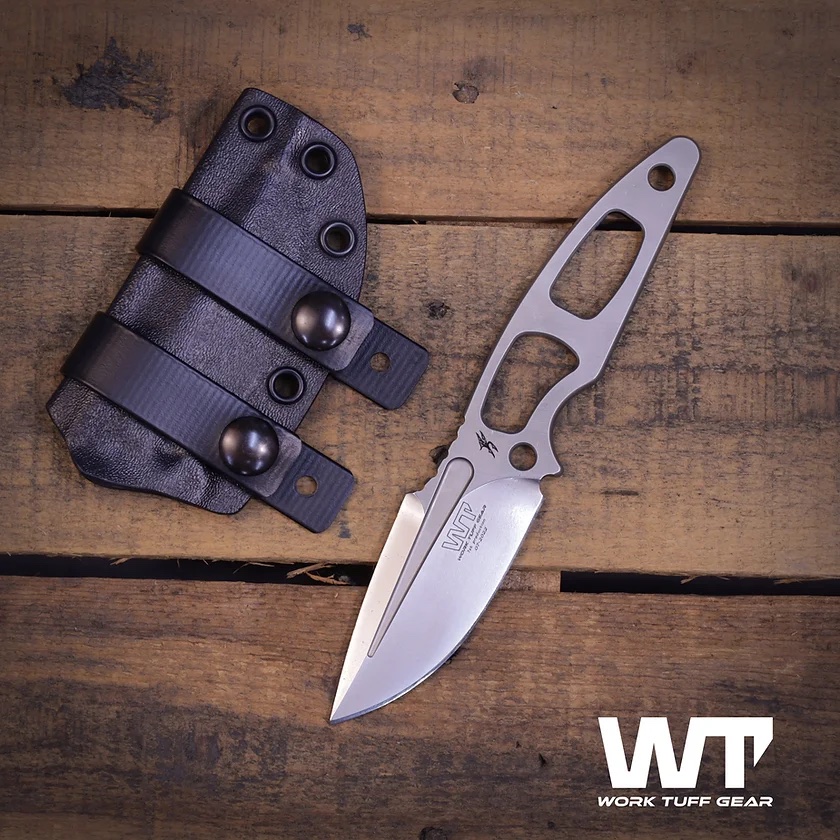 Work Tuff Gear is a Taiwanese knife manufacturer that's quickly becoming a household name for knife enthusiasts and collectors here in the states. 
Vic Lin is the owner of Work Tuff Gear and is one hard working dude. His secret sauce to success has simply been his ability to get known American reality knife tv show personalities, established designers and social Media Influencers to submit designs and do limited runs and time dated drops. The company also does not work with distributors or any large US dealer network that I can find. Translation: you want their gear, you got to get it directly from the source.
While Work Tuff Gear has built brand recognition by producing some incredibly large, tough and capable outdoor and bush crafty survival knives, they do drop some smaller EDC knives from time to time.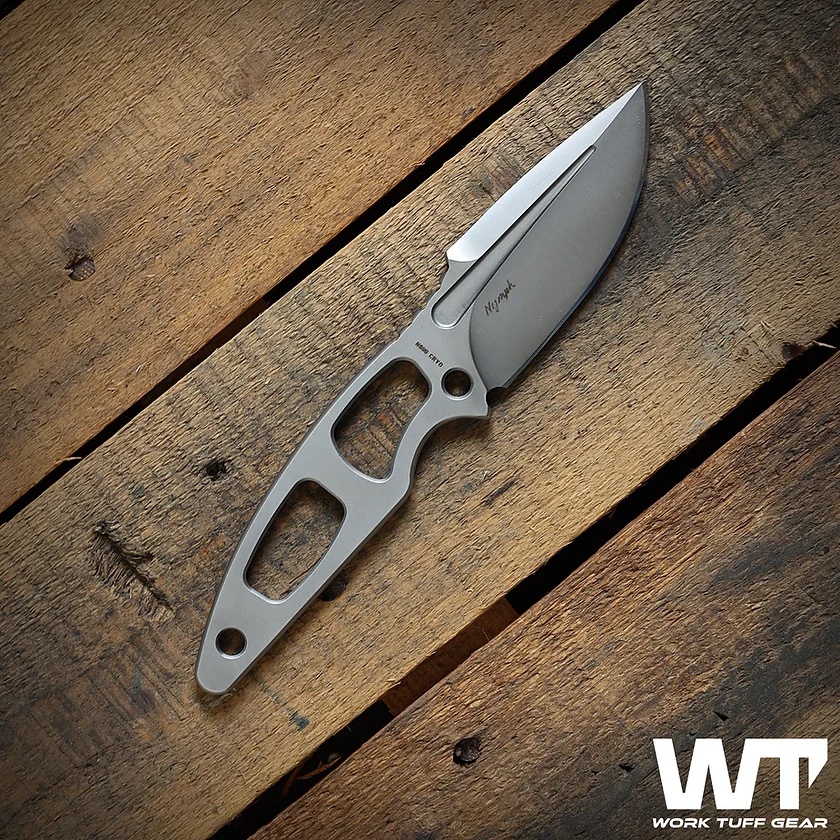 The knife that wea re talking about today is one of those. The knife is the Nymph, a neat little skeletonized neck knife that comes with a kydex sheath that you can add straps to if you choose to belt carry.
Check out the specs:
| | |
| --- | --- |
| Knife Type | Fixed Blade-neck knife |
| Knife construction | Skeleton tang |
| Overall Length | 7″ |
| Blade Length | 3.1″ |
| Cutting Edge | 3.1″ |
| Blade Thickness | 0.185″ |
| Type of grind | Saber grind with convex cutting edge |
| Blade Shape | Drop point |
| Blade Steel | Bohler N690 + Cryo (HC 58-60) |
| Blade Finish | Blast |
| Handle Material | none |
| Knife Weight | 3 oz |
| Weight w/ Sheath | 4 oz |
| Sheath Included | Yes + IWB loop |
| Sheath Material | Black Kydex |
MSRP $129.
If you like the quality and materials that Work Tuff Gear has been bringing to the table, but big as knives haven't been your exact EDC flavor, check out their Nymph. I don't think that you will be disappointed.
A Chicago native, Sijo Wayson Johnny Tsai is an internationally recognized Combatives and Survival instructor. He is a published book and DVD personality with over 35 years' experience in teaching Practical Street Defense and Combatives to the Military, Law Enforcement Agencies and Civilians alike. SIJO is also the founder of the C.U.M.A. Survival School. He is also a renowned knife designer for companies like TOPS KNIVES, SMOKY MOUNTAIN KNIFE WORKS and WORK TUFF GEAR.
When not teaching classes, writing, or doing crazy thing with knives, SIJO likes to enjoy his downtime with his wife and 3 children. He also likes drinking beer.