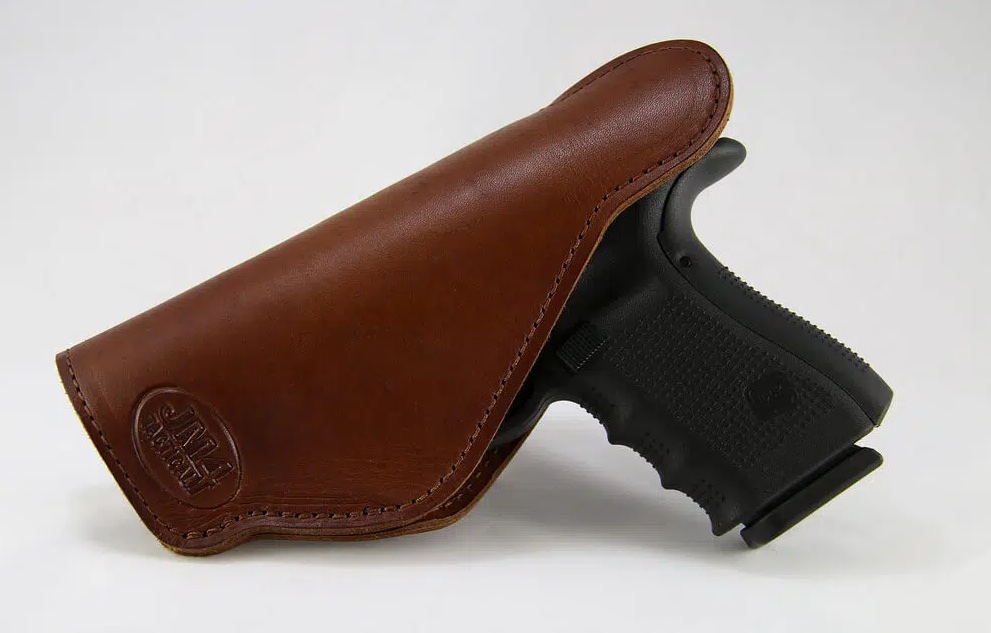 So, my buddy Frank enters a gun raffle for $50 and wins a new Springfield Hellcat. He carries a SIG 365 and decides that he doesn't want it because it's almost an identical gun to what he already owns. I advise Frank that I have been eyeballing this gun for a while and he decides that he's cool with trading it to me for one of my C.U.M.A. KAGE short swords and couple of hundred bucks.
Congratulations to me, I am now the proud owner of a badass little Hellcat and the frustrating hunt for a new holster begins. Like many gun owners, I have a drawer full of holster that I bought but just don't like. And, we all know, if a holster is uncomfortable, we are likely to just leave our gun at home.
First I hit up eBay and order a cheap Kydex holster with an American flag on it. Looks really cool, but it was uncomfortable as all hell. My other buddy has a Hellcat with an Alien Gear holster. I tried that and didn't like it.
I order a 5.11 fanny pack holster. It's kind of cool, but when I tested it out and ripped open the zipper to draw my gun, my gun went flying. The fanny pack went into a drawer.
Then, of course, Facebook read my mind and holster ads started popping across my feed, along comes an ad for JM4 Tactical. I see their magnetic holster in my favorite shade of brown leather and like the idea of no clip digging into me, so I click the link and head to their website.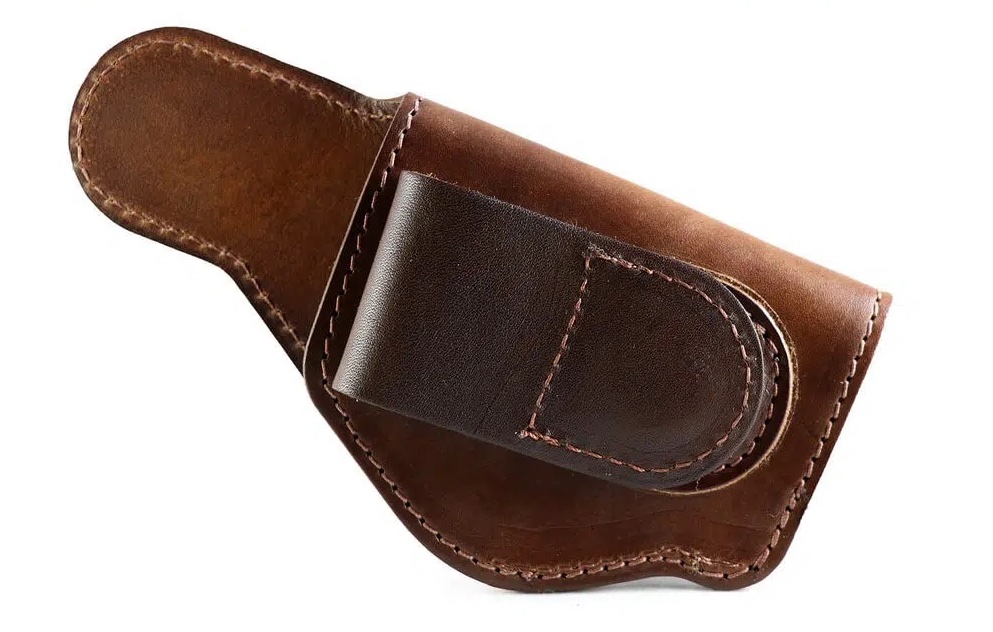 Now I'm like a kid in a candy shop. I start building my holster and choose all of my options, I end up with the Medium Short 2 in the original holster because it says it has the best magnetic hold. But before I pull the trigger and pay, I head over to YouTube to check out some reviews, all looks good, so I complete my purchase. I am told there is going to be a 10-20 business day delivery time, but my package arrives within 48 hours. I was really surprised and pleased with the turnaround.
I open up the box and see a well-built leather holster, slip my gun into it, and snap it on appendix carry. First thought, this is pretty comfortable. I sit down, stand up, walk around and practice drawing, the magnet is holding pretty secure and not moving or shifting around.
I take the holster off and shake it upside down to test the magnetic retention, my gun doesn't fall out. I'm impressed. I decide to slap the holster against my fridge to see how solid it would sit there, didn't slide down at all. These are some pretty strong magnets. I also tested it out by slapping it onto the side of my Grand Cherokee, same thing, a solid hold. I'm really liking this.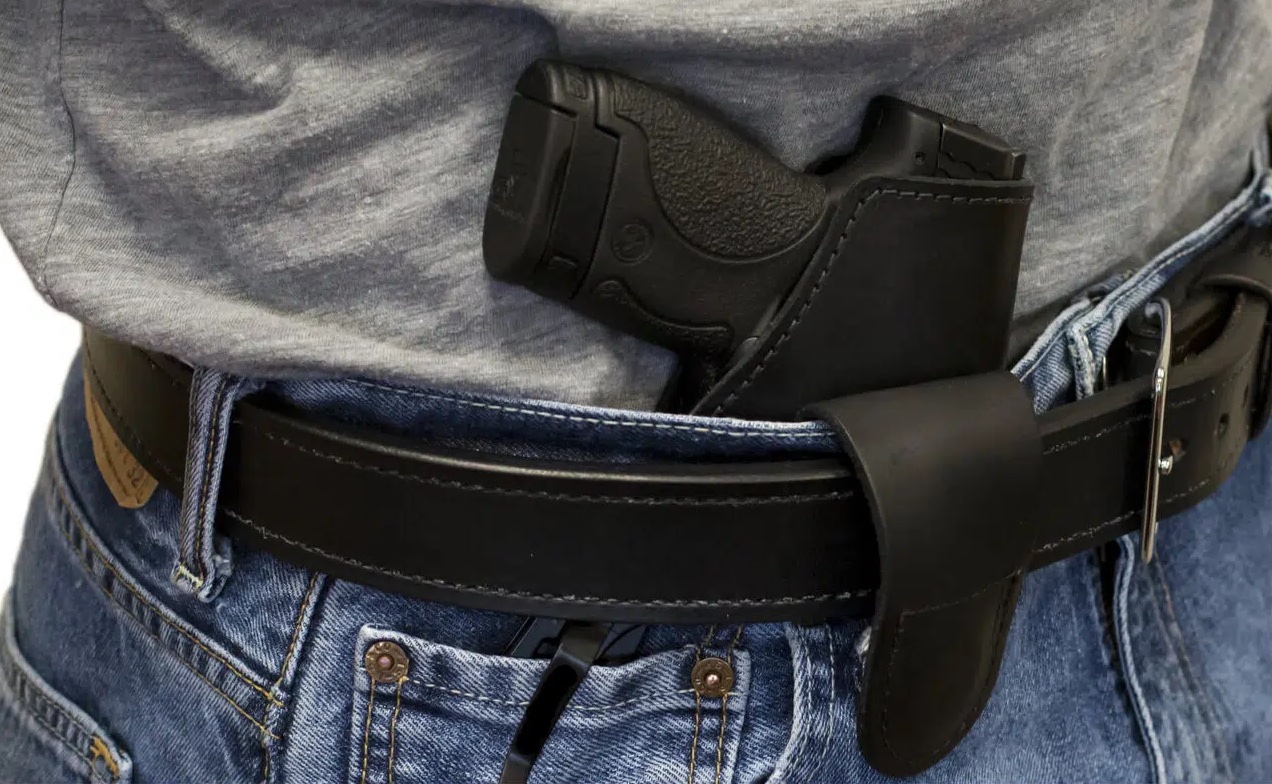 After carrying this holster daily for the past two months I have to say that I am sold on JM4 tactical and plan on buying several more of their holsters for my other guns. I can honestly say that this holster is so comfortable that I have forgotten that I was carrying my Hellcat a couple of times. The uber comfortable JM4 Tactical Magnetic quick click and carry has quickly become my favorite EDC holster that I own.
Check out the description on the MEDIUM SHORT 2 ORIGINAL MAGNETIC QUICK, CLICK, & CARRY HOLSTER from the JM4 website:
When it hits the fan and your life is on the line, the last thing you want to have on your hip is a gimmicky holster made of cheap plastic with parts that may fail you in a time of crisis. You need a gun holster as reliable as the firearm you trust, that also helps your gun disappear in comfort when you conceal it from prying eyes.  
The JM4 Tactical Quick Click & Carry is the first ever, and only, Magnetic Retention concealed carry holster that provides you with a way to carry your firearm no matter what you wear from jeans and dress pants, to active wear like shorts and yoga pants. The Original Quick Click & Carry leather gun holster allows you to be armed without the hassle of belts or clips that can damage your clothing while maintaining a level of unprecedented comfort. 
The Quick Click & Carry Holster is designed to be worn for hours at a time and forgotten about until needed no matter what you're wearing, or what you're doing. Going for a jog? Hitting the gym? Sitting at the computer desk? The patented JM4 Tactical holster has you covered, no matter where life takes you.  
Historically, gun holsters had only men in mind with their design. But the Quick Click & Carry is great for both men and women who wish to arm themselves in comfort, convenience, and the deep concealment that can only be found with this magnetic holster. 
These leather pistol and revolver holsters are made with two layers of stitched Hermann Oak Grade A Vegetable Tanned Steer Hide that is PH balanced for extended contact with your gun. In other words, you'll never need to worry about damaging your gun's finish. 
JM4 Tactical's patented Leather Holsters are different than everything else available on the market which can be seen in the quality of the materials. Only the finest leathers, the best threads for stitching, and dual-purpose rare earth magnets are used in each one. 
Furthermore, the Original Quick Click & Carry uses no hard plastic from injected molds known to damage a firearm's finish, nor does it use metal or plastic clips that could damage your clothing. 
Instead of clips, these IWB handgun holsters use strong, rare earth magnets that are strategically attached to serve two functions: 
The first function of these magnets is to click into place on your waistband. This allows these concealment holsters to stay right where you put them, anywhere on your waist.

The second function is that of magnetic gun holster retention. What this means is that once your gun is in this leather gun holster, it won't come out unless you want it to. 
SPECIFICATIONS for MY HELLCAT'S JM4 MAGNETIC LEATHER HOLSTER:
SIZE: Medium Short 2
STYLE: Original Quick click and carry holster.
Material: Hermann Oak Grade A Vegetable Tanned Steer Hide in brown (available in 6 color options)
Price: $89.00
Retention: Really strong
Where to buy: www.j4mtactical.com
A Chicago native, SIjo Waysun Johnny Tsai is an internationally recognized Combatives and Survival instructor. He is a published book and DVD personality with over 35 years' experience in teaching Practical Street Defense and Combatives to the Military, Law Enforcement Agencies and Civilians alike. SIJO is also the founder of the C.U.M.A. Survival School.
When not teaching classes, writing, or doing crazy thing with knives, SIJO likes to enjoy his downtime with his wife and 3 children. He also likes drinking beer.