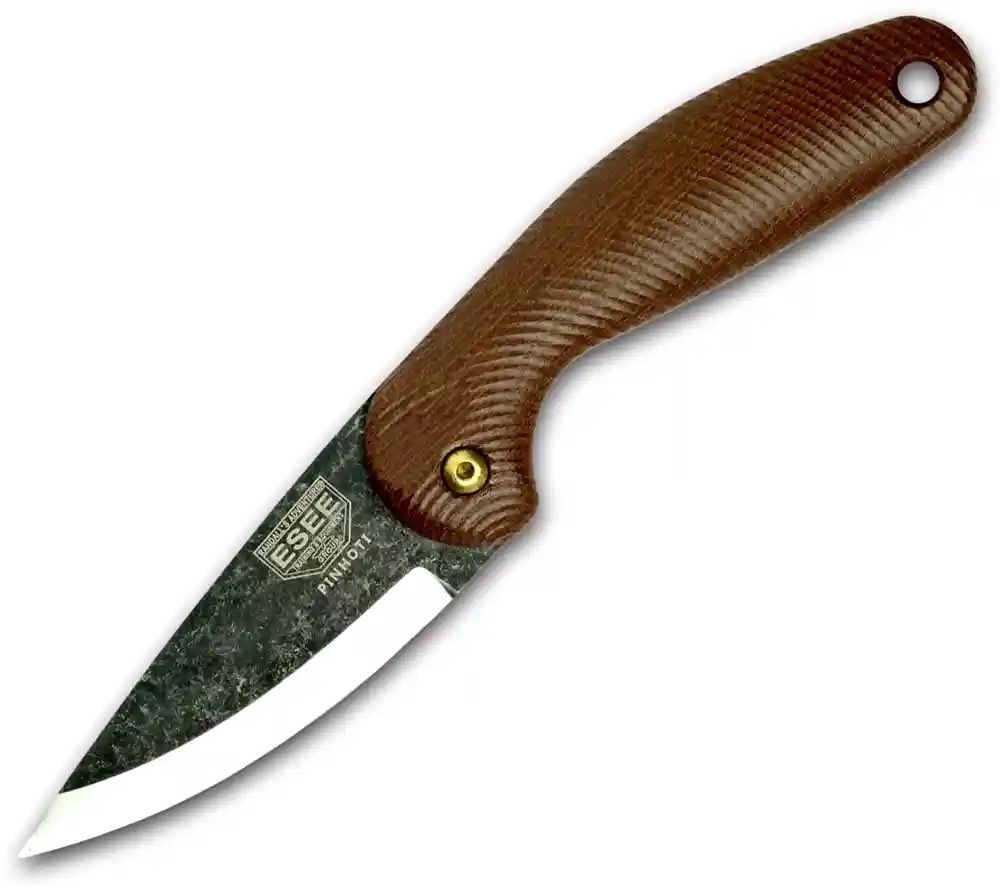 Named for the trail that winds through hundreds of miles of the Appalachians, the Pinhoti friction folder is a testament to ESEE Knives' commitment to creating tools you will use outdoors. The Pinhoti is a lightweight knife designed by ESEE staff member and avid outdoors person Shane Adams, who is from the northern part of Georgia near where the Pinhoti Trail runs through.
The lightly textured handle offers excellent ergonomics for bare or gloved hands and will stay in your grip even when wet. The Pinhoti comes with a leather taco-style belt pouch that can even fit your multitool or pistol magazines. ESEE says that if you are looking for a folding knife you can count on as much as your fixed blade, or if you are looking for a knife you can pass down through the generations, the Pinhoti is an heirloom in the making!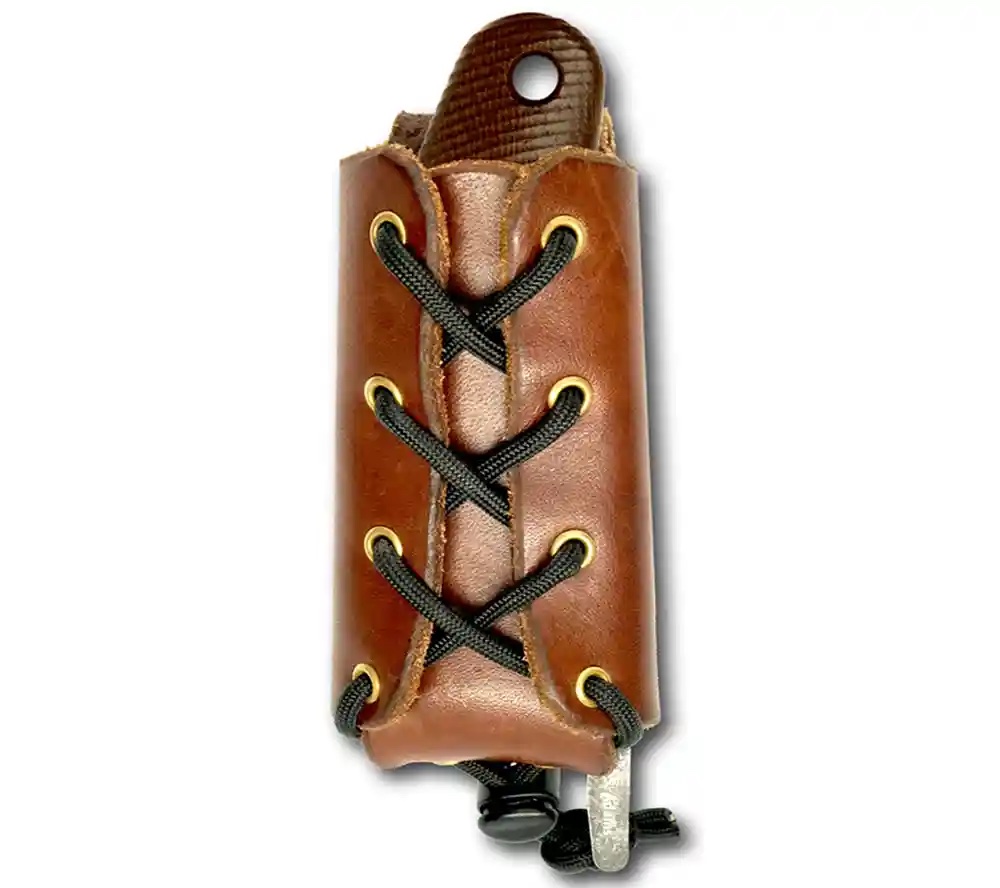 Features include a scandi ground 1095 carbon steel blade mated to a sculptured brown micarta body with a brass pivot. While closed, the 90-degree spine can be used to strike a ferro rod or scrape tinder. The Pinhoti pays homage to the venerable friction folders of the past with updated materials and an ergonomic design that is sure to become a working heirloom for generations to come. Made in the USA and backed by ESEE famous lifetime warranty.
ESEE plans to bring the Pinhoti to the market in batches. The first batch to be available will be a limited, numbered run of just three hundred pieces.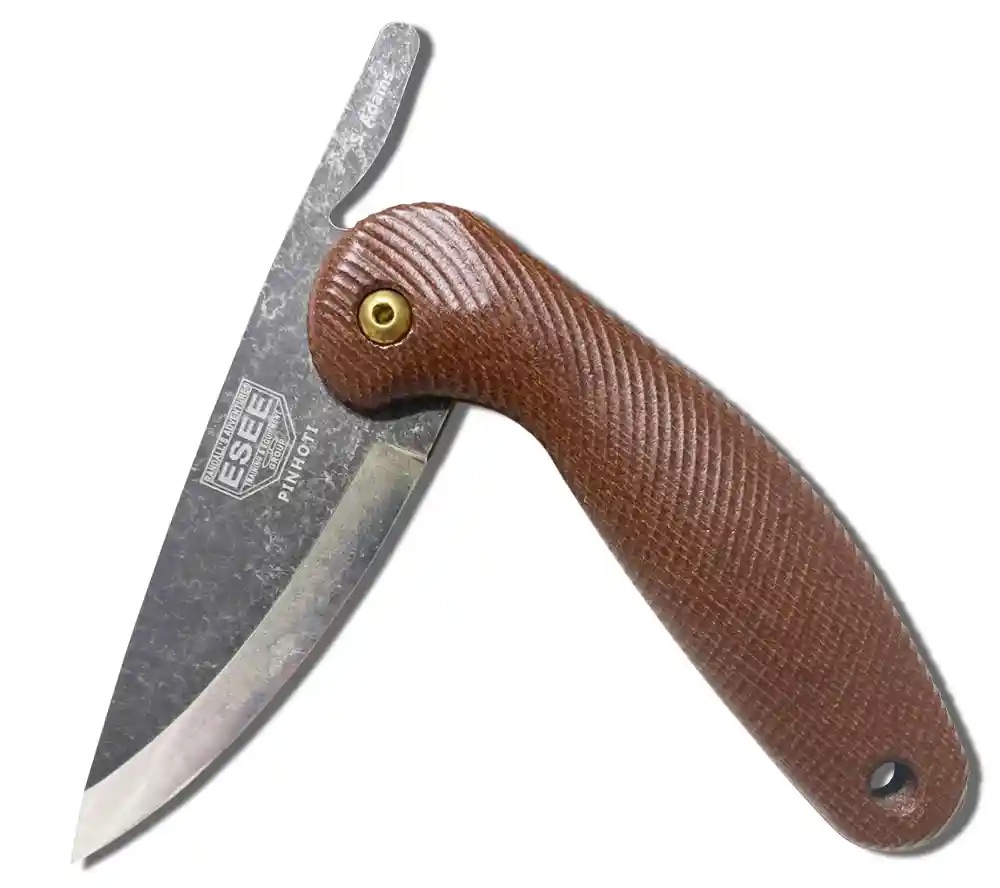 Features:
1095 steel drop point blade with a tumbled black oxide finish
Friction folding mechanism for simple operation.
Sculpted brown micarta scales with light texturing for grip.
Oversized lanyard eyelet and versatile, secure leather belt sheath.
MSRP is $236.95
While I am not a huge fan of friction folders, I am a huge fan of ESSE knives and if I can find one of these at a decent price, I may just try one.
Speaking of decent prices, you can find one here on the cheap for like $160.
A Chicago native, Sijo Wayson Johnny Tsai is an internationally recognized Combatives and Survival instructor. He is a published book and DVD personality with over 35 years' experience in teaching Practical Street Defense and Combatives to the Military, Law Enforcement Agencies and Civilians alike. SIJO is also the founder of the C.U.M.A. Survival School. He is also a renowned knife designer for companies like TOPS KNIVES, SMOKY MOUNTAIN KNIFE WORKS and WORK TUFF GEAR.
When not teaching classes, writing, or doing crazy thing with knives, SIJO likes to enjoy his downtime with his wife and three children. He also likes drinking beer.