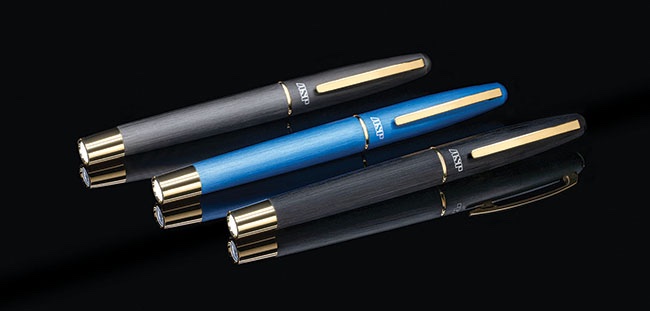 I've always liked the idea of penlights, but they've never really lived up to my possibly unrealistic expectations. I want something durable, bright, and that doesn't turn on in my bag or pocket when I don't want it to. One that I've found that has worked well for me has been the ASP Raven, and I use that one a lot. It's an older AAA version of the light but it meets all of my criteria. When I saw ASP's new Pulse light it caught my eye. 
The Pulse is a slightly different form factor than my old Raven and adds a blue and gray color option if you don't want basic black. It has more of an actual pen look to it than the Raven. Rather than a tailcap button like on my Raven it uses a switch integrated into the pocket clip. It has two modes, a 250 Lumen high mode, and a 15 Lumen low mode. That's pretty impressive output for a penlight. 
Add in an integrated rechargeable battery, plus the ability to use AAA's in a pinch and the Pulse is looking pretty darn nice. Especially with the current web special price of $49.00.
This deceptively slim, easily-pocketable illumination tool puts out an impressive 250 lumens—more than enough to fill a big room with light, or to pierce a pitch-black night outdoors. The Pulse features a unique, slide-action switch incorporated in the pocket clip: click once to activate max brightness mode, click twice in succession to drop down to low power. For maximum light (and safety) when you need it most, the Pulse always resets and defaults to brightest setting on the first click. The flashlight is Dual Fuel, so it can run off either the included 10900 rechargeable battery, or a pair of easy-to-find AAA batteries when needed (not included).
Where many lights of this size and shape are made of plastic, the Pulse is a police-grade piece of equipment. It's crafted of machined and anodized aluminum, with a unique and exquisite brushed satin finish. It's bright, pure white light comes from a genuine Cree LED, optimized by a machined reflector and optical glass lens. Circuitry and other components are the best money can buy. Perfect for investigators and other plain clothes officers, or for anyone who appreciates a fine, elegant and powerful lighting instrument. Available in Black, Gray or Blue brushed satin finishes, with gold accent fittings.
• Lumens: 250 (high), 15 (low)
• Run Time: 90 minutes
• Slip, pocketable form factor
• Length: 5.75″
• Diameter: .530″
• Weight: 1.52 ounces (with battery)