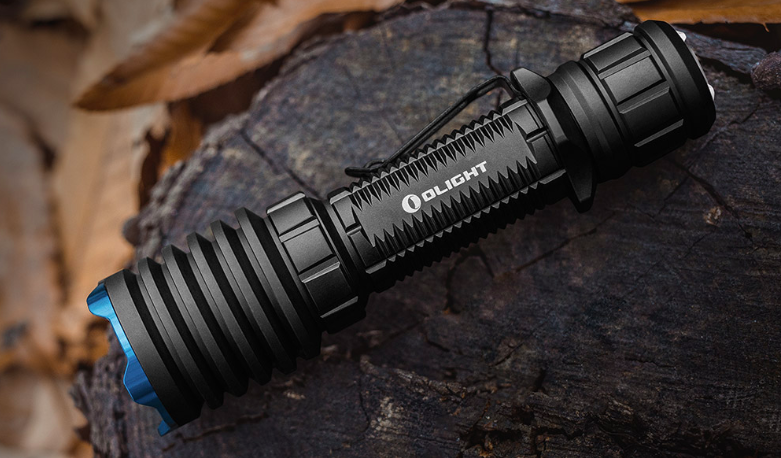 If you are like me, you probably own 300 different flashlights, 900 knives, 200 backpacks (including EDC man-purses) and a bunch of guns and ammo. So, what's wrong with owning just one more flashlight?
I mean if you had to buy one, you'd probably buy one that's as bright as a lightsaber like the OLIGHT Warrior X PRO. Plus the Warrior X PRO even looks like a cool lightsaber handle.
Seriously, flashlights are getting cooler looking and brighter each year, the only problem sis some brands get very hot, very fast.
Continue reading to see what the company has to say.
The Warrior X Pro is the upgraded version of Olights revolutionary Warrior X. Using an updated high discharge 5000mAh 21700 lithium battery, the Warrior X Pro can produce a maximum of 2,100 lumens for up to 500 meters of throw and delivering a 2A current for 100% faster charging than Warrior X. While retaining the classic features of the Warrior X's sturdy, aggressive appearance, as well as the vibration battery indicator, silicone tactical ring and optional magnetic remote switch, the Warrior X Pro features a redesigned raised tail switch for an unprecedented intuitive operation experience.
The IPX8-rated aluminum alloy body sports a pronounced knurling pattern for a better grip. With unbeatable performance and indestructible build, the Warrior X Pro is ideal for the professional choice of hunting, search, and rescue, or while on duty.
Super Bright & Powerful.Adopted upgraded NW LED stably provides max. brightness 2100 lumens and max. throw 500 meters.
Rechargeable Battery.A max 8-hour runtime powered by a customized battery. NOTE: There is 1 year warranty for the battery.
Ease of Use & Convenience.Choose high/low mode by pressing the strong magnetic tail switch. The aggressive texture protects flashlight from slipping down, and the clip can make the light attach to strap.
Includes an MCC3 fast charging cable with a 2amp output, 2x the speed of previous models. The built-in vibrator will alert you when the power is low.
Durable & 5 Years Warranty. Sturdy heavy-duty build with a thick IPX8-rated aluminum alloy body, making it tough enough to endure a harsh 3-meter drop test.
I am not going to lie. The only issue that I have with OLIGHT is they get hot quickly and have been known to explode from time to time. If you aren't too worried about that, you can grab one for yourself for $119 here.

A Chicago native, Sijo Waysun Johnny Tsai is an internationally recognized Combatives and Survival instructor. He is a published book and DVD personality with over 35 years' experience in teaching Practical Street Defense and Combatives to the Military, Law Enforcement Agencies and Civilians alike. SIJO is also the founder of the C.U.M.A. Survival School. He is also a renowned knife designer for companies like TOPS KNIVES, SMOKY MOUNTAIN KNIFE WORKS and WORK TUFF GEAR.
When not teaching classes, writing, riding his mountain bike or doing crazy things with knives, SIJO likes to enjoy his downtime with his wife and three children. He also likes drinking beer.