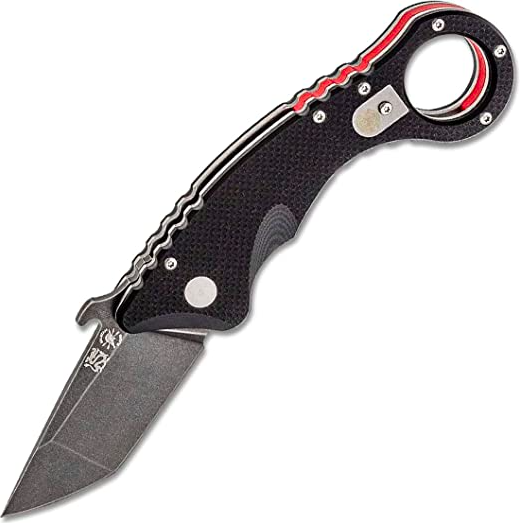 Spartan Knives kick ass. Period. So, what happens when TU Lam of Ronin Tactics and Bill Goldberg's co-host of "Forged in Fire: Knife Or Death: get together? The Spartan-Ronin Shōtō that is what.
This is a kick ass folding karambit with an Emerson wave. That has been done before you say? Well not by Spartan Knives it hasn't. Continue reading to see what the company has to say about this new release.
The Spartan-Ronin Shōtō is a folding karambit liner lock folder. This blade is the result of a collaborative effort between Spartan Blades and TU Lam of Ronin Tactics, our former Special Forces Teammate and good friend.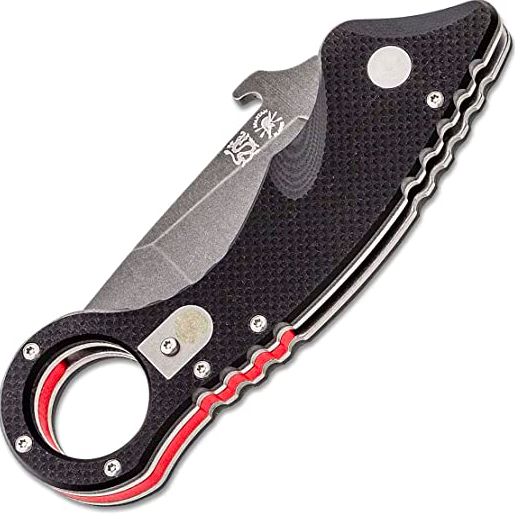 Having worked throughout Asia and in Indonesia, both Tu Lam and Spartan have an extremely healthy respect for the Karambit style. This blade was designed to be incorporated into several forms of martial arts systems.
It features a CTS-XHP tanto blade, "Emerson Wave" feature for ease of opening, and a reversible pocket clip for left hand carry with black and red G10 scales provide for a sure grip.
All our Bronze (Field) Grade folders incorporate our new "Oil Infused Bronze Bushing System" or "OIBBS"! Our sintered bronze bushings are impregnated with oil which reduces the friction on the blade, thus giving you a tight but smooth blade opening. This system is especially useful for slow speeds, intermittent use, and uneven loads such as are found on folding knives.
Overall Length: 7.75 inches
Blade Length: 2.5 inches
Blade Thickness: 0.130 inch
Blade Steel: CTS-XHP w/satin black Titanium / nitride finish
Handle Material: Textured black/red G10
Lock Mechanism: Liner lock
Weight: 6.25 ounces
Origin: USA
MSRP: $155
A $155 USA made Spartan folding knife with an Emerson wave? Yes please, I think I will take part in this party. Spartan and Tu Lam got his knife right on a multitude of levels. I want two of these.
A Chicago native, Sijo Waysun Johnny Tsai is an internationally recognized Combatives and Survival instructor. He is a published book and DVD personality with over 35 years' experience in teaching Practical Street Defense and Combatives to the Military, Law Enforcement Agencies and Civilians alike. SIJO is also the founder of the C.U.M.A. Survival School. He is also a renowned knife designer for companies like TOPS KNIVES, SMOKY MOUNTAIN KNIFE WORKS and WORK TUFF GEAR.
When not teaching classes, writing, riding his mountain bike or doing crazy things with knives, SIJO likes to enjoy his downtime with his wife and three children. He also likes drinking beer.