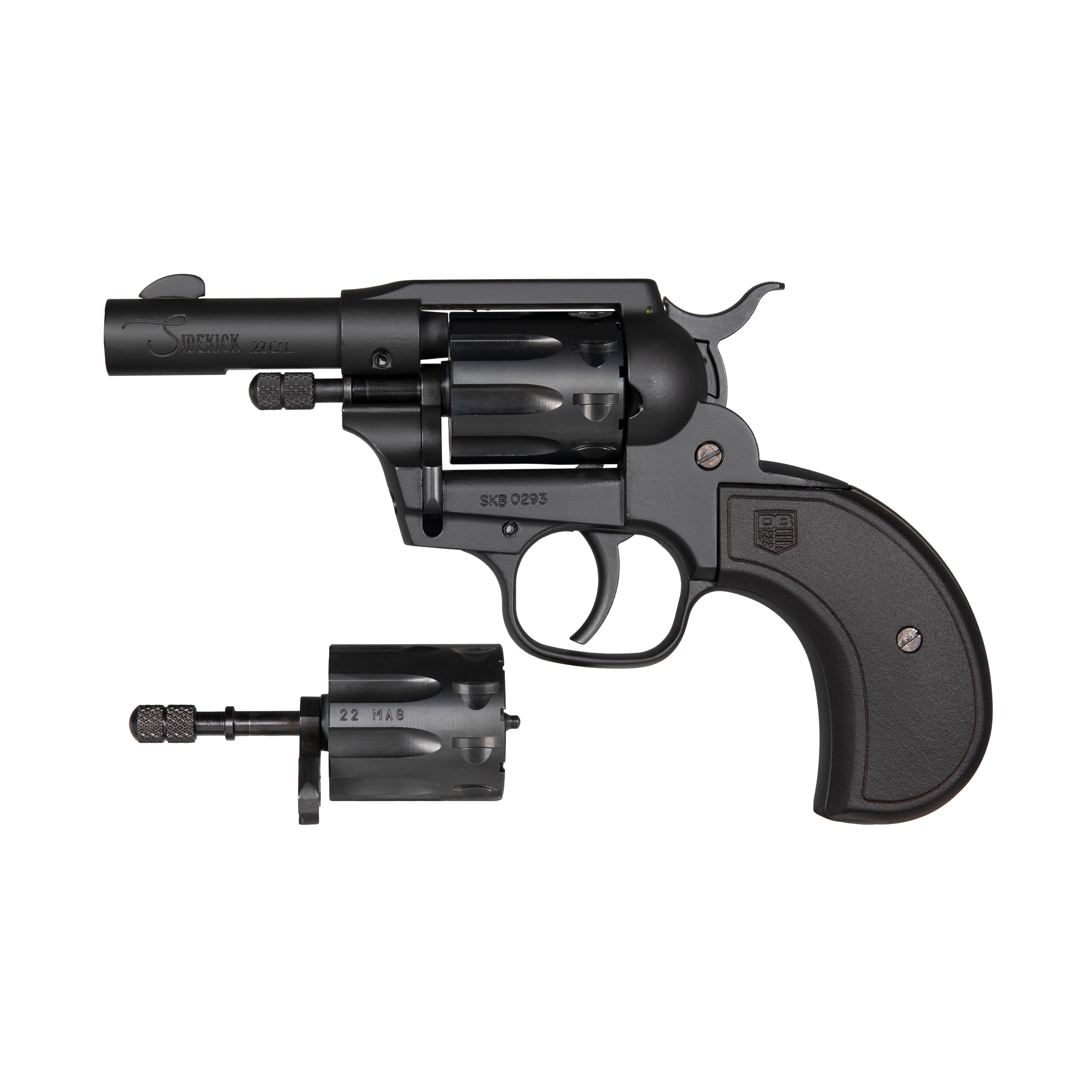 If you're a fan of revolvers for personal carry, whether it's out hiking or camping, or while running your day to day errands, then Diamondback's new Birdshead Sidekick might be worth a look. It has Old West single action styling but it's actually a double action revolver with a swing out cylinder; two cylinders in fact. It comes in .22 Long Rifle, but has a spare cylinder for .22 Magnum as well. With a 9 round capacity it'd give pretty decent punch for bitey critters in the woods, or when you're out walking your dog.
I had a chance to handle and shoot them at the SHOT Show's Industry Day at the Range and they're neat little guns. Check out the press release for more info:
Introducing the Diamondback Sidekick Birdshead Revolver
(Cocoa, FL) – Diamondback Firearms is proud to announce the release of our latest firearm, the Diamondback Sidekick Birdshead Revolver.
"We are proud to offer the new Sidekick Birdshead," says Grant Hoskins, Diamondback Marketing Manager. "It is the perfect second edition to the already popular Diamondback Sidekick. Just like its big brother, it will include interchangeable cylinders from 22LR to 22 Mag."
Featuring a frame and handle made from zinc with Cerakote finish, this compact revolver stands at just 4.95" in height and has a total length of 7.83". The 3" barrel has a 1:16 RH twist, and the revolver has a width of 1.40" while weighing in at 24.5 ounces.
With a capacity of 9 rounds, the Diamondback Sidekick Birdshead Revolver is perfect for personal protection or target shooting. The single action trigger pull is a lightweight 2lbs, while the double action trigger pull is a smooth 16lbs. The front sights feature a blade design, and the rear sights are integral in the design of the revolver.
Priced at just $327.00, the Diamondback Sidekick Birdshead Revolver is an affordable and reliable choice for any shooter. Don't miss your chance to own this top-quality revolver. Available on dealers shelves late second quarter of 2023!