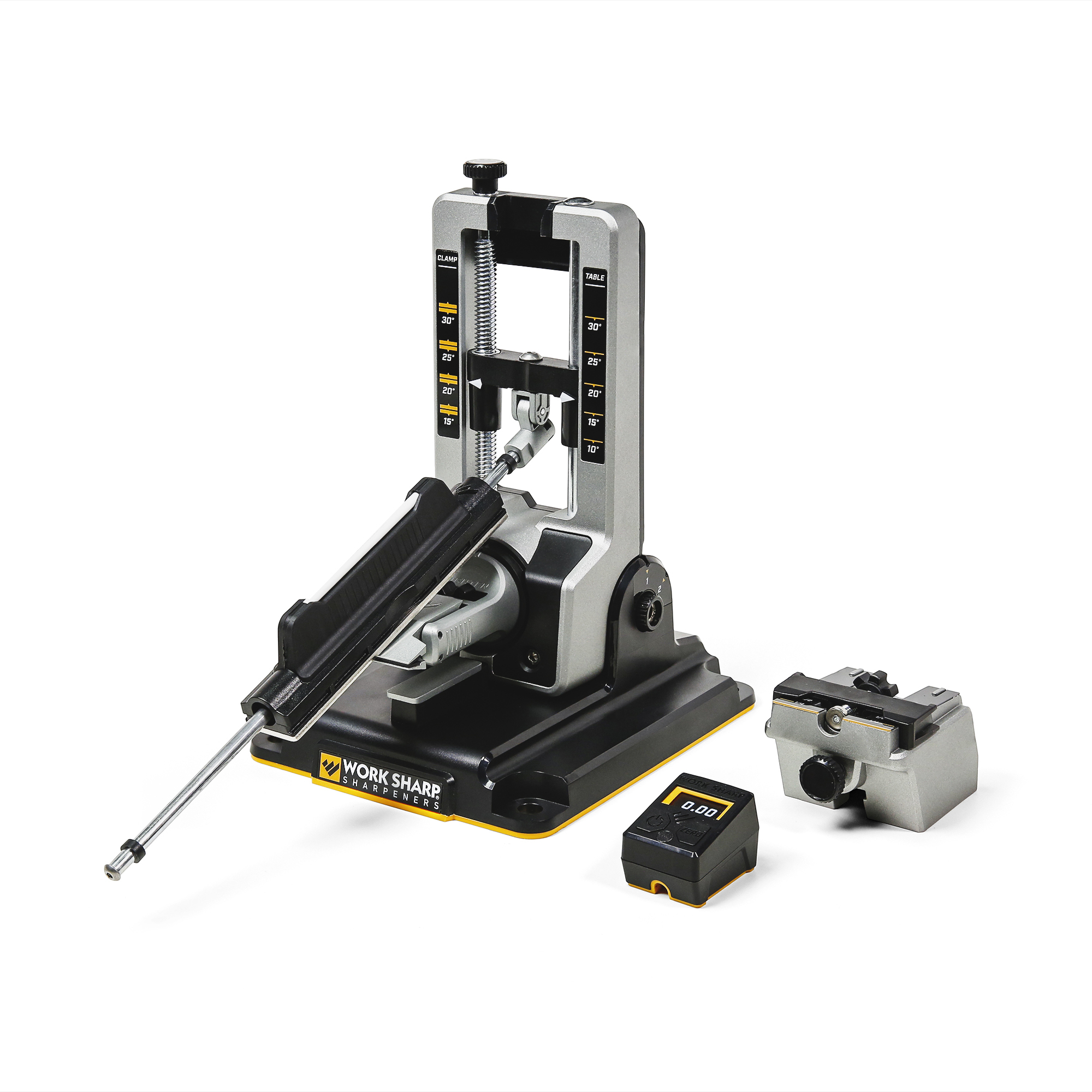 Since I'm known as "the knife guy" in my work and friend circle folks assume that I'm an expert knife sharpener. I pretty regularly get asked to sharpen someone's EDC knife, or hunting or camp knife. Truth is, I probably suck at it as bad as everyone else. Luckily though there are some great systems out there that take the mystery out of sharpening and make it so that anybody can do a credible job at home. I've used a lot of Work Sharp gear over the years and have always found there stuff to work well and be easy to use. They're dropping a new setup on May 1st that's an upgrade of the already excellent Precision Knife Sharpener.
The Professional Precision Adjust Knife Sharpening System is an impressive set up that will let you sharpen everything from pen knives to Chef's knives and everything in between. I'll be honest, with an MSRP of $299.95 this isn't going to be a set up for everyone. As the name indicates this is a pro setup for the serious knife enthusiast, and folks who do a lot of sharpening and can justify the price of prime tools. Maybe charge your buddies a couple bucks every time they ask you to sharpen something for them and it'll soon pay for itself. But hey, even if you aren't that guy, take a look at Work Sharps full line of sharpeners. They have a lot of options that will fit any budget.
Work Sharp Sharpeners, the industry-leading manufacturer of knife and tool sharpeners is building on the recent success of the Precision Adjust Knife Sharpener with the all-newly engineered Professional Precision Adjust Knife Sharpening System.
"Since its release in 2020, the Precision Adjust Knife Sharpener quickly became a best seller by delivering ease of use and high value to customers seeking precise and repeatable results for everyday knife sharpening. From day one we listened to customer feedback and got back to work. Now, we are excited to release the all-new Professional Precision Adjust Knife Sharpening System." says Product Line Manager Steve Baker. 
The Professional Precision Adjust is an angle adjustable knife sharpening system using metal construction, a digital angle indicator and seven abrasive grits to bring rigidity, repeatability, and precision to your knife sharpening needs. The sharpening angle easily adjusts from 15° to 30° using a digital angle indicator to accurately and repeatably set your sharpening angle. Includes a full assortment 1" x 6" abrasives: 220, 320, 400, 600, and 800 grit diamond, a ceramic honing plate, and a leather strop that polishes edges to mirror sharp. The abrasives are easily interchanged using a common handle, which includes a ceramic rod for honing serrations. The innovative non-marring metal V-Block Clamp™ quickly and repeatably secures the knife. The weighted base provides a safe and stable platform that allows rotating the knife without removing the knife or clamp. The included small knife table attachment sharpens small pen knives down to a 15° angle. 3 Year Warranty. Available at Worksharptools.com $299.95.
Work Sharp products are Fast, Easy To Use, and Work Every Time. Work Sharp is proud to be a 4th generation, family-owned, American company and has produced industry-leading sharpening tools for 50 years. Work Sharp is 100 co-workers strong and has sold nearly 10 million sharpeners. Visit WorkSharptools.com to learn more.