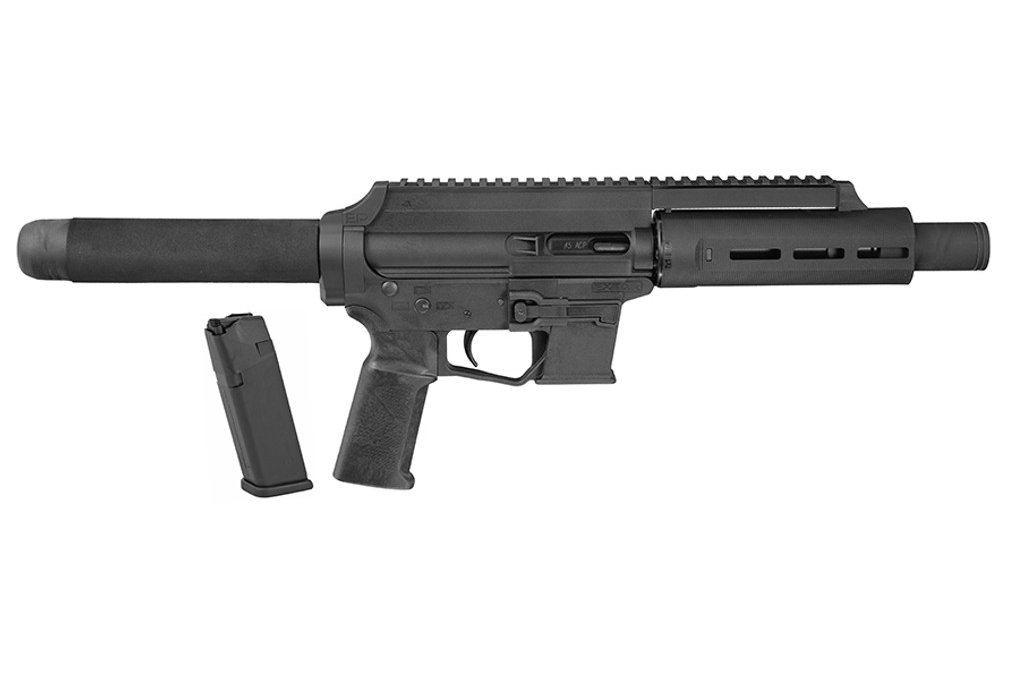 Even though  the ATF is a bunch of fun spoilers with their made up by the minute brace rulings, PCC's and their pistol brethren are still wildly popular products. Hopefully they keep getting curb stomped in the courts and the brace rule gets reversed or, dare we hope, the whole SBR provision of the NFA takes a hit. In the meantime though large format pistols are still a lot of fun and offer a larger, more stable platform for mounting optics and lights, and at least you get a third point of contact with a cheek weld. At least if ATF still thinks that's okay this week.
Enter the Extar EP45. Extar already made a neat, lightweight and affordable 9mm pistol, but now they have one that John Browning would approve of with the release of the .45 ACP EP45. Yeah, this isn't going to be an inside the waist band EDC, but it might make a nice truck gun, or back pack gun. At only 4.5 pounds with a 6.5 inch threaded barrel it comes with a blast deflector but might make a nice suppressor platform as well. It uses readily available Glock 21 mags and comes with a Glock OEM mag. It comes with a a cover for the buffer tube and is compatible with Extar's own brace as well as a bunch of others if the pistol brace issue gets straightened out. It looks like it might be a good Form 1 SBR candidate too, especially with it having a threaded barrel that will take a .45 ACP suppressor. Especially with an MSRP of only $499.95. Could a 10mm model follow? One can only hope!
Check out the link and the below info from Extar:
At long last, meet the Extar EP45 Pistol in .45 ACP. This big-bore PDW is made to provide security to the savvy American consumer. The EP45 is an excellent choice for either home defense or good times at the range with features like the Extar Dynamic Feed Control system, Glock 21 magazine compatibility, our Proprietary Recoil Damping System, familiar AR-15 controls, an M-LOK handguard, and the new Extar Pistol Protective Cover. With the Extar EP45, shoot the beast of a round which started the phrase "stopping power" like you never have before.
To meet the demands of the American consumer, we developed the patent-pending Extar Dynamic Feed Control which reliably feeds any bullet profile. This system uses constant physical surface contact with the round during the chambering process to ensure precise and reliable loading. The Dynamic Feed Control is combined with our proven blowback system and proprietary Extar Recoil Damper to negate the harsh recoil impulse found in most blowback firearms and regulate bolt speed, all without introducing moving parts that require lubrication, tuning, and frequent replacement.
Made by shooters and for shooters, the Extar EP45 shares all of the comforts of the familiar Extar EP9 to create a tool that can be picked up and used competently by shooters of nearly any skill level. The 6.5" barrel is threaded and comes with our Blast Director muzzle device; surrounding the barrel is our M-LOK handguard with three mounting slots at the three, six, and nine positions; it comes with our Extar PDW Pistol Grip, single-stage steel fire control group, and a full-length top rail for the optics of your choice.
Specifications:
Caliber: .45 ACP
Barrel Length: 6.5″
Barrel Thread: 5/8-24″
Capacity: Up to 30rd
Magazine: Glock G21 magazine compatible – 13rd Glock brand magazine included (10rd for resctricted states)
Overall Length: 23.8″
Overall Height: 7.9″
Overall Width: 2″
Weight (Unloaded): 4lbs. 8oz.
Weight (w/Empty Magazine): 4lbs. 11.2oz.
Bolt & Barrel Finish: BLACKNITRIDE+
Trigger Action: Single-Stage
Charging Handle: Reciprocating
Receiver Extension: Includes EP Pistol Protector Cover. Compatible with our Extar Stabilizer and the SB Tactical SB-Mini, SBL, SBM4, SOB, SBX-K, or SBV braces. Adding a brace may make the pistol fall under the NFA
MSRP: $499.95