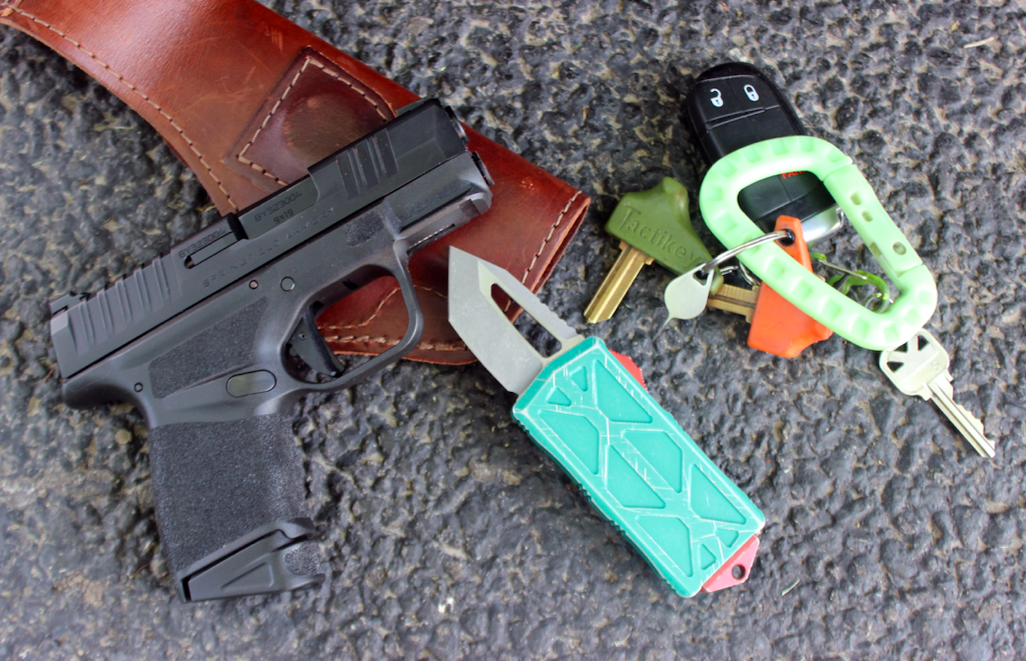 The Mandalorian is one of the most talked about and watched shows on Disney Plus right now. If you aren't a fan of Mando, Boba Fett and the rest of the clan, you should probably stop reading right here.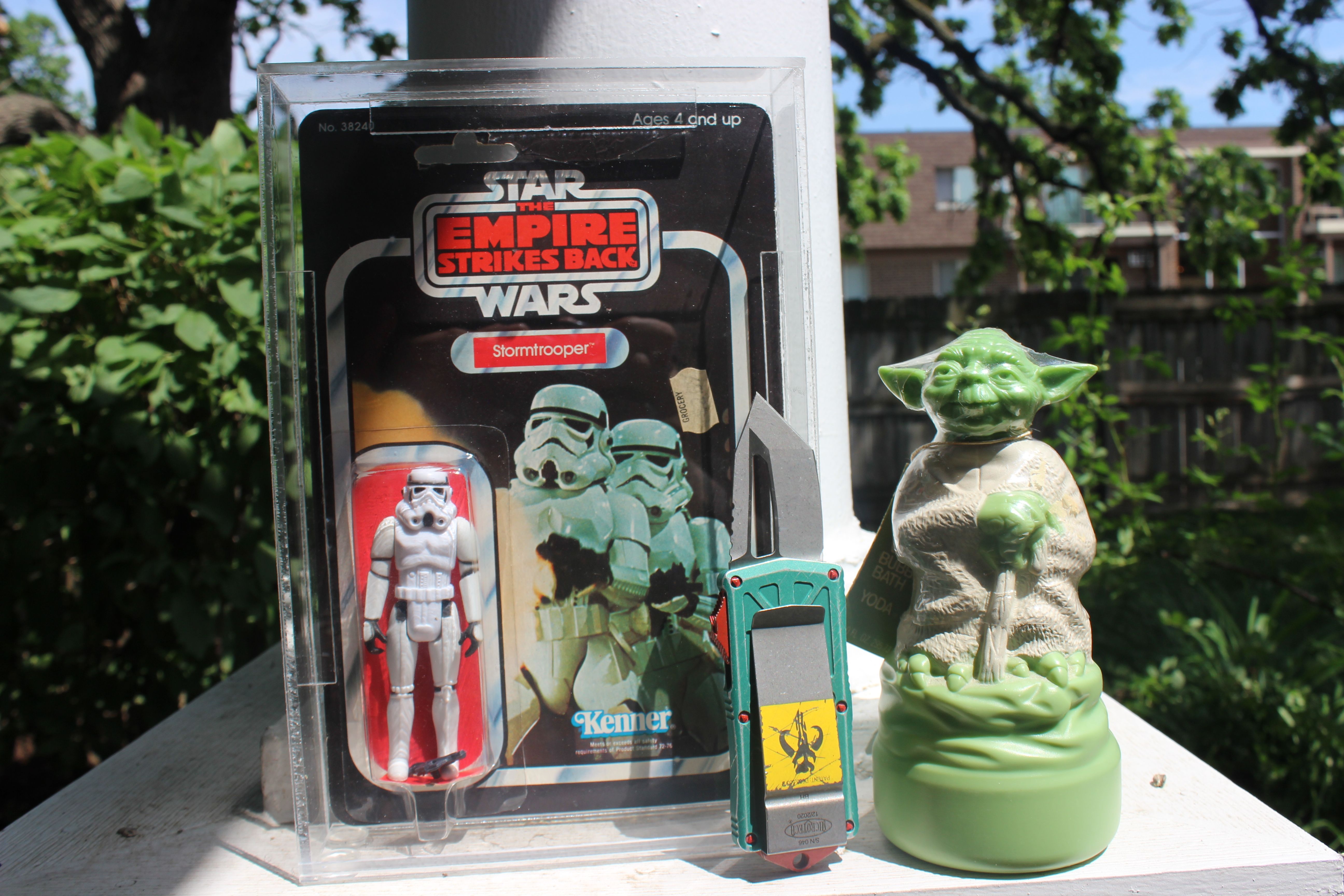 I am not going to lie, I like Microtech's products and am a huge fan of out-the-front (OTF) knives. But I am an even bigger Star Wars fan. Not the bandwagon type but the kind who grew up on A New Hope back in 1977 when it was still in theaters. One of the greatest Star Wars characters to make his debut in ESB was Boba Fett, the under-used Mandalorian bounty hunter. For a character who didn't see much action in the original trilogy and who was thought to have died in the Sarlacc pit, Fett sure has developed quite a following.
Of course, A lot of his popularity has to do with years of the Dark Horse comic book canon, novels, and now the Mandalorian TV show. Whatever my level of Star Wars obsession is, I saw the Exocet in Bounty Hunter colors and I simply had to have it.
MICROTECH AND ITS BOUNTY HUNTER SERIES
Microtech has done a series of Bounty Hunter knives, the Exocet being the most recent one to get the color treatment. I'm not sure as to how they aren't getting sued by Disney since they actually use the Mandalorian logo on their knives and promote them as the Bounty Hunter series, but that's something for Microtech's attorneys to worry about.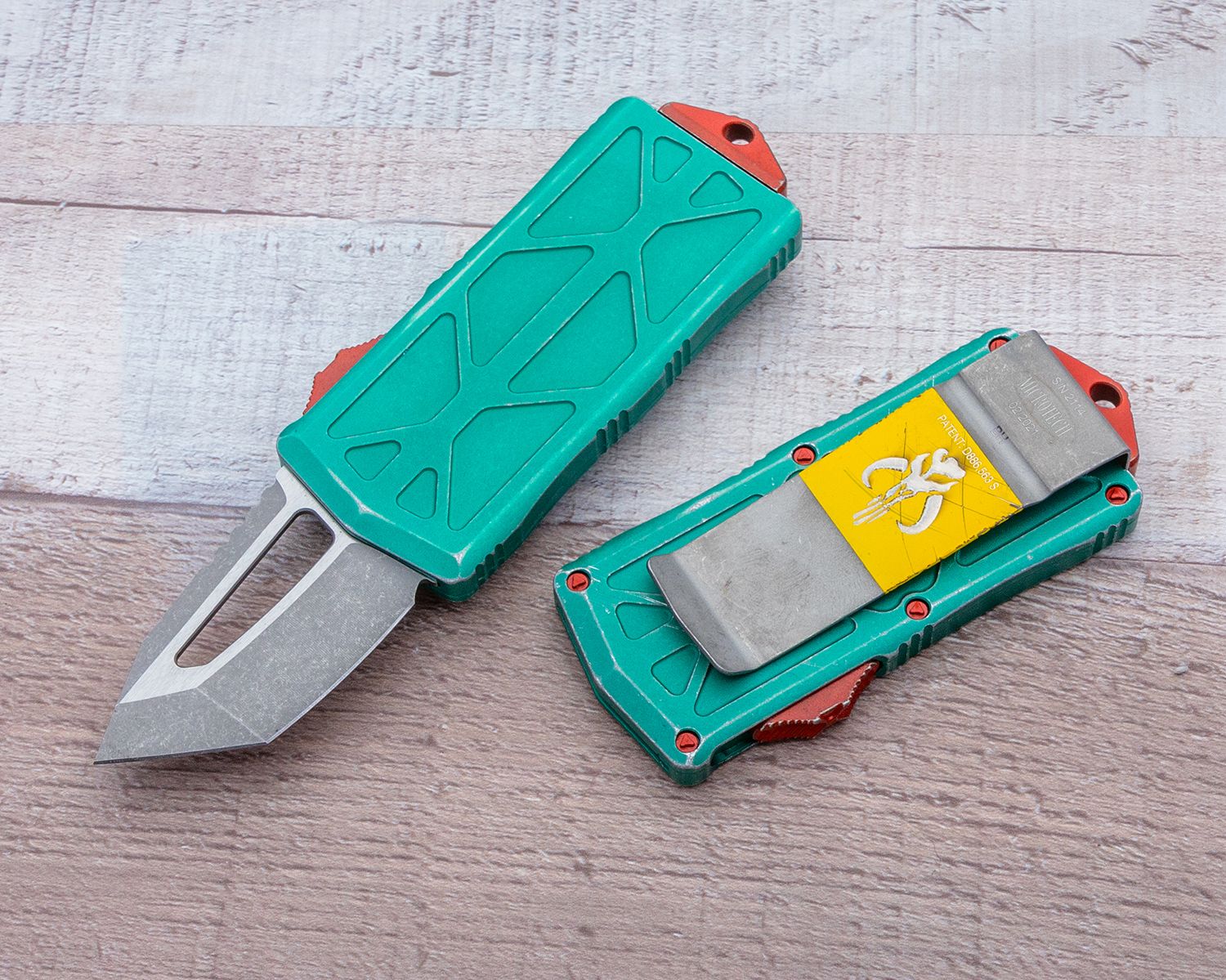 The knives themselves are redecorated Microtech standard offerings. This one is no different. The Exocet has been offered in the past as their California-legal OTF money clip knife. I personally don't mind money clips, but I wouldn't put my money in the clip of my knife. Some people do though, it's all preference and personal comfort levels.
IN THE HAND
The shape of the Exocet is basically a rectangle with a couple of slight waves on the sides. Think of a large Zippo lighter, but a bit thinner and you've got it. The length of the handle is about as wide as my palm. There really aren't any ergonomics to speak of with this knife, but the handle fills my size large hand quite comfortably and I can get a decent purchase on it.
The Exocet design is pretty straight forward. I use mine to open boxes and cut tape, don't worry, I clean off the blade all the time, so it doesn't get gunked up.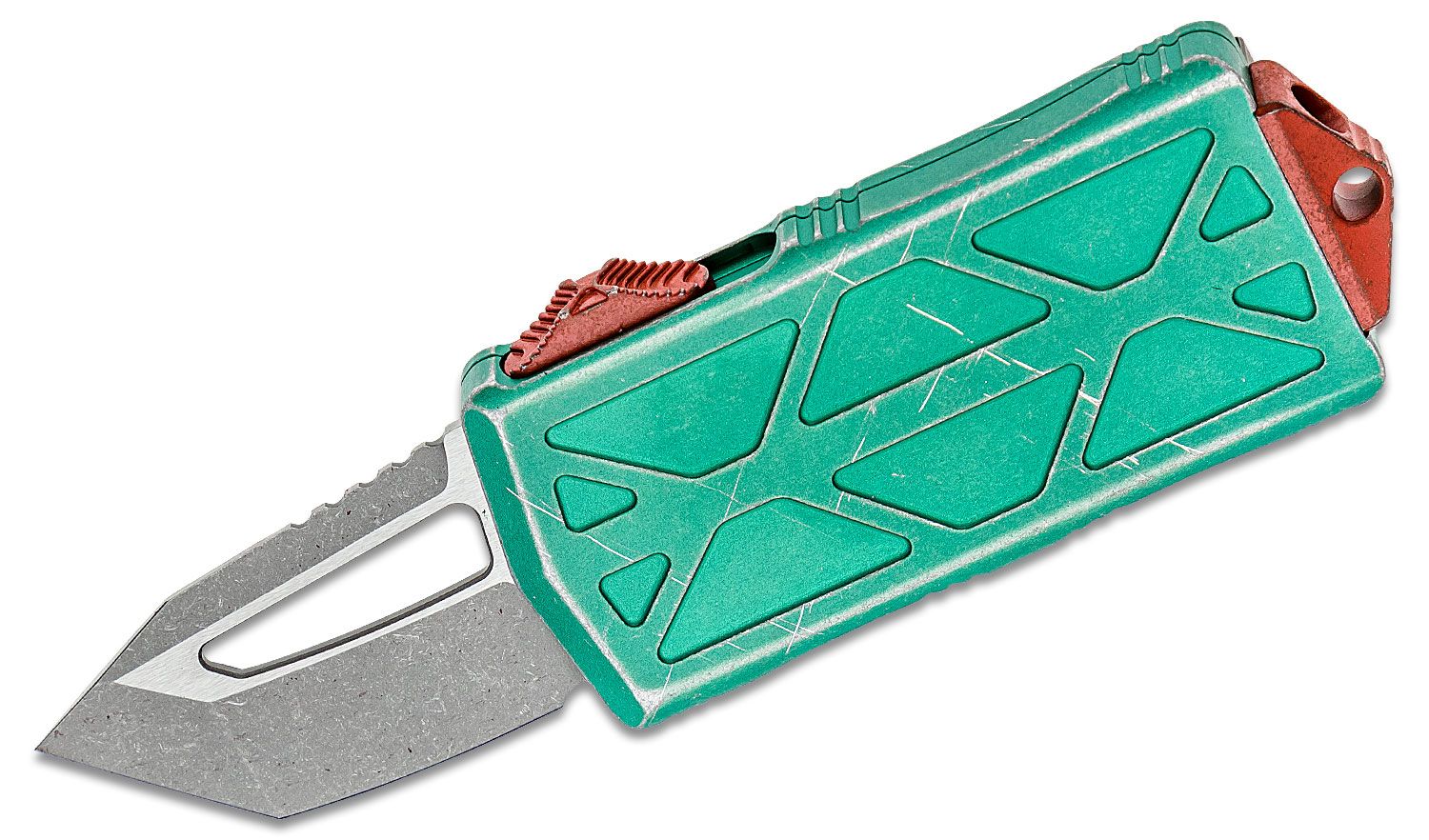 The action is strong and quality as would be from Microtech. For a small blade, I think it fills the needs for most people's average everyday use. It's not a hardcore knife, it's a back up blade and it works well as one.
CARRY SYSTEM
I find the idea of carrying my money in the clip a bit of a novelty. I don't see any reason to do it. For anyone thinking that it is a good self-defense option, I would say carry something else to protect yourself with before it comes down to fighting someone off with an improvised wallet.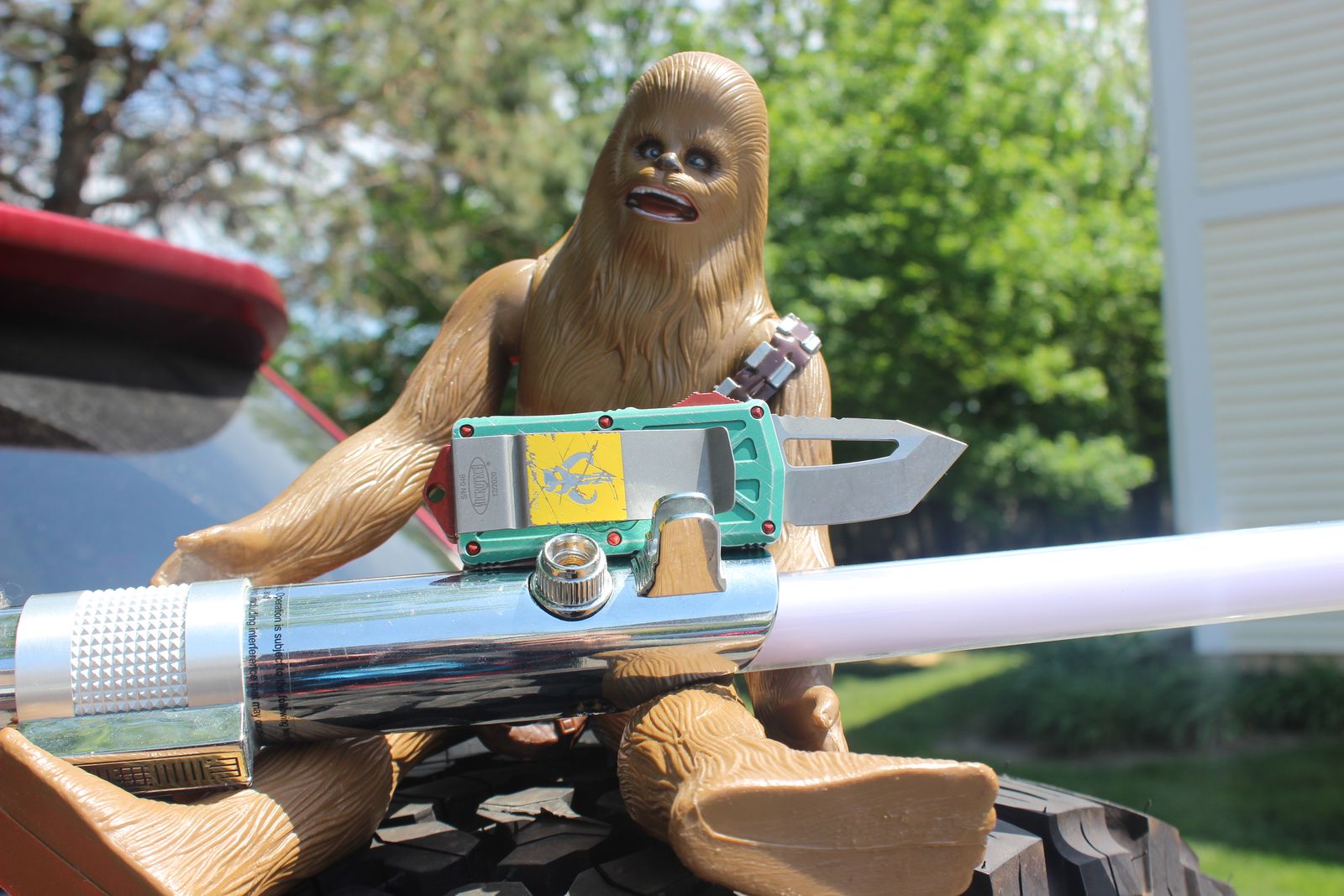 That being said, for those that just like the idea, it works. The oversized wide clip will hold several card and bills securely. I like to carry mine clipped to my front pocket. It sits nice and deep, but I wish the clip was a little more snugly. It doesn't really grab the material on my pocket well.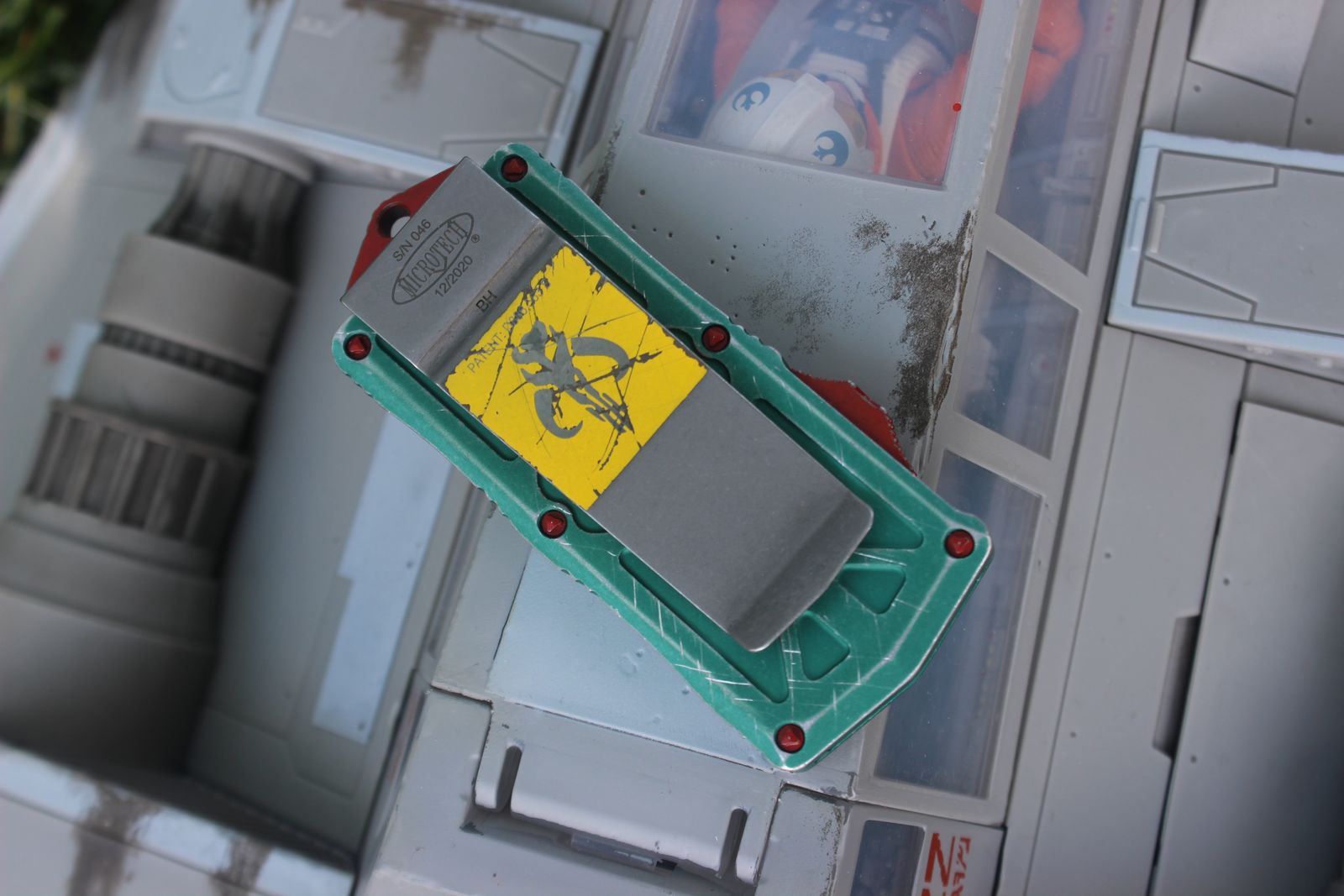 I think this is because the clip was designed to hold credit cards and a small wad of cash. But I find myself constantly checking to make sure that my knife is still on me and hasn't fallen out of my pocket.
However, I have also recently tried carrying it IWB. While it is comfortable and does feel a lot more secure there, I just don't like having an automatic knife pointing towards my junk. Some may not worry about it accidentally opening, but I still feel a little uneasy. Between front pocket carry and IWB and other options, I would say the safest place to clip the knife on is a nice thick leather belt.
SPECIFICATIONS
• Overall Length: 5.625″
• Blade Length: 1.98″
• Cutting Edge: 2.00″
• Blade Width: 1.125″
• Blade Thickness: 0.06″
• Blade Material: Premium Steel (can actually vary)
• Blade Style: Tanto
• Blade Grind: Flat
• Finish: Bead Blast, Stonewash
• Edge Type: Plain
• Handle Length: 3.875″
• Handle Width: 1.50″
• Handle Thickness: 0.35″
• Handle Material: Aluminum
• Color: Green
• Weight :2.75 oz.
• User: Right Hand, Left Hand
• Pocket Clip: Tip-Down
• Knife Type: Double-Action OTF Automatic
• Opener: Thumb Slide
• Brand: Microtech
• Model: Exocet
• Model Number: 158-10 BH
• Country of Origin: USA
• Best Use: Everyday Carry
• Product Type: Knife
• MSRP $330 ($300 retail)
FINAL THOUGHTS
I have mixed feelings on this knife. While I am a fan of automatic OTF knifes, I'm not sure that would have bought this if it wasn't colored in the Boba Fett theme. The regular colored Microtech Exocet does nothing for me, it wasn't until it was turned into a Mandalorian tool that it caught my eye.
Damn me for being such a Star Wars fanatic.
PROS
1) I love Star Wars and Boba Fett. While NOT an officially licensed product, the Bounty Hunter Exocet is very cool.
2) It's an OTF.
3) It's built very well.
4) It's very compact.
5) It's a cool simple design.
6) It will hold its value. There's a large enough Microtech collector base out there that if I ever get sick of it, I could sell it off within minutes.
CONS
1) I'm not in California so I have the option of carrying larger knives. The Bounty Hunter Exocet is a bit too small for me to be useful outside of opening boxes.
2) I wouldn't put my cash and credit cards in the clip. Every time I need my knife, I'd have to pull out my money and cards and risk dropping or losing something.
3) I definitely wouldn't use the Bounty Hunter as a self-defense knife with my money in it. I would draw it fast and my stuff would go flying everywhere.
4) While oversized to hold money and cards, the pocket clip feels a little loose when gripping my pants.
5) At around $300, I want more than a cool conversation piece.
To be clear, even though my list of CONS outweighs my PROS, I am keeping it. I bought this knife because I love Star Wars and it has a great cool factor. That hasn't changed. If I seem a bit harsh on this little knife, it's because of its price point.
In case you can't tell, I like this knife. However, I would recommend handling a regular Exocet at a retailer before plunking down your cash unless you're like me and the Bounty Hunter theme is enough to make you happy.

SIDEBAR: LIKE A STORMTROOPER'S AIM, THE STEEL ON THIS KNIFE CAN VARY
Be aware that your Bounty Hunter Exocet will be made of  some kind of mystery Mandalorian super steel. Blade steel for this year will be Carpenter CTS-204P, while metal supplies last. Blades can also be M390 or even Elmax. The blades aren't marked, so it's really difficult to tell what you have when it's in your hand.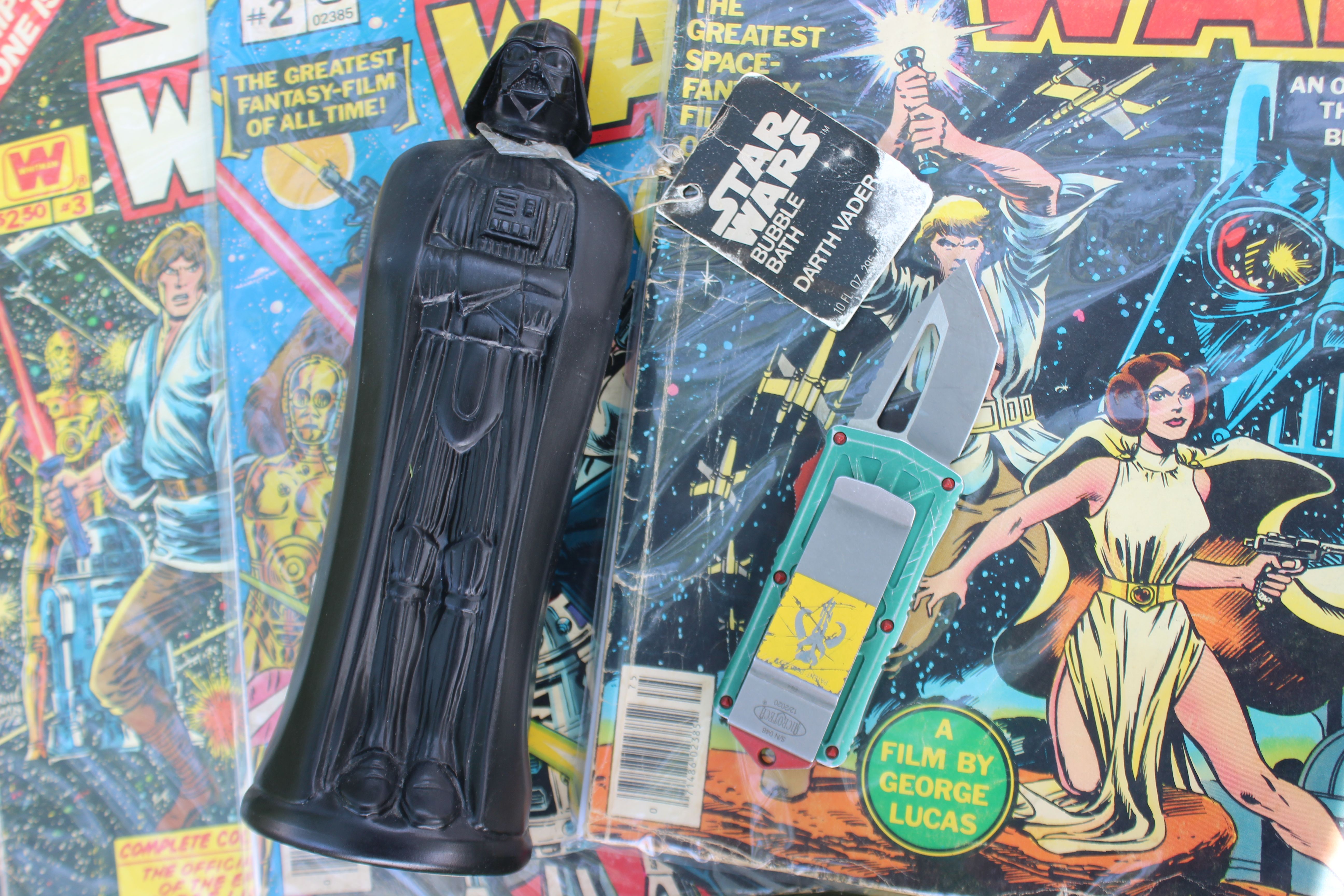 The only way to really be sure is to reach out to Microtech and give them your serial number. They can tell you from there. In a dorky kind of way, this kind of goes along with being Mandalorian. You don't really know who they are or what they look like under their helmet…until you call customer service.
Waysun Johnny Tsai is a Chicago native and an internationally recognized combatives and survival instructor. He is a published book and DVD personality with over 35 years of experience in teaching practical street defense and combatives to the military, law enforcement agencies, and civilians alike. He is also the founder of the C.U.M.A. Survival School. When not teaching classes, writing, or doing crazy thing with knives, he likes to enjoy his downtime with his wife and three children. He also likes drinking beer.