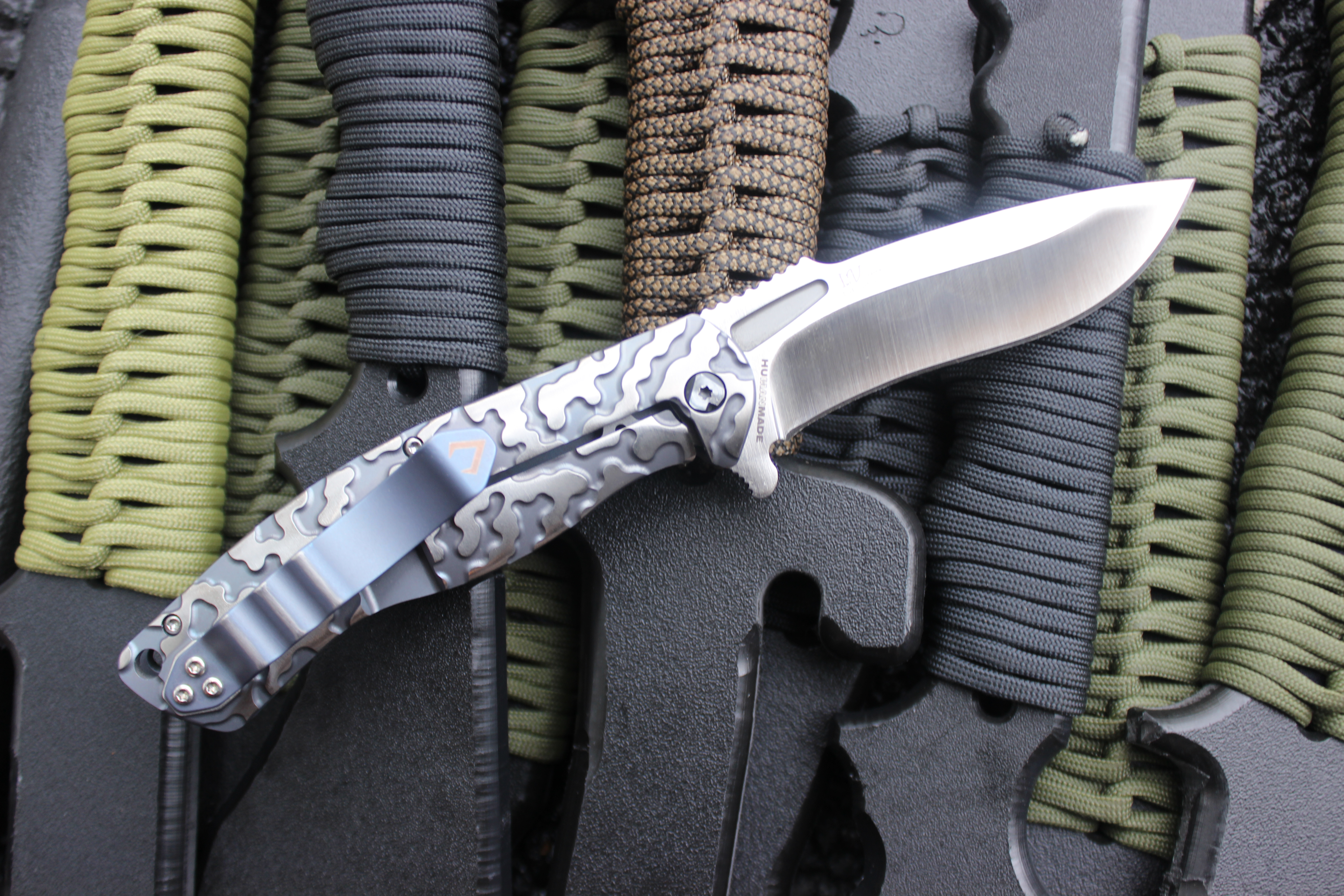 If you ever meet Mikey Vellekamp, you'd say that he's a mix between an absolute rocker and a mad scientist when it comes to knife design. Mikey is the type of maker who can come up with a design in his sleep, then casually throw it into a Blade Show contest and blow the competition away.
If you don't believe me, look him up. He's done this multiple times.
Mikey is that guy who has been around the knife industry block and walks with all of the industry big dogs, but you'd never know it. His long hair, cowboy hat and smiling charisma screams stoner, drinking buddy, that guy that you want to party with. His list of knife industry awards screams design genius that's not to be f@cked with on any level.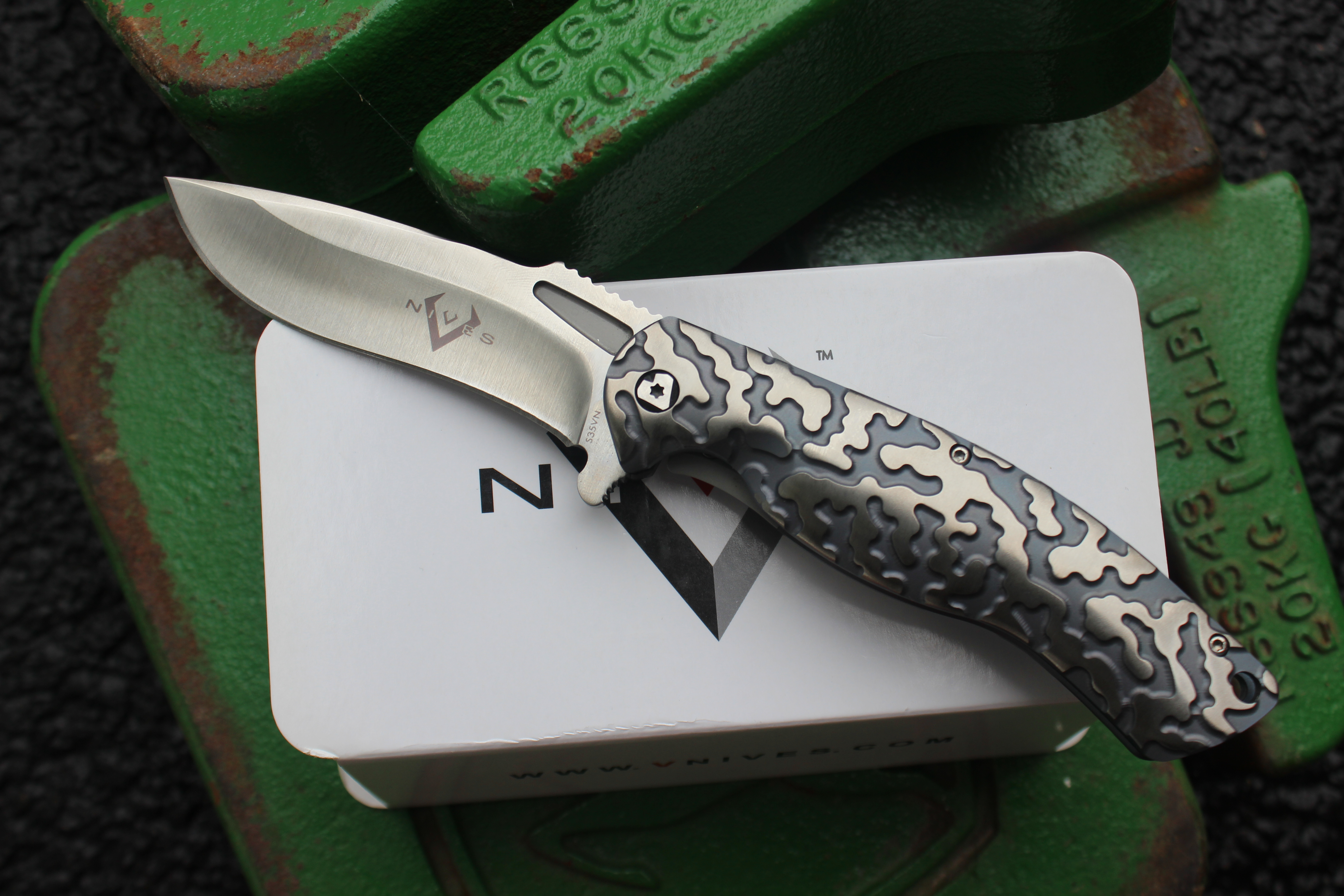 When not palling around with the who's who of the knife industry, Mikey runs his two V Nives brick and mortar stores. His flagship store is in his home state of Washington. That's where Mikey designs and sells his knives, but also offers services like knife sharpening. It's impressive that he owns and operates two retails stores on top of everything else that he does. Everything else includes lobbying for knife rights in Washington.
For the most part Mikey has his knives imported from overseas, but if you ask him where they're made, he will say that that "V Nives are HUMAN MADE." That says a lot.
The Atmosphere
I was in the music industry a lifetime ago. I had a friend from Minneapolis whose name is Slug (Sean Daley). Slug has a hip-hop group called Atmosphere. Since the last time I drank with Slug, his group has grown into a worldwide monster group and have sold over a million records. Indeed, Atmosphere have become true rock stars headlining the largest music festivals across the country. Every time I see the V Nives Atmosphere, I think of my old buddies' group. Both are way out there and crazy cool.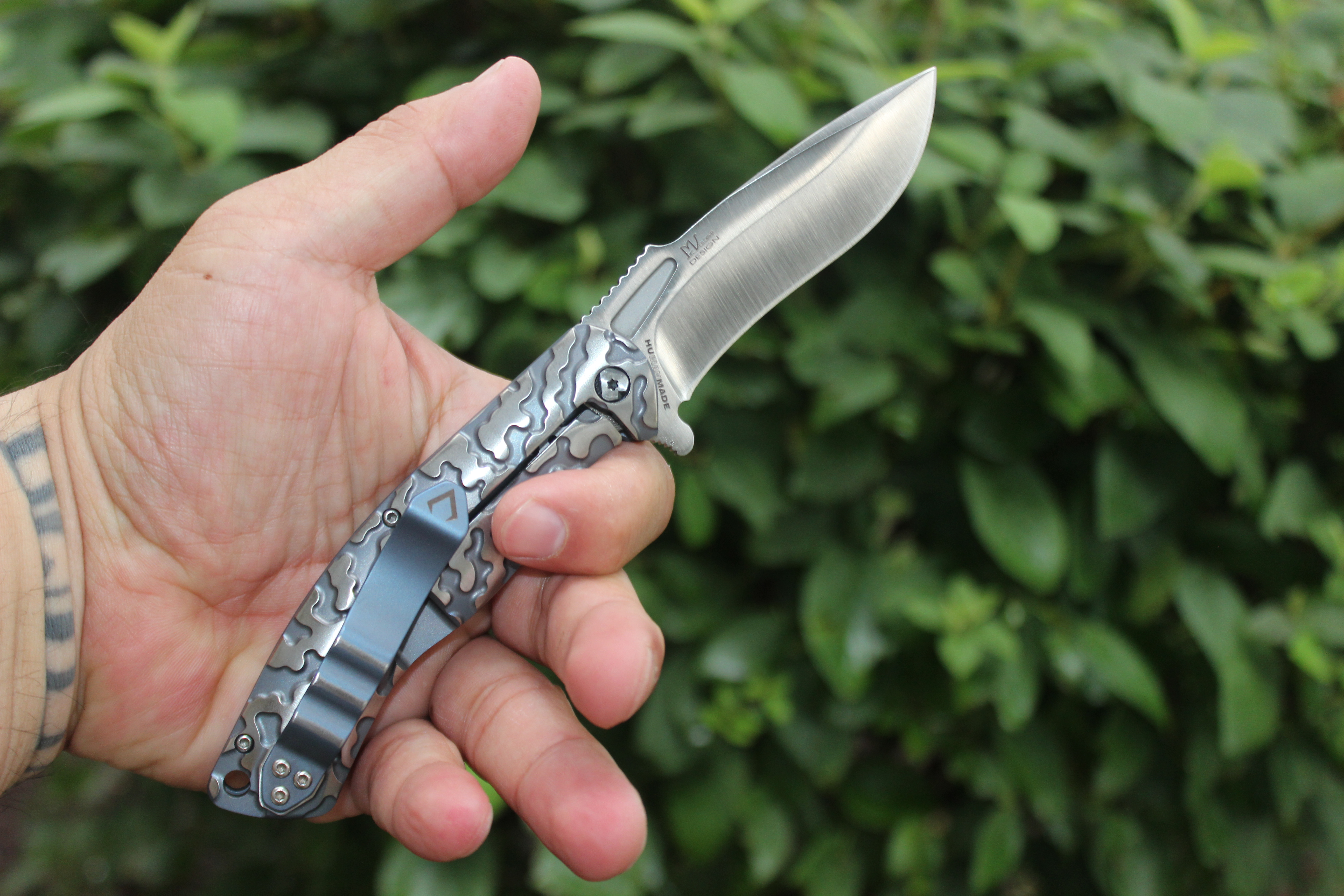 The V Nives Atmosphere offers a collectible design with durable titanium construction. This model has a satin finished blade with a blue and satin finished titanium handle. Unique machining and blue anodization give the titanium handle a stylish flair. The S35VN steel drop point blade has a has a slight recurve, but not enough to complicate sharpening. There's a flipper opener and a jimped thumb rest for improved blade control.
A wide titanium pocket clip finishes off the solid design.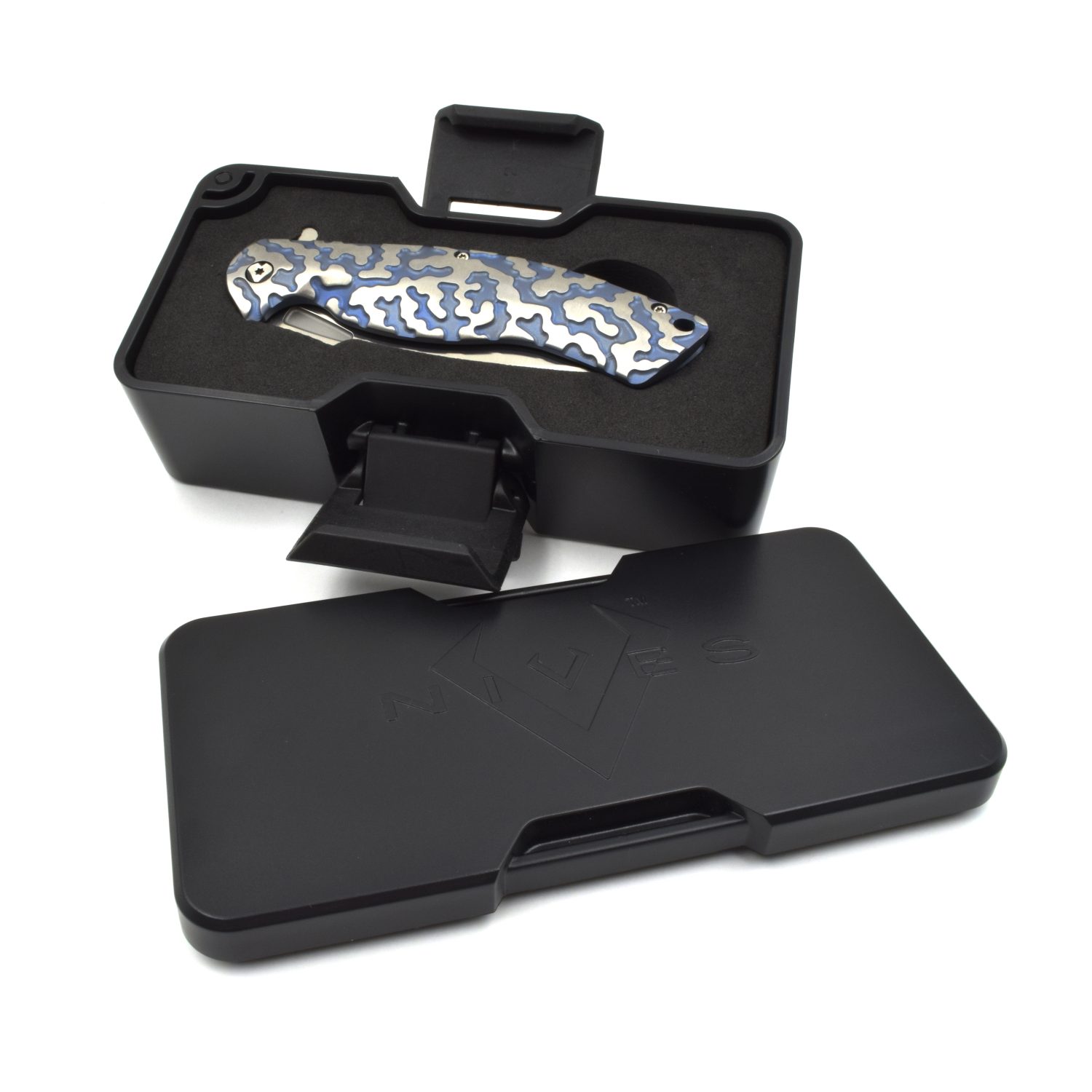 Each Atmosphere ships in a V Nives plastic case that should be kept and put to another use. It's made from tough, water-resistant plastic that displays the passion and attention to detail the V Nives family has for their craft.
I really like the scales on this knife. This has the blue highlights in the titanium, the contoured milled cutouts offer a superb grip. The bearing system is smooth and flawless, deploying very fast. The blade length of 3.5" is actually right at my favorite length for an EDC knife.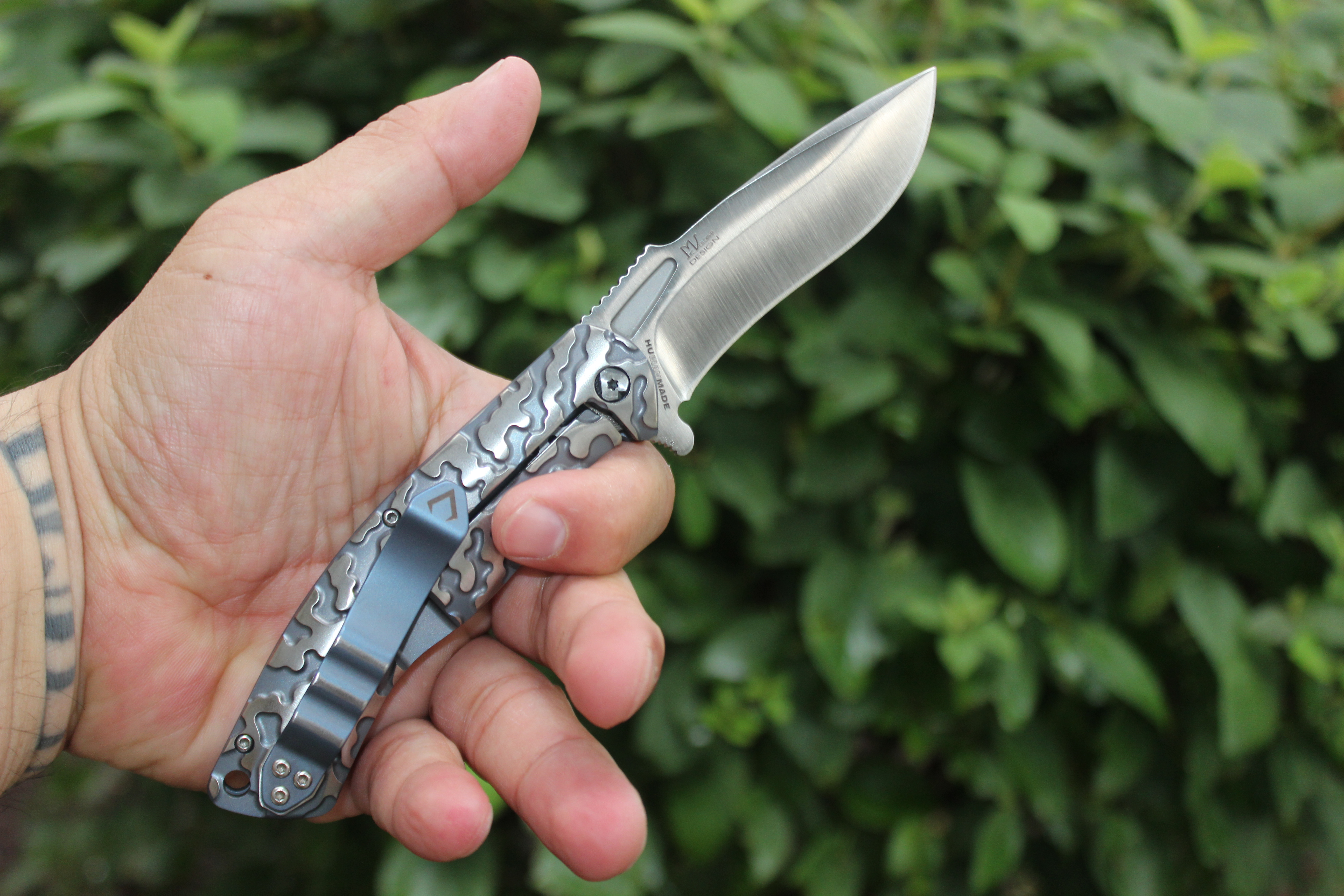 The CPM-S35VN Stainless Steel blade comes shaving sharp right out of the box. As far as the price, it retails for $379.95, but I found it online for a lot less. Whatever you pay for it, it's worth it.
I honestly don't have anything bad to say about this knife. It's lightweight, fast and looks great. It's definitely comfortable in both my pocket and in my hand. I highly recommend this for anyone's EDC. Bravo Mr. Vellekamp, you knocked this one right out of the park and into the Atmosphere.
Features:
A titanium frame lock with a steel insert offers secure blade lock up and overtravel protection.
Ceramic bearing pivot and a flipper opener provide smooth and fast blade deployment
Item includes a bent titanium pocket clip for secure tip-up carry. 
SPECIFICATIONS:
Blade Length: 3.50″
Cutting Edge: 3.375″
Closed Length: 4.50″
Overall Length: 8.0″
Blade Material: CPM-S35VN Stainless Steel
Blade Thickness: 0.12″
Blade Style: Drop Point
Blade Grind: Hollow
Blade Finish: Satin
Handle Material: Contoured Milled Titanium, Blue
Handle Thickness: 0.60″
Locking Mechanism: Frame
Pivot Assembly: Bearings
Pocket Clip: Tip-Up, Right Carry
Weight: 4.82 oz.
Designer: Mike Vellekamp
Made in Taiwan
MSRP $379.95
Website: www.vnives.com