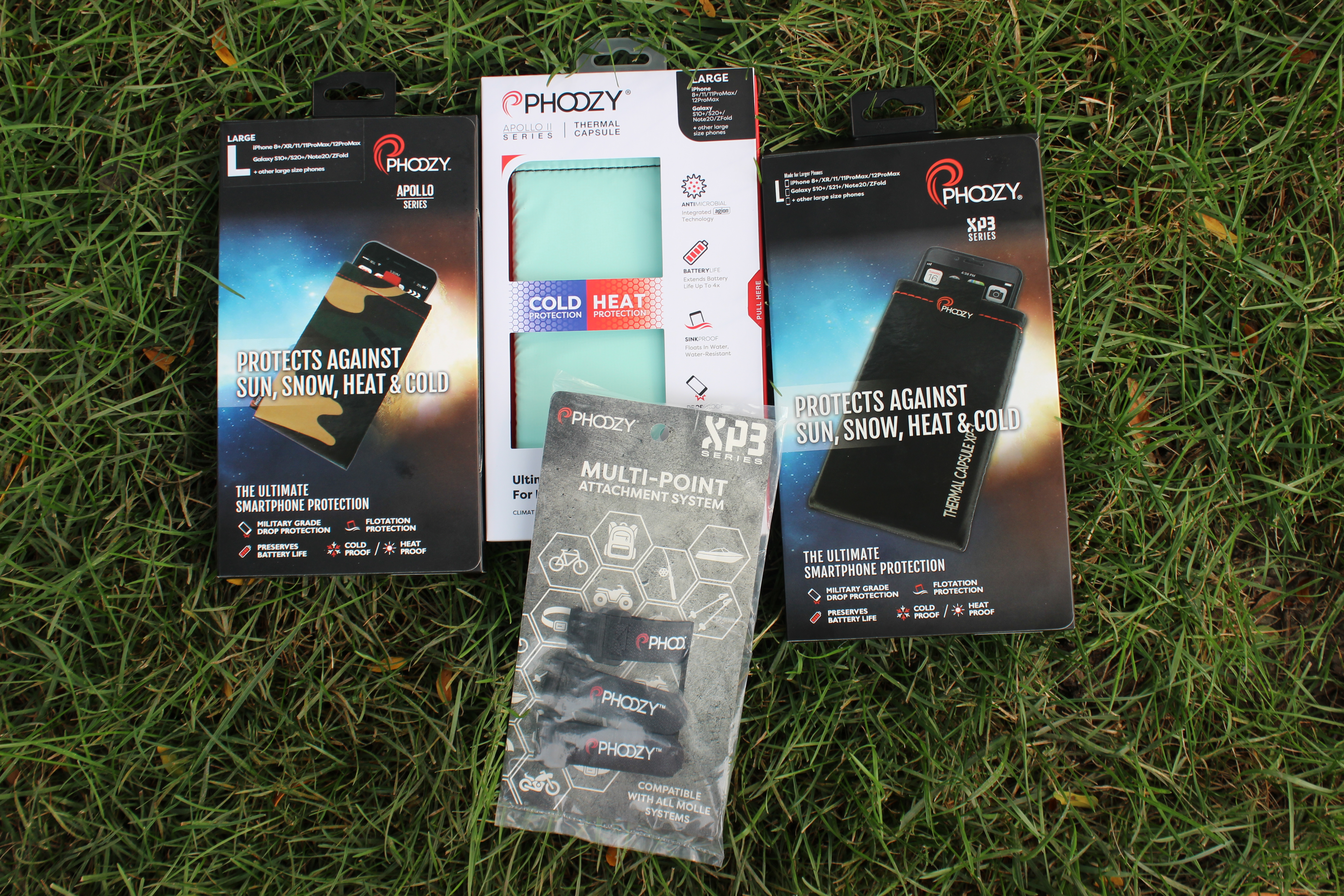 The Phoozy is a space aged cell phone case that is supposed to protect your phone from heat, sun, snow, and cold weather. It's even buoyant in case it falls into water.
At first glance, the Phoozy reminds me of a mix between a Woobie, a Coozy, and an old lady's coin purse, but for a phone. The company claims that it will keep your phone from overheating in extreme temperatures with its astronaut space suit-type materials. A quick Google search turned up a bunch of positive reviews, mainly on Amazon. It was a mixed bag of opinions, but the majority of the reviews seem to say that it works as advertised.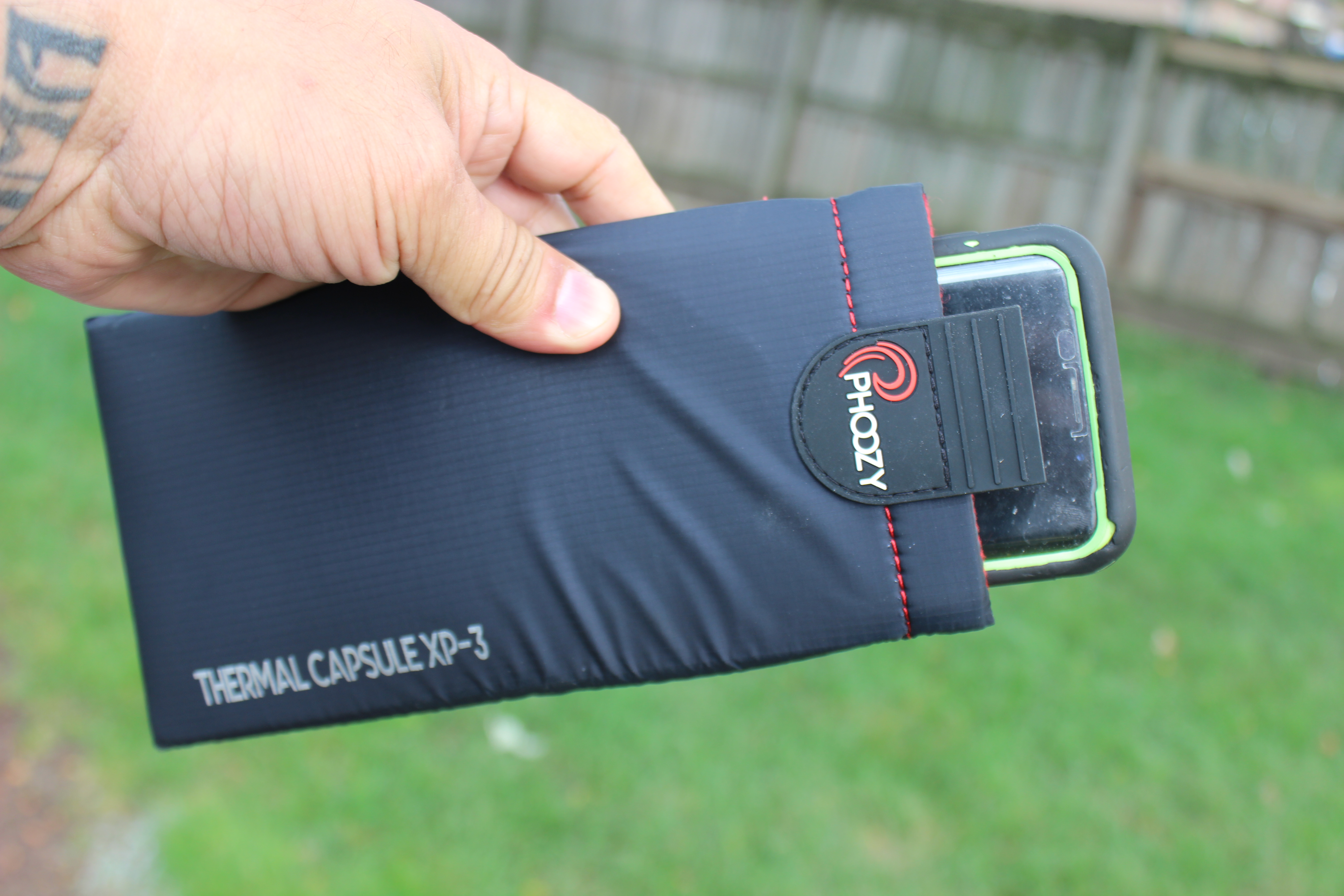 That's awesome, if this thing keeps your phone from overheating on a job site or a day at the beach, it's worth its weight in gold. The only reviews I could find on YouTube seemed like sponsored ads or maybe they were product ambassadors that got their Phoozy for free. Either way, I didn't see any real product reviews, just overviews, so I figured I would test it out myself.
I waited until a 90-degree day and let my phone sit out in the sun unprotected as I taught my weekend outdoor Combatives class. After about forty minutes I grabbed it to take a picture and, as expected, my phone had overheated, and its camera shut down. I put my phone in the XP3, left it in the sun and waited about 30 minutes, sure enough my phone had actually cooled down. I was once again was able to take pictures of the class. I left my phone in the XP3 for the rest of the afternoon and had zero issues with overheating.
Next up was the buoyancy test to see if the Phoozy floats as advertised. While the top closes with Velcro, it floated on its side, and I briefly submerged it. I was happy to see my phone mostly dry when I pulled it out. I think it would have gotten pretty wet if I held it under water for much longer. However, it's not advertised as waterproof, just "sink-proof," which is plenty important.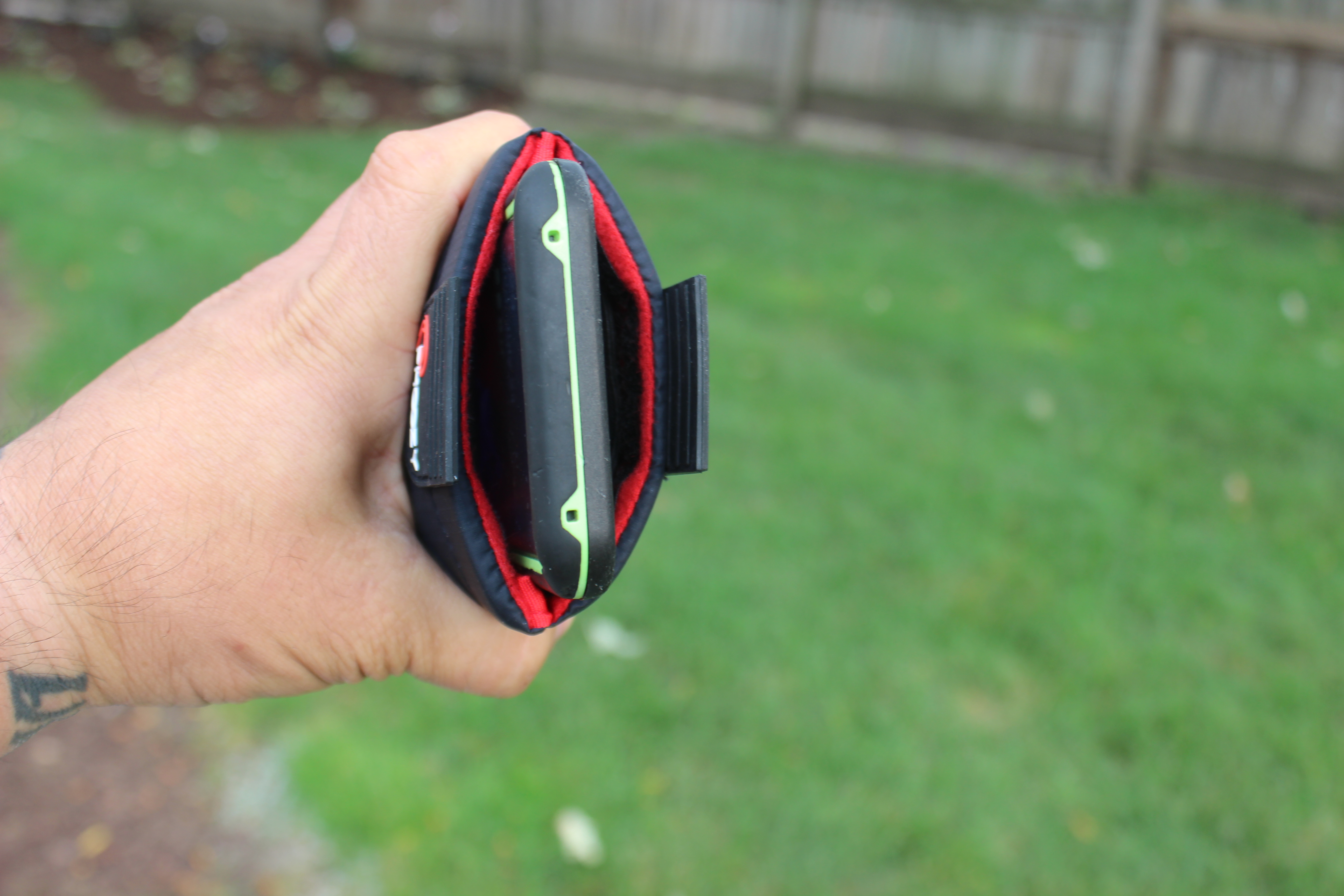 The good news is that my OtterBox case fit in it, so my phone was 100% protected, and most newer phones are now water resistant for 30 seconds or so.
Being summer, I don't have the ability to test it in snow, but I can see how the Chromium Thermal Barrier Shell would keep it warm. But just about anything that wraps around your phone will protect it from snow. The Phoozy also has a Spacetech Penetration layer and an impactor core that will protect your phone against accidental falls of up to nine feet. Drop protection for your phone is ALWAYS a good thing.
The company sent me all three models in three different colors. They sent the basic Apollo model in a woodland camo. The upgraded Apollo II in a baby blue and the XP3 in black, which appears to be their Cadillac model.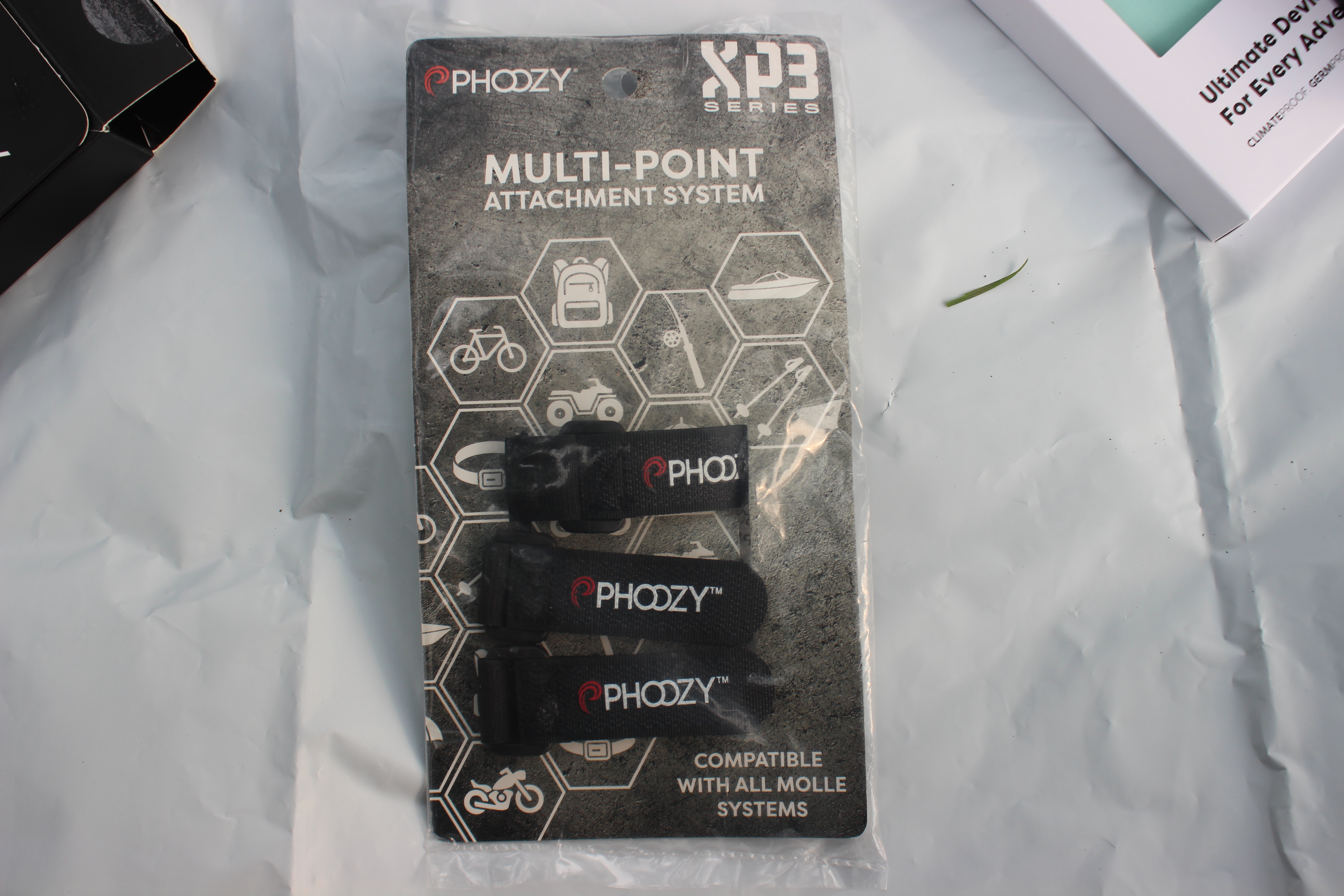 They also sent a multi-point attachment system for the XP3, which is basically Velcro cinch straps that connect to the MOLLE type of attachment to the back of this model. In-fact the packaging states that it is compatible with all MOLLE systems., so maybe they are trying to attract the tactical crowd using terms like "military-grade drop protection". Or maybe they are trying to attract a crowd that doesn't know that military grade isn't always a good thing.
From what I can tell the difference between the APOLLO 1 and 2 is the APOLLO II has a "Splitring" keychain ring style connector in addition to the Velcro hook and loop closure and is antimicrobial. It also states that it has their Impactcore 1.5, which I assume is an upgrade to the original.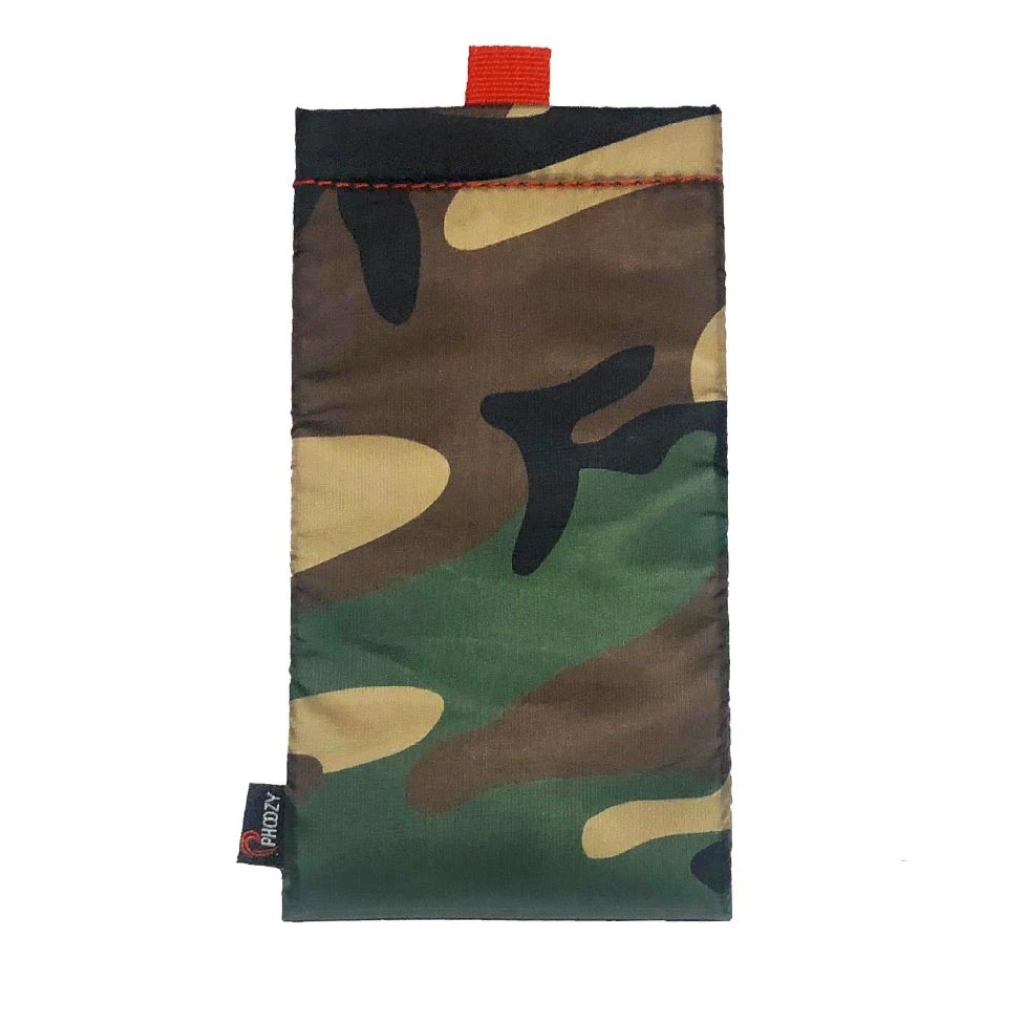 Overall, I think that these appear to be well made and the consensus says that they do protect against overheating, which is awesome. However, the company disclosure is that it will not work if you leave it and your phone in your car for more than three hours. So, there's that.
Ulimately, the Phoozy is a great idea to protect a cell phone with some kind of quality case. Do I personally need one in addition to my OtterBox or clear dry bag? No. I like that it offers buoyancy protection if I drop it in water, however that requires my phone to actually be in my Phoozy.
Here is what I mean. Since it doesn't have any windows, you have to take your phone out of your Phoozy to use it. Let's say I'm on a boat wanting to take pictures or video, I have to take it out of the Phoozy, and if I drop it in the water, I will have to depend on my current phone case to keep it afloat. If my phone is sitting in its PHOOZY and accidentally gets knocked into the water, it's all good and buoyant so I won't have to dive to find it. The same thing applies if I am out playing in the snow.
I'm a fan of hunter orange dry boxes for a reason…so I can find them against the elements. Plus, my dry boxes are air tight and depending on the model will also float. There are also clear touch screen friendly dry bags that you can buy for cell phones with floating capability.
Being a guy who misplaces my keys and phone on a regular basis, I don't think black or camo is a good idea for my phone, particularly outdoors, especially at night. The baby blue would stand out against leaves and such, but that's not really my vibe.
However, the XP-3 has silver printing on one side that might be a bit reflective. The good news is, the Phoozy is available in other colors like pink, gold, and stitched silver which kind of looks like an old school oven mitt.
Even though the Phoozy cooled down my phone, the jury is still out. Yes, there seem to be a bit of marketing hype and fancy terminology behind these, which has resulted in sales. It also doesn't hurt that it was featured on Shark Tank and scored a deal with two sharks (Lori and Robert).
While I can see its obvious benefits, I'm not convinced this is an essential piece of EDC gear for me or our readers. Walking around with a PHOOZY over my OtterBox as EDC feels like overkill. Yes, it protects my phone from overheating, but in the past, any time my phone ever got warm, I just turned it off. However, if you are a person who does a lot of kayaking, it may just save your phone from being lost in the bottom of a lake.
So the PHOOZY is basically a floating winter/life jacket. I'm about to spend a week at a lake house in the Poconos in August. There will be a lot of water activities, shooting and nighttime dirt time, so I will be able to test these out a little more.
The Apollo has a MSRP of $29.99, The Apollo II is $39.99 and the XP3 has a retail price of $49.99. While not crazy expensive, there is a ton of phone cases and dry box/bag options out there at these price points.
If I seem like I am being a little hard on the Phoozy, it's because I have to be. Phones are expensive to replace, and I don't want to be the one to give out bad intel on protecting yours.
I would be really interested in reading comments from any of our reader that are actual PHOOZY owners, good, bad, or indifferent.

A Chicago native, Sijo Waysun Johnny Tsai is an internationally recognized Combatives and Survival instructor. He is a published book and DVD personality with over 35 years' experience in teaching Practical Street Defense and Combatives to the Military, Law Enforcement Agencies and Civilians alike. SIJO is also the founder of the C.U.M.A. Survival School. He is also a renowned knife designer for companies like TOPS KNIVES, SMOKY MOUNTAIN KNIFE WORKS and WORK TUFF GEAR.
When not teaching classes, writing, or doing crazy thing with knives, SIJO likes to enjoy his downtime with his wife and 3 children. He also likes drinking beer.